Predictions & Forecasts
Paris terror attacks: Mars-Rahu strikes again
(15 November 2015)
France is reeling after the second terrorist attack in less than a year killed 129 people and wounded 350 others in Paris on Friday. The Islamic State has claimed responsibility for the attacks which it said were retaliation for France's participation in US-led coalition against ISIS in Syria. Responding to the shock and horror of the event, French President Francois Hollande has called the attacks an act of war and has vowed to respond without mercy. It seems clear that there will now be an intensification of the West's battle with ISIS as the 'clash of civilizations' appears to be entering a new and more violent chapter.
While I did not specifically predict this attack, I was not surprised when it occurred given the difficult condition of the horoscope of France this year. After the
Charlie Hebdo terrorist attack
in January, I had written that 2015 would likely be stressful for France and that the rest of the year would have an
"ongoing sense of unease and frustration"
.
Read more...
---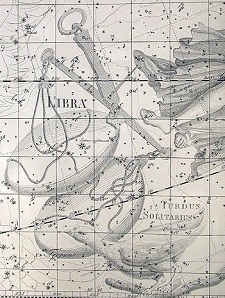 Venus enters Libra: research in financial astrology
(16 November 2015)
So far, so Virgo. Or more precisely, Venus in Virgo. Ever since Venus began its transit of sidereal Virgo on 3rd November, most global stock markets have fallen. In some cases, such as in the US and Europe, the entry date came very close to the interim high whereas other markets such as India's has seen declines that began in October extended further.
In any event, the bearish influence of the transit of Venus in Virgo appears to be confirmed yet again. As I have shown in a previous
stock market analysis
, recent incidents of this once-a-year transit have correlated with declines. The four-week-long transit of Venus in Virgo has correlated with declines in each of the last six years. The astrological reasoning is fairly simple: Venus is seen as the planet of money and value and traditionally it is said to do poorly in Virgo, which is considered its sign of debilitation. Amazingly, this very basic one-factor model of stock market movements has generally outweighed most other planetary factors.
Read more..
---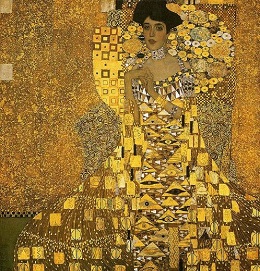 Gold falls further: more evidence for financial astrology
(9 November 2015)
The steep sell-off in gold last week was a nice confirmation of the inner workings of financial astrology. Despite the beauty of this Gustav Klimt painting, Gold plunged 4% on the week closing below $1100 for the first time since August. In last week's post, I thought the chances were good that
gold would likely decline
given the difficult situation of the planet of Venus.
In
financial astrology
, Venus is one of the main planetary significators for the price of gold (along with women and art, of course!) and when it is under pressure gold typically declines. I had noted that Venus entered its sidereal sign of debilitation on Tuesday November 3rd. This sign transit of Virgo lasts four weeks and is often a bearish indicator. To top it off, Venus also conjoined Mars just the day before and was still minutes of arc past its exact conjunction. As a malefic planet, the proximity of Mars to Venus is also a factor that often depresses gold as my investigation of previous Venus-Mars conjunctions showed fairly clearly. As a consequence of this alignment, gold fell sharply on Tuesday as it broke a key technical support level.
Read more...
---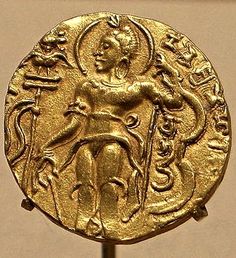 Predicting the price of gold through the Venus-Mars conjunction
(2 November 2015)
It's not a good time to be a gold bug these days. After peaking in 2011 above $1900, gold has since fallen 40% and shows few signs of returning to those lofty levels. Not even recent strong hints from the European Central Bank (ECB) that it will begin a new round of QE managed to do much for the yellow metal. With official inflation still below 2% in most developed economies, there is less need for the safe haven as a traditional storehouse of value. While recent currency volatility has made gold somewhat more attractive to investors in emerging markets and other commodity-based economies, its value as measured in US Dollars remains low. Gold took it on the chin again today as it declined $8 closing at $1133.
As I have noted in previous posts, there are many astrological factors to consider when accounting for fluctuations in the price of gold. Certain horoscopes figure prominently such as the chart for the first London gold fix in 1919 and the chart of the first US futures trade in 1974. There are also any number of simple transit influences on gold.
Read more...
---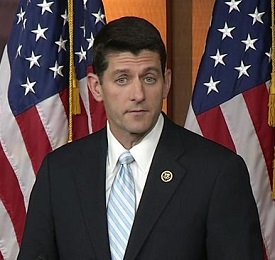 New House Speaker Paul Ryan faces US debt ceiling showdown
(26 October 2015)
And so it begins again. The annual political wrangling to raise the US debt ceiling is now in full swing as both parties vie for advantage before the November 3rd deadline. Since the US government must rely on borrowed money to stay solvent, Congress's failure to raise the debt ceiling would cause a default. Previous debt ceiling crises occurred in 2011 and 2013 and brought sharp declines in the stock markets before 11th-hour compromises were finally found. As always, Republicans are loathe to sign off on the ever-increasing debt load and are seeking fiscal concessions from the Democrats. Of course, many Republicans also do not want to to see the US default on its debt as the financial consequences could hurt the whole country in the form of financial instability, lowered credit ratings and higher borrowing costs on its bonds.
As an added wrinkle, this year's game of political chicken in Washington, DC will feature a new Speaker of the House. Paul Ryan will likely be formally elected on Thursday as he replaces outgoing John Boehner.
Read more...
---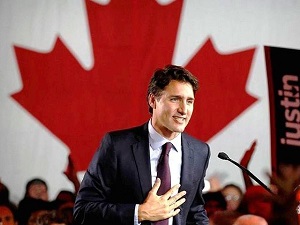 Justin Trudeau: Canada's new Prime Minster
(21 October 2015)
Canada elected a new Prime Minister on Monday as voters sent Liberal Party newcomer Justin Trudeau to Ottawa to serve as the country's 23rd Prime Minister. The charismatic 43-year old son of former PM Pierre Trudeau ousted Conservative Stephen Harper in a stunning victory as Trudeau brought the 3rd place Liberal Party back to power with a majority government. Although he was initially seen as inexperienced and trading on his father's fame, Trudeau gained support through the campaign as he focused on positive change for the country after nine years of often uninspired Conservative rule.
So what kind of leader will Justin Trudeau be? His horoscope suggests he is may a natural gift for political life, irrespective of his family background. Leo, the sign of leadership, rises in the 1st house. His Ascendant at 10 Leo is just four degrees from a conjunction with the fixed star Regulus. Traditionally, Regulus has long been regarded as one of the four royal stars in the sky and is said to confer leadership qualities. The lord of the 1st house is the Sun and it is powerfully placed in the 5th house of politics in Sagittarius.
Read more...
---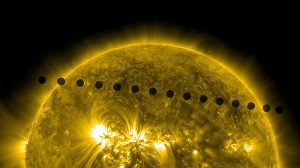 Financial markets stable as Venus prepares to enter Virgo
(18 October 2015)
When used wisely and judiciously, financial astrology can be a useful tool to investors. While no one can predict the direction of the market 100% of the time, there are many well-established correlations which have a good track record of prediction. One of these is the transit of Venus through the sign of Virgo. Or more specifically, through the sign of sidereal (star-based) Virgo as is commonly used in Vedic astrology in India. Western astrology employs the tropical (i.e. seasons-based) zodiac but evidence suggests that this correlation does not hold in that system.
I have found that stock markets generally do poorly during the four weeks that Venus transits through Virgo. In financial astrology, Venus is considered the planet of money and value. When it is well placed and unafflicted, stocks are more likely to rise. However, when it comes under pressure from malefic planets like Mars or Saturn, stocks are more likely to decline. And since Virgo is traditionally believed to be a sign where Venus is said to be debilitated, its transit of Virgo is similarly bad for stock markets around the world.
Read more...
---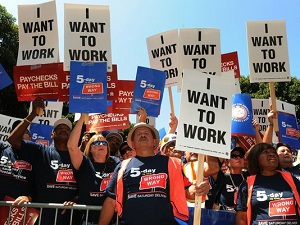 Jobs report disappoints: could the US be heading into a recession?
(5 October 2015)
Friday's disappointing US jobs report is the Fed's worst nightmare. Despite six years of near-zero interest rates and $4 Trillion worth of QE-style money printing, the US economy only added 142,000 new jobs in September, a number well below expectations and the key 200K level. The US economy therefore remains very fragile and could tip into recession if global economic headwinds get worse. The conundrum for the Federal Reserve is that it could be trapped at zero percent here with little room to maneuver in the event of another major economic slowdown. The Fed had been promising for many months to raise rates back towards normal levels as the economy strengthened in late 2015. Now that seems increasingly unlikely as the Fed may well be forming contingency plans for perhaps another round of quantitative easing (QE4) or even the dreaded nuclear option of negative interest rates.
But is the US economy really headed for another recession? The horoscope of the US may offer some insights on this question. To be sure, it is very difficult to extrapolate economic activity based on planetary transits alone.
Read more...
---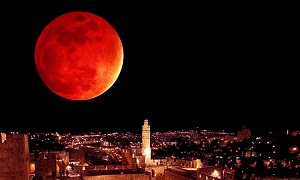 Supermoon draws blood on Wall St.
(28 September 2015)
Sunday night's 'Supermoon' seems to have sparked a big sell-off across most European and US stock markets today. The Blood Moon (or 'Supermoon') is a fairly rare celestial event that occurs when a lunar eclipse coincides with the lunar perigee when the Moon makes its closest approach to the Earth. The result is a bigger than normal sized full moon that appears red in colour as the shadow of the eclipsed Earth passes over it. It certainly makes an impressive and beautiful nighttime display. And there is no shortage of symbolic angst and dread attached to it, including passages from the Bible.
The Dow lost 2% on the day finishing near that crucial level of 16,000. Indian stocks were infected only briefly with the lunar malaise as the Sensex lost 1% in the afternoon closing at 25,617.
Read more...
---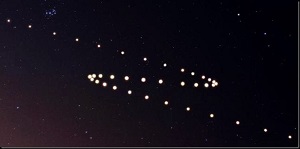 Markets dazed and confused by Fed as Mercury turns retrograde
(21 September 2015)
Is the Janet Yellen losing her touch? Or more to the point, is the Fed losing control of financial markets? Most global markets declined last week after the Fed Chair chose to leave interest rates unchanged at zero percent after citing concerns over the state of the Chinese economy and iffy US data. The usually reassuring and dovish Fed Chair left investors puzzled and anxious as she painted a more sober picture of the economy than expected. There also appears to be growing confusion over which criteria the Fed is using to time its eventual interest rate hike. Besides US inflation and employment data, the Fed now seems to be including China into its calculus for when the "lift off" in interest rates will finally take place after six years of ZIRP. This was a change in messaging and left many confused about just how or when the Fed will rate hikes, if they ever do.
In last week's financial forecast, I thought the planetary influences argued somewhat for a hike given the strong Saturn influences here. However, I noted a possible alternative view whereby the dominance of Saturn could restrain the Fed from making any move at all out of fear of damaging confidence and crashing the stock market.
Read more...
---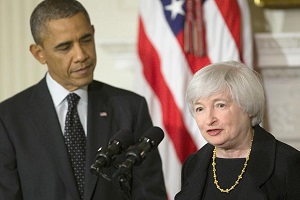 Will she or won't she?: Yellen's difficult choice
(14 September 2015)
All eyes are on the Fed this week (yet again!) as investors wonder: will she or won't she? Fed Chair Janet Yellen has been leaving a trail of fairly strong hints in recent months that an interest rate hike is coming sometime this year and possibly as soon as Thursday. The Fed's policy statement will be released on Thursday at 2 p.m. as it reveals if the unprecedented six-year long zero interest rate policy is finally over. Analysts and commentators are sharply divided on this question, although it seems that the consensus position is that she will leave it unchanged for a bit longer and raise it either in October or December.
It's unclear what the market's reaction to a hike might be, although most believe it could spark some sort of decline. That said, enough traders have already discounted the possible 25 basis point hike (yes, that's just 0.25% at the low end of the range) that any decline will be fairly orderly and perhaps even modest.
So what does astrology have to say about the probability of a rate hike on Thursday?
Read more...
---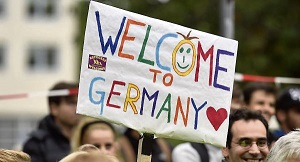 Germany welcomes Middle East refugees
(9 September 2015)
As the European refugee crisis continues to dominate the headlines, Germany has emerged as the world's conscience in responding to the scenes of desperation played out in various locales. The Merkel government has pledged to accept at least 500,000 refugees from Syria and Iraq as the flood of displaced persons from that war-ravaged region shows no signs of abating.
The refugee crisis is still a divisive issue within the European Union as some countries have been more open to receiving refugees than others. Even within Germany, significant parts of the population are skeptical about the ability of the country to absorb such a large number of newcomers who differ from natives in terms of language, religion and culture. But for now, it seems most of the German people are welcoming the refugees with open arms in an inspiring display of their common humanity.
When this story first drew worldwide attention last week, I wasn't sure what the astrological angle might be.
Read more...
---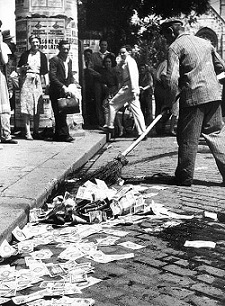 Predicting inflation: the lessons of German hyperinflation in the 1920s
(6 September 2015)
One of the financial paradoxes in recent years is why there has been no significant (official) inflation in most Western countries despite massive efforts to print money by the Fed, the ECB and various other central banks around the world. Many observers were wary of the Fed's various QE programs to kickstart the economy after the 2008 meltdown since they believed it would cause inflation to rise to dangerous levels. Indeed, the Fed's unprecedented QE bond-buying program was one the main reasons why gold rose to all time highs in 2011 as the traditional inflation hedge came to within a stone's throw of $2000. As more investors realized that inflation was as tame as ever (below 2%, at least officially), gold prices began to fall back to earth. Now gold trades close to $1100.
There are many reasons why inflation never really got going in developed economies but perhaps the most important was that the economy was just so weak after the Great Recession, the expansion of the money supply was barely enough to even keep the economy afloat.
Read more...
---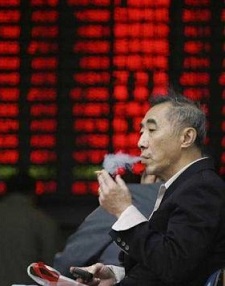 Markets recover after China cuts rates
(31 August 2015)
Stock markets recovered last week after Monday's scary plunge. The Chinese government intervened in the markets once again and this time it actually seemed to work as the interest rate cut and looser bank capital requirements restored business confidence. The Dow briefly fell below 16,000 early in the week and ended at 16,540. India's BSE-Sensex traded below 26,000 for the first time since summer 2014 and finished at 26,283. In last week's
financial forecast
, I suggested some possibility of a midweek recovery on the Sun-Jupiter conjunction. This appeared to broadly coincide with the rebound after Monday's decline. But I had been fairly skeptical about the week overall given the Mercury-Rahu influence and its possible connection with Saturn. In other words, stocks ended somewhat stronger than I had expected.
So is the worst over? I doubt it. The strong Saturn influence is still going to shape investor sentiment in the weeks to come.
Read more...
---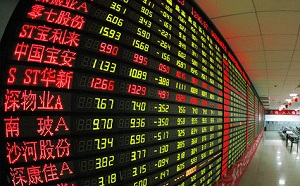 Stocks finally succumb to Saturn
(23 August 2015)
Stock markets tanked last week as investors began to seriously ponder the possibility of a full-blown recession in China. US stocks experienced their biggest weekly decline since 2011 with the Dow falling more than 5% to 16,459. Most global markets shared in the near-panic although India lost a more modest 3% on the week with the BSE Sensex finishing at 27,366. In last week's
market forecast
, I thought the late week could be problematic on the Sun-Saturn square aspect. This definitely was the case, although I did not fully expect a decline of this magnitude. As expected, we did see some early week gains although they proved to be very fleeting.
As I have noted previously, the summer of 2015 was bound to be difficult for most markets due to an
unusual series of Saturn aspects
.
Read more...
---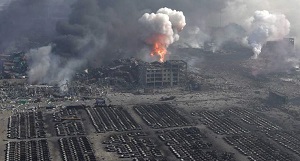 The link between China's devaluation and the Tianjin explosion
(16 August 2015)
Last week saw an unusual coincidence of events in China. On Tuesday, China's central bank surprised global financial markets and devalued its currency. On Wednesday, there was a huge industrial explosion in the port city of Tianjin that killed over a hundred people. While these two events were unrelated in fact, they do have common astrological origins due to afflictions in the horoscope of China. Specifically, I would say they are the result of close aspects to the Ascendant in this chart.
First, we can see this devaluation and its fallout in the horoscope of China. Using the October 1, 1949 chart, the Ascendant (8 Capricorn) suffers a double affliction from the transits of malefic Rahu (North Lunar Node) and Mars.
Read more...
---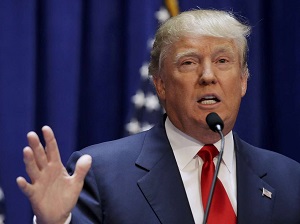 The rise of Donald Trump: Jupiter meets Mars
(11 August 2015)
The race for the nomination for US Republican Party entered a new phase last weekend after the first televised candidates debate on Fox. The ten leading candidates participated in the debate but in the end it was all about Donald Trump, the outspoken real estate mogul and reality TV star who has unexpectedly emerged as the frontrunner in the polls. Despite widespread criticism for his comments, Trump's combative exchanges with debate moderator Megyn Kelly seems to only have re-affirmed his role as the dominant candidate in the GOP race as his lead in the polls has widened even further. Clearly Trump's message is resonating with many conservative Americans who feel angry about the state of the country and alienated from their own government.
Not only is Trump a party outsider and a loose cannon on many issues, the possibility that he could win the nomination would probably be bad news for Republicans since polls show that Trump does worse when matched head-to-head against the likely Democratic nominee Hillary Clinton compared with almost all other GOP candidates.
Read more...
---
Running the Saturn gauntlet: China woes and the world economy
(9 August 2015)
The world's economic engine is showing more signs of running out of gas. The latest Chinese economic data revealed a declining manufacturing output for the third straight month. The Caixin PMI figure is now below the 50 threshold thus indicating economic contraction. With the Chinese government increasingly desperate to support the plunging stock market by any means necessary, there is more evidence that all is not right in the Middle Kingdom. As China slows, the risk of a global recession rises.
Back in my spring
stock market forecast
, I wondered what changes might lie ahead given the rising influence of Saturn during the summer months. Saturn is a malefic planet that is usually front and center in tense or difficult situations where our wishes are denied and lessons are only leaned the hard way. I thought that the last aspect of Jupiter (with Uranus and then Venus) in late June might mark the end of a relatively stable period in the world. Without any prominent Jupiter aspects in the mix for a while, bearish Saturn would be free to call the shots as it formed a series of aspects throughout the next three months. I thought stock markets could decline around the world.
Read more...
---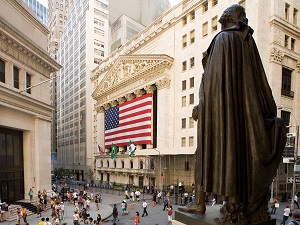 US stocks dive on China worries
(26 July 2015)
Global stock markets slumped last week as worries about the implications of a slowdown in China caused some investors to hit the sell button. US stocks fell by 2% as the Dow finished the week at 17,568 while Indian equities slipped 1% as the BSE-Sensex ended at 28,112. Ironically, Chinese stocks extended their recent rebound despite weak economic data as the Shanghai Composite again moved above 4000. Gold declined sharply on reduced inflation expectations and finished below $1100.
I had been fairly equivocal in last week's stock market forecast, although I hinted at some potential trouble spots from malefics Saturn and Mars. In keeping with the negative symbolism of Mars, Friday's Mars-Uranus aspect coincided closely with a significant down day on most world markets. Gold's 3% decline on the week was also in line with last week's predictions given the difficult Venus-Saturn aspect. Venus is one of the planets most associated with gold prices, and when it is aligned with Saturn, it usually signals declines. This was clearly the case last week.
Read more...
---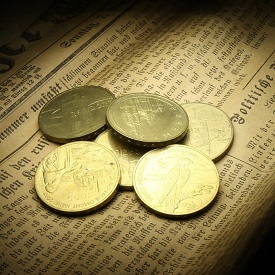 Gold falls to lowest level since 2010
(19 July 2015)
Stock markets breathed a sigh of relief last week after a late night bailout deal was finally reached between the EU and Greece. While financial chaos was averted, the distrust and enmity in the Eurozone is now plain to see. The EU has lost its innocence and may well be on its way to a more profound shake-up as a growing number of countries no longer want to subsidize a bankrupt Greece. Global stocks rallied on the news of Monday's deal, but other financial markets took a more negative long term view. The Euro itself fell further as currency traders pondered the viability of the monetary union in the long run. Gold also fell through a key support level as investors preferred the US Dollar as a safe haven.
In last week's stock market forecast, I thought we might have seen more declines in stocks as the midweek alignment of Mercury-Mars-Pluto looked troublesome. The early week entry of Jupiter into sidereal Leo was bullish as I thought it might be, and this reflected the optimism of Monday's overnight deal. The collective fallout of Mercury-Mars-Pluto was perhaps better reflected in the assertion of Germany's power and the lingering ill will that the agreement generated.
Read more...
---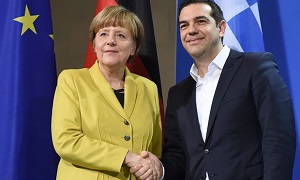 Germany asserts its power against Greece
(12 July 2015)
Sunday has now come and gone in Brussels without any decision on the possible bailout deal between Greece and the European Union. Sunday had been touted as the 'final deadline' for a negotiated settlement, but perhaps no one should really be surprised that everything is still very much up in the air. The sticking point now is that Germany's Angela Merkel and the other fiscal hawks in the EU want more guarantees that Greece will abide by the measures outlined in the bailout.
The quixotic and unpredictable behaviour of Greek PM Alexis Tsipras and his former Financial Varoufakis in recent weeks has caused an erosion of trust at the bargaining table which is now an impediment to any deal. His referendum ploy backfiring badly, Tsipras now has to agree to even more austerity and exceptional conditions on this latest bailout offer or else leave the Eurozone. There is growing talk that Germany and its fiscally conservative allies in the EU actually want a 'Grexit' and are attaching so many unpalatable conditions for Greece that Tsipras will have to be the one to walk out first.
In last week's post, I suggested that the astrological alignments in the key charts suggested that a quick and simple negotiated bailout was unlikely in the coming days.
Read more...
---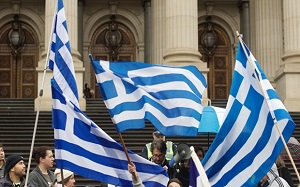 Greece says No to EU bailout
(5 July 2015)
With the strong No vote in today's EU bailout referendum, the Greek people have taken a giant leap of faith into the unknown. Following the lead of their popular left wing PM Alexis Tsipras, Greeks have issued a stunning rebuke to the status quo in Europe as they rejected austerity imposed from without in favour of self-determination. But what will happen next is anyone's guess, as the EU must now prepare a response to the referendum result at an emergency meeting on Tuesday.
Will the EU cave in once again to preserve the integrity of Eurozone to avoid financial chaos and make actually a better offer to Tsipras? Or will Merkel and Hollande take a tougher stand and carry through with their threat to let Greece default and thereby hasten the departure of Greece from the Eurozone? It seems unlikely that there will be any quick resolution to the crisis, even if one or the other of these or any other paths is taken. There are just too many variables here and too many ways things could go wrong.
Read more...
---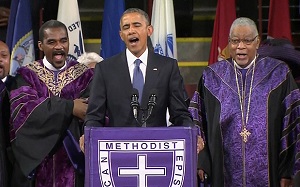 Venus and Jupiter align for Obama's perfect week
(28 June 2015)
It's been a very good week for US President Barack Obama. First, he successfully got Congress to agree to fast track approval for the controversial Trans-Pacific Partnership (TPP), an Asian free trade agreement. Then at the end of the week, the Supreme Court handed down landmark decisions on Obamacare and gay marriage that furthered his political agenda and enhanced his presidential legacy. Friday also featured one of his most moving and powerful speeches when he eulogized the pastor who was killed in last week's racially-motivated mass shooting at a South Carolina church. The most touching and stirring moment of the eulogy occurred when the President spontaneously began to sing "Amazing Grace" to the joyous delight of the assembled congregation.
When you have weeks like this, you can usually bet on a pretty obvious and clear astrological explanation.
Read more...
---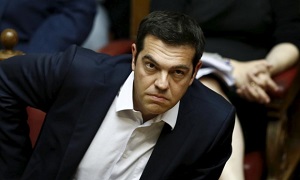 Greece moves to the brink as EU talks collapse
(28 June 2015)
The hang-wringing in Europe reached a fever pitch today as Greece took one very big step closer to default and possibly leaving the Eurozone. Greek Prime Minister Tsipras shocked the Troika (EU, ECB, IMF) on Friday by suddenly pulling out of negotiations and calling for a referendum to be held on 5th July on the final bailout offer. He has called the offer "humiliating" and is asking his people to vote "No". A No vote would ratchet up the pressure even more as Greece would likely have to default on its debt. After that, any number of scenarios are possible, including the much-talked about Grexit from the Eurozone.
It's a very fluid and confusing situation at this time (Sunday afternoon EDT) and no one really knows what will happen next. Greek banks are closing for the week in an effort to restore calm and prevent a chaotic bank run.
Read more...
---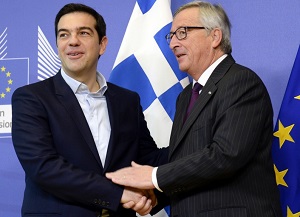 Jupiter aligns with Uranus: a signal of change?
(21 June 2015)
Stock markets were generally higher last week as the Fed reasserted its commitment to predictable but cautious hikes in interest rates later in the year. Despite ongoing uncertainty about what might happen in Greece, the Dow gained 1% on the week closing at 18,014. Indian stocks were even stronger as early indications of the monsoon season looked positive. The Sensex rose 3% before settling at 27,316.
The outcome was not too surprising as I thought gains would be more likely in the second half of the week. As expected, the early part of the week saw some fallout from the Sun-Mars conjunction, although the negative sentiment only lasted for about one day. Thursday was probably the most positive day of the week, with gains peaking a little before Friday's Moon-Venus-Jupiter alignment.
Read more...
---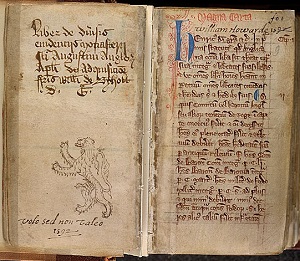 Magna Carta: 800 years of liberty
(15 June 2015)
Eight hundred years ago today, on 15 June 1215, the Magna Carta was given the royal seal by King John of England in response to a revolt by the nobility. The Magna Carta (Great Charter) is considered the foundation of the Western system of laws and democracy and began the codification of individual legal rights. Following years of legal abuses and arbitrary taxation by the widely hated King John, the nobles drew up the document that asserted that no man, including the King, should be above the law of the land. All subsequent revolutions in the English speaking world which sought to expand individual rights and liberties would cite the Magna Carta as its guiding inspiration.
Incredibly, the planets at the time of the royal assent to the Magna Carta show a stunningly clear picture of its historic intent and significance. We don't know what time King John affixed the document with his beeswax seal, but the noon chart is good enough for our purposes.
Read more...
---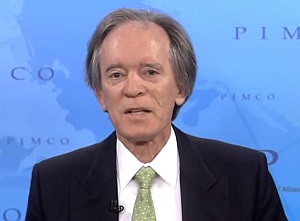 Lessons of financial astrology: the case of Bill Gross
(14 June 2015)
Bill Gross has to be wondering about his luck these days. The former superstar Chief Investment Officer of PIMCO had earned the nickname "The Bond King" during the past twenty years as his company became the largest bond fund in the world. His luck started to sour in 2011 when he made a very public call to get out of all US Treasuries in anticipation of rising interest rates and greater inflation as a result of the Federal Reserve's ongoing QE policy. This decision proved to be disastrously wrong as Treasuries rallied further and yields fell to record lows. As a result, PIMCO returns suffered and a growing number of investors withdrew their assets. Things got so bad that Gross was forced to leave the firm in September of last year and now manages the much smaller Janus fund.
Gross' fortunes appeared to be improving recently with a brilliant call to short German government bonds (Bunds).
Read more...
---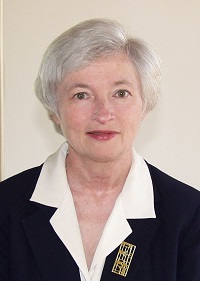 Storm clouds ahead for the Fed?
(7 June 2015)
It's a difficult road these days for Janet Yellen and her team at the US Federal Reserve. Seven years after the 2008 economic meltdown and the beginning of its unprecedented policy of zero interest rates and then quantitative easing (QE), the US economy is still shaky. Some economic indicators like unemployment look pretty good (5.5%) but we're a long way from where we were before the Great Recession. GDP is struggling at 2% per year, wages haven't recovered, housing is still down, and economic inequality is greater than it ever was. Economic insecurity appears to be at an all-time high as more people are either on food stamps or living paycheck-to-paycheck.
The problem for Yellen and her colleagues is that they desperately want to claim victory over this recession and "normalize" interest rates, if for no other reason than to have some breathing room in the case the economy tanks again and they have to cut rates again. But many economists fear that a rate hike now will stifle this fledgling recovery and cause a huge market sell-off which could have major consequences for the financial sector (e.g. pension funds).
Read more...
---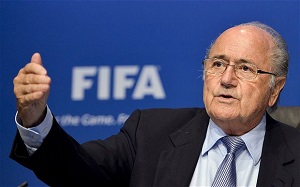 Sepp Blatter resigns from FIFA
(2 June 2015)
FIFA president Sepp Blatter resigned in disgrace today as corruption charges continued to swirl around the beleaguered football organization. Despite being re-elected as president just days ago, Blatter succumbed to the growing pressure to clean house from players, media and perhaps most importantly of all, corporate sponsors. Blatter had been president for fifteen years during which time rumours abounded that FIFA was immersed in a culture of bribery and corruption.
Not surprisingly, Blatter's horoscope shows significant problems at this time. His transit chart shows Saturn (6 Scorpio) moving closer to his equal 4th house cusp (square to the Ascendant at 2 Leo) at the bottom of the chart. Saturn tends to create more havoc in the 4th house which represents peace of mind and happiness. Saturn symbolizes obstacles and suffering so its location close to the 4th cusp is what one would expect from a situation where happiness is denied.
Read more...
---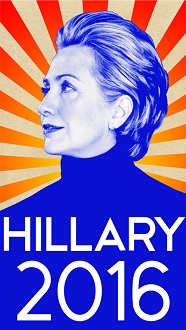 Hillary Clinton announces her campaign for President
(12 April 2015)
Hillary Clinton finally ended the pseudo-suspense today and announced her candidacy for the nomination for the Democratic Party in the 2016 US Presidential election. Ms. Clinton made the announcement via a Youtube video that was
released shortly after 3 p.m
. The exact timing of the announcement is important for astrological reasons since the timing of the launch of the campaign marks the official beginning of her endeavour to become President.
In my experience, the horoscopes of these launches reveal important information about the nature of the candidacy as well as providing clues about the eventual success or failure of the campaign. Clearly, Ms. Clinton is the Democratic frontrunner at this point as no serious challenger has yet stepped forward. She also stands a decent chance of winning against any Republican candidate according to recent polls. So what does this campaign launch chart tell us about her chances?
Read more...
---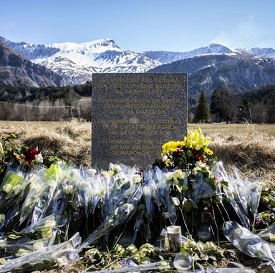 Andreas Lubitz and the tragedy of Germanwings 9525
(29 March 2015)
In the end, Andreas Lubitz got what he wanted. The 27-year old Germanwings pilot had told a former girlfriend that he wanted to make a spectacular gesture so that 'everyone would know his name'. The world has recoiled in shock and horror on learning that Lubitz deliberately crashed his plane into the French Alps killing himself and all the other 149 people on board on March 24. It has now emerged that young pilot had hidden his history of clinical depression from his employer in order to keep his job.
There is some uncertainty about the the birth date of Andreas Lubitz. Some sources report he was born on 18 December 1987 while others say he was born on 28 December, in the town of Montabaur, Germany. I prefer the chart for 18 December for reasons I outline below. As an additional obstacle, his birth time is unknown so a full analysis of his horoscope is impossible. However, even his birth date chart reveal some major planetary stresses for the present time.
Read more...
---