Stocks plunge as US-China trade war escalates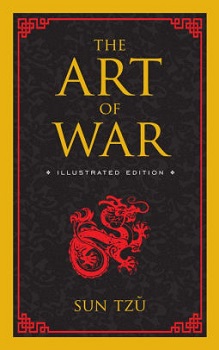 (5 August 2019)
"Trade wars are easy to win." As the US-China trade dispute escalated to new heights over the weekend, US President Donald Trump may well end up regretting his ill-chosen words. Against the advice of his own advisors, Trump increased tariffs on $300 million worth of Chinese goods last Thursday. The move shocked markets as stocks around the world sold off sharply. China retaliated on Sunday by stopping the purchase of US agricultural products and, more importantly, by letting the value of the Yuan fall to the crucial 7.00 level for the first time since the 2008 meltdown. The devalued Yuan makes China's exports cheaper and thereby is a strategy to avoid the full force of the US tariffs.
Financial markets sold off sharply again on Monday as the trade war showed signs of getting out of control. If a trade war is bad, a currency war is much worse, as it increases financial uncertainty and tends to diminish trade and economic activity. The depression in the 1930s was exacerbated by competitive currency devaluations as countries sought a way out of the slowdown without having to undertake any politically difficult structural adjustment.
So where does this all end? I am reluctant to make a specific prediction but the trade friction and financial fallout are likely to continue for a while yet. As I have noted previously, the
Chinese economy was likely to suffer economically
in the late summer period due to the Saturn direction station. The ongoing Saturn-Ketu conjunction (=obstacles, disappointments, disruptions) aligns almost exactly with China's natal Mercury (commerce, trade) at this time. Saturn is due to station at 19 Sagittarius on September 18 and this will square the Mercury at 20 Virgo. It's a nasty pattern for economic activity as it means that China is likely to slow further and that US actions will continue to be a problem. The potential damage of the Saturn station is intensified by the close conjunction of Mercury with Neptune and Ketu in the China natal horoscope.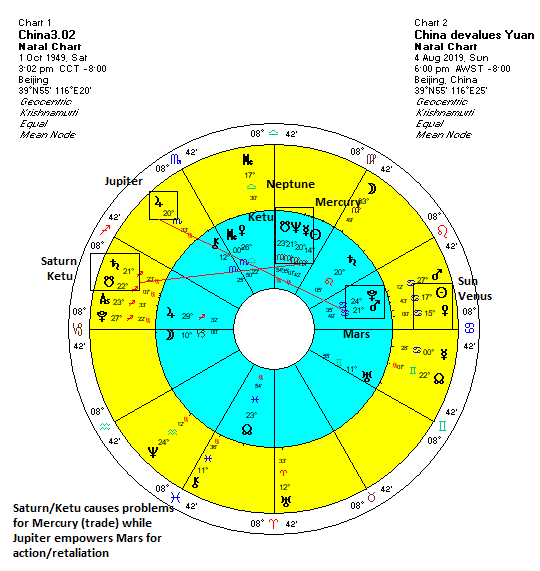 We can also see why China was quick to retaliate: Jupiter is exactly aspecting its natal Mars. Mars represents action in general and is also front and center in any conflict. Jupiter's more benefic influence here gave the Chinese government confidence and intelligence to act in its best interests. If a country is going to war -- and that includes a trade or currency war -- it is best to do so with this kind of Jupiter influence on Mars.
Trump's initial escalation on Thursday also highlighted a key area in the joint US-China horoscope. This combined chart cast for the temporal midpoint between their respective birth dates (17 February 1863) was sharply afflicted when Trump announced the additional tariffs. The Moon and Mars were both conjunct the Ascendant thus reflecting the renewal of the conflict around trade. This Moon-Mars also just happen to square the natal Mars in the combined chart so that added an extra layer of emnity.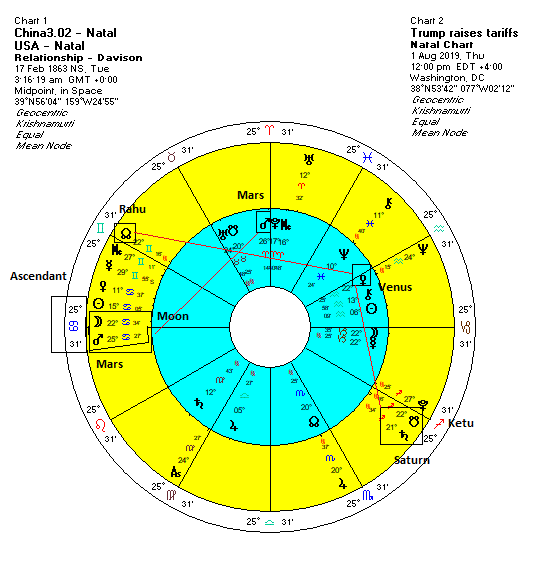 The larger affliction to the chart involves Venus, the planet of friendship, at 22 Aquarius. Venus is currently afflicted by the 120 degree aspect of Rahu and the 3rd house/60 degree aspect of Saturn. This is a very tense pairing since Saturn denies friendship and cooperation, while Rahu/Ketu force sudden changes to the relationship.
With Saturn due to station in September, this current level of discord is likely to continue for some time. The Rahu influence will lessen in a couple more weeks so that disruptive, out-of-control quality may diminish first. Saturn will begin to separate from its 60 degree aspect in October so the relationship may start to improve more substantively by that time.
Weekly Market Forecast
Stocks have been hammered over the past several sessions. I thought we might have seen at least a short term rise after last week's Fed meeting but it was not to be. My larger sense of caution from the ongoing Saturn-Ketu conjunction appears to be bearing fruit -- finally. The relentless rally in US stocks in July was puzzling given the ominous quality of this conjunction. In last week's post, I even questioned the extent to which a decline could occur. As always, the exact timing of the impact of alignments is more art than science.
While some underlying influences remain bearish, I am reluctant to forecast significantly more downside this week. Markets are getting quite oversold on a technical basis so there is a decent chance for a bounce in any event. And the short term planetary alignments would seem to point towards a rebound as the Sun and Venus align with Jupiter this week. So the planets do offer some support for the bullish narrative, even if volatility may remain elevated for a while yet.
For a more detailed analysis of the markets, please check out my
weekly subscriber newsletter
which is published every Saturday afternoon (EST). I outline the key technical and planetary influences for US and Indian stocks for the short and medium term, as well as currencies, gold and oil.
---
These forecasts are usually posted weekly.
You can be notified of new posts if you follow
ModernVedAstro on Twitter
.

Please note that this is a more general and much abbreviated free version of my
investor newsletter which can be subscribed to
here
.

Please read my
Disclaimer