Who is winning the US-China trade war?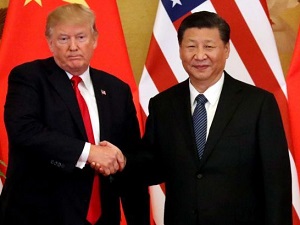 (6 August 2018)
The ongoing trade war between the US and China shows no signs of abating. Last week, President Trump announced his intention to slap 25% tariffs on another $200 Billion worth of Chinese goods. China's response was muted as they only targeted $60 Billion worth of US products for tariffs. While there is much gnashing of teeth about the possible global economic fallout of a full-scale trade war and a return to 1930s-style protectionism, so far financial markets are taking a wait-and-see approach. At least they are in the US, where most stock indexes are again near their all-time highs from January. The Dow Jones is comprised of more trade dependent companies so it has been lagging the NASDAQ and S&P 500.
But Chinese stocks have fared much worse and have actually entered a bear market as the Shanghai Index (SSEC) has fallen more than 20% from its January highs. While global markets all sold off sharply in January, it should be noted that Trump announced the first tariffs on Chinese goods on January 23 as part of his "America First" economic policy. Much of the global decline can be attributed to this action.
As the SSEC price chart shows, this coincided closely with the decline. One reason why tariffs have hit China harder than the US is because its economy is more trade-dependent. Financial markets believe the US is in a better position to ride out any ongoing trade tensions, especially if its domestic growth remains stronger than the rest of the world.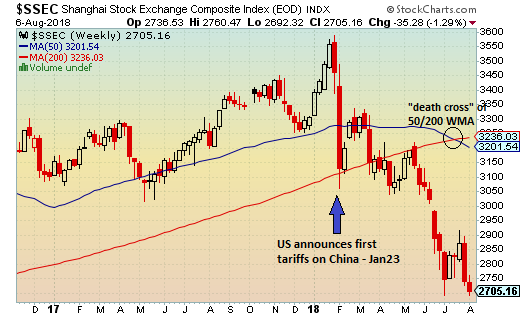 The Davison relationship horoscope for the US and China aptly reflects this growing trade dispute. The US-China relationship chart cast for the temporal midpoint of 17 February 1863, was under considerable stress in January when Ketu (South Lunar Node) was conjunct the Moon-Mercury conjunction (22 Cancer), very close to the 7th house cusp. Ketu disrupts and interrupts the status quo and is usually seen as a malefic influence. Mercury symbolizes commerce and the Moon represents collective mood and mindset. Therefore, we can see that Ketu's transit of this very powerful and close conjunction of the Moon and Mercury would have significant effects. As an additional layer of sudden change, transiting Ketu also closely aspected the natal Ketu-Uranus conjunction in the chart.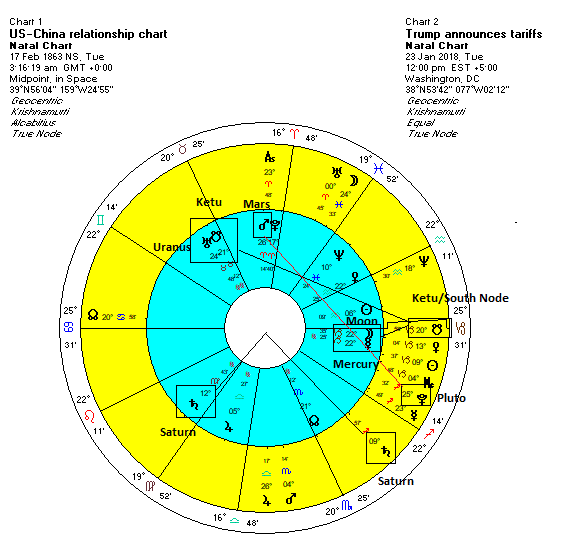 Moreover, Pluto (power, coercion, manipulation) is in a near-exact 120 degree angle with Mars, the planet of conflict, aggression and assertion. While the 120 degree angle is seen as less damaging than a 90 or 180 degree angle, it is still a potent combination that indicates an extended time period of tension and conflict between the US and China. In recent weeks, Saturn has been squaring its natal position (12 Sagittarius) and thus creating a climate of frustration, distrust and hardship.
So what does the future hold? The month of August could see some improvement in relations between the two countries as Mercury will align with Jupiter and Neptune this week. This will align with the natal Venus (22 Aquarius) and offer the possibility of a much-sought after trade deal. But I think there is also good reason to think that the tensions will worsen in September. Mars is due to station direct on 27 August at 4 Capricorn and then it will approach the Moon-Mercury conjunction in September and October. This looks unhelpful in terms of the chances for an enduring trade deal. The Mars influence could be felt most intensely in mid to late October when the conjunction is closest. This could signify any deal falling apart or some other area of dispute arising, such as involving North Korea.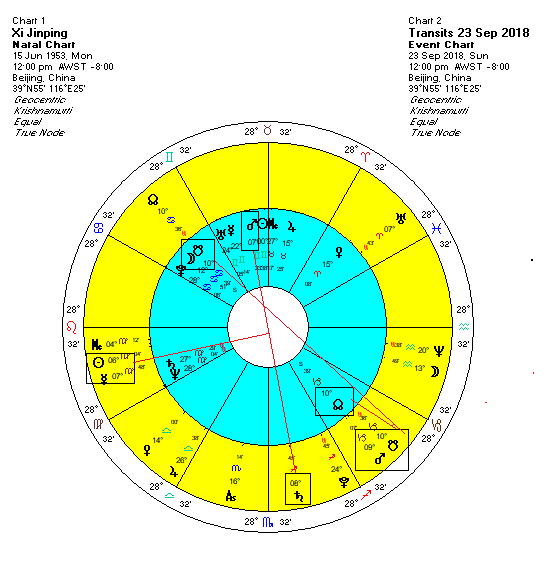 Another aspect of this situation is the afflicted chart of Chinese President Xi Jinping (15 June 1953). Xi has been coming under unprecedented domestic criticism over the past week or two as middle and upper class investors has expressed disappointment with China's response to the trade war. The upcoming Saturn station in September will oppose his natal Mars very closely -- within one degree -- and could indicate a very turbulent and difficult political situation for him. It is possible that Xi himself could be forced out of power although it could also be a less serious event such as China suffering additional economic distress in financial markets.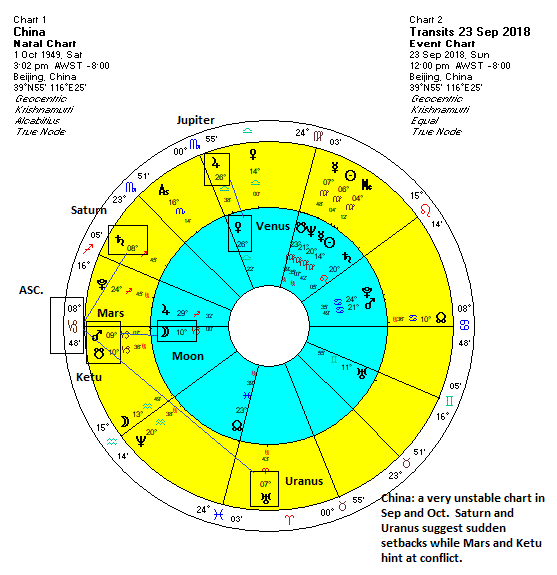 While it is usually a better astrological practice to expect more moderate outcomes, I would note that China's horoscope is very afflicted at this time. The South Node Ketu and Mars are conjunct the Capricorn Ascendant while Saturn stations direct at 8 Sagittarius which is exactly on the equal 12th house cusp. Saturn is due to square China's Sun and Mercury over the next year so that will likely reflect some ongoing disappointment and frustration with government and the economy. I suspect that I will be returning to this topic again fairly soon as the situation develops.
Weekly Market Forecast
Stocks have moved higher since the Full Moon and lunar eclipse on 27 July. While there was indeed the expected pullback in the days following the Full Moon, the decline was surprisingly modest. I thought we might have seen more selling given the tense Mars and Saturn alignments around the time of the lunar eclipse. Although disappointing, the fact that we did see at least a small pullback nonetheless confirmed the notion of relatively bearish effects around the Full Moon period.
Now the NASDAQ is at all-time highs after Apple posted strong earnings and became the first $1 Trillion corporation. The Dow is still lagging other indexes as it is still holding on to the 25,500 level. Stocks have rallied in recent days as we approach a more bullish New Moon. As it happens, this New Moon will also be a solar eclipse which occurs on Saturday, 11 August. This is a positive factor for stocks this week. Also we can see that the Sun-Mercury conjunction after hours on Wednesday the 8th will align fairly closely with Jupiter and Neptune. This is another generally positive influence for the week. So the stars this week offer support to the expectation that we could see new all-time highs in US and Indian stocks. To be sure, it is unlikely to be a straight line upwards, but there are no strongly negative short term patterns in play this week. Next week looks more mixed by comparison so markets may finally be approaching a time of reckoning.
For more details, check out
my weekly investor newsletter
. I cover US and Indian stock markets, as well as short, medium and long term trends in gold, oil, and major currencies.
---