Trump escalates trade war with China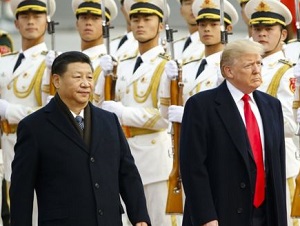 (17 September 2018)
What was previously seen as a mere bullying negotiating tactic became a reality today in the Trump's trade war against China. This afternoon President Donald Trump followed through on his threat to impose tariffs on a wide range Chinese goods entering the US. The 10% tariff on $200 Billion of consumer goods will start September 24th and is due to be increased to 25% by the end of the year if no solution is found to the ongoing trade dispute.
Stocks sold off across the board in reaction to this new Trumpian economic reality. The Dow and S&P 500 fell by 0.5% (but 1% after the announcement following the market close) while the NASDAQ and Russell 2000 fell by more than 1% on the day and another 1% after the close. As I suggested in last week's newsletter, Apple (and tech) was particularly vulnerable to a possible escalation in a trade war since China could single it out and punish it more specifically. For his part, Trump did not include China-made Apple products on his list of taxed electronics but the risk remains.
The relationship chart between Trump and Chinese President Xi is very afflicted this week. Taking the halfway point between their birth dates, the resulting relationship chart (14 December 1949) has a very heavy presence of malefic planets. The Mars-Ketu conjunction suggests surprising disputes and 'conflict beyond boundaries' is closely aligned with the Venus-Jupiter conjunction in Capricorn. This strident Mars influence will likely intensify in the coming days as it approaches Jupiter more closely.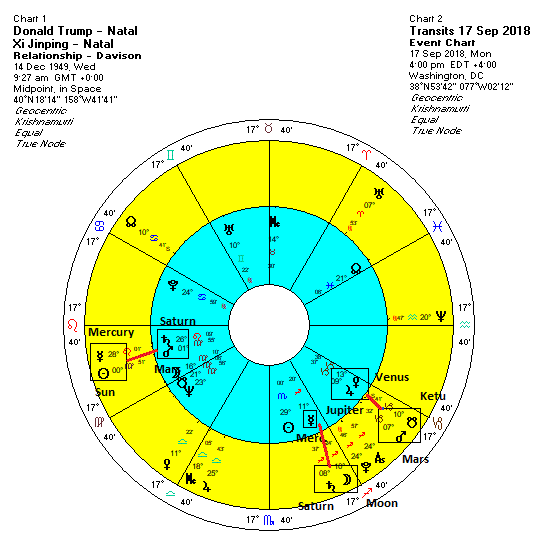 Saturn (8 Sagittarius) is approaching is conjunction with Mercury, the planet of trade and commerce. Saturn is a negative influence as it often acts to constrain the qualities of the planets it comes into contact with. Therefore, Saturn-Mercury would be a very apt combination for signifying the restriction of trade between the US and China. And yet we should note that the Saturn-Mercury conjunction will be exact and hence more potentially powerful in November so that may suggest no quick resolution to the dispute. And it leaves open the possibility that the trade war may well escalate further. Trump has threatened to add another $267 Billion of Chinese goods if things don't go his way. All Apple products would be included in that final tranche of taxable imports if it came to pass.
A third element of conflict is clear from the Sun-Mercury conjunction in late Leo and early Virgo coming up to hit the Mars-Saturn conjunction in the relationship chart. This is a terrible short term alignment as it activates a very intense Mars-Saturn conjunction in the relationship chart between these two world leaders. Given the afflictions in the rest of the chart, the Sun-Mercury pairing is highlighting a time of rivalry and frustration between both men. China may retaliate later this week, possibly when the Moon is aligned with Mars and Ketu. Interestingly, that very volatile triple conjunction occurs over top of the Ascendant in the China national horoscope (1 Oct 1949). It hints at a very raw, intense and even emotional situation.
While we should expect continued tension between the US and China on the trade front in the coming weeks, I would suggest that some kind of significant rapprochement is likely to take place in March or April 2019. At that time, Jupiter still station retrograde at 0 Sagittarius -- just one degree past the natal Sun in the Trump-Xi horoscope. It is a very positive and constructive transit that could finally lead to a breakthrough.
Weekly Market Forecast
Markets around the world did sell off on this tariff news today. India has finally joined the sell-off that has been ongoing in emerging markets since January and now perhaps the US will also. The planets were pretty negative today given the Moon-Saturn conjunction and the Mars-Uranus square and Sun-Moon square (Ashthami Day). The planets this week do not offer any compelling case for a quick rebound, although they may not preclude one or two positive trading days. Tomorrow (Tuesday) may bring better conditions for the Moon but the afternoon looks more unfavourable once again. Mars will still be in a 90 degree angle with Uranus so there is the potential for sudden and unexpected (and negative) developments. It's hard to be bullish here.
The Moon may figure prominently on Wednesday and Thursday as it conjoins Mars and Ketu (i.e. South Lunar Node) on both days. This is a more bearish alignment more along the lines of what we saw today. While I would be reluctant to predict two more big down days, some additional selling looks more likely than not. Friday's Moon-Jupiter square hints at more optimism.
For a slightly different take, readers may be interested to see how the week may play out from a
numerical index for planetary placements
. It's still very speculative and experimental at this point, but hopefully it can lead to a better understanding of how planetary cycles may work in the financial markets.
Of course, my
weekly subscriber newsletter
still offers more detailed coverage of short and medium term trends in US and Indian stocks, as well as currencies, oil and gold. The newsletter is published every Saturday.
---