The upcoming Trump-Kim summit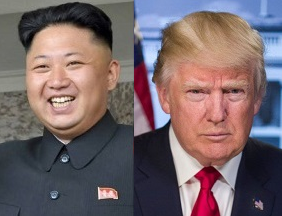 (4 June 2018)
It now seems virtually certain that US President Donald Trump will finally meet the leader of North Korea, Kim Jong-un. The on-again, off-again summit seems to be a go now as the two will meet in Singapore on June 12. The meeting is currently scheduled to take place at 9 a.m. local time. It will be the first time a US president has met personally with the leader of the isolated and enigmatic communist country of North Korea.
The meeting will represent the culmination of diplomatic efforts to stave off conflict in the Korean peninsula after North Korea had destabilized the region in 2017 with a series of provocative missile tests. Kim's North Korea is intent on building an arsenal of nuclear weapons in order to defend itself against a seemingly hostile alliance of the US, Japan and South Korea. Kim has apparently agreed to the US demand for denuclearization, although many observers believe he not serious about disarming and is simply buying time.
My view of the planetary alignments on June 12 suggest the summit is likely to go well. Using the horoscope of the Korean Armistice (July 27, 1953), we can see that benefic planets Mercury and Venus are placed in key positions. Mercury (talking, communication) is very much highlighted as it sits at the top of the chart conjunct the 10th house cusp. Both sides in the conflict will be talking constructively at the summit. The Sun (27 Taurus) will be conjunct the natal Venus so that suggests a convivial and co-operative atmosphere between the two leaders.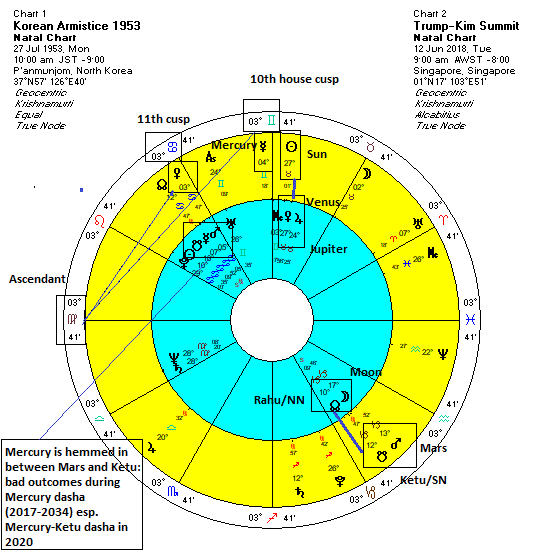 Since transiting Venus (3 Cancer) will conjoin the 11th house cusp (i.e. sextile the Ascendant) representing gains and wishes fulfilled, there is reason to expect the talks will go a long way to defuse tensions and set up further negotiations towards peace. The transits of these fast moving planets all point to a successful summit. Venus also gives a boost to Trump's horoscope at that time also as Venus conjoins its natal position. That is usually an indication of favourable situations, especially with the Sun in the 10th very close to his birthday on the 14th. Trump should benefit politically from the summit.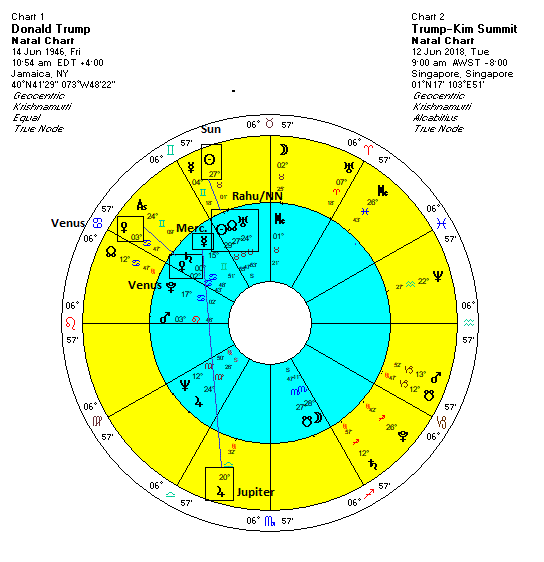 More conflict likely by August

However, I would also note that there is some instability here that is likely to linger. Mars and Ketu (South Lunar Node) are conjunct the natal Rahu and the Moon. This emphasizes the notion of conflict and unpredictability. No one really knows what will happen in the summit as North Korea's Kim is almost as unpredictable as Trump himself. The Mars-Ketu conjunction isn't exact, however, so I'm less inclined to think it will reflect tensions occurring during the summit.
It may be the case that the fallout from the Mars-Ketu conjunction will occur later, after Mars has turned retrograde (June 26) and then conjoins the natal Rahu and opposes Mercury and the Sun more closely. August will therefore be more difficult in this respect so
I would expect tensions to escalate once again in the late summer
. Whatever progress or deal that may have been made at this summit could well be at risk culminating around the time Mars goes direct at 4 Capricorn on August 27. Trump's chart is also hit hard by this Mars direct station as it will align with his Ascendant and sit on his 8th house of obstacles and setbacks.
Where this year's diplomatic efforts will eventually lead is hard to predict. Some short term success is possible but overall the situation doesn't look encouraging. The armistice chart just entered its Mercury dasha period in 2017. While Mercury is a benefic planet, it is "hemmed in" between malefics Mars and Ketu in the 11th house. This is a very unstable and dangerous Mercury which strongly hints are the possibility of some serious problems emerging. I do think there are some specifically difficult patterns in 2020 which will impact the Korean charts. I hope to research this question further in coming weeks.
Weekly Market Forecast
Stock markets have moved higher over the past week on hopes that a full-blown trade war can be avoided. The Dow closed higher again on Monday at 24,813 after some declines early last week. India's Sensex closed at 35,011 and has been weaker due to expectations of an interest rate hike at the next RBI meeting on Wednesday.
This largely positive performance was generally in keeping with expectations as I thought stocks would likely recover around the Venus-Jupiter-Neptune alignment. As expected, last Tuesday's decline coincided exactly with the Full Moon which was particularly bearish given the larger alignment of the Sun and Moon with Saturn.
As I have indicated in the simplified transit listing below, the planets this week look fairly positive. To be sure, the ongoing Mars-Ketu-Saturn alignment doesn't look good at all. It is a kind of looming cloud behind this market which will likely seriously damage sentiment at some point. Since Mars is slowing down ahead of its retrograde station on June 26th, however, it is less clear when its negativity will manifest.
But the bullish presence of a Sun-Mercury conjunction at 21-22 Taurus that aligns with Jupiter (21 Libra) and Neptune (21 Aquarius) makes me think stocks could extend their recent rise significantly higher this week. The late week is perhaps more bearish, however, but Tuesday and Wednesday should be positive enough to produce gains.
For more details and analysis on market trends for this week, this month and this year, please check out my weekly
MVA Investor Newsletter
. The newsletter is published every Saturday and includes extended discussion of US and Indian stock markets, as well as gold, oil and major currencies.
Simplified Transit Outlook for week of 4 June 2018
Mon 4
bullish
Sun-Mercury-Jupiter-Neptune +1
Venus-Pluto +1
Mars-Ketu-Saturn -1
Tue 5
bullish
Sun-Mercury-Jupiter-Neptune +3
Venus-Pluto +1
Mars-Ketu-Saturn -1
Wed 6
bullish
Sun-Mercury-Moon-Jup-Nep +4*
(maybe
too
bullish -- a possible peak?)
Mars-Ketu-Saturn -1
Thu 7
mixed
Sun-Jupiter-Neptune +1
Mars-Ketu-Saturn -1
Fri 8
bearish
Moon-Mars-Ketu-Saturn -3
Mon 11
mixed
Mercury-Venus +1
Mars-Ketu-Saturn -1
---