Is China losing the trade war?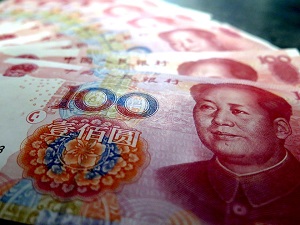 (27 May 2019)
Trump's sunny tweets notwithstanding, it may be that US-China trade war is just beginning. Financial markets are unsettled after last week's escalation of rhetoric as China doubled down on its refusal to submit to US demands regarding intellectual property and technology transfer. Once we pass this tit-for-tat tariffs stage, there are any number of options the Chinese could consider. They could sell their US Treasury bonds thus forcing up US interest rates. Or they could make it more difficult for US companies like Apple to manufacture in China. Or they could even initiate an outright ban on US products entering the country. Chinese media have already begun a soft campaign to embarrass owners of the iPhone.
If a compromise deal is not reached soon, then China could begin these Phase 2-type actions against the US. And let's not forget about the possibility that the trade war could morph into a more aggressive geopolitical confrontation. Taiwan would be an obvious target in the event that the trade war escalated further.
For now, I think China is losing the trade war. Its stock market is down 25% since it began whereas the US market is only down 2%. since Trump launched the first tariffs in January 2018. Recent Chinese economic data has generally been lower than expected suggesting slowing growth. Moreover, the slower growth in recent months has occurred despite a $1 Trillion government stimulus undertaken in late 2018 and early 2019. The Yuan has seen a significant decline in value, partially by design as the government is looking for any way to boost trade, even if it means depreciating its currency.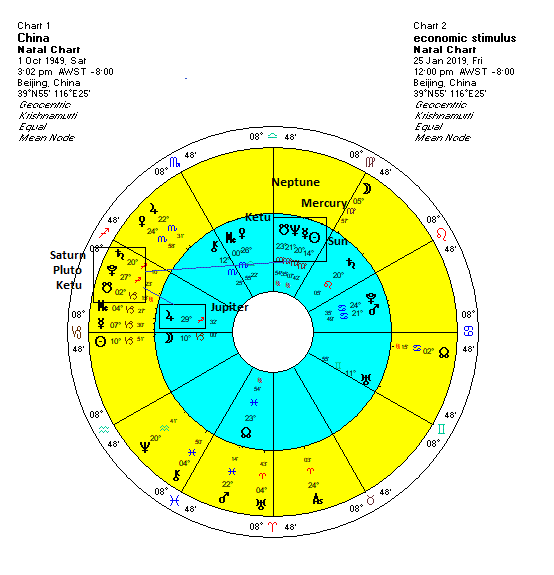 A look at the national horoscope of China shows the problem. In the first months of 2019, Pluto, Saturn and Ketu (South Lunar Node) were in an approximate conjunction with Jupiter (29 Sagittarius). Saturn is the key planet in this respect. Whereas Jupiter is the planet associated with optimism, expansion and growth, Saturn is its polar opposite. A Saturn conjunction with Jupiter suggests constraint and pessimism. Another negative influence of growth in early 2019 was Saturn's square 90-degree aspect with Mercury in Virgo, as well as the Sun, Neptune and Ketu. The Ketu transit influence upon Jupiter hints at how sudden and surprising this slowdown has been. Pluto's role in this triple conjunction indicates the role of power and coercion (i.e. Trump) in the slowdown in the Chinese economy.
The trade war is causing many middle class Chinese to worry about their future. This has caused an increase in capital flight as money goes offshore in search of safer assets (e.g. Western real estate). The chart suggests the trade war and the economy is likely to worsen in the months ahead as retrograde Saturn moves back into a very close square aspect with Mercury (20 Virgo) in the late summer. Mercury is the planetary significator of trade and commerce so its affliction by Saturn in the August-September period is a very dark omen indeed. Saturn will station direct at 19 Virgo at that time and therefore subject Mercury to an unusually long negative influence.
An additional problem is that Ketu will exactly aspect natal Saturn (20 Leo) since the Saturn-Ketu conjunction will remain in force from now until September. This is a very damaging configuration. The Ketu influence on natal Saturn could reflect the destabilization or transformation of major institutions in China.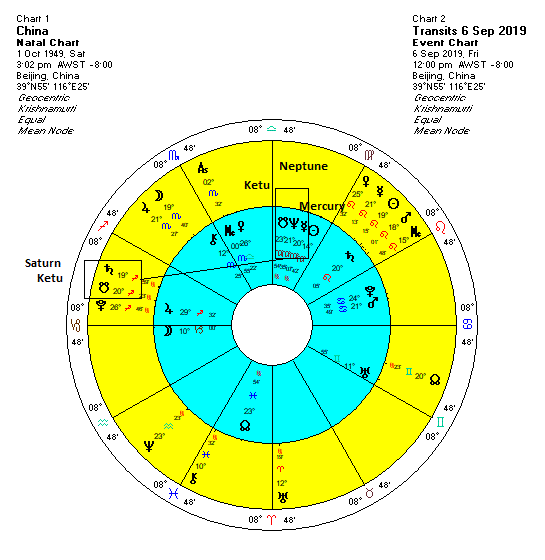 I would expect China to at least enter a recession by this time, and it could be much worse than that. Of course, official statistics in China are notoriously unreliable. Some China observers insist that official GDP growth figures have been overestimated by at least 2 percent a year for the past decade. The irony is that the possible collapse of the Chinese economy may well take the US economy down with it. So if there is a recession in the US later in 2019 and 2020, who will have won the trade war then? We will have to see how it all shakes out.
Weekly Market Forecast
The stock market outlook this week still doesn't look very good, at least not in the US. The early week Mercury-Venus alignment is somewhat positive but it may not last long. Monday was generally positive in global markets while US markets were closed for Memorial Day. However, Mercury and Venus will move into an alignment with Saturn and Ketu later in the week that looks likely to correspond with some downside. Thursday in the US in particular may have a greater risk of some selling as the Moon enters Ashwini nakshatra around midday while aligning with Mars and the Sun.
For a more detailed analysis of the markets, please check out my
weekly subscriber newsletter
which is published every Saturday afternoon (EST). I outline the key technical and planetary influences for US and Indian stocks for the short and medium term, as well as currencies, gold and oil.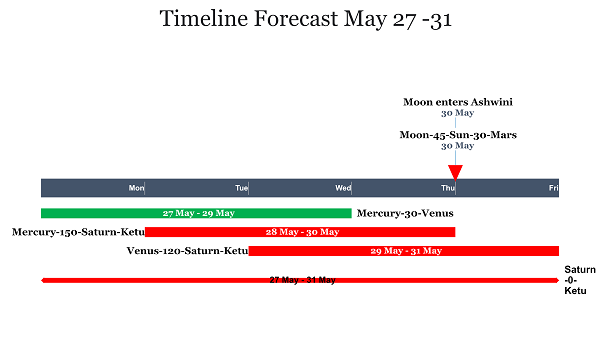 ---
These forecasts are usually posted weekly.
You can be notified of new posts if you follow
ModernVedAstro on Twitter
.

Please note that this is a more general and much abbreviated free version of my
investor newsletter which can be subscribed to
here
.

Please read my
Disclaimer