Stocks rebound as central banks plan new stimulus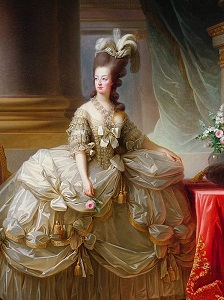 (19 Aug 2019)
Stock markets appeared to stabilize Monday after last week's fixation on recession and the imminent bond yield inversion in the US. As the global economy slows, central banks are preparing an array of stimulus plans to generate more growth and entice more spending out of an increasingly indebted consumer. Most government bonds in Japan and Europe now have negative yields and the ECB is considering another round of quantitative easing. Reports also suggest this time they may even buy stocks directly as a way of luring money out of individual savings accounts and into "risky assets". But as we have seen, the current fashion of inflating asset prices only makes rich people richer and increases social inequality. A modern-day Marie Antoinette might say, "let them eat stocks."
Last week saw an increase in volatility despite the bullish Sun-Venus conjunction. I thought we might have seen more upside although I had been somewhat uncertain given the possible negative influence of Thursday morning's Full Moon. As it happened, the low in S&P overnight Futures on Thursday morning occurred within an hour of the Full Moon, after which stocks began to climb.
This week is shaping up as a battle between Venus and Mars. The two planets are due to conjoin in sidereal Leo at the end of the week, just shortly after Fed Chair Powell's speech at the Jackson Hole economic conference on Friday. Venus is considered a positive planet, while Mars is often negative. When they are in an astrologically significant alignment, there is an increased risk of some selling in the stock market.
This is not a 100% certain bearish influence, but nonetheless there is an extra downside risk that differentiates it from the norm. For example, the Lehman Brothers bankruptcy that accelerated the meltdown in 2008 occurred on September 15th when Venus was conjunct Mars within just two degrees. Typically, the Venus-Mars conjunction lasts a few days and takes place once every two years.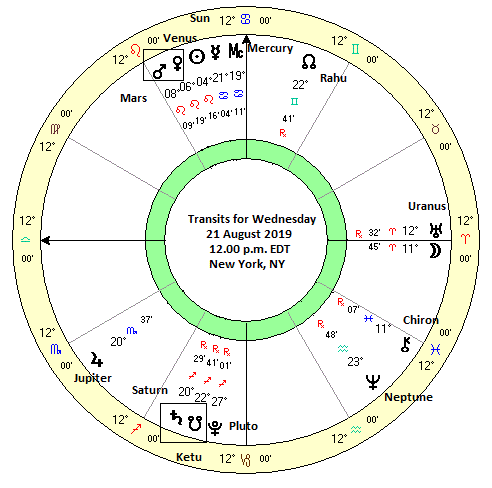 For this reason, I would not expect the current rebound in US stocks to continue uninterrupted for the rest of the week. Some down days are likely, with Wednesday having a slightly more negative profile than other days. As I have previously mentioned, I do think the ongoing Saturn-Ketu conjunction will likely have some additional bearish impact in the coming weeks. In other words, the bull market may take some time yet to resume its usual level of complacency.
As expected, gold has showed some signs of weakness since last week's post. The Venus-Mars conjunction may be fulfilling its bearish promise as it consolidates beneath its high from last Tuesday, Aug 13. Let's see how the rest of this transit plays out.
For a more detailed analysis of the markets, please check out my
weekly subscriber newsletter
which is published every Saturday afternoon (EST). I outline the key technical and planetary influences for US and Indian stocks for the short and medium term, as well as currencies, gold and oil.
---
These forecasts are usually posted weekly.
You can be notified of new posts if you follow
ModernVedAstro on Twitter
.

Please note that this is a more general and much abbreviated free version of my
investor newsletter which can be subscribed to
here
.

Please read my
Disclaimer