Crude oil falls below $100 as stocks mixed ahead of Fed meeting
>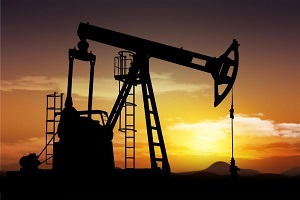 (27 October 2013)
US stocks rose again last week on positive earnings reports and weak economic data that likely further postponed any Fed tapering into 2014. The Dow was up more than 1% closing at 15,570. Indian stocks eased off somewhat on profit taking as the Sensex finished at 20,683. This more mixed picture was in keeping with expectations as I thought the separating Mercury-Jupiter aspect could coincide with diminishing optimism.
Crude oil fell below $100 last week for the first time since June as it finally returned to its pre-Syrian crisis trading range. Oil has declined 10% over the past month as the risk premium has slowly come off. Interestingly, we can see how this recent pullback is reflected in the natal chart of crude oil futures. Crude oil futures began trading in 1983 and therefore we can view the resulting horoscope as a kind of birth chart from which subsequent price movements may be deduced.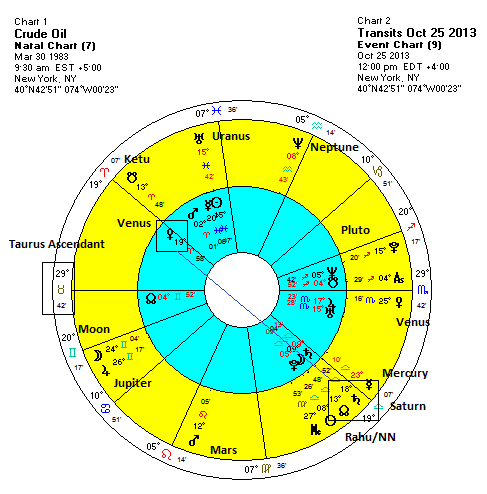 This sharp decline in prices is seen quite clearly on this chart because of a very close opposition aspect between bearish transiting Saturn (18 Libra) and natal Venus (19 Aries). In my subscriber newsletter, this aspect was one of the main reasons I predicted a significant decline would occur in October. Venus is usually an important planet for the intrinsic value of commodity since it is symbolically connected with money and happiness. When it is afflicted by malefic planets as it is here, its value tends to be depressed. Venus is even more important for crude oil since it rules the 1st house (Ascendant) in the chart which has Taurus rising, a sign that is traditionally linked to the planet Venus. Saturn moves quite slowly and only came within close range of its aspect to Venus a few weeks ago. This suggested that the downward pressure would likely manifest starting in late September and through October.
Saturn will move into exact aspect with Venus in the next week or two so further declines are likely. Once Saturn starts to separate from this aspect in early November, the price of crude oil may recover somewhat. However, we can see that transiting Rahu (13 Libra) is bearing down on the Moon-Saturn conjunction at 9 Libra. Rahu (North Node) always moves backward and its aspects can mark times of disruption and upset. In terms of prices, it can increase volatility and tends to be negative, although it is somewhat less negative than Saturn. Nonetheless, the influence of Rahu on this Moon-Saturn conjunctions is one good reason to expect that crude oil will undergo another negative move, probably sometime in December and January.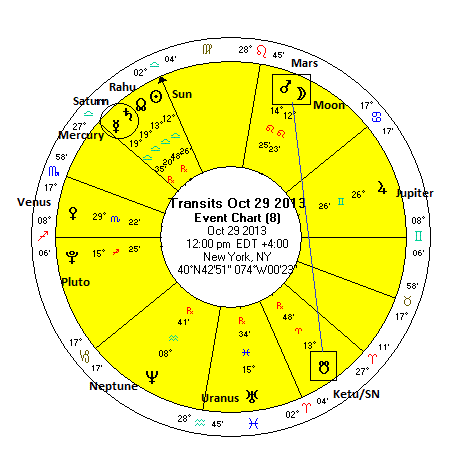 The planets this week look quite problematic. The early week period is dominated by a close Mars-Ketu aspect and the Mercury-Saturn conjunction. Both of these aspects seem negative and could coincide with some significant declines. However, the Federal Reserve will make its latest proclamation on the economy on Wednesday so one wonders if the effects of these aspects could somehow be delayed until after that announcement. Stocks generally rise into Fed meetings, so there is an intriguing discrepancy here between normal expectations and what the planets are telling us. I suspect the pre-Fed "melt up" may not happen as these aspects look inimical to optimism. At the same time, we can say that if stocks do happen to rise ahead of Bernanke's appearance, the market may be more vulnerable to declines afterwards. It should be an interesting week.
---