Obama's war on ISIS and the perils of Rahu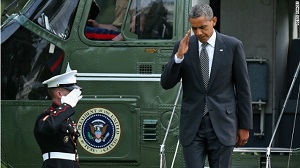 (28 September 2014)
One of the ironies of American history is that the presidents who are seemingly the least inclined towards the use of military power end up being some of its main practitioners. Woodrow Wilson (WW1), FDR (WW2), LBJ (Vietnam) are famous for campaigning against war but ended up in the thick of it despite their more humanitarian or isolationist impulses. Now it seems Barack Obama is the latest president to undergo this reluctant conversion to military force as he has committed US troops and air power into Iraq and Syria to fight the rising threat of ISIS. In 2008, Obama campaigned on getting the US out of Iraq after a long and painful war and finally achieved this goal in 2011 to much popular fanfare and national relief.
However, things haven't gone well since then as the Iraqi government has been narrowly dominated by Shiites and have therefore alienated much of the Sunni population in the north. This has opened the door to radical groups like ISIS to move into Iraq from its base from the already war-ravaged Syria. The lack of a US military presence on the ground has made a bad situation worse since there was no co-ordination or oversight to the fledging Iraqi army. The army has proven to be inept and corrupt and dominated by inexperienced political appointees. Obama has to own this war now since he chose to remove the residual US force despite advice to the contrary from some his own military advisors.
So now he appears to be leading from the rear again as he is trying to correct his previous, if understandable, mistake to remove the troops prematurely. It all amounts to another foreign policy set back for Obama who is seen by many as weak and ineffectual on this file. Significantly, the president has yet to enjoy any kind of popularity boost from his announcements of air strikes as sometimes happens when political fortunes have been sagging. Obama's popularity remains stuck near 40% which is the still at the bottom of its range during his presidency.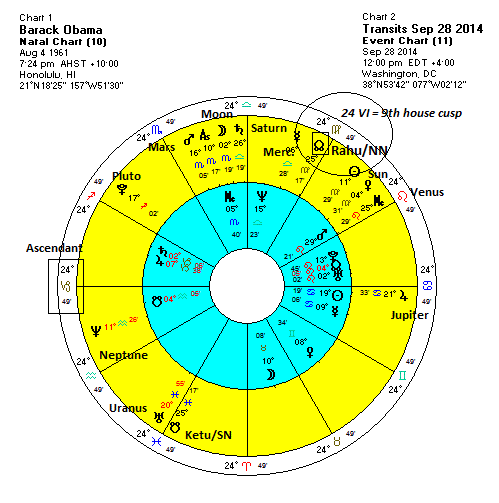 Astrologically, we do not have to look very far to see the fingerprints of the stars in this case. Foreign affairs and travel are typically seen through the 9th house in the horoscope so when it is influenced by a malefic planet, we can predict the likelihood of problems in those areas. Currently, transiting Rahu (North Lunar Node) is almost exactly conjunct Obama's equal 9th house cusp (24 Virgo). Rahu is a malefic planet by nature and often describes situations that are unstable and disruptive to the status quo. Although Rahu does not always correspond with explicitly negative outcomes, it definitely increases the probability of undesirable events. Its uncertain and changeable energy also does not work well in the 9th house which tends to be better expressed with more conservative and traditional energy such as provided by Jupiter. Obama's potential for headaches and troubles in this area multiply because Rahu has been stationary at 25 Virgo for several weeks. It will continue to station on this degree until November. In other words, Obama is unlikely to have things go his way for a while yet.
This Rahu transit also bodes poorly for Obama's Democratic Party in the midterm elections on November 4th. Current polling models suggest the GOP is now slightly favored to win 51 or more seats and gain control of the Senate. Obama's horoscope seems to confirm this view of a Republican Senate victory, although I hope to post something in greater detail on this question over the next week or so after I review more of the relevant charts.
Financial Markets Update
Stocks fell last week on geopolitical worries, terrorist threats and more weak economic data out of China. US stocks lost about 1% on the week as the Dow closed at 17,113 while the Indian market slumped 2% with the BSE-Sensex finishing at 26,626. I thought we might have seen more upside especially ahead of the Jupiter-Uranus aspect on Thursday. We did get some gains globally before Thursday but the exact aspect brought more selling. Interestingly, Thursday was also the day that Venus entered the sign of its debilitation (i.e. weakness) and stocks fell across the board. While I am fairly pessimistic about stocks during the transit of Venus through Virgo (which ends on October 18th), I thought we might have seen a brief rise on Thursday. Not so.
This week will see a troublesome looking Mars-Pluto aspect early in the week which could correlate with some declines. However, the midweek Mercury-Venus alignment could resuscitate hope -- if only for a while. Venus will move further into Virgo, of course, so that could put more pressure on the market.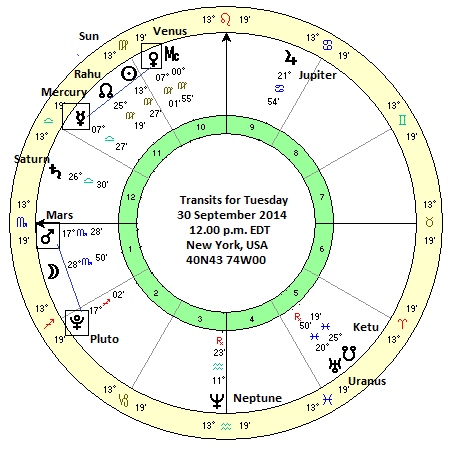 ---