Narendra Modi to be next Indian PM?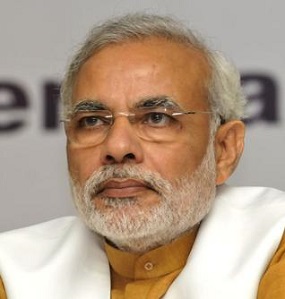 (30 March 2014)
If recent media polls are any indication, it looks like the BJP's Narendra Modi will be the next Prime Minister of India. Modi has enjoyed a large double digit lead over Congress rival Rahul Gandhi for several months and with voting to begin on 7 April, it seems quite likely that the BJP will oust the Congress Party in the Lok Sahba elections. The elections take place over a five-week period with the announcement of the final results due on 16 May. The Indian stock market rallied strongly on the expectation of a BJP win as investors anticipate more pro-business policies from a Modi-led government.
While we do not know Modi's time of birth, we can cast his Chandra Lagna chart from his date of birth, 17 September 1950. When the Ascendant is unknown, the Moon can be used as a substitute Ascendant to approximate the 1st house in a chart. The Moon is in Scorpio with Mars suggesting a capable and assertive character who can act decisively. He was born was a very strong stellium of planets in close conjunction in sidereal Virgo: Saturn, Sun, Mercury and Ketu (south lunar node). The exact Sun-Mercury-Saturn conjunction is indicative of an intellectual, rational and disciplined orientation. The Saturn influence here is typical of a person who understands and respects rules and traditions. The Saturn influence on Mercury and the Sun also gives him a natural caution and discipline and an ability to think deeply and systematically on the matter at hand.
If there is a wild card in the chart, it is through the presence of Ketu at 5 Virgo in close proximity to these other Virgo planets. Ketu brings a more subtle form of perception and a possible need to link actions to a higher purpose or meaning. Ketu is often linked to spiritual or other-worldly considerations among individuals who are so inclined. This may or may not be relevant to Modi's leadership of the BJP, which is an explicitly Hindu party unlike the secular and multicultural Congress Party. In more everyday matters, a prominent Ketu can indicate a willingness to entertain unorthodox solutions to common problems. Modi is widely seen as someone who is likely to overturn the vested interests and corruption of India's political and bureaucratic classes in favour of a more streamlined and market-driven approach to the economy. Modi's high profile and level of success can be glimpsed in the relative positioning of that four-planet conjunction in Virgo (or the last degree of Leo in the case of Saturn) in the 11th house from the Scorpio Moon. The 11th house represents gains and wishes fulfilled and is often prominent in the charts of very successful people. Put simply, a strong 11th house means the person realizes their goals and gets what they want. This is one important difference between a successful and high profile person and one who is more modest in their achievements.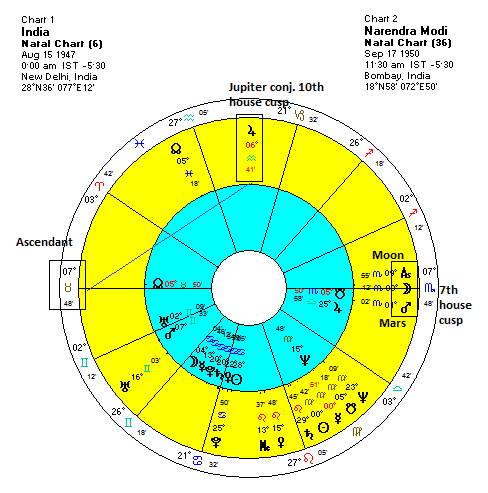 Without his birth time, it is difficult to make any specific predictions about the election outcome. Certainly, his chart looks strong in 2014 so that should be generally commensurate with wide recognition and success. One interesting thing we can do is to see how Modi's horoscope fits with the horoscope of India. This is a way of understanding to what extent he can capture the energy of the country as a whole and how he will leave his mark. We can see that his Moon-Mars conjunction in Scorpio sets up nicely close to the 7th house cusp, directly opposite the Ascendant at 7 Taurus. I see this as an essential resonance between his actions (Mars) and feelings (Moon) and those of the country (Ascendant). Modi's real political connection with India may be his Jupiter at 6 Aquarius. His Jupiter sits at the very top of the India chart in the 10th house representing status and leadership, just one degree away from the equal 10th house cusp at 7 Aquarius. Jupiter symbolizes wisdom, wealth and fortune and therefore should be seen as Modi's trump card in this election. This very powerful placement of his Jupiter suggests that Indians see him a wise and noble person who can improve their lives. This is an excellent placement for any politician who is contesting an election.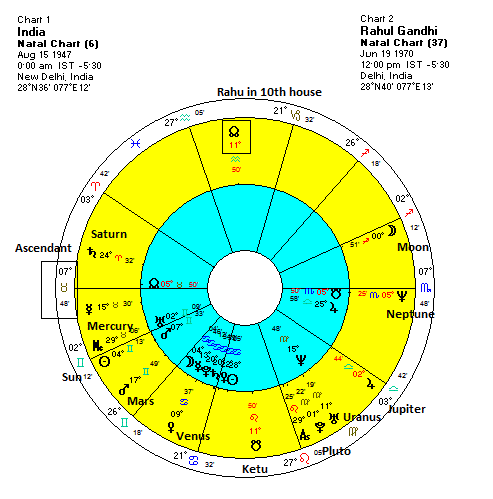 Modi's chief rival is Rahul Gandhi (19 June 1970) of the Congress Party. His chart enjoys no similarly exemplary overlays with the chart of India. There may be some positive contacts in Rahul's chart but the presence of his Rahu in India's 10th house seems less promising. Based on this criteria, we would have to say: advantage Modi.

Financial markets update
Indian stocks rose sharply last week as the Sensex gained 3% closing at new all-time highs above 22,000. By contrast, US stocks were more mixed as persistent worries over the Ukraine kept the bulls from running. The Dow was mostly flat closing at 16,323. I had been fairly neutral about last week as I noted the blend of positive and negative aspects. The midweek Mercury-Jupiter aspect seemed to fit with gains in India but US stocks were mostly weaker after Tuesday's gain.
This week looks quite bullish to start as the early week Sun-Uranus conjunction will align with Jupiter and Pluto. Just how many up days we will see remains to be seen as Mercury aligns with Mars and Saturn midweek. One would think that once the Sun-Uranus conjunction occurs, we are likely to see some declines. Of course, with the Jupiter-Uranus aspect still approaching (due April 20th), there is good reason to stocks should be able to mostly hold their own here.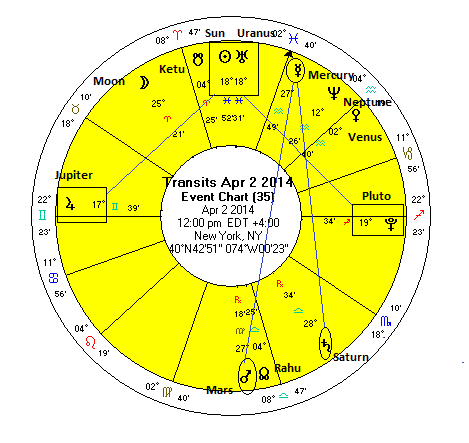 ---