Mercury turns retrograde on Canada's Justin Trudeau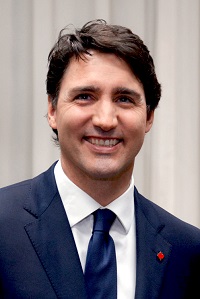 (4 March 2019)
It may be a good time to get your ducks in a row -- just in case. Mercury, the planetary mischief-maker, is due to turn retrograde tomorrow, Tuesday, March 5. Our solar system's innermost planet will station at 5 degrees of sidereal Pisces, and then begin its three-week backwards journey through the night sky. It returns to normal forward motion on March 28 after stationing at 22 degrees of Aquarius.
Mercury retrograde cycles have a bad reputation for bringing all manner of confusion, frustration and disruption to our normal routines. Perhaps nobody knows this better than Canadian Prime Minister Justin Trudeau. Actually, Trudeau has been on the defensive for the past month or so as his government is at the center of a corruption scandal that threatens to bring down his whole administration. The opposition parties and many media pundits have been calling for a formal inquiry, and his resignation.
So far, two of his ministers have resigned, the Justice Minister Jody Wilson-Raybould on February 12 and and today, Treasury Board President Jane Philpott also resigned citing a loss of confidence in the government from its poor handling of the scandal involving the Quebec-based construction company, SNC-Lavalin.
Not only does Mercury turns retrograde tomorrow, but
it turns retrograde just one degree away from Trudeau's 8th house natal Mars
. Mars in the 8th house symbolizes conflict and troubles from that which is hidden and unknown. The 8th house is often seen as the house of embarrassment and scandals, among other things. Mercury retrograde periods can often bring snafus and headaches, but when Mercury stations on a malefic planet in the chart like Mars, there is a much greater likelihood that the problems will the significant. Generally speaking, the period several days before and after the retrograde and direct stations are the most potent.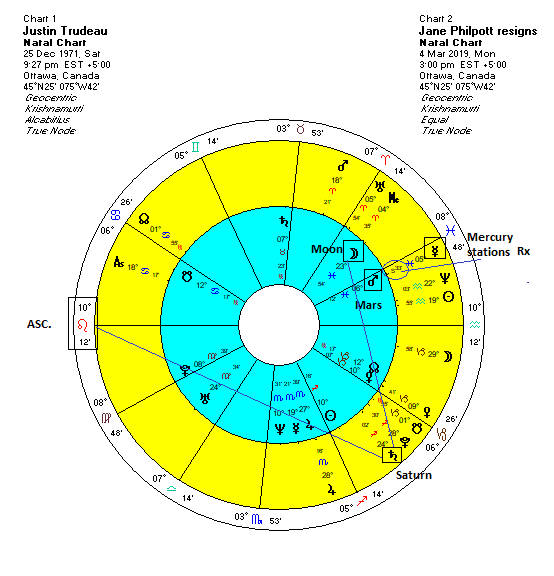 We can see from Trudeau's horoscope that his troubles are not be confined to this single Mercury Rx factor. The larger problem is that Saturn is aspecting his Moon (23 Pisces) by forward square aspect. This may not be a full-strength Vedic aspect, but it is nonetheless close enough that it can inflict damage and do harm. Saturn-Moon squares are usually times of personal difficulty, often marked by feelings of alienation, disappointment and loneliness. Interestingly, Saturn (23 Sagittarius) is also forming a 135 degree angle with his Ascendant (10 Leo). Saturn's slow velocity here suggests the twin alignments with the Moon and the Ascendant have been building for weeks. Trudeau's political problems intensified on February 8 when the media discovered the SNC-Lavalin scandal and then on Feb 12 when the Justice minister resigned. At that time, Saturn was at 21 Sagittarius, so just two degrees from an exact square with the Moon.
The outlook for Justin Trudeau looks difficult for the next several weeks at least. On Wednesday, his recently resigned aide and right-hand man, Gerald Butts, is due to testify before the Justice Committee. With Mercury stationing Rx just the day before, it seems unlikely that the grim political optics can improve. They may well get worse.
And with Saturn due to station retrograde on April 30th, it is hard to see Trudeau quickly putting this scandal behind him. Saturn will station at 26 Sagittarius, just one degree from an exact 135 degree alignment. (Parenthetically, I would note that US Democrat wunderkind Alexandria Ocasio-Cortez may also suffer from this Saturn Rx station in April and May as it will exactly square her Sun at 26 Virgo.) In fact, Saturn will be within range of his Ascendant and the Moon for most of the rest of 2019. With an election upcoming on October 21, Trudeau will have an uphill battle for re-election. And yet assuming he doesn't suddenly resign, I think his chances are good for re-election.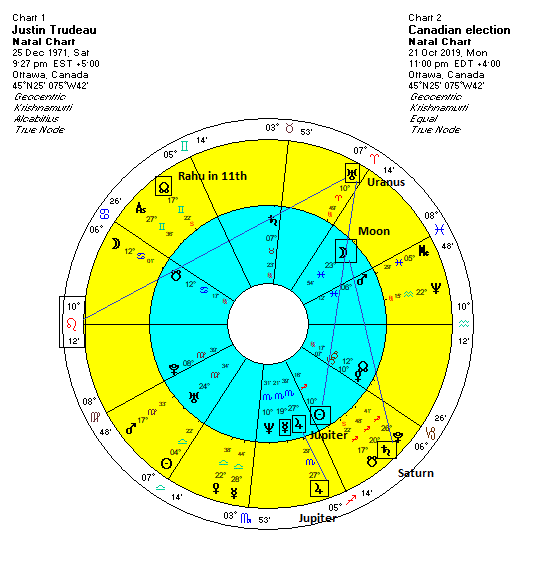 Transiting Jupiter will be conjunct its natal position at 27 Scorpio at the time of the election so that is a positive factor. Saturn will be three degrees away from its square with the Moon so that could relieve some of the negative pressure on him. It's still close though and since Saturn will station one month before, it suggests a tense and onerous time for Trudeau.
Uranus (10 Aries) will form a very constructive Grand Trine alignment with his Ascendant and Sun which should enhance his life outcomes. Transiting Rahu will be deep in the 11th house of gains by that time so that is another plus. Although Rahu has a chequered reputation, it does well in the 11th house and is often prominent during favourable events.
And he will still be running the Moon-Mercury dasha period. The Moon receives the aspect from Jupiter natally and by transit this year so that will offset some of the worst of Saturn's effects. And Mercury rules his 11th house (Gemini) of gains and income and it is conjunct Jupiter in his 4th house. Mercury should be a winning planet for him, even if it is not strong enough to prevent obstacles from emerging.
I should say that Trudeau is likely to have a very stressful period in June when Mars and Saturn will both align with his Moon. I wouldn't think this is enough to force him from office, but let's see what happens in the run-up to that alignment. It does look like his life becomes significantly more difficult at that time, whatever the source. So at this point, I would think Trudeau has a good chance to win re-election, even if his majority is reduced or he has to lead a minority government.
Weekly Market Forecast
The approach of the Mercury retrograde period appeared to negatively impact investor sentiment today also as US stocks fell. Last week, markets were fairly flat but the mood was still somewhat buoyant in growing anticipation of a US-China deal that could return global trade to the pre-Trumpian status quo ante. It is unclear just when a deal will happen or what it will look like, however, as markets expressed some caution that any trade deal may not save the slowing economy. Most of the economic data is weakening in the US, China and Europe and there is a rising risk of a recession this year or next year.
Mercury turns retrograde on Tuesday but I am agnostic on whether that will be a decisive day. More important is that Mercury will form a complex alignment with several planets through this week which could see further declines in the stock market. Mercury (5 Pisces) will align closely with Uranus (5 Aries) and Chiron (5 Pisces) and also will form a 45 degree alignment with Mars at 20 Aries later in the week. Wednesday and Thursday look arguably more bearish in this respect, as the the Sun and Neptune come under the aspect of Saturn and Moon conjoins Mercury on Thursday.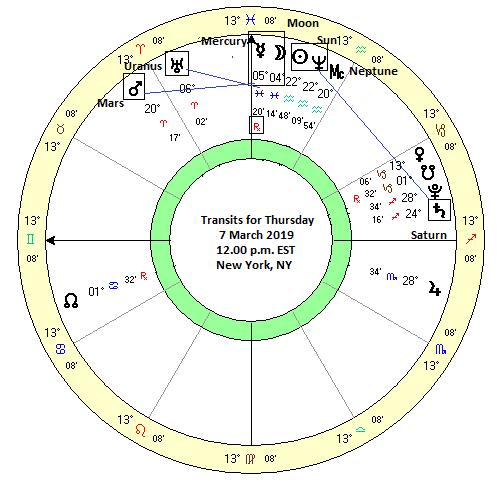 So as strong as this post-Christmas rebound has been, I think we will see a pause and pullback this week. I'm less convinced this the start of a big decline that will revisit the December lows, however. For example, next week looks more positive as Jupiter aligns with Pluto and the Sun. The revisiting of the December lows will likely take much longer -- probably some weeks (or even months) after the Jupiter retrograde station on April 10.
For more details, please check out my
weekly subscriber newsletter
which is published every Saturday (EST). I offer short and medium term analysis of US and Indian stocks, along with currencies, oil and gold.
---