Jupiter aligns with Uranus: a signal of change?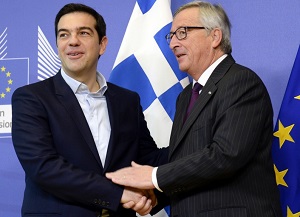 (21 June 2015)
Stock markets were generally higher last week as the Fed reasserted its commitment to predictable but cautious hikes in interest rates later in the year. Despite ongoing uncertainty about what might happen in Greece, the Dow gained 1% on the week closing at 18,014. Indian stocks were even stronger as early indications of the monsoon season looked positive. The Sensex rose 3% before settling at 27,316.
The outcome was not too surprising as I thought gains would be more likely in the second half of the week. As I noted in last week's
market forecast
, the early part of the week saw some fallout from the Sun-Mars conjunction, although the negative sentiment only lasted for about one day. Thursday was probably the most positive day of the week, with gains peaking a little before Friday's Moon-Venus-Jupiter alignment.
Stocks are being supported by the ongoing Jupiter-Uranus aspect. These two bullish planets are moving quite slowly and will form an exact 120 degree angle on Monday the 22nd. Once the angle begins to move past 120 degrees, their combined influence may become a less reliable indicator of bullish sentiment. This doesn't mean that markets are likely to decline starting on the 23rd, but it does mean that declines may become more frequent as we move further into the month of July. Given the ongoing uncertainty over Greece, it is interesting that this Jupiter-Uranus aspect should coincide at a time when the bailout expires and we could finally get a default, if not outright exit from the Eurozone.
On one hand, the Jupiter-Uranus alignment suggests optimism and hope, even "prudent risk taking." One would think that would be helpful for getting a deal done with Greece in the short term. On the other hand, once this aspect begins to separate in July, the psychic terrain may become less conducive for compromise. The possibility for financial disagreement and hardship in Greece will also rise in July given the Saturn-to-Venus square aspect in the
Tsipras government swearing-in chart
that I noted back in January. Will this mean another round of painful austerity or a collapse of a deal? It seems unlikely that the leftist Tsiprais government would ever submit to more austerity.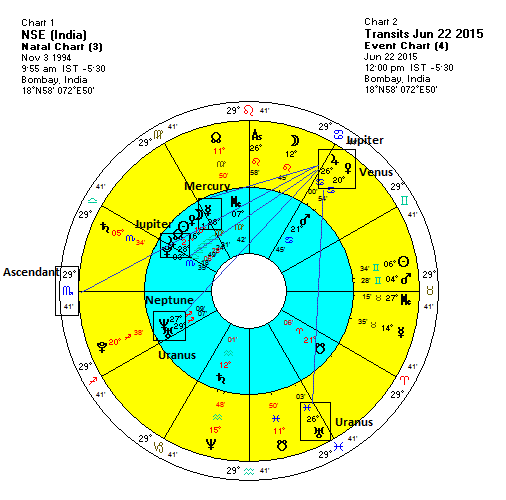 Greece aside, we can see how this Jupiter-Uranus aspect may be operating in Indian markets by looking at the NSE chart. Jupiter (26 Cancer) is in the 9th house and approaching a very nice aspect to the Ascendant at 29 Scorpio. We can also see that Jupiter will soon align with several planets in the natal chart near 28 degrees -- Mercury (28 Virgo), Jupiter (28 Libra), Neptune (27 Sagittarius) and Uranus (29 Sagittarius). Jupiter will reach 28 degrees of Cancer in the first week of July so that could be a pivotal week. Once Jupiter reaches this degree, we are more likely to see weakness in the market. Bullish Venus also conjoins Jupiter in that first week of July so that is an added reason to expect some significant developments in the markets.
Weekly Market Forecast
More immediately, this week may again have a rocky start. Mercury squares Neptune (confusion) on Monday and Tuesday, just at the same time that Mars aligns with Saturn (frustration). Both look unhelpful for collective sentiment so we could see some declines in the early part of the week. However, the late week may again see a rebound as Venus approaches its conjunction with Jupiter. This conjunction will be exact on June 30th.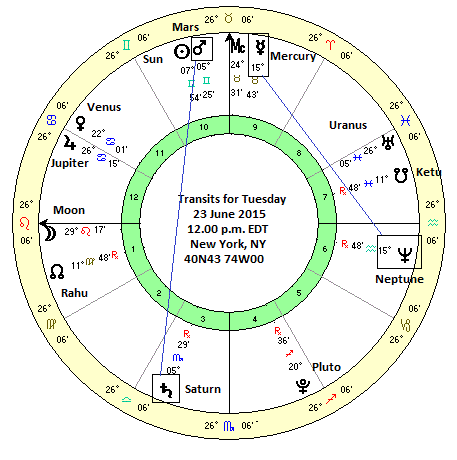 ---