Hillary's pneumonia is latest setback as debilitated Venus transits Virgo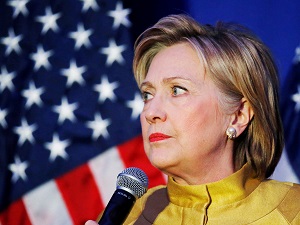 (14 September 2016)
It's been a rough September so far for Hillary Clinton. The Democratic nominee for president has watched most of her lead in the polls evaporate as her campaign has failed to capture the public imagination. Last week's "basket of deplorables" comment about supporters of Donald Trump also put her on the defensive against charges of elitism. And finally there was the disturbing video of her stumbling and collapsing into a waiting van after leaving the 9/11 commemoration in New York on Sunday. She has been officially diagnosed with pneumonia and is taking a few days off although suspicions remain the possibility of a more serious health problem. The whole pneumonia episode has not only brought the health question front and center but it has again raised doubts about her campaign's transparency.
This setback is not surprising given the difficult placements both in her horoscope and those of her family. Back in April, I suggested that the late August Mars-Saturn conjunction would likely reflect some
new difficulties for Hillary Clinton
around that time. That has largely been the case as she has watched her post-convention bounce disappear amid her lackluster and remote campaign style. The Mars-Saturn conjunction occurred at 15 Scorpio and thus exactly squared daughter Chelsea's Sun (15 Aquarius) in late August. With Neptune also conjunct the Sun, the Saturn influence is likely worse in terms of undermining vitality, status, and achieving goals.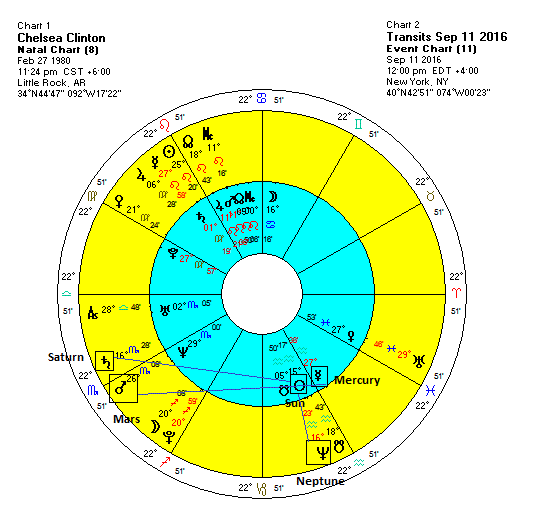 And Saturn has only moved one degree since August so Hillary's troubles are still very much the result of that Saturn transit. And we can see that her mother's awkward 9/11 health episode occurred just as Mars aligned with the Sun-Mercury conjunction and thus exactly squared Chelsea's Mercury (27 Aquarius). Transiting Mars (26 Scorpio) will also square Hillary's Moon (29 Aquarius) in the coming days so her frustration and stress levels are likely to remain elevated for a little while yet. That assumes, of course, that the 8.00 a.m. birth time is correct.
Hillary's DD-rated birth time creates a certain amount of uncertainty when using her horoscope. However, I would say that the transit of Venus through Virgo from Aug 25 to Sep 18 is likely a contributing factor to her recent setbacks. If the 8.00 a.m. chart is correct, then she is running the Sun-Rahu dasha period. Both planets are in signs ruled by Venus: the Sun is in Libra while Rahu is in Taurus. Since Venus is debilitated in Virgo, its current transit could weaken both those dasha lords and hence worsen her life outcomes. Moreover, Virgo is in Hillary's 12th house of loss. Hence, the 1st house lord Venus (N.B. the 1st house represents health and vitality) is not only debilitated but also transiting through a difficult house. Of course, Venus itself symbolizes women and at the moment, Hillary Clinton is the most important woman in the world. It may not be unexpected that she should be faring badly while her symbolic planet, Venus, is debilitated in sidereal Virgo. In the plainest terms, Venus (Hillary) is debilitated (sick).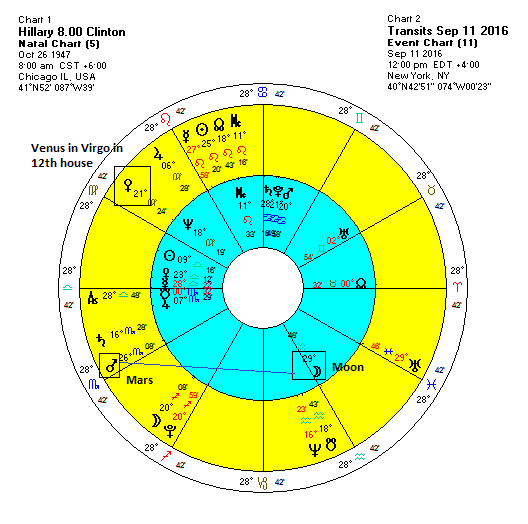 As I also indicated previously, I expect Hillary's fortunes will improve by October. In fact, I would think they start to improve before that. The entry of Venus into Libra on September 18th may be part of that upswing. Of course, everyone is anticipating what will happen in the first debate on September 26. Even if the Hillary campaign in trouble before then, she could turn it around and regain her positive momentum. I expect she will perform well in this debate and will likely be declared its winner in opinion polls.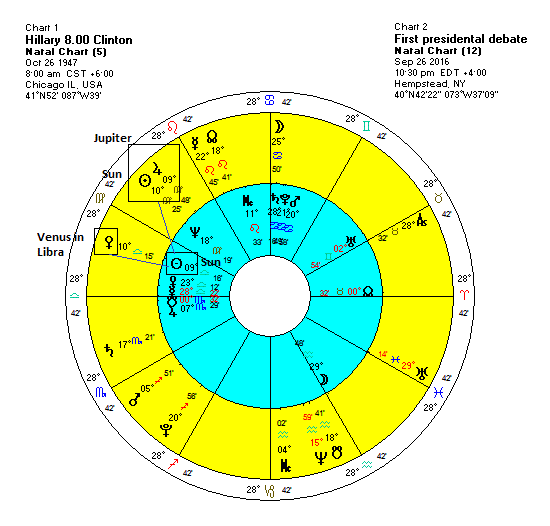 The planets paint a favorable picture for her on the day of the debate. Transiting Venus will be just one degree past its conjunction with her Sun (9 Libra) while the Sun-Jupiter conjunction at 9 Virgo will also offer indirect support to her Sun. Furthermore, we can see that Bill Clinton's chart will also be strong at the time of the debate. Jupiter (9 Virgo) and the Sun (10 Virgo) will be approaching a conjunction with Bill's Ascendant at 12 Virgo. This is an excellent alignment and speaks to achieving status, high profile and favorable outcomes. In this case, these outcomes will most likely pertain to Hillary's debate performance.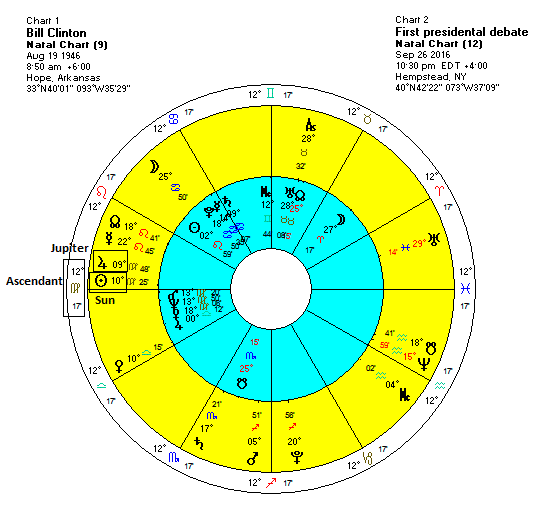 For his part, Donald Trump will have a strong Mars energy on the night of the first debate. Mars will sit on his equal 5th house cusp and thus could accentuate his natal Mars which is close to the 1st house cusp. This could boost his mental quickness and alertness which could be quite useful for him. However, as I see it, there is a risk of too much Mars energy for even Trump to handle effectively. He may therefore appear too aggressive and may be more inclined to make statements that are not thought through. Trump's blunt spontaneity has sometimes been his best asset, but it just as often gets him into trouble. I suspect we may see more of the latter on debate night.
As before, I think Hillary Clinton will still win this election. I would only become more doubtful about her election chances if she either loses the first debate or sees no obvious upswing in the days after Venus enters Libra on September 18.
Weekly Market Forecast
Stocks fell late last week and still look a bit shaky so far this week. Investors decided to take profits as many are now wondering if the Fed may well raise rates at its next meeting on September 21. This decline was very much in keeping with last week's
market forecast
as I thought the Moon's alignment with Mars and Saturn late last week would be negative. I also thought that we could see some significant downside from the ongoing transit of Venus in sidereal Virgo. The decline thus far is pointing to yet another empirical confirmation of this fairly reliable single factor indicator in
financial astrology
. We can make the final assessment of this year's transit of Venus in Virgo after it conclusion on September 18.
The rest of this week looks mixed but it seems unlikely to produce a big bounce. Wednesday in the US and Thursday look slightly more promising for gains but it's hard to get very excited about it given the ongoing square of the Sun and Mars. It's past exact now but it's still very close. Moreover, the Moon will highlight that alignment in Friday's European and US sessions. That could well suggest more weakness. With Venus entering the more bullish sign of Libra on Sunday, there are somewhat better prospects for early next week. Of course, the Fed meets next Wednesday so that could be a big market mover. I will offer my expectations about this upcoming Fed meeting in next week's forecast.
---