Markets dazed and confused by Fed as Mercury turns retrograde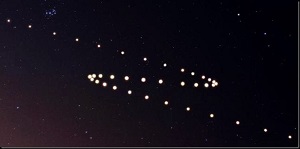 (21 September 2015)
Is the Janet Yellen losing her touch? Or more to the point, is the Fed losing control of financial markets? Most global markets declined last week after the Fed Chair chose to leave interest rates unchanged at zero percent after citing concerns over the state of the Chinese economy and iffy US data. The usually reassuring and dovish Fed Chair left investors puzzled and anxious as she painted a more sober picture of the economy than expected. There also appears to be growing confusion over which criteria the Fed is using to time its eventual interest rate hike. Besides US inflation and employment data, the Fed now seems to be including China into its calculus for when the "lift off" in interest rates will finally take place after six years of ZIRP. This was a change in messaging and
left many confused
about just how or when the Fed will rate hikes, if they ever do.
In last week's
financial forecas
t, I thought the planetary influences argued somewhat for a hike given the strong Saturn influences here. However, I noted a possible alternative view whereby the dominance of Saturn could restrain the Fed from making any move at all out of fear of damaging confidence and crashing the stock market.. This appears to have been the case as the mood darkened on Wall St and throughout most European markets. Besides possibly signaling a desire to tighten money supply through an interest rate hike, Saturn is also correlated with pessimism and declining markets.
I had also noted the possibility that markets could be confused in some way by the Fed statement since Mercury turned retrograde just 9 minutes after its release. We definitely got that in spades in the US and Europe sold-off sharply after the puzzling and disappointing statement and continued to decline on Friday. This late week decline was therefore in keeping with my bearish predictions in my subscriber newsletter. Asian and emerging markets rose, however, as the US Dollar weakened and enhanced the appeal of those riskier assets.
Stocks appear to be rebounding so far this week. This makes sense given the close Venus-Uranus alignment that is exact on Tuesday and Wednesday. I would think stocks are more likely remain fairly strong into midweek. However, the Sun conjoins Rahu on Wednesday and this could activate its alignment with Saturn so any gains could be reversed quickly.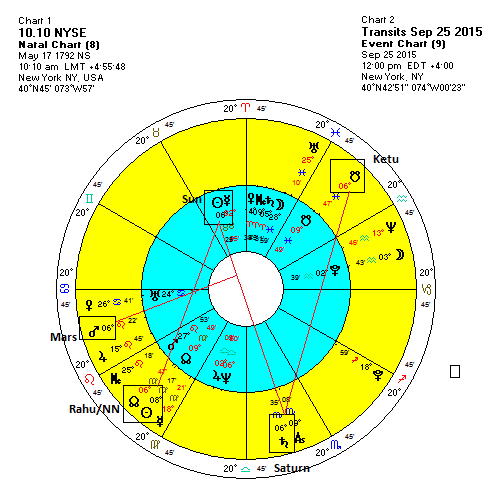 And as I have noted previously, the Mars-Saturn square aspect (exact on Friday the 25th) looks tense and could coincide with more selling pressure by the end of the week. And this comes at a time when Saturn is exactly aligning with Ketu (South Lunar Node) and both will also align with the natal Sun in the NYSE chart. There is definitely some major downside risk in that pattern. And as if to up the cosmic ante, there will be a lunar eclipse on Monday the 28th. Eclipses are associated with times of uncertainty and interruption of the status quo.
As we move into October, markets will likely take a break from the often difficult influence of Saturn. However, I would note that Saturn is due to form another important aspect at the end of November, this time with Neptune. And with Venus, the planet of money, transiting through sidereal Virgo, its sign of debilitation, for much of November, there could be more rough waters ahead. If stock markets remain as depressed as they are now, one would think the Fed will remain reluctant to raise interest rates in October, December and even beyond. After all, one of the tenets of the Fed in this era of interventionist central banks is to prop up stocks through any means necessary. Let's see what the money magicians at the Fed, ECB and PBOC will pull out of their hats next.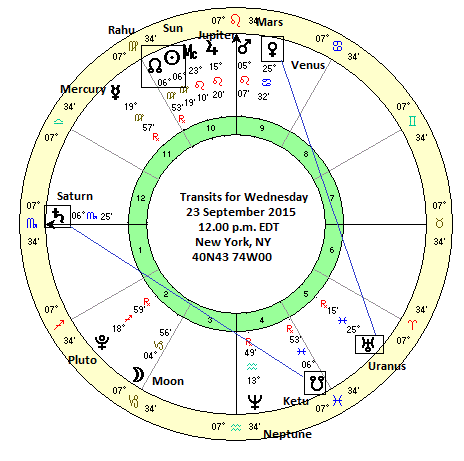 ---