Stocks move higher as Jupiter approaches its station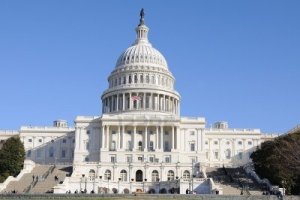 (20 January 2013)
Stocks generally moved higher last week on positive earnings outlooks and conciliatory noises coming out of Washington over the debt ceiling negotiations. In New York, the Dow rose 1% to 13,649 as most indexes hit their highest levels since 2007. Indian stocks were similarly bullish as the Sensex finally closed above the 20K level at 20,039. This bullish outcome was not surprising given the predominance of positive aspects in the mix, even if the expected late week decline did not appear.
Market sentiment remains quite positive here just as Jupiter approaches its direct station on January 30. Since Jupiter is usually a bullish influence, it is not surprising that optimism should be high at the moment. Jupiter is virtually stationary at 12 degrees of sidereal Taurus and will stay there for the next few weeks. As the rule of thumb goes, slow moving planets are stronger in their effects, and hence when a bullish planet slows down, markets tend to rise.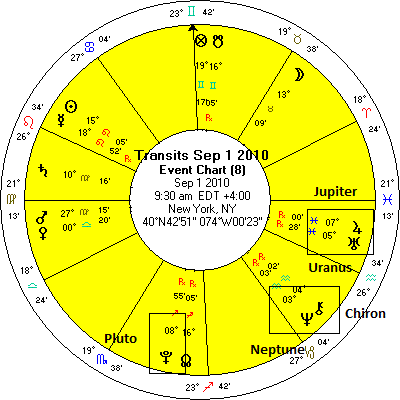 The other part of this bullish equation is that Jupiter is forming a positive aspect with Uranus (11 Pisces). Jupiter-Uranus aspects are quite reliable indicators of up moves in the market. A rare extended alignment of Jupiter and Uranus in 2010 and early 2011 coincided with a massive rally that followed the announcement of QE2 on 1 September 2010. Due to the intertwining retrograde cycles of both planets, Jupiter was closely conjunct Uranus for several months. This coincided with a 20- 30% rally in most stock markets worldwide as optimism surged following the announcement by Ben Bernanke that the Fed would undertake the unprecedented purchase of debt securities in order to keep interest rates low. While Jupiter and Uranus regularly conjoin once every 13 years, the conjunction usually lasts only a matter of days or perhaps weeks. In 2010 and 2011, however, we had one of the longest Jupiter-Uranus conjunctions in recorded history. Significantly, the conjunction of Jupiter, the planet of expansion and optimism with Uranus, the planet of innovation, coincided with a the Fed's experimental program to buyback debt in an effort to kick start the flagging US housing sector and help to boost economic activity after the recession.

Currently, we don't have a conjunction but rather a 60 degree aspect which can also result in gains. But once Jupiter returns to its normal forward motion on January 30, the prevailing energies may undergo a shift. Jupiter will begin to move away from its aspect with Uranus and thus the combined energies of these two planets will become weaker. It's unclear if it will translate immediately into a lower markets since Jupiter will remain in aspect with Uranus for a couple more weeks in February. One would think that the market will become increasingly vulnerable to declines as time goes on, especially since Saturn is due to turn retrograde on 18 February.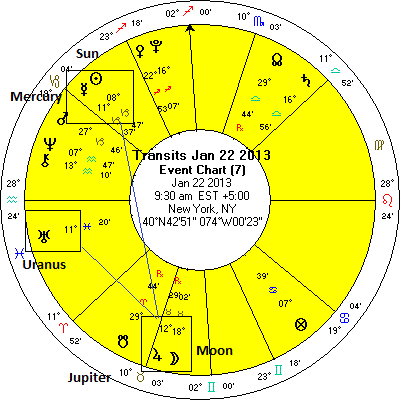 This week features two more short term Jupiter aspects which should help to maintain the optimism. Early in the week, Mercury is in aspect with Jupiter. While US markets are closed on Monday, there may well be enough energy left to produce gains into Tuesday. Friday's Sun-Jupiter aspect also looks quite positive, so it is quite possible we could see some significant gains this week. However, there is a more starkly negative aspect in the mix here later in the week. Mars forms a difficult square aspect with Rahu, the North Lunar Node, starting perhaps on Wednesday. This will remain in range for two or three days so we should expect some fallout from it somewhere along the way.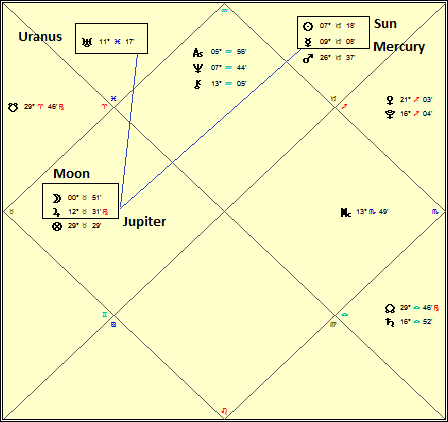 Transits for Monday 21 January 2013 9.00 a.m. Mumbai, India
---

These forecasts are posted every Sunday, usually by 1200 GMT.


Please note that this is a much abbreviated free version of my
investor newsletter which can be subscribed to here.