Wall St. on edge as 10-year bond yield hits 2.99%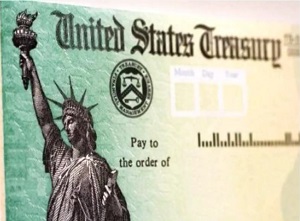 (23 April 2018)
US stocks held steady today as traders kept a wary eye on the bond market. The Dow was mostly unchanged in Monday trading at 24,448 while yields on the 10-year Treasury note hit a four-year high at 2.99%. Many investors are keeping a close watch on whether bond yields will pass the psychologically important 3% threshold. If yields continue to move above 3%, it will likely entice larger institutions to move money out of riskier stocks and into the relative safety of higher-yielding bonds. This asset reallocation would be bad news for the stock market.
Stocks have been gamely rebounding since their low on April 2nd. The low coincided with the Mars-Saturn conjunction at 15 Sagittarius. As I have noted previously, this pairing of two malefic planets was likely going to bring some downside. As the Mars began to separate from Saturn in April, sentiment has improved and we have seen a three-week long rally. Planetary sentiment was also boosted by the close Jupiter-Pluto alignment. But now Jupiter is gradually moving away from its alignment with Pluto. Can the rebound continue?
The horoscope of the USA illustrates the possible problems in the days ahead. In my practice of
financial astrology
, I usually refer to the horoscopes of stock exchanges (e.g. NYSE) and the major indexes (Dow, Nasdaq). But sometimes we can also see the ups and downs of financial markets through the national chart.
The Mars-Saturn conjunction in early April exactly opposed the natal Jupiter in the USA chart. Jupiter is one of the planets symbolizing wealth so the double whammy from Mars and Saturn was an adequate reflection of those tensions. I had thought that the Mars-Saturn to Jupiter might also indicate a firing of Special Counsel Robert Mueller, since Jupiter also rules justice. While rumours to that effect increased, no firing took place.
Now that Saturn is retrograde and slowly backing away from its aspect with Jupiter, it is tempting to think that the affliction is finished. It could be less dramatic than it was in February and March, but I think there is still some negative sentiment that has yet to be expressed. The Saturn influence is still apt to come out if there is an additional planet forming a larger alignment. This is the case midweek as Mercury aligns with Saturn and Rahu (North Lunar Node) and thereby activate the USA's Jupiter.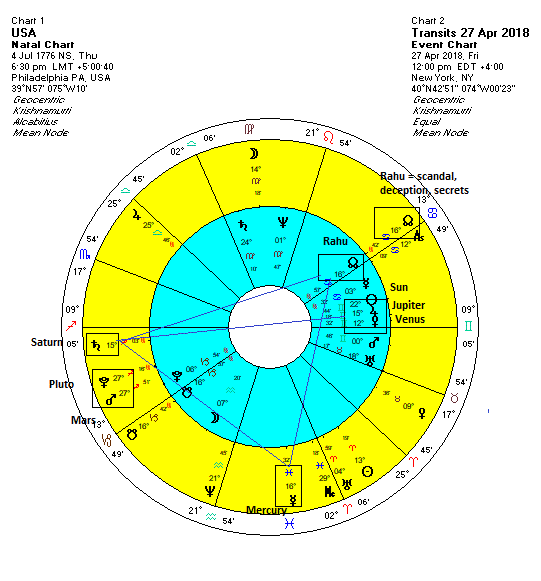 Later in the week, Mercury will align exactly with Rahu and thereby further align with the natal Rahu in the USA chart. The current Rahu-to-Rahu conjunction speaks of the ongoing atmosphere of scandal and subterfuge throughout the American political system. The participation of Mercury in that Rahu alignment could signal another significant development in the investigation into the criminality in the Trump White House.
Next week's entry of Mars into Capricorn doesn't look much better for the stock market. Mars will then closely oppose Mercury (3 Cancer) and will ultimately form a nasty looking T-square alignment with Uranus (5 Aries). It seems unlikely that the market could resume its rally under that transit.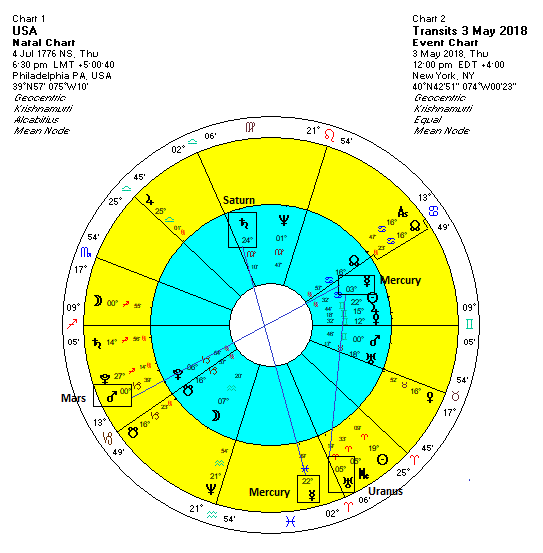 The bottom line is I think this April rebound will likely reverse soon, probably this week. And given the sequence of difficult aspects in the coming weeks, there is a real risk that US stocks will revisit their April 2 low (Dow: 23,344). Lower lows are also possible. Here is a quick overview of some of the upcoming key alignments with the
approximate
dates of their manifestation.


This week (Apr 23-27)
April 23: Venus-30-Uranus -- bullish -- "pleasurable risk"
April 23-25 Jupiter-60-Mars -- bullish -- "confident action"
April 24-26 Mercury-90-Saturn-150-Rahu -- bearish -- "disappointment and confusion"
April 26 Mars-0-Pluto -- bearish -- "intense and coercive action"
April 27 Moon-90-Mercury-90-Saturn-150-Rahu -- bearish -- "disappointment, distortion, and disruption"
Next week (April 30-May 4)
April 30 Moon-0-Jupiter -- bullish -- "confidence"
April 30 Sun-120-Saturn-150-Rahu -- bearish -- "tensions in status quo"
May 1-2 Mars enters sidereal Capricorn -- bearish -- "purposeful action and conflict"
May 3-4 Mercury-Jupiter-Neptune -- bullish -- "constructive optimism and abundance"
I think stocks are more likely to recover (temporarily) later in May, probably approaching the time of the Jupiter-Neptune alignment on the 24th.
For more details and analysis on market trends for this week, this month and this year, please check out my weekly
MVA Investor Newsletter
. The newsletter is published every Saturday and includes extended discussion of US and Indian stock markets, as well as gold, oil and major currencies.
---