Mr Zuckerberg goes to Washington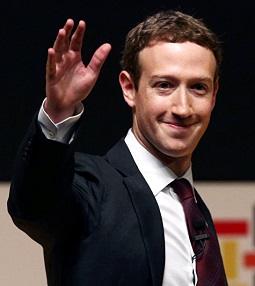 (8 April 2018)
Facebook's Mark Zuckerberg could be in for a rough ride this week when he appears before a congressional committee in Washington, DC. The Facebook founder and CEO is due to answer questions from bipartisan panels on data privacy and internet security on Tuesday and Wednesday. The appearance follows the Cambridge Analytica data abuse scandal and the concern over Facebook's potentially negligent role in Russia's interference in the 2016 US election. The wunderkind of social media now may have to admit that the selling of personal user data is an intrinsic part of the Facebook business model.
Certainly, the planetary alignments this week look tense for Zuckerberg. The main source of stress is the approaching Saturn retrograde station at 15 Sagittarius. The station takes place on April 17th but it has already slowed considerably and is more or less just sitting on that degree of 15 Sagittarius (in the sidereal zodiac, of course!). The problem for Zuckerberg is that Saturn forms a 135-degree sesquisquare aspect with his Sun at 0 Taurus. This aspect has been within range for weeks and will continue to be within effective range for perhaps another month. While this is not a standard Vedic aspect, it is equivalent to a conjunction in the Ashtamsa D-8 divisional chart. The D-8 chart is generally associated with negative experiences involving loss or conflict.
Saturn transits to the Sun often describe situations where authority figures may block wishes or goals and thereby cause frustration. Traditionally, the Saturn-Sun authority figures are symbolized by the father, bosses, and government. Certainly, this hearing has the potential to see Zuckerberg taken to task by the US lawmakers. On one hand, it is possible that most of the negative energy of the Saturn-Sun transit will be manifested just by Zuckerberg having to face criticism without necessarily doing more damage to him or to Facebook's reputation. In true Saturnian fashion, the government has forced him to come to Washington irrespective of his own wishes. And yet, the fact that Saturn is basically stationary in the sky less than two weeks before its retrograde station
likely means that the damage to his reputation and to Facebook may be quite serious.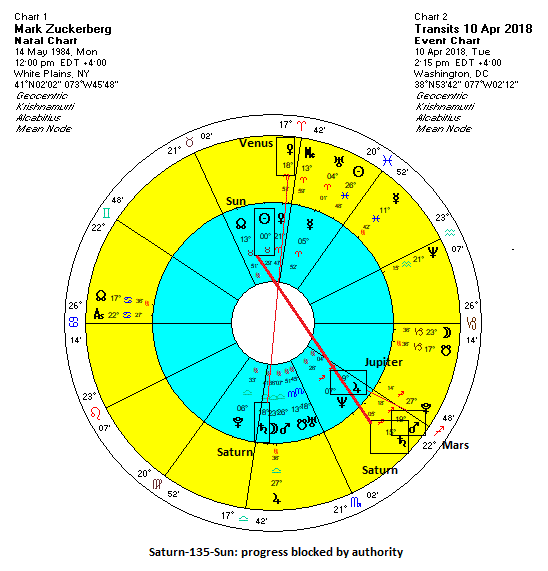 Other transits on Tuesday and Wednesday suggest that Zuckerberg will not do well in the hearings. Transiting Mars (19 Sagittarius) is exactly conjunct Jupiter (19 Sagittarius) indicating conflict and criticism (Mars) of his knowledge and philosophy (Jupiter). Zuckerberg's optimistic and naive view of social media will likely come under intense scrutiny and is likely to be challenged by the committee. Also, transiting Venus (18 Aries) will be exactly opposite Saturn (18 Libra). This suggests the hearings will be an unpleasant experience and will be disappointing in terms of their outcome.
In a previous post, I suggested that Facebook's problems are unlikely to end soon. I think Zuckerberg will remain under a lot of pressure for the rest of 2018. And I think it is still possible he could be asked to step down as CEO at some point. I will revisit this question in the coming weeks.
Weekly Market Forecast
Facebook's travails are only one reason why the stock market has been falling recently. President Trump's tariff threats against China were the main reason why US stocks tumbled again last week. After appearing to recover midweek, Friday saw another rout as the Dow fell more than 2% closing below 24,000 once again. Indian stocks fared better, however, as domestic earnings and a dovish RBI stance are supporting investor sentiment.
This negative outcome for US stocks was in keeping with expectations as I thought last week's Mars-Saturn conjunction would likely take stocks lower. In fact, Monday's big decline occurred on the same day as the exact conjunction. Now that the conjunction is separating, can the stock market resume is bullish ways?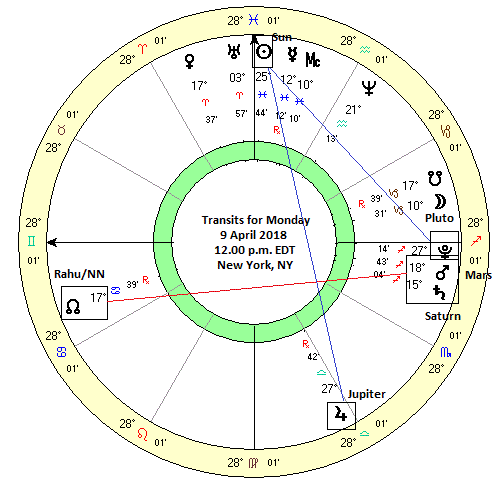 I think a rally is very close now although I suspect we could see more downside this week. Monday's Mars-Rahu alignment looks bearish and could well coincide with lower lows. The midweek Sun-Jupiter-Pluto alignment looks quite bullish and argues for some positive days at some point this week. So we may well see a rerun of last week with large swings in both directions.
The Venus-Jupiter alignment on April 17th should bring an improvement in sentiment. Interestingly, this is the same day that Saturn turns retrograde. While Saturn is a bearish planet, its station could be part of larger configuration of planets that brings about a shift in the market's prevailing mood. Let's see how it plays out.
For more details and analysis on market trends for this week, this month and this year, please check out my weekly
MVA Investor Newsletter
. The newsletter is published every Saturday and includes extended discussion of US and Indian stock markets, as well as gold, oil and major currencies.
---