Venus turns retrograde: stocks fall as interest rates rise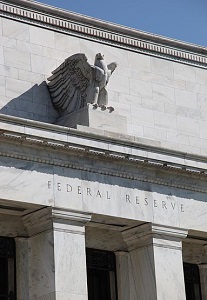 (8 October 2018)
It's a classic case of good news and bad news. The good news is that US economy is getting stronger with historically low unemployment rates and 4% GDP growth. But the bad news is that this is creating inflation pressure so that interest rates must rise. The Federal Reserve raised rates again at its September 26th meeting and the bond market has seen yields spike last week as the benchmark 10-year rate pushed above its previous high to close at 3.22%. This means that the cost of borrowing is going up and that could eventually undermine the economy as debt servicing costs rise.
The spike in yields proved too much for the stock market as US stocks took a significant hit last week. It seems that US markets are finally catching up with the rest of the world. Asian and European markets have been falling since September -- or in some cases like China, since January -- as rising US rates are creating havoc for highly leveraged foreign corporations. Indian stocks, for example, have tumbled more than 10% since their late August top as the BSE-Sensex is now trading below 35,000.
I had been quite bearish for September given the unusually close Saturn-Ketu-Uranus-Mars alignment. But US stocks had managed to escape the pessimism of this pattern largely undamaged. Things may be changing now that Venus turned retrograde (Rx) on Friday, October 5th. Unlike nasty planets like Saturn, Ketu and Mars, Venus is typically a benefic planet that is associated with wealth, love, beauty and in the economic context, with value and optimism. For this reason, Venus alignments more often coincide with market gains.
But once every 18 months or so, Venus turns retrograde and begins its 40-day retrograde cycle where it appears to move backwards in the night sky. The energy of Venus is therefore transformed. Its symbolic associations remain the same but they are expressed differently and in often unpredictable and less pleasing ways. In market terms, Venus retrograde periods have a more negative correlation. If Venus is mostly bullish when it is moving forward, it tends to have a bearish influence when it is retrograde.
This is not to say that stocks decline throughout the entirety of its 40-day retrograde cycle. But some kind of significant decline is probable at some point during that cycle. And we should note that some Venus retrograde cycles aren't bearish at all. This was the case in March 2009 when the bear market
bottom
coincided very closely with the Venus retrograde station, i.e. stocks rose
while
Venus was retrograde. This is another reminder that these sorts of single planetary factors do not guarantee a particular outcome and should be seen as probabilistic influences.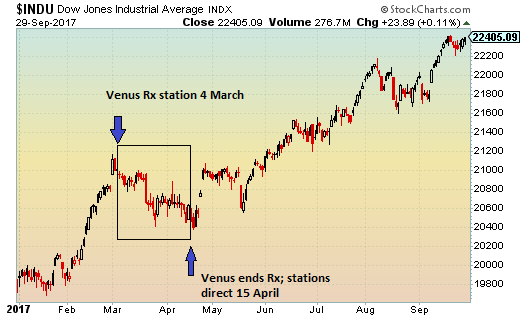 But if we take a look at recent Venus Rx periods, there is nonetheless a strong bearish association. The previous Venus retrograde cycle occurred on 4 March 2017 and lasted until 15 April. The Dow had just peaked a few days earlier on 1 March as stocks began a pullback that lasted for the duration of the Venus Rx cycle. Venus ended its Rx cycle and stationed direct on 15 April just a few days before stocks bottomed and the market resumed its rally. If only Venus Rx cycles always worked this neatly!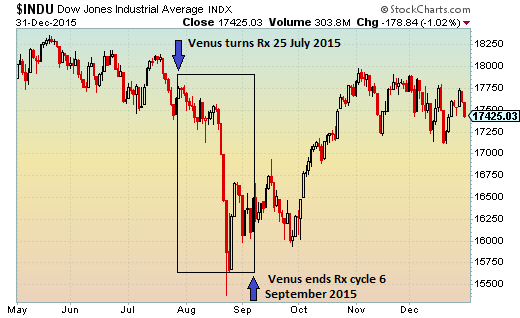 The preceding cycle began on 25 July 2015 and lasted until 6 September. The Dow had been already edging lower during the summer but the Venus retrograde cycle seemed to closely correlate with a major sell-off in August. While the rebound began towards the end of the Venus Rx cycle, stocks remained much lower than they have been before the cycle began.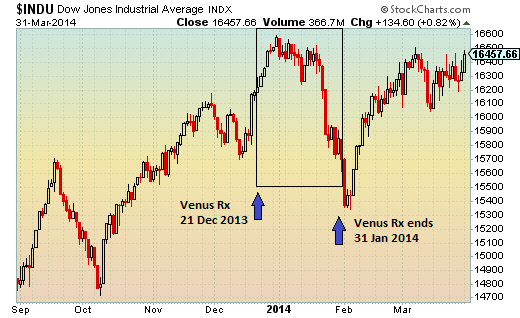 And before that, Venus turned retrograde on 21 December 2013 and then stationed direct on 31 January 2014. Stocks had been rallying at the time that Venus stationed Rx and they continued to climb for another week before peaking and reversing lower. By the time of the end of the Venus Rx cycle on 31 January, stocks had suffered a net loss through the 40-day cycle. They would bottom just two days after Venus stationed direct and resumed forward motion.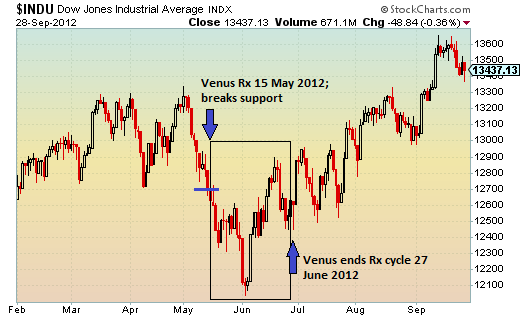 And the preceding Venus retrograde cycle began on 15 May 2012 and ran until 27 June 2012. This is perhaps the least compelling case of the four cases here and yet Venus Rx was not bullish by any means. Venus turned Rx on 15 May when it broke key horizontal support. This bearish move produced substantially lower lows as the Venus retrograde cycle lived up to its difficult reputation. However, stocks recovered somewhat by the time Venus stationed direct on 27 June although they remained well off their previous high. While stocks finished largely flat for the 40-day cycle, one cannot characterize this Venus Rx cycle as bullish in the slightest and the presence of an additional decline in the middle of the cycle seems appropriately bearish.
The takeaway here is that Venus retrograde cycles have a deservedly bearish reputation. While this sample size is admittedly small, stocks are more likely to feature a decline during the cycle although they may not necessarily end up lower.
As the current Venus Rx cycle began last Friday 5 October, it raises the question of where stocks could be when Venus stations direct on 16 November. There are few things to note in this regard. First, I would say there is a greater potential for more downside during the next six weeks. This could mean that US stocks fall further but could rebound by mid-November. Second, there is a somewhat greater likelihood that stocks
will
be lower in mid-November than they are now. How much lower is impossible to say based on this single factor alone but certainly the negative influence of Venus retrograde elevates the risk to a level greater than chance. And, of course, there is still the possibility of an outlier case like 2009 where the Rx station proved significant but in an unexpected way as stocks rebounded while Venus was retrograde in the weeks following the station.
This week could see additional declines as Venus exactly aligns in a tense square aspect with Mars midweek. This was likely a factor at the end of last week as it was within a couple of degrees but this week it is exact. An added burden on sentiment may be the Mercury alignment with Saturn and the Lunar Nodes, Rahu and Ketu, later in the week.
For more details, feel free to check out my
weekly subscriber newsletter
. The newsletter is published on Saturday and covers US and Indian stocks, as well as currencies, oil and gold.
---