Markets tread water ahead of possible second US shutdown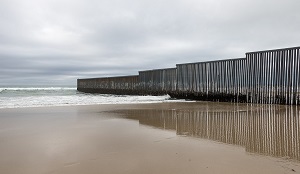 (11 February 2019)
The dysfunction of the US government is again on display this week with the approach of another shutdown deadline. As before, the sticking point is funding for Trump's border wall with Mexico. With the current three-week emergency funding measure winding down, talks have broken off between an increasingly defensive GOP and a more emboldened Democratic Party. The deadline for a deal is Friday the 15th at midnight.
A quick look at President Trump's horoscope shows that his position is unlikely to improve this week. Mars is conjunct Uranus in the 9th house indicating trouble and sudden conflict involving legal bodies (Congress!) and perhaps foreign countries and their governments. Moreover, the conjunction occurs at 5-6 degrees of Aries which aligns exactly with his Ascendant at 6 Leo. The planets indicate this is a moment of very intense conflict. By itself, it does not reveal if he is more likely to win or lose this battle.
But other planetary positions look more difficult. The Sun in early sidereal Aquarius is opposite his Ascendant and Mars this week. This is reflective of conflict and often suggests frustrating situations when conflicts get out of hand or turn against you.
The other obviously negative alignment here is the Venus-Saturn conjunction in Sagittarius in his 5th house. This forms a near-exact 135 degree angle with his Ascendant. While this is not a standard full-strength Vedic aspect, it nonetheless delivers an impact. The Venus-Saturn combination suggests losses and unhappiness, as if Trump is more likely to be suffering this week. This is not a transit alignment of a winner.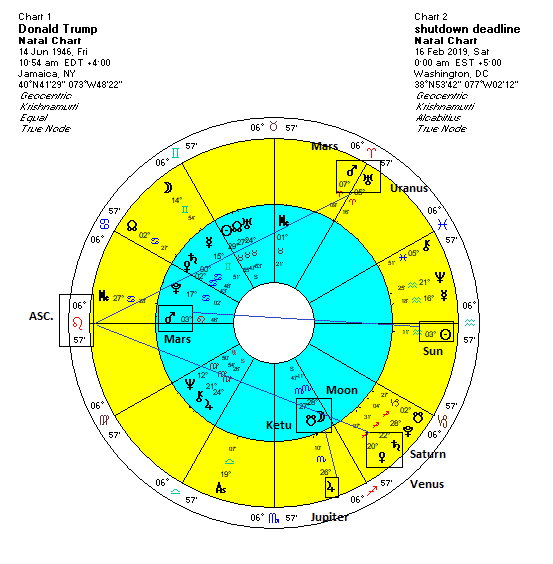 Now, there is one ray of hope for Trump. Transiting Jupiter is approaching its conjunction with his Moon-Ketu conjunction. It's still a few degrees away so it may not have reached its full potential. But this Jupiter influence is likely to manifest positively in his life in some meaningful way. I suspect it is too soon to reflect any success in the border wall shutdown fight with the Democrats. But it could mean that his fortunes improve over the next few weeks. Moreover, Jupiter is due to station at 0 Sagittarius in early April which will be in fairly close alignment with his Sun at 29 Taurus.
This is not to say that Trump will suddenly be riding high in the polls or anything like that. Transiting Rahu will still be conjunct his Venus-Saturn conjunction in early Cancer through March and April and that is likely to exert a drag on him. But the Jupiter influence does look noteworthy and will likely temper some of the gathering gloom around his failing presidency.
I still think the worst is yet to come for Trump from the twin effects of the Saturn-Ketu conjunction in May-June and then the Saturn direct station in September. Resignation is a distinctly possible outcome in 2019.
Weekly Market Forecast
Markets have been largely immune to the prospect of another shutdown as markets have tread water over the past several sessions. I had previously thought we might have seen more of a pullback by now given the placement of Saturn near 20-24 degrees of Sagittarius. This is a potentially bearish zone in the horoscope of the New York Stock Exchange which has often correlated with declines.
Saturn is still transiting across that zone so it is very possible we could see some kind of pullback in the days ahead. This is perhaps not unexpected given the technical condition of the major US indexes near their 200-day moving averages. Typically, rebounds to this level are often followed by pullbacks. In bear markets such as 2000 and 2008, these touches of the 200-day moving average were followed by even larger declines to lower lows. At present, investors are weighing the relative odds of stocks resuming their 4th quarter swan dive or recovering to make higher highs.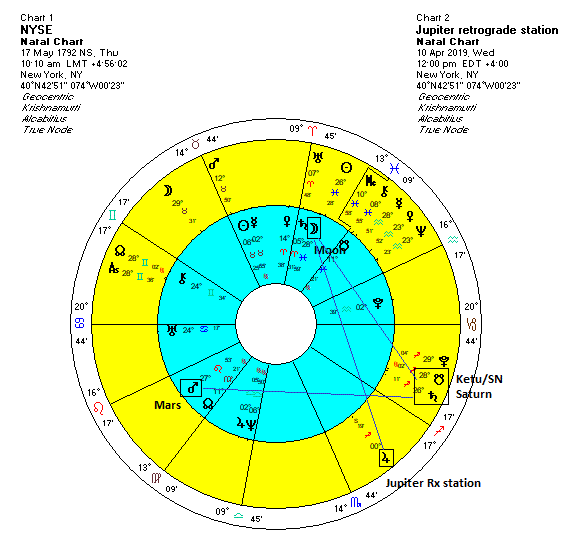 As I have previously written, there is good reason to expect another major decline in the months ahead. But the approaching Jupiter retrograde station on April 10th looks quite bullish since it will reverse its motion at 0 degrees of Sagittarius -- prime real estate for Jupiter. Sagittarius is a sign ruled by Jupiter and that pattern could be more positive than would otherwise by the case. That said, Jupiter's station does not form any close alignments with the NYSE chart so that could limit the potential upside somewhat. But the bottom line here is that despite any February pullbacks we could see, stocks may well go higher before they eventually go lower in Q2.
For a more detailed analysis, feel free to check out my
weekly newsletter
which is published every Saturday afternoon (EST). It covers US and Indian markets, as well as currencies, oil and gold.
---