Stocks gain on US-China trade hopes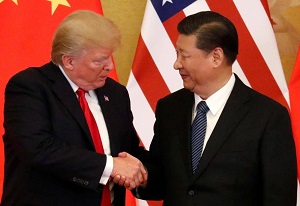 (14 May 2018)
US stocks started the week on a mildly positive note on hopes for a US-China trade deal. Fears of a trade war have receded now that Presidents Trump and Xi are negotiating a way to allow American agricultural products into China in exchange for US market access for electronics giant ZTE. Monday's gain followed on a very bullish performance last week as the Dow gained more than 600 points. Moderate inflation data and the increasingly real prospect of peace on the Korean peninsula appeared to negate previous worries about rising interest rates and geopolitical disruption in the Middle East.
The gains were broadly in keeping with expectations in last week's
market forecast
as I thought the Venus and Jupiter influences would likely have the final word. The rest of this week looks less positive for the markets, however.
Tomorrow (Tuesday) Mars will form a square aspect with Uranus. This is often a bearish influence. The negativity may well peak in the afternoon in the US when the Moon joins the alignment. Interestingly, this will integrate the natal Sun in the NYSE chart. This is a reason to expect stocks will undergo a significant fall sometime this week. Tuesday is a prime candidate in that respect.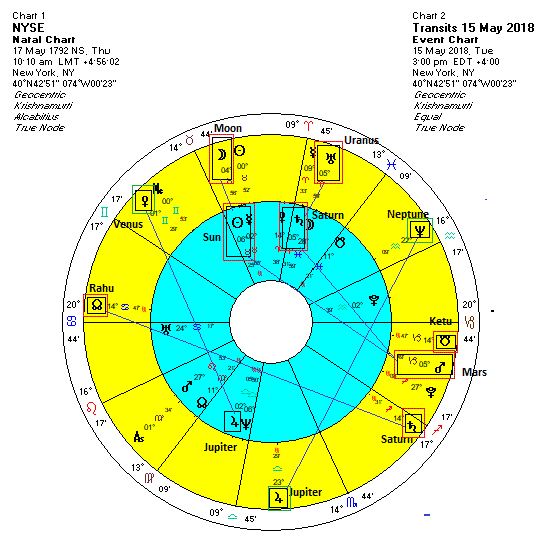 However, the proximity of the bullish Venus-Jupiter aspect could offset some of the Mars-Uranus-Moon alignment on Tuesday. The Venus alignment could also extend into Wednesday so that offers the possibility of a more positive midweek period. The Moon-Venus conjunction on Thursday morning is another possible source of optimism which could keep the rally afloat a while longer.
Thursday and Friday's alignment of Mercury, Saturn, and Rahu (the North Lunar Node) has more of a bearish feel to it. Even if we see some up days this week, the twin effects of Mars-Uranus and Mercury-Saturn-Rahu look strong enough to end this little rebound for now.
The ongoing Jupiter-Neptune aspect is bullish and is one reason why stocks have bounced recently. It will be in effect for another couple of weeks. However, some of the positive vibes of this aspect are being gradually offset by the Saturn-Nodal alignment. This is a nasty looking pattern that will be in a close alignment for several weeks due to the retrograde motion of Saturn. The added problem for financial markets is that Mars will gradually move into a conjunction with the South Lunar Node (Ketu) in early June. This could act as an additional trigger for the bearishness of the Saturn-Nodal pattern.
Simplified Planetary Outlook for week of May 14 - 18 (Transits only)

Mon Venus-0-Sun +2
Mon Moon-180-Jup-120-Nep +1
Mon Sun-135-Saturn -1
Mon Mars-90-Uranus -1
Tue Mars-90-Uranus-30-Moon -2
Tue Sun-0-Moon (New Moon) +1
Wed Mars-90-Uranus -2
Wed Jupiter-150-Moon-90-Neptune +1
Thurs Moon-0-Venus +1
Thurs Merc-120-Saturn-150-Rahu -2
Fri Mars-45-Neptune-45-Uranus -2
Fri Merc-120-Saturn-150-Rahu -2
For more details and analysis on market trends for this week, this month and this year, please check out my weekly
MVA Investor Newsletter
. The newsletter is published every Saturday and includes extended discussion of US and Indian stock markets, as well as gold, oil and major currencies.
---