Trump's tariff talk puts markets on edge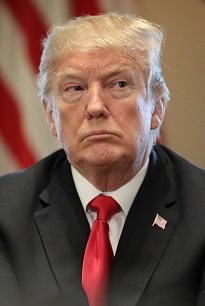 (6 March 2018)
The stock market suffered another body blow late last week after President Trump suddenly announced tariffs on imported steel and aluminum. The tariffs came a surprise to US trading partners who quickly threatened retaliation on US imports to their countries. The prospect of a looming trade war has put investors on edge in recent days as economic growth would likely decline and inflation would rise as a result of these protectionist moves. The tariffs appear to be a fait accompli now that Trump's leading economic advisor Gary Cohn resigned from the White House today. Cohn had been a staunch free trade advocate and steadying influence on the unpredictable Trump.
It seems that the recent correction in the market may not be over yet. After early February's decline, buyers had re-entered the market on hopes that interest rates were stabilizing and that inflation was less of a pressing problem. However, the news of the Cohn departure have caused a sharp reversal in stock futures. Could this be a signal of another move lower in the stock market in the short term?
My overall view is that markets are likely to remain more volatile than usual for several more weeks at least. I have previously noted some potent alignments in several financial horoscopes for February, March and April. Saturn is at the center of these alignments as it assumes greater strength in advance of its retrograde station on April 17. Saturn is a bearish planet and is more often associated with market declines when it forms significant alignments with other planets.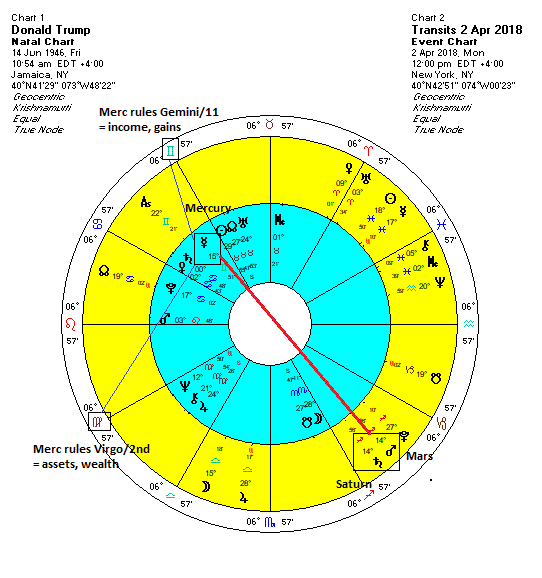 Another window on this question can be found through the chart of Donald Trump. The approaching Saturn station at 15 Sagittarius is likely to hit President Trump very hard indeed as it will oppose his natal Mercury (15 Gemini) almost exactly. This is almost certainly going to coincide with a highly stressful and frustrating time for him. He is also likely to suffer major setbacks, perhaps on multiple fronts. Of course, this may relate to North Korea or perhaps the ongoing Mueller investigation of the Russian involvement in the Trump campaign. The investigation has been drawing closer to Trump and his inner circle as more staffers have been indicted. Son-in-law Jared Kushner may well be the next big domino to fall.
But I suspect the Saturn opposition to Trump's Mercury in April could also relate to the state of financial markets. In Trump's horoscope, Mercury is more closely associated with money matters because it rules both of the money houses -- the 2nd and 11th -- and it is placed in the 11th house representing gains and income. For a regular person, a Saturn station in opposition to the lord of the 11th house would likely mean a loss of income or assets and more generally a disappointment that comes from a denial of wishes. For the individual, a job loss is one possible manifestation of this alignment (ahem!) although I wouldn't think that is likely in Trump's case. In any event, the recent market turbulence is likely related to the approaching Saturn-Mercury opposition since Saturn has been just a few degrees short of an exact 180 degree aspect.
Since Trump is the President of the United States his chart is now indirectly the chart of the nation as a whole. His karma is now America's karma, so to speak. When his chart is afflicted by Saturn, that likely means that the country will have to deal with the fallout. And since Mercury has strong financial symbolism for Trump, there is a greater chance that whatever happens to Trump personally in the coming weeks, it is likely to have national financial implications.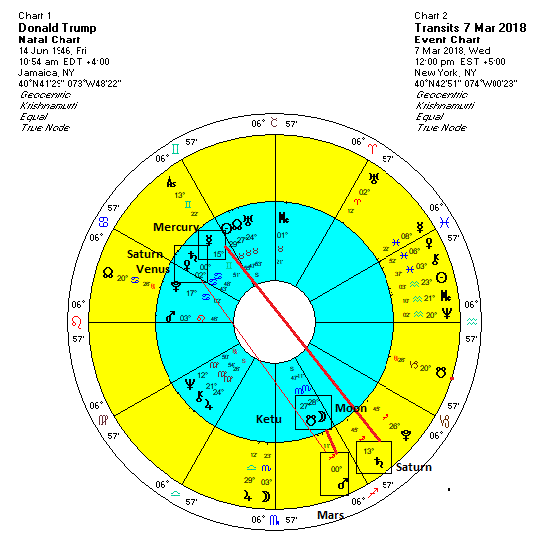 We can see that the pressures may be increasing on Trump now that Mars enter sidereal Sagittarius tomorrow March 7. Last week, Mars was conjunct his Moon/Ketu. It was a time when he was apparently very angry with how everything were going against him and thus decided to launch this ill-considered tariff policy. Mars is now closely aspecting (by 8th house aspect/quincunx) Saturn and Venus in the 12th house so his rage will likely turn to frustration and conflict for the rest of the week.
For the rest of March, Mars will move further into Sagittarius and is due to conjoin Saturn on April 2 at 14/15 Sagittarius. This is a time well worth watching as it could represent a very intense and eventful moment for the US. It seems more likely that we will see stocks decline further in the weeks ahead, probably to lower lows. That said, there remain some unanswered questions on timing about when larger declines are more likely. Without pretending to know exact dates, I do discuss some specific timing possibilities in my newsletter. Of course, I will try to update this space also as time allows.
For more details and analysis on market trends for this week, this month and this year, please check out my weekly
MVA Investor Newsletter
. The newsletter is published every Saturday and includes extended discussion of US and Indian stock markets, as well as gold, oil and major currencies.
---