Trump impeachment pressure increasing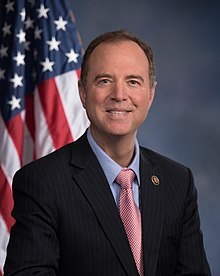 (24 June 2019)
The clock could be ticking on the Trump presidency as Democrats appear to be moving closer to opening impeachment proceedings. In a weekend interview, House Intelligence Committee Chair Adam Schiff suggested that the ongoing refusal of the White House to cooperate with several House investigations could lead to a constitutional crisis. While Schiff stated that he does
not
support impeachment now, he was clearly open to the idea if the Trump administration continues its stonewalling. Speaker Nancy Pelosi is still against impeachment but Schiff's change in tone is potentially significant.
As I have been suggesting for some time, the summer of 2019 looks extremely stressful for Trump and the US as a whole. Trump's horoscope is burdened by the Saturn square aspect to his Jupiter. Jupiter is a key source of Trump's power and good fortune, so this Saturn influence is likely to weaken him. Saturn has been retrograde and thus in a close square with Jupiter since late April. Saturn will remain in this damaging square aspect until it turns direct in September and then for another two months after that. Trump's Solar Return (Varshphal) chart on June 14 was also heavily afflicted by the exact Mars-Saturn-Jupiter-Neptune-Rahu-Ketu alignment. This bodes poorly for the year ahead for the controversial US president.
The ongoing Saturn-Ketu conjunction will also impact the USA national horoscope. Saturn and Ketu (22-23 Sagittarius) currently oppose the USA's Sun (22 Gemini). The Sun symbolizes government and the president so this transit is likely to see the status and strength of the government/presidency undermined over the next two months or so. There are a few possible time windows for when impeachment proceedings could be declared.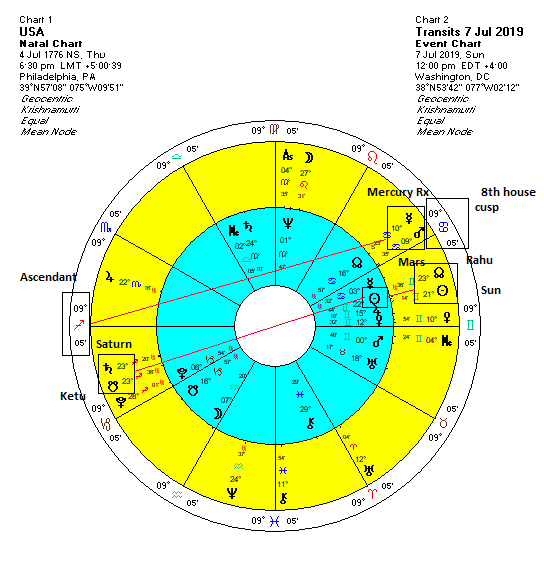 One possibility would be the upcoming July 2 Solar Eclipse and the subsequent conjunction of the transiting Sun with the natal Sun on July 7-8. Interestingly, this pattern will occur just as Mercury turns retrograde conjunct Mars while sitting atop the equal house cusp of the 8th house. The 8th house is arguably the most malefic house of the horoscope and symbolizes scandals, embarrassments and obstacles, among other things.
The first days of August also stand out as a possible time when impeachment could be announced. Mercury will station direct while conjunct Trump's Saturn (= bad news) while Mars (26 Cancer) will fall under the aspect of his natal Ketu (27 Scorpio) (=uncontrolled anger/conflict).
While formal impeachment proceedings looks quite possible this summer, it is important to remember that it is unlikely to remove Trump from office due to the Republican control of the Senate. For the House impeachment vote to be confirmed, 67 out of 100 votes in the Senate are required. That would mean that at least 20 GOP senators would have to vote to impeach. Unless there are some new revelations against Trump -- and his polls numbers start to decline sharply -- the Senate will not convict Trump on impeachment charges.
Weekly Market Forecast
US stocks pushed higher to new all-time highs following a very dovish FOMC statement in which Chair Jay Powell strongly hinted at cutting interest rates at the next meeting on July 31. Most stocks rose in anticipation of cheaper credit and more market liquidity. Indian stocks fared less well, however, as worries over the monsoon and the rising cost of oil hurt sentiment. I thought we might have seen more downside last week given the Mercury-Mars conjunction but other more positive influences had the final say.
The rally seems unlikely to continue this week. The bearish Saturn-Ketu conjunction could still be largely offset by the bullish Jupiter-Neptune pattern, but the entry of Mars into Cancer this week with Mercury could change things up somewhat. Mercury, the planet of commerce, tends to do less well when in the vicinity of Mars. While Mercury is now a few degrees in front, it may or may not be far enough away to keep the optimism flowing. Bulls should proceed with caution. The Mercury-Mars alignment with the Moon on Thursday also looks a bit tense as does the Moon-Saturn-Ketu alignment on Wednesday. While I won't be surprised if stocks somehow manage to walk between the raindrops this week, the bias would seem to be to the downside.
For a more detailed analysis of the markets, please check out my
weekly subscriber newsletter
which is published every Saturday afternoon (EST). I outline the key technical and planetary influences for US and Indian stocks for the short and medium term, as well as currencies, gold and oil.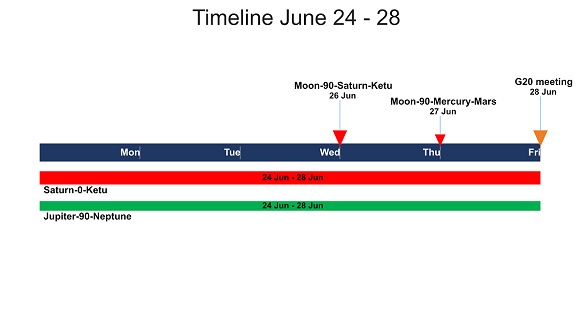 ---
These forecasts are usually posted weekly.
You can be notified of new posts if you follow
ModernVedAstro on Twitter
.

Please note that this is a more general and much abbreviated free version of my
investor newsletter which can be subscribed to
here
.

Please read my
Disclaimer