The Stars This Week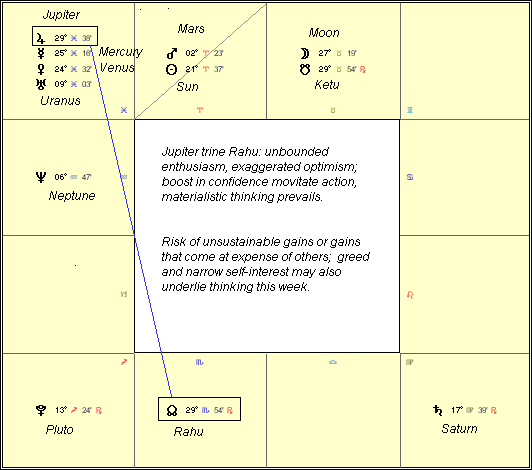 Week of May 2nd

Jupiter-Rahu: too much of a good thing?

The astrological highlight this week will be the 120 degree or trine aspect between Jupiter and Rahu. This is a fairly rare combination and occurs only once in every three years. Jupiter, of course, is the Great Benefic that symbolizes optimism, expansion, wealth and wisdom. As planetary portfolios go, it doesn't get much better than that. Jupiter is a fairly reliable indicator of positive events and having things go your way. It is often prominent in the chart whenever something good happens: new love, new job, promotion, or a new house.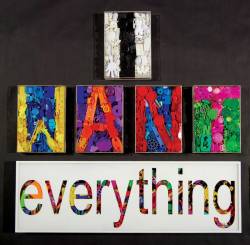 Rahu is another matter altogether. Rahu is the ancient Sanskrit name given to the North Lunar Node. The Moon's Nodes are not planets in any real sense but are calculated points in space that mark the intersection between the planes of the Earth's orbit around the Sun and Moon's orbit around the Earth. These points move backwards across the sky at a rate of about one and a half degrees per month. The nodes Rahu and Ketu are close by the Sun and Moon whenever there is an eclipse. While the Nodes Rahu and Ketu are not real planets, their effects can be very powerful. And since eclipses have traditionally been seen as harbingers of change and misfortune, Rahu is considered a natural malefic in Vedic astrology. However, it is important to recognize that Rahu is not all bad. In some situations, Rahu can actually bring positive events. The most recent example of this was this week's Royal Wedding in which transiting Rahu conjoined Prince William's Ascendant. In this sense, Rahu is more of a chameleon that can assume the energy of planets with which it is associated. Rahu is perhaps best understood as a source of change which disrupts the status quo. This is derived from the idea that since Rahu conjoins the Sun in a solar eclipse, Rahu is the power to disrupt the light from the Sun. Rahu also represents the breaking down of barriers and the transgression of norms. Rahu is unconventional and often rude or indifferent towards traditions and authority figures. It also has a tendency towards grasping at things beyond its reach. This can translate into a greedy acquisitiveness or a shopaholic syndrome when it is let loose in the material world. Because Rahu is somewhat unbalanced, its gains may be disruptive or unsustainable in the long run and may come at the expense of someone else.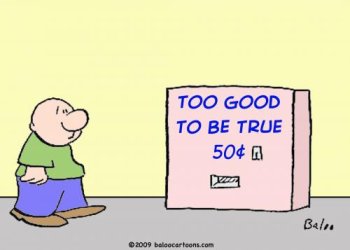 When Rahu and Jupiter are in mutual aspect, there is a blending of Jupiter's optimism and growth with Rahu's change and disruption. We could see a rise in exaggeration this week, as optimism gets the better of us as expectations become wildly inflated. This could be the time when something looks too good to be true, as Rahu creates fantastic scenarios that appeal to our greedier sides or deeply held beliefs. The risk here is that we may become captive to our narrow self interest and lose sight of the larger obligation we share with other people. Jupiter-Rahu puts the emphasis on the material realm at the expense of ethics or tradition, so we may be tempted to let the ends justify the means. The Jupiter-Rahu combination can be great for boosting our confidence for putting ideas into action, but we may need to take care not to trample on the wishes of other people. So this week could be a good time to take advantage of any new opportunities but we should be make sure they are genuine and do not hurt others. Doing due diligence is always worthwhile but perhaps no more so that here as Rahu may try to confound our better judgment. Caveat emptor and all that.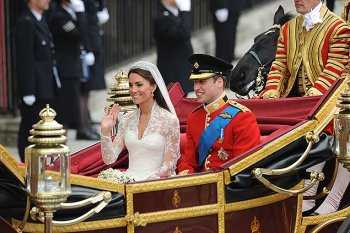 The other highlight recently of course as been the British Royal Wedding. As I've written in detail, the marriage horoscope from the wedding is incredibly powerful and speaks to the high profile and immense popularity of William and Kate. The 9th house is absolutely packed with planets and this will incline the couple towards a traditional and respected status as they will enjoy a high level of authority throughout their lives. It is a very appropriate chart for a future King of England. At the same time, Saturn is quite prominent in the chart as it aspects all of those planets in Pisces and the 9th house. This suggests that the marriage will endure heavy burdens and responsibilities and there could be some significant difficulty along the way. William's own horoscope is also problematic in the marriage and relationship department, so I wonder if this marriage will stand the test of time. There is a very real chance that there could be some major challenges that he will have to confront including, I'm sorry to say, the possibility of divorce. His chart isn't massively afflicted in this respect so there is still some element of doubt on that score, but it cannot be ruled out. Nonetheless, his chart does look good for eventually assuming the throne. Jupiter on the Midheaven exactly aspecting the Sun in the 7th house. A very nice pattern indeed. We should all have such a fortunate and powerful horoscope. But most of us don't, and that is what makes life interesting.
Have a great week,
Chris
---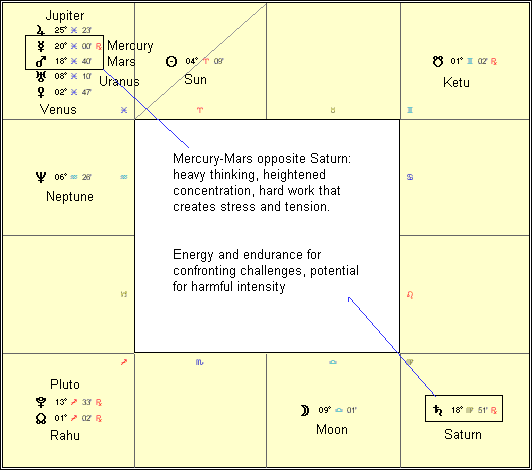 Week of April 18 - 22

Mercury-Mars-Saturn: focusing on the task at hand
This stars this week are the sort that gives astrologers fits. Early in the week, there will be a fairly intense three-planet alignment of Mercury, Mars and Saturn. Mercury and Mars will conjoin in Pisces and will almost exactly oppose Saturn in Virgo. Since both Mars and Saturn are considered first-rate malefics, this may be a stressful and intense time for some people. According to most astrological theory, this is a fairly nasty combination that does not bode well for any new projects started this week. To be on the safe side, the thinking goes, it might be a good idea to delay them until next week after this pattern has separated.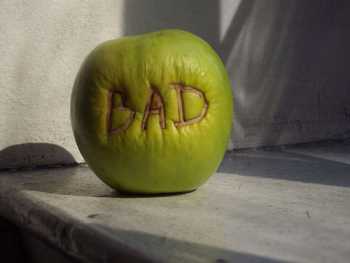 At the same time it's important to acknowledge that even "bad" planets have good sides. Mars and Saturn are the bad apples of the solar system in desperate need of a PR firm to boost their image. Yes, they are malefic and can cause damage and generate all kinds of stressful situations when they are afflicted in a horoscope. But Mars also symbolizes action and vitality that is necessary for any decision making process to move forward. Mars is also associated with taking charge and the expenditure of effort, both of which are useful when confronting challenges in everyday life. When Mars combines with Saturn, it can translate into situations that require hard work, both in terms of effort and in terms of the nature of the problems encountered. Just which side of this Mars-Saturn pairing we will get depends on how they are oriented in one's horoscope. Some people will not notice much of anything at all because the alignment does not fall on a sensitive point in the chart. Others may be compelled through events to take action and respond to the challenges that these planets create. And no doubt some people will get promoted or win the lottery this week. The moral of the story is that even bad planets can deliver good results if they are strong in a natal chart.
The Mercury influence in this unholy trinity directs the energy more towards the mind, thinking and communication. So if this alignment is situated close to a key planet in your chart, you may have to confront some hassle or difficulty surrounding communication (computer glitch) or perhaps transportation (car repair). It may also manifest more positively in the form of addressing a key problem in a constructive and thoughtful way. Mercury with Mars and Saturn can be an excellent combination for figuring out a complex problem or doing some other mental task that requires intense concentration.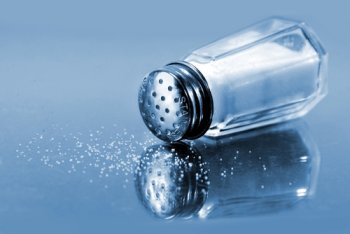 The most important thing is not to fall prey to negative thinking during this transit. This is all too common in astrology, especially Vedic astrology, which unfortunately has a reputation for grim readings whenever malefics are involved in a significant aspect. One of the occupational hazards of astrologers is they can read too much into some transit patterns for good or ill. When apparently negative transits are in force, many astrologers may go overboard in predicting all manner of hardship and disaster. Sometimes I have to catch myself from doing this, too, as I let my theoretical imagination get the better of me. But the key to remember here is that there is a huge grey area in astrology. Not everything is known about how the planets operate in our lives. Astrology makes huge assumptions based on a particular set of deductive principles that while sometimes correct are not necessarily going to be right all the time. For this reason, astrologers will not know the outcome of every configuration of planets. Some bad planets will give good results, while the opposite may also be true. When you're working with such a partial system of knowledge, it's important to leave enough epistemological space for all outcomes. When in doubt, stay hopeful but acknowledge the relative probabilities in both directions.
In other words, take everything astrologers say with a big grain of salt. I know I do. :-)
Have a great week,
Chris



---
---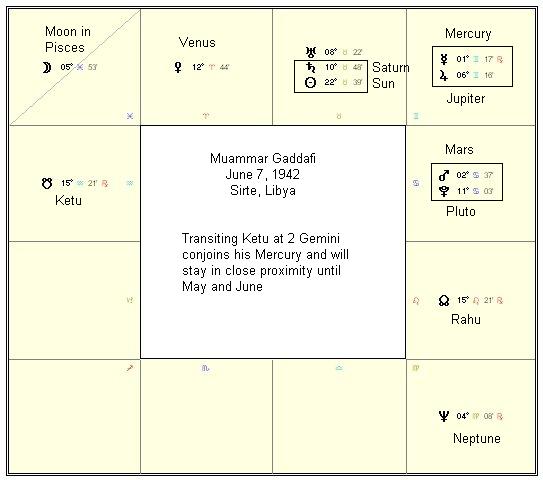 Week of April 4th

All Pisces: Believe in Dreams
Another week of frustration and less than cheery news from Japan. Recovery efforts have suffered another setback as authorities have failed in their efforts to stop the flow of radiation leaking into the Pacific Ocean from the damaged Fukushima reactor. Local officials are now saying that it could take months before the situation is brought under control. As I suggested at the outbreak of the disaster, I thought the early April period would likely be difficult and could bring fresh challenges as Mars conjoined Uranus in a very sensitive spot in Japan's national horoscope. Fortunately, nothing too dramatic has occurred but there is now a growing sense that there is no easy solution to this crisis. As I noted back in mid-March, the planets did not favour a quick recovery as April's alignments pointed to more stress and hardship. The long Saturn transit to the natal Mercury in the chart will last for several months and will likely keep progress in the clean up slower than expected. This nuclear crisis is a sobering reminder of the limits of human knowledge in the face of the awesome power of nature.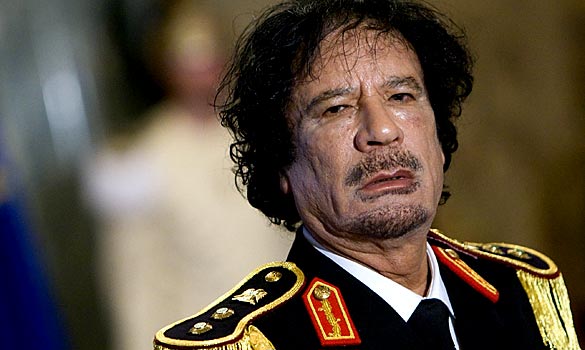 Meanwhile in Libya, the NATO-backed rebels have made some progress against Gaddafi's army but many observers now believe that a stalemate is the most likely outcome in the near term. I thought we might see a little more trouble for Gaddafi at this point but so far his control over the western part of the country looks fairly solid. His horoscope (born June 7, 1942) suggests a person with a strong will and determination as his Sun and Saturn are in the sign of Taurus -- the bull. His dogged determination is further enhanced because these planets are in the 3rd house from his Pisces Moon. Since the 3rd house is associated with efforts and initiative, Gaddafi's Sun-Saturn definitely increases his capacity to pursue his goals. At first blush, it might seem strange that such a power-hungry dictator could have a dreamy Pisces Moon, which supposedly confers a sense of sympathy and intuition. While that stereotype can be true of Pisces, I feel it doesn't adequately describe the broad range of possibilities. While Pisceans do place a great emphasis on beliefs and belief systems, this doesn't mean they can't also be calculating and rational. While we do not know for sure, Gaddafi may well rely heavily on intuition to make some of his decisions. More importantly perhaps, throughout the course of his political life he has attempted to legitimize his rule by appealing to higher beliefs of Islamic socialism and African unity. Perhaps those higher Piscean ideals of brotherhood and unity are a better manifestation of Gaddafi's Pisces Moon. Even here, however, I would note that some Pisces people may only use beliefs in a superficial or instrumental way in order to realize their goals. In that sense, the meaning of the signs cannot be taken too literally and have to be thought of at a more abstract level.
Perhaps the strongest part of Gaddafi's chart is his powerful conjunction of Mercury and Jupiter in Gemini. He may be crazy and ruthless, but he is also smart and quick-thinking. Gemini is a thinking and communicating sign and the placement of Mercury (intellect) and Jupiter (achievement) there is excellent for making accurate and quick judgments and staying ahead of the game. And we would expect nothing less for a military man who has been leader of the single-party state in Libya for over 30 years. His Mars-Pluto conjunction in Cancer may provide a partial explanation for his ruthlessness and power-hungry approach to politics. Mars-Pluto conjunctions tend to be quite forceful in their actions and can sometimes become extreme if other factors in the chart confirm. Mars is debilitated in Cancer, so that adds to the tendency for his anger to overflow and for actions to be taken without regard for ethics. Of course, many normal, even-tempered people may have this same combination in their charts but it likely does not figure prominently. Since we don't have Gaddafi's birth time, it's impossible to say just how these planets are placed in terms of the houses and the angles (Ascendant, Midheaven). I suspect though that Gaddafi's Mars is probably quite prominent and may form a close angle to the ascendant. This would tend to emphasize the role of force and action in his life.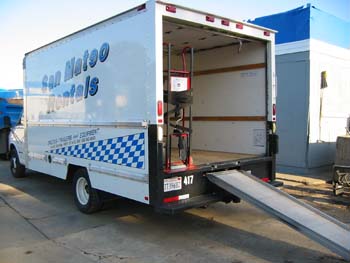 The current transits reveal some of the pressure Gaddafi is under at the moment. The key source of his troubles may be transiting Ketu (South Lunar Node). Ketu is now closely conjunct his Mercury (1 Gemini) and creates instability in situations relating to Mercury's areas of rulership including thinking process, decision-making and communications. Literally, this may translate into an unstable or changing mind as Ketu tends to alter our usual rational approach to perception. There may be quicker shifts in his ideas and goals during this transit and he may be more prone to relying on intuition and gut instinct. Not surprising perhaps, since his country is being bombed and his seat of power is under threat by rebels who want to banish him. Since Ketu moves quite slowly in its gentle, sliding backward motion, its effects on his Mercury may last for some time, perhaps into May or beyond.
We can also see that Mercury is placed in the 4th house from the Moon. And since Mercury also rules Gemini, it has an extra influence on 4th house matters. As we know, the 4th house is associated with home and residence. This Ketu transit would therefore tend to put pressure on Gaddafi's home life and force him to adapt to many unexpected changes. We might also speculate that this is a transit that might cause someone to leave their current residence. No doubt, Gaddafi has already left his compound (which has been bombed already), but it's possible this could signify that he may leave the country entirely over the next two months or so. It's hard to say with any certainty when the birth time is unknown, but there are the outlines of some kind of displacement or dislocation in this chart. We shall see how it all unfolds, but this chart does not indicate Gaddafi will face increasing pressure and may not be able to hang on for long.
For the rest of us, this week may have a distinctly Piscean feel to it as there will be no less than five planets in the sign of the fishes -- Sun, Mercury, Mars, Jupiter and Uranus. This multiple conjunction has been accumulating for the past few weeks but it was always anchored -- or it that burdened? -- by the opposition to Saturn. The Saturn influence may have kept a lid on excessively Piscean flights of fancy and compelled a greater adherence to convention and tradition in our goals and dreams. The Piscean focus on belief may have taken more traditional forms such as we might find with institutionalized religions or mainstream political ideologies. Both of these areas are somewhat conservative in their goals in that they do not seek fundamental change.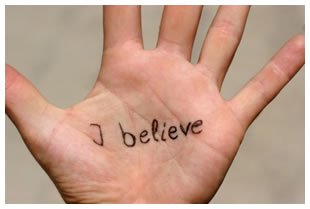 Now that these planets in Pisces have begun to escape from the full force of Saturn's influence, it may open up some imaginative space for "dreaming of things that never were". That inspiring and often mystical side of Pisces may have more room to fully flower this week so it may be a good time to reflect on the true nature of your beliefs and ideals. Belief is often a better motivator than empirically-based knowledge because it taps into our desire to transcend this earthly life. The belief in some inherent harmony of all beings and all matter, for example, is a way to transcend the solitude of our individual lives. As precious as our individuality may be, it is still defined in terms of our connections with those who share our lives. Perhaps in that very Piscean way, the self exists only in context of a larger whole.
Have a great week,
Chris
---
---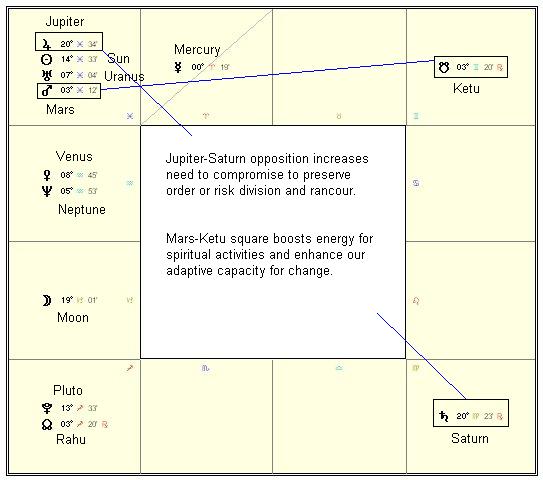 Week of March 28th

Jupiter-Saturn: constructive compromise or confrontational division

They say astrology isn't a science. And they're right, of course. Astrology doesn't conform to the usual standards of modern science. In that sense, it is more like economics and other "social sciences" where the intrinsic complexity of human beings precludes simple 'if A, then B' type statements. As we know, astrology requires a multi-factored approach which is better suited to more probabilistic predictions. Planets do not behave like Hume's billiard balls but are better seen as bundles of potential energy. When they interact during close aspects, these energy bundles are more likely to be released and manifest as different psychological states or as significant events. These planetary aspects do not actually cause events to occur, but are better understood as cosmic timers or giant hands of a clock that correspond to events on Earth. I'm not sure why things might work this way, but if pressed I would say that there is a fundamental harmony in the universe where energy and matter are interconnected on many levels. Some of these levels are currently known to science, while some have yet to be discovered.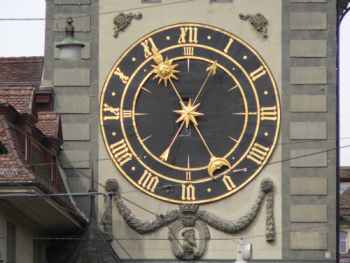 We are in the midst a potentially large energy release as the Jupiter-Saturn opposition continues to dominate the sky this week as the exact aspect occurs late on Monday (GMT). Since these are slow moving planets, its effects are still likely to linger for some time after the aspect. So that means Jupiter's preference for giving, tolerance, and growth is still attempting to reconcile with Saturn's inclination to conserve, limit and constrain. When this Jupiter-Saturn encounter works, it can lead to compromise and a constructive reordering of the situation that solves old problems. When it doesn't, beliefs become entrenched and conflict comes to the surface. We can find ample evidence of the latter as the Middle East remains a region in turmoil as protests have spread to new countries such as Syria, while Libya seems to have entered a full blown civil war since the West has became involved.
Even in quiet and boring Canada, we can see how this inability to compromise manifested. Last week, the opposition defeated the Conservative government in a vote of non-confidence to force an election is slated for early May. (Full disclosure: I am a quiet and boring Canadian) One reason why the negative side of this Jupiter-Saturn aspect would manifest in Canada is because its national horoscope was under affliction. The Sun (government, leaders) is under affliction by a square aspect from Saturn. Since this aspect will only tighten in the weeks to come (Sun=16 Gemini; Tr Saturn=17 Virgo), there is good reason to expect the government to have an uphill battle at the polls. While it's possible the government may be faced with other difficult situations that could fulfill the potential of the Saturn-Sun aspect, the fact that an election is underway makes the present government's hold on power more tentative. And yet the Conservative party is so far ahead in the polls (39%-25%) over the Liberals, it will take quite an reversal of fortune to see the Liberals win. But the astrological factors would seem to point to an increased probability of that unexpected reversal, or at least of some significant weakening of the Conservative Party's hold on power.
In last week's newsletter, I suggested that Japan's nuclear crisis was likely continue into April given some key afflictions to its national horoscope, despite the apparent moderation of the crisis. It seems that Japan has taken a step back in recent days as newly-elevated radiation levels have been reported in the plant and the nearby ocean. The UN chief of atomic energy has said that the accident is
"far from over"
. Much of the potential trouble may be triggered by Mars over the next little while as it aspects unpredictable Ketu this week and then conjoins Uranus next week and then opposes Saturn on the 18th. Since Mars is the planet of quick and intense bursts of energy, there is an increased possibility of sudden events that could force authorities to react quickly in order to secure the situation.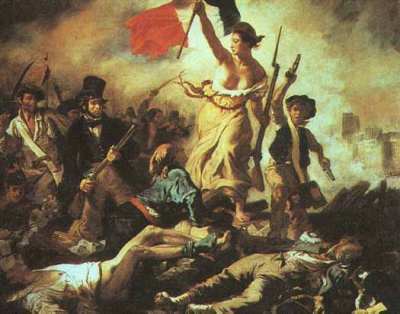 The upcoming conjunction of Mars and Uranus on April 4 is definitely one to watch. The willful energy of Mars combines with the suddenness of Uranus to create a huge potential for change in the status quo. What makes this particular conjunction more powerful this time around is that both planets will be parallel the equator by declination. If the horizontal measurement of planetary positions through the zodiac gets all the attention in astrology, the vertical dimension of the relative "height" of planets is also worth examining. The last time Uranus crossed the equator was in August 1969. At that time, Jupiter was also crossing the equator by declination, thus forming a powerful parallel combination of Jupiter and Uranus. Jupiter represents progress and advancement, and Uranus symbolizes innovation and change, especially involving technology. Just two weeks earlier, man landed on the Moon in an epochal triumph of human ingenuity and technological progress. To be sure, there were other possible events at that time, but the lunar landing fits this combination very well. Uranus only crosses the equator once every 42 years. This time around, however, Uranus will not be accompanied by the progressive energy of Jupiter but rather the red planet Mars. This is a more unpredictable combination and suggests situations and events involving high amounts of energy and force. If this pairing can be channeled positively, it could correspond with a breaking down of barriers and a realization of freedom and independence. For this reason, it can be quite a revolutionary energy as constraints are seen as increasingly intolerable under this transit. In the physical world, this is a more dangerous combination because 'freedom' here can mean freedom from stasis and solidity and an increased risk of fundamental disruption as we might find in earthquakes and volcanoes. The timing of events from this conjunction needn't be exact, although if we do see something emerge here, it should fall fairly close to it.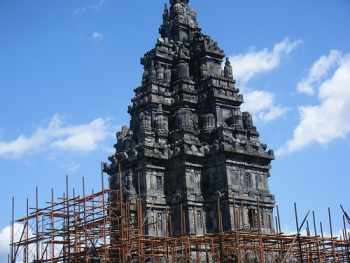 This week Mars is in the spotlight as it squares Ketu, the South Lunar Node at midweek. Ketu likes change and reorganizing things, so the connection with Mars will likely boost the energy available for adapting to new circumstances and reshaping reality. There may be a greater appetite for shaking things up this week, so it may be a good time to learn to go with the flow rather than be left behind. In situations where change has occurred unexpectedly, this could lead to some discomfort and irritation. Since Ketu is closely associated with other-worldliness and spiritual matters, this could also be a good time to apply some of that action-oriented Mars energy towards areas that fall outside of the mundane realm. Helping out at or fixing up temples and churches come to mind as the most literal version of this energy, as does providing service in general towards those in pursuit of enlightenment.
Have a great week,
Chris
---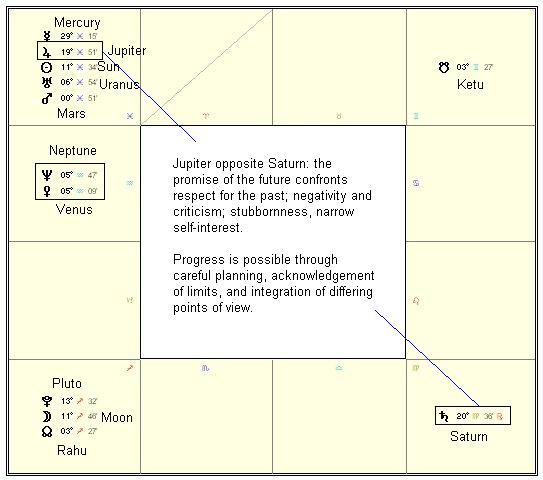 Week of March 21st

Jupiter opposes Saturn: confrontation between old and new
The world is a dangerous place these days. So much is happening now and most of it is bad. Japan, Libya, the Middle East in general. It's enough to make you look up at the sky and wonder: what the heck is going on up there? The short answer is: a lot.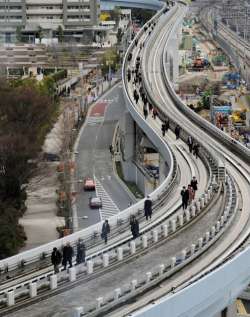 Some of the recent turmoil can be traced back to the December-January eclipse period and the configuration of planets at the turn of the New Year. All three horoscopes featured a fairly high level of affliction that continues to manifest in the recent events in Japan. These single-snapshot charts can influence events for many weeks and months afterwards through the transits of planets that activate sensitive points in the chart. For example, the December 21st lunar eclipse occurred at 5 degrees of sidereal Gemini. The Sun and Moon were in close proximity with the destructive planets Mars (violence, courage, accidents) and Pluto (coercion, power, purging) at the time of the eclipse so this increased the likelihood that some violent events would occur in the period following the eclipse. Just when this potential would be released is seen through transits. At the time of Japan's earthquake on March 11, Uranus, the planet of sudden or shocking events, had moved into a near-exact square angle with this eclipse point at 6 degrees of Pisces. Uranus may have therefore acted as a trigger that released some of the destructive energy contained in the eclipse.
I have also discussed how the square aspect between Rahu and Uranus through February and March has disrupted the status quo and fueled the desire for change through the Middle East. The eclipses were probably also implicated in this revolutionary wave, as the conjunction of Jupiter (optimism, hope, expansion) and Uranus (change, independence, revolt) occurred on January 4 -- the same day as the solar eclipse. Revolutions typically need to blend positive notions hope and the promise of a better future with a negative stance towards the status quo that confronts and challenges established authority. In this way, both the positive and negative attributes of these eclipses may have been manifested in the historic movements in the Middle East.
This revolutionary movement seems to have entered a new phase this weekend as a US-led coaltion have imposed a no-fly zone over Libya. This essentially amounts to a declaration of war against Gaddafi as the West has realized they had to intervene or else the Libyan rebels would lose. So that early sense of injustice and idealism is being replaced by an old-fashioned battle that relies on force. Part of the explanation may be the gradual separation of the Rahu-Uranus square. As both planets are now separating, that base level desire for change as weakening. More importantly, perhaps is the approaching opposition between Jupiter and Saturn.
As the two giants of the solar system, Jupiter and Saturn are enormously powerful planets and move quite slowly. This gives them a capacity to shape the trends in human affairs in ways that other planets cannot. Jupiter and Saturn are like a matching pair of opposites not unlike the two poles of a battery -- positive and negative. Jupiter represents optimism, expansion/birth and wisdom while Saturn symbolizes pessimism, contraction/loss, and distortion/deception. Of course, Jupiter isn't all good and Saturn isn't all bad, but their intrinsic meanings are usually laid out in this plus/minus schematic way.
When these opposites confront each other in the sky as they do this week, their fundamental incompatibility comes to the surface. Jupiter's penchant for wise counsel and focus on the future is countered by Saturn's negativity, stubbornness and resistance to change. Jupiter seeks self-development through an application of intelligence while Saturn prefers to keep things as they are and respect the past and its traditions. Needless to say, getting things done is such an environment can be challenging. That may be one reason why the West has chosen to go to war with Gaddafi. The two sides can't find a way to resolve their differences any other way than through violence.
Even though international affairs may be visiting the uglier sides of this Jupiter-Saturn opposition, there are still constructive ways to apply this energy in our own lives. The key for making progress this week may be to defer to Saturn first and then take it from there. While both planets are powerful, Saturn is often a stronger influence due to its slower velocity. If Saturn is going to be the more powerful player in the days ahead, it makes sense to acknowledge its symbolic energy first by incorporating some of its positive contributions. So if Saturn rules tradition, order, rules, and responsibilities, we may be better off taking these into account before we decide to plunge ahead with any new Jupiterian plans. This is almost common sense anyway, since the most reliable way forward usually takes current ways of doing things into account. But Saturn can sometimes be intransigent in its views, so we may have to bend over backwards to accommodate its demands. In other words, a well-organized plan that properly integrates established practices may count for a lot here, as Saturn generally doesn't respond well to hasty or improvised back-of-an-envelope ideas. New ideas will have to be laid out in careful detail if they are to succeed.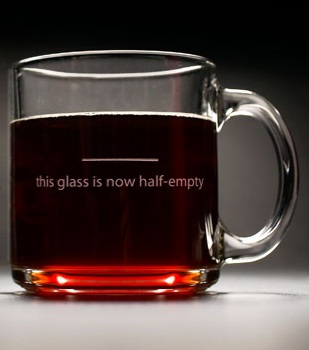 There is also a risk that we can become overly pessimistic or fall prey to biased views during this transit. Saturn can distort our thinking to the point where we only focus on what is wrong with something. Criticism has its place, but we may have to redouble our efforts to ensure that the criticism is appropriate and is not rooted in narrow or self-interested thinking. Saturn can have a selfish influence, and when it exercises too much control it can make us believe that our unique subjective experiences are actually an objective reality shared by everyone. As we know, this is just not true. Everyone has their own opinions and they usually have good reasons for them. The best corrective to this kind of tunnel thinking is to canvas others and see how they are making sense of the situation. It's only when we lose sight of the whole that we succumb to these kinds of narrow Saturnian errors in judgment.
I've recently added a
new write-up
on the radiation leak at Japan's nuclear power plant so you might want to check that out. While the situation seems to be improving in recent days, I'm still concerned that some upcoming Mars transits may correspond with setbacks. Some of the original afflicting planets have moved off a bit, but the charts still look troubled. I'll feel a lot better about the current planetary set-up once we get past the Mars-Saturn opposition on April 18-19. Whenever these two malefic planets come together, it's usually a high-stress situation.
Let's hope it manifests simply as the hard work and endurance that the Japanese people will need to clean-up and rebuild their country. Despite the frightening nature of what has been going on there, I have been inspired by their resolute calm and patience in the face of this crisis. There may well be more inspirational energy available this week as Venus (beauty, social bonds) conjoins Neptune (imagination, ideals) on the 26th. Amidst the tumult and unforgiving nature of this harsh new reality, there may be a place for unifying vision of art and love after all.
Have a great week,
Chris
---
---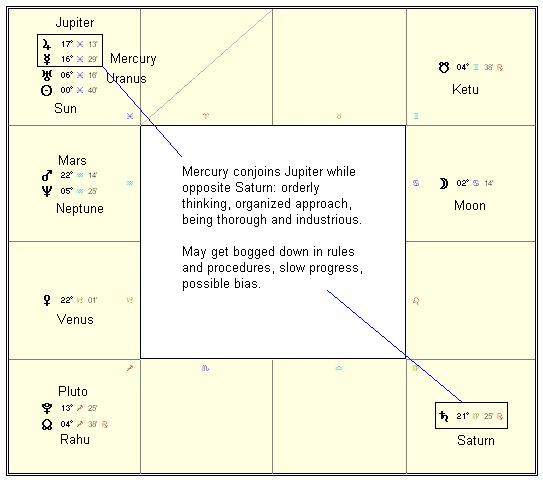 Week of March 14th

Reflections on the disaster in Japan; Jupiter conjoins Mercury
I'll admit to being quite distracted these days as the emerging disaster in Japan has rendered discussions of the possible psychological effects of weekly transits seem pretty secondary. The amount of destruction wrought by the 9.0 magnitude earthquake and tsunami is almost unfathomable. And now the prospect of possible nuclear meltdowns only adds insult to injury. While I have written a
full analysis
of the quake on my website, I'll just mention a couple of things here.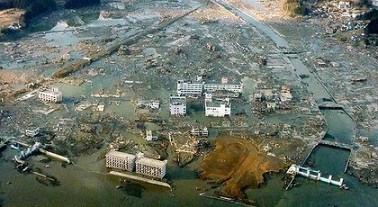 Astrology may have something to say in this latest human drama as there were
reports in the mainstream media
about a so-called 'supermoon' in the days preceding the March 11 earthquake. Astrologer Richard Nolle and others had noted that the Moon was due to make its closest approach to Earth in 18 years at the next Full Moon on March 19. Some astrologers were therefore predicting a major natural disaster as the increased gravitational pull from this supermoon might be sufficient to release pent-up seismic or volcanic energy. Reputable Wall Street analysts such as Paul Montgomery and Dennis Gartman had also
made mention
of the approaching supermoon and its potentially destructive effects and how it might therefore correlate with declines on the stock market. It's noteworthy that neither of these analysts were financial astrologers, but merely acknowledged the possible real world significance of such a 'wild card' factor.
While I think the supermoon phenomenon is worth studying, I'm not sure it can explain this disaster. After all, scientists who have investigated the possible correlation between the Moon and earthquakes have found very little evidence to support this notion. While the correlation is there, it is tiny and not large enough to have practical use. Perhaps the take away here is that it is only one factor out of many and therefore we should be careful to not ascribe too much importance to it. And for what it's worth, I have been expecting the stock market to decline, but due to the approaching Jupiter-Saturn aspect rather than any presumed lunar influence.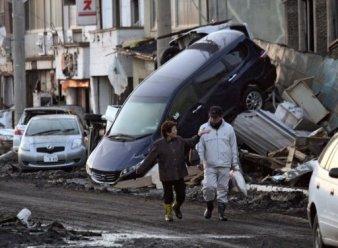 Instead, I tend to think that major events such as this are better explained in terms of the respective positions of the planets. I have previously noted how the recent square 90 degree angle between Rahu (the North Lunar Node) and Uranus generated a lot of disruption and instability that has manifested in the revolutions in the Middle East. This aspect is still quite close -- just two degrees from exact -- and so that is a problematic energy that is still out there. As I mentioned in my article on the earthquake, the Rahu-Uranus aspect hit the national horoscope of Japan in a very vulnerable place and therefore it played a key astrological role in the current devastation. And the fact that Uranus entered tropical Aries a day after the quake no doubt also played a role.
We are also approaching a Jupiter-Saturn opposition that is due on March 28-29 and this may have also have been a factor in the Sendai quake. The squaring off of the solar system's two largest planets is definitely a significant event in symbolic terms and represents a clash between the optimism and expansionary nature of Jupiter and the pessimism and constraining character of Saturn. The resulting stress and tension from such confrontations of Jupiter and Saturn can be formidable and they often mark a rise in uncertainty and duress. The previous opposition occurred in May 2010 and corresponded with the outbreak of the European debt crisis and the subsequent Flash Crash in the stock market.
The probability for such major negative events is perhaps greater when these tense aspects between planets occur simultaneously. This also applies to the key snapshots I like to use for forecasting such as eclipses and the New Year's chart. Actually, I did mention in
my analysis
of the January 1, 2011 chart that the planets suggested a higher than average number of natural disasters. Mars was in bad aspect with Saturn, while Mars, Pluto and Rahu all lined up together in the 4th house of land and population. Since all three planets are considered naturally malefic, it was not hard to extrapolate that there would a significant amount of seismic and volcanic activity in 2011. The January 4 solar eclipse was also a very afflicted eclipse since the Sun-Moon conjunction (19 Sagittarius) was closely square to Saturn
(22 Virgo). Anytime you have a close aspect between the depressing and destructive power of Saturn with the eclipse point, there is an increased likelihood of unpleasant consequences, whether they be economic, political or natural.
But back to the stars this week. This week is something of a good news/bad news scenario. The good news is that Mercury, the planet of the intellect and communication, will conjoin Jupiter, the planet of wisdom and good fortune, on Tuesday. This is a very favourable pairing for most endeavours, especially those that involve rational action and sharing the results of deliberate study and analysis. If last week's Mercury-Uranus conjunction focused on ingenuity and quick thinking, Mercury-Jupiter describes an intelligence that occurs at a more calculated pace. This is a more reasoned approach that incorporates the idea of exhibiting accomplished skills and knowledge that is capable of delivering a respected opinion or advice to those in need. Since the conjunction occurs in Pisces, there may be greater interest in humanitarian or spiritual matters. Helping or guiding Japan comes to mind here.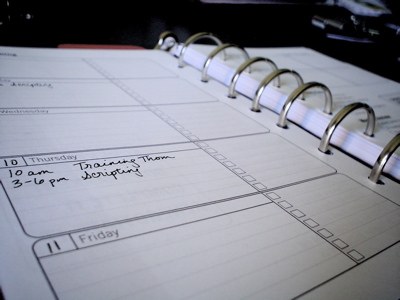 But the bad news is that this conjunction will occur in opposition to grumpy, old Saturn. Since there is still almost two weeks until the opposition is exact, it is quite possible that we will not have to grapple with the full effects for a while. Nonetheless, Saturn introduces a more distorting or sober influence on the proceedings. Saturn is all about denial and delay so there is an increased likelihood that progress may be somewhat slower than expected. Sometimes, this is just what we need as progress is perhaps more long-lasting if it has been planned correctly and we adhere to rules and methods. Saturn likes to keep things routine and orderly so there may be a focus on organizing and adding structure to one's life over the coming days. The emphasis may be more on scheduling tasks and activities rather than spontaneity. Saturn can also distort thinking so that we become immune to facts and fall victim to bias. There is a greater risk of one-sided perceptions here that emerge from deep-seated prejudices. Perhaps that isn't good news for the ongoing protests in Wisconsin or the strife Middle East.
So the trick may be to learn to work with the limitations imposed by Saturn as we harness Mercury's powers of discrimination and Jupiter's ability to render sound judgment. As long as we don't succumb to Saturn's heaviness, we can still move forward using the best of our intelligence in a structured way. So be creative, but maybe only between 4 and 5 p.m. after your other work is done and the boss has gone home.
Have a great week,
Chris
---
---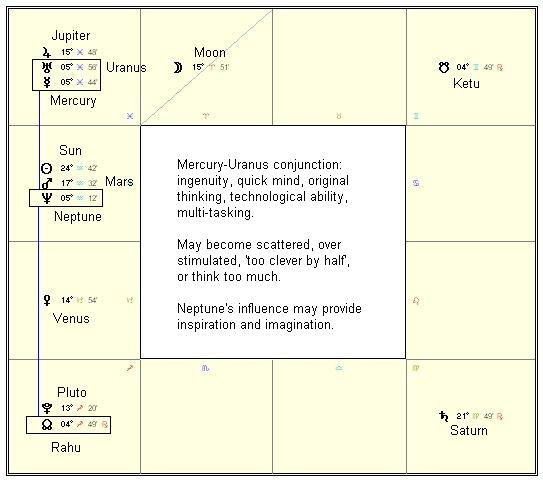 Week of March 7th

Mercury-Uranus conjunction: human ingenuity on parade
One of the distinctive traits of the human race is our adaptability. We aren't the fastest animal on the planet and we aren't the strongest, but our brains are sufficiently developed that we can adapt fairly quickly to changing circumstances. That adaptability has fostered an enlargement of our brains to a point where we have reached a positive feedback loop: larger brains leads to more adaptive skills, which leads to still larger brains.
The invention of computers and other new forms of information technology has presented the human species will yet another adaptive challenge. As the speed of communication accelerates, we need to adapt to a much faster and fragmented world. Traditions may still be respected and daily routines still followed, but there is now an greater open-endedness to our lives as technology recasts the contours of the human experience. E-mail, cell phones, and the various forms of social networking increase the density of our communication and re-orient our mental framework towards a more rapid and shorter style of interaction. Multi-tasking increasingly seems to be the necessary adaptive behaviour in this wired world. While this quick and flexible mental approach undoubtedly has its place, it has recently come under scrutiny since evidence suggests that attention spans are shrinking, especially in the young. The result is that we may be better equipped for shorter, quicker tasks but our distracted attention makes it more difficult to concentrate for longer stretches and perform 'higher' intellectual functions.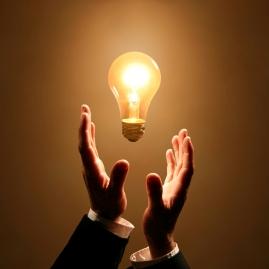 The reason for this long-winded introduction is that the astrological highlight this week embodies much of the energy reflected in this technological revolution as Mercury conjoins Uranus in the sign of Pisces. Mercury is the planet that symbolizes intelligence, communication, analysis and dexterity. Mercury is a rational and logical influence in our lives and directs our efforts toward solving problems and sharing our ideas and perceptions with others. Uranus represents originality and freedom and is closely associated with creativity, technology and invention. The combination of these two planets this week will underline the importance of quick thinking and making snap judgments and developing new solutions to age-old problems. Since no two planets reflect this notion of technologically-driven multi-tasking quite as well as Mercury and Uranus, this may be a good time for investing in a new phone or computer or broadening your horizons to include more of the wired world into your daily life.
What's intriguing about this Mercury-Uranus conjunction is that it occurs in close aspect with Neptune and Rahu. We talked about Rahu last week and while it definitely has its dark side, it also tends towards innovative thinking and searching out new possibilities. Amid all this dry, rational innovation, however, the week will also feature a softening influence from visionary Neptune. Neptune concerns itself with human ideals and the imagination and can reflect a heightened sensitivity to the feelings of others. When Neptune is prominent, it often fuels an interest in the highest human ideals and may manifest in the form of artistic or sacred pursuits. If Mercury calculates and analyzes, and Uranus accelerates and breaks free, Neptune dreams and inspires.
So the influence of Neptune this week may provide a very nice imaginative counterbalance to the ingenuity and rationality of Mercury and Uranus. As a result, communication and thinking processes may be infused with insight, intuition and vision. Where Mercury-Uranus creates epiphanies and lightning-quick insights, Neptune invites revelations that inspire us to new heights in the aesthetic and spiritual realms. This is therefore a fairly rare alignment of planets that should greatly enhance any new projects or tasks begun this week, especially if they are in the fields of communication or technology.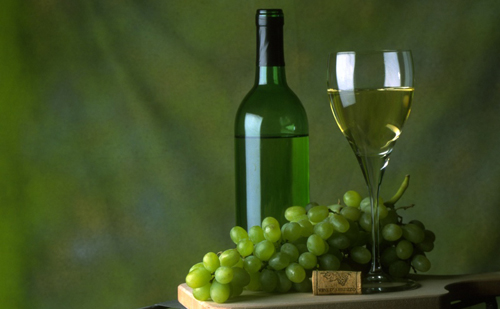 As with all planetary patterns, there is a risk that the more negative sides may manifest especially in people whose horoscopes may be afflicted at the moment. We should therefore be careful about trying to do too much at once as our multi-tasking efforts may produce confusion, impatience and nervousness . We may feel so stimulated by all these brilliant ideas and experiences around us that we neglect the more down-to-earth and mundane areas of life. Even Steve Jobs has to take out the garbage and do the laundry. The strong Uranian emphasis here may also represent a reluctance to compromise as we fall in love with the originality of own ideas or suffer the 'too clever by half' syndrome where solutions are too complex to be truly effective. This is one of the common pitfalls when Mercury's rationality is combined with Uranus' need for speed. We can become so absorbed by the process of thinking that we block out other types of perception and experience. Thinking too much is therefore a real possibility this week, especially in at the expense of the emotions and the senses. Insight and logic may be able to discover a fascinating new process to produce wine more cheaply, but rationality has no say in the enjoyment one gets from actually drinking it. But no doubt a Mercury-Uranus person would figure out a way to account for the genetic variations in human taste buds and come up with even tastier vintages that better fit our biological uniqueness. Here's to human ingenuity!
Have a great week,
Chris
---
---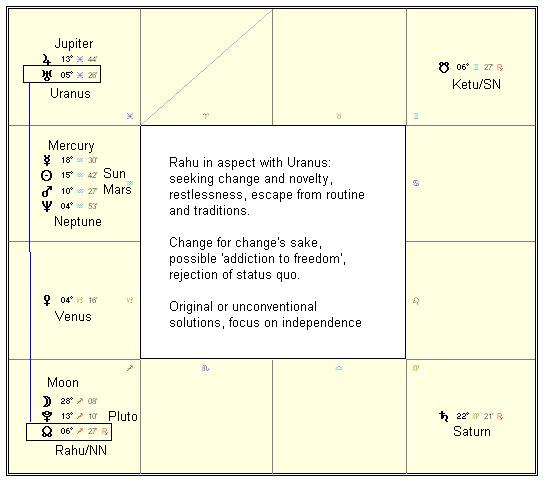 Week of February 28th
Rahu-Uranus square: addicted to freedom?
Can addictions be healthy? Drugs, alcohol, sex are the most common forms of addictive behaviour and create a negative image of addiction. Addictions have such a bad reputation that even formerly ennobling activities like work can be seen as unhealthy if taken too far. If you work too much to the exclusion of most other things then you're a workaholic. Of course, "too much" is a subjective notion and one person's workaholic is another person's go-getter.
Our understanding of addictions and obsessive behaviours may be in the spotlight this week as there is a fairly strong Rahu influence through the close square aspect between Rahu and Uranus that is exact on Friday March 4th. Rahu deserves a brief introduction since it is not one of those familiar, observable planets in the night sky. Rahu is the traditional Sanskrit name for the North Node of the Moon. (Ketu is the name given to the South Node.) Just in case you were wondering, a node isn't actually a planet but is merely a calculated astronomical point. Specifically, the Moon's Nodes are two opposite points that mark where the orbits of the Moon and the Earth intersect. These points move backwards at a rate of one and a half degrees a month. While they are not actual planets, empirical observation through the centuries suggests that these points are nonetheless quite powerful in their effects. The most obvious instance is during solar eclipses where Rahu lines up in conjunction with the Sun and the Moon. This association with eclipses and the interruption of the Sun's light is the main reason why the Moon's nodes are seen as inherently malefic in Vedic astrology.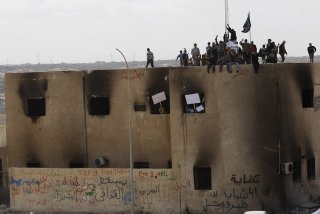 Like most planets, Rahu has both good and bad sides. Although it is considered a natural malefic, Rahu can be quite positive when it is well aspected. Since Rahu symbolizes attachment and power-seeking behaviour, it is often very strong in the charts of people who seek material gains or social status. Since it is a restless energy, Rahu does not respect tradition and has a tendency to break with the status quo. Researchers and scientists who discover new ways of doing things and focus on technological innovation often have a strong Rahu in their horoscope. Similarly, unconventional people who like to do things their own way often have Rahu in a prominent place in their chart.
When Rahu is poorly-placed in the chart, however, its negative side comes out. It can be quite a disruptive influence as it seeks change for its own sake. Since Rahu is rarely content to stand still, it can often translate into restlessness and an unhealthy acquisitiveness which may express itself as a 'shopaholic". A rich person who focuses solely on making money to the exclusion of everything else is another example of this problematic side of Rahu. The person may be wealthy, but the Rahu influence will make them unhappy with what they have as they constantly seek to acquire more. Rahu can get obsessive in its interests and when it gets really intense, it can manifest as an all-out addiction.
What's interesting this week is that Rahu forms a close alignment with Uranus, the planet of change, originality and freedom. To be sure, there are some overlapping symbolisms between these two planets since both reject the status quo and established order and crave novelty and change. We don't have to look too far to see how this rejection of tradition might be playing out in the Middle East these days. Some of the reason for the ongoing unrest may well be linked to this Rahu-Uranus aspect, although as I noted in a recent post on my website, the larger wave of rebellion that is sweeping that region is more likely traceable back to the solar eclipse of January 4th, as well as the afflictions to the charts of the specific countries involved.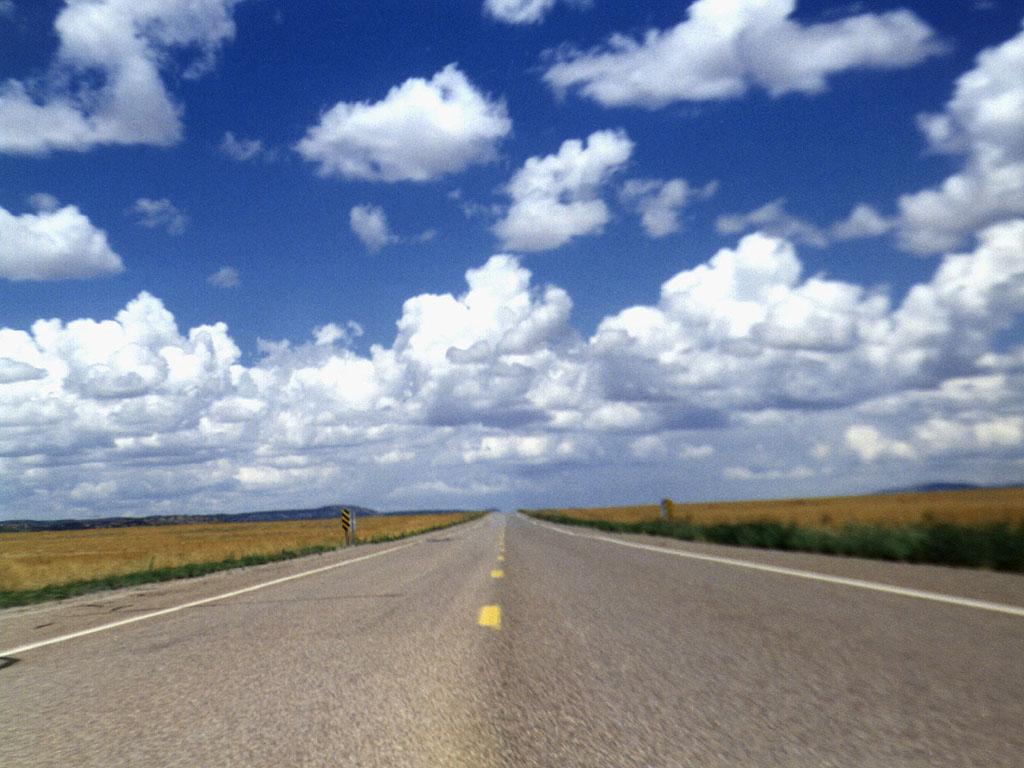 The take away here is that the Rahu-Uranus aspect has the potential to be a very destabilizing and unsettling energy. Since both planets aim to disrupt routines, there could be a lot of distraction out there that may divert our attention away from our responsibilities. In limited amounts, this shift in emphasis is probably a good thing since it prevents getting trapped in the inertia of dead-end situations. Change can be a good thing when it occurs in a measured way. So it's definitely a good idea to get out there and feed your inner radical this week. Check out and see what the cutting edge people are up to and eavesdrop on the in crowd.
The trick may be to avoid going overboard and running away from one's life in the quest for some imagined greener pasture. The Rahu-Uranus pairing puts a high premium on freedom and doing one's own thing, even if it generates some nasty consequences. This Rahu-Uranus influence may even generate an addictive or obsessive approach to freedom and breaking boundaries. Trotsky's notion of Permanent Revolution might be the historic manifestation of this combination, but the downside here is pretty obvious given how the Russian Revolution ate its young. On a more individual level, this restless urge to break out and may be more akin to the movie Thelma and Louise or Jack Kerouac's depiction of compulsive traveling in On the Road. This restless impulse towards personal freedom could be a good thing if you are opposing a thuggish Middle Eastern dictator, but perhaps less so if you work in a large organization with formal rules and a boss with a limited tolerance for creativity.
Have a great week,
Chris
---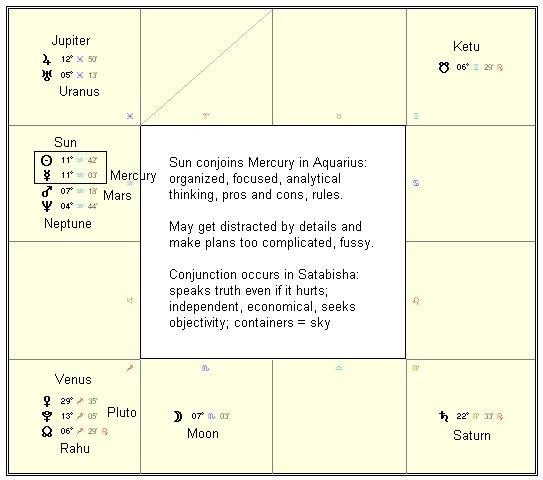 Week of February 21st

Sun-Mercury conjunction in Aquarius: I think, therefore I am
This is a good time to get some thinking done. The main aspect this week is the Sun-Mercury conjunction in sidereal Aquarius. The conjunction actually takes place on Friday but it will gather slowly enough that its influence may be felt for several days. In Vedic astrology, this combination is said to create an auspicious Budha Adhitya yoga. The joining of the King (Sun) with the Messenger (Mercury) produces knowledge and an organized state of affairs that can widely shared for the benefit of others.
In lay terms, the Sun represents the self or ego and Mercury symbolizes the analytical and communicative mind. Together, they can enhance mental focus and increase our need to communicate rules and order as we perceive it. This combination reflects a clever and shrewd mind, and one which calculates the pros and cons of a given course of action. Deductive thought processes are important here, often at the expense of emotions and creativity.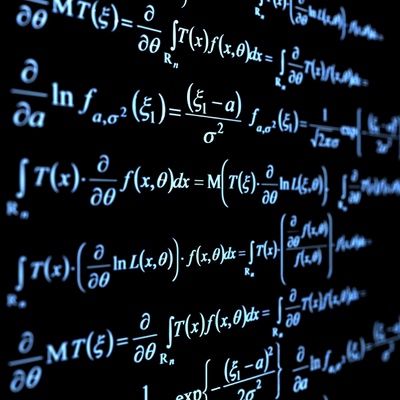 This is not to say that everyone will feel especially logical or rational this week, even those who are inclined that way in their natal charts. But it may reflect how unavoidable the logical approach to reality is here, as if the emotional or intuitive sides may not enjoy the same currency as they usually do. The Sun-Mercury conjunction may compel us to at least make reference to rationality or existing systems of order as a starting point, even if we may not fully agree with them. Since Mercury rules numbers and business efficiency, this nuts and bolts approach to problem solving may also be highlighted this week.
When this Sun-Mercury conjunction comes under pressure in the horoscope, we can get bogged down in excessive details or become too fussy about following rules or maintaining our routines. If you find yourself in this camp, it may be wise to take a break from the rational side of things, at least until you can gain some perspective. Since Mercury is said to become combusted by its close proximity to the Sun, the danger is that our plans can become overly complicated and lead to confusion and stress -- 'too clever by half' as the saying goes. There may also be an inability to think objectively since it could be more difficult to detach one's ego-driven interests (Sun) from the analysis (Mercury).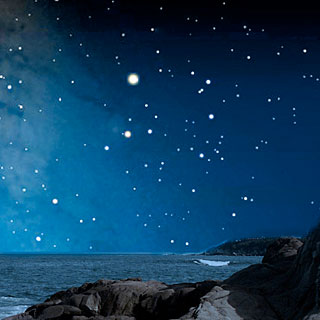 The Sun-Mercury conjunction occurs in the nakshatra of Satabisha (AQ 06 40 - AQ 20 00). This nakshatra is symbolized by an empty circle which may be interpreted as separateness or containment, or perhaps the division between self and other. Satabisha is often associated with truthful speech, even if it is sometimes harsh or lacking refinement and diplomatic niceties. The Sun-Mercury conjunction here would tend to emphasize this preference for truth no matter what the cost. Independence and self reliance may also take on a special significance this week as Satabisha relates to solving puzzles and mysteries and pursuing one's desires in an economical way. I'm not sure which side that favours in the Wisconsin dispute between the state government and its unionized workers, although the emphasis on the logic of the bottom line is unmistakable.
The empty circle also has a physical correspondence and is said to represent lakes, reservoirs, and that ultimate container of all life, the sky. Perhaps there will be some noteworthy astronomical news this week as our relationship with the sky is brought into relief. The symbolism of the empty circle has also been linked to life vs. death and the treatment and research surrounding chronic diseases. The analytical power of the Sun-Mercury conjunction may be wielded constructively in this respect so there may be a greater likelihood of research breakthroughs involving medical research.
So even if we're not particularly in the mood for heaving thinking and analysis, we may nonetheless find ourselves drawn to systems of order and evaluation as the Sun and Mercury come together. Even musicians and poets usually have to express their emotions within a given framework of notes, meters and the like. This may therefore be a good week to re-familiarize ourselves with some of the intricacies of the logical systems that surround us. Hopefully, our greater appreciation of the mental and analytical facets of the mind can bring us closer to fulfilling our desires. But I think I'll settle for just finally figuring out how to download the latest upgrade of my anti-virus software.
Have a great week,
Chris
---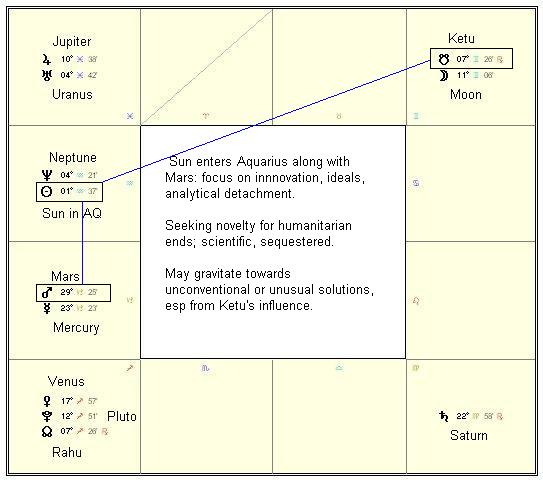 Week of February 14th

Sun and Mars enter Aquarius: innovation and idealism
Innovation is front and centre this week as both the Sun and Mars enter sidereal Aquarius. Since this is one of the Saturn-ruled signs, there could be a stronger sense of analytical detachment here as greater emphasis is placed upon creativity rather than on human relationships. This is not to say that family and friends are destined for the back burner; it may be merely a case where our enthusiasm and imagination are temporarily captivated by new possibilities. Typically, Aquarius likes concepts and ideas that are unselfish and can benefit everyone. Perhaps all the excitement in Egypt this weekend was a taste of that Aquarian urge to remake the world according to an idealized image. After all, the Sun was just one degree from entering Aquarius when the revolution succeeded in deposing the old Mubarak regime.
The desire to "make it new" can be quite strong here since the Sun gets an infusion of extra energy from Mars. The allure of novelty may be quite strong as a result, so much so that we may not give proper consideration to established patterns and traditions. In fact, in the rush towards newness we can sometimes fixate on invention for its own sake, rather than its practical benefits. In its more negative guise, Aquarius can become overly enamoured with innovation, even when it is bizarre or impractical. So while this could be a time to try new approaches and solutions, it may be smart to subject things to a basic test of plausibility. Just because something is new does not mean it is better. As we get a good collective dose of Aquarian energy this week, it may be wise to balance the allure of the new with the reliability of the tried and true. So before you run out and buy that new computer, remember the relative cost in terms of time and energy that transferring all your old files will take.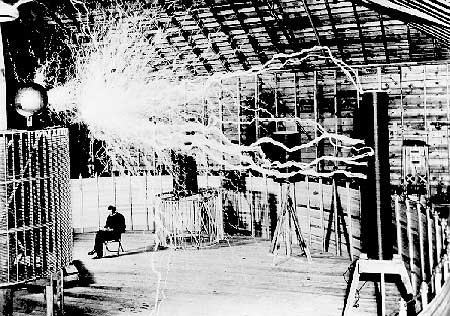 What is particularly interesting about this dual ingress of the Sun and Mars into Aquarius is that both of these energetic planets will soon come under the aspect of Ketu, aka the South Lunar Node. This may not really get going until later in the week, but the Ketu influence on all this Aquarian energy would seem to greatly emphasize the transformative dimension. Ketu is often synonymous with change and its role here may give a boost to the weirder and more iconoclastic side of Aquarius. Aquarius can be quite idealistic at the best of times, but it is sometimes led astray by believing its own hype, as if it really can save the world through that recently discovered alien energy source or Tesla's perpetual motion machine. The Ketu aspect upon these Aquarian planets will tend to encourage this idealistic streak, even if it feeds into some fairly hare-brained schemes.
The positive side to this Ketu overlay is that they may be a much greater sensitivity to the needs of the human family (cue the cold fusion experiments) and a clearer, if unspoken, perception of future needs. Ketu often operates in a non-linear and non-rational way, so it may be a time when conventional thinking does not find common currency. Ketu makes the leap of faith that solves the problem almost without trying, or at least using an unexpected technique. Ketu is also an esoteric and spiritual energy, so that sacred realm may also be incorporated into the Aquarian thirst for novelty and innovation. In an effort to trim expenses, maybe Obama's new health care bill will include a national yoga and meditation program. After all, a happy mind leads to a happy body, and that translates into fewer insurable claims and ultimately lower taxes. Well, that is admittedly a slightly offbeat notion, but it nonetheless exhibits a distinctly Ketu-meets-Aquarius flavour.
On a personal note, I had a stark reminder of just how fiery both the Sun and Mars were last week. These two fireballs conjoined around 22 degrees of Capricorn while closely aspecting my 6th lord of health, which happens to be Mercury. The result was a raging fever and a bad case of the flu. I couldn't imagine a clearer example of how the nature of the planets than that: fiery planets cause fever! Both are natural malefics and can therefore create health problems when they are associated with the 6th house and its lord. I feel better now, but that was one for the books. While the flu was not an inevitable result of those transit hits, one can see how it was a very apt embodiment of the energies of the planets involved.
Have a great week,
Chris
---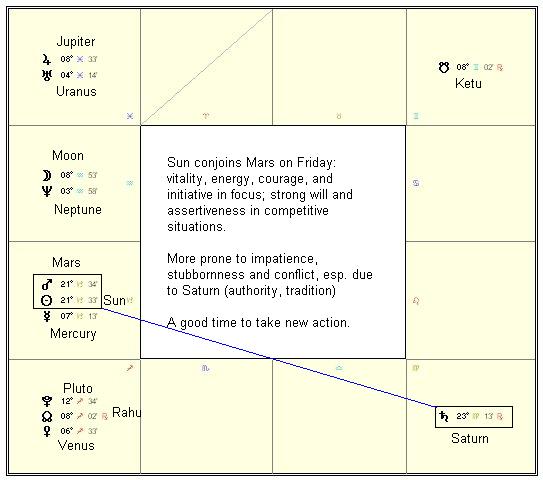 Week of January 31st

Sun-Mars conjunction in Capricorn: taking determined action

The highlight this week is a powerful Sun-Mars conjunction in the sign of Capricorn. Since these two planets both travel fairly quickly, this conjunction has been slowly building through January and will become exact this Friday, February 4. The conjunction of the two primary fire planets takes place about once every two years and represents a time of action, competitiveness and vitality. The leadership qualities of the Sun blends well with Mars' assertiveness when situations call for determined and direct action. As neither the Sun nor Mars are out of place on the battlefield, this combination may reflect moments of great courage and stamina in the face of stiff opposition. Of course, Mars is exalted here in Capricorn, so the urgent and more combative side of Mars is likely emphasized over the Sun's penchant for leadership. The downside to this fiery pairing is that it can sometimes create impatience and obstinacy and in extreme situations, even violence.

It is perhaps no surprise that we are seeing the flames of popular uprising throughout the Middle East at this time, as the people of Egypt, Yemen and Tunisia have undertaken massive protests against their autocratic leaders. The violence between the people and the police is a reflection of this Sun-Mars conjunction, as the population have grown impatient with broken economies and corrupt governments. It is also possible to see the nobler side to this Sun-Mars conjunction since it also symbolizes the courage and willpower of the people rising up against their leaders. Significantly, this conjunction is occurring in the sign of sidereal Capricorn, which is most often associated with leaders and government. The other factor here is that the conjunction takes place while in close trine aspect with Saturn over the coming days, which just turned retrograde last week. Saturn is a more clearly malefic influence here, so that may be the reason why we are seeing more of the negative and destructive sides of the Sun and Mars here.

On a personal level, the Sun-Mars conjunction offers new energy to begin challenging projects, especially ones that involve competition with others. This may mean working on a proposal at work, bidding for a contract, or submitting a grant or scholarship application. This is a wonderful combination for taking the initiative and striking out in new directions. The Sun and Mars are formidable planetary allies when seeking the resources to overcome inertia, shyness or lack of assertiveness. For those who are already well endowed in the confidence department, this surplus of "can do" energy may create some uncomfortable situations. There is a danger of pushing too hard here, or trying to force your will in circumstances where it is not appropriate. While the universe may be tempting us to 'act first and ask questions later', we should make the extra effort to listen to the needs of other people before putting forward our own agendas.

Just a follow-up note on last week's Saturn retrograde station. As I mentioned, it was an intriguing coincidence that President Obama's State of the Union address proposed new infrastructure programs which was broadly in keeping with the significations of Saturn. Saturn is extra-potent these days around its reversal in direction, so it was bound to seep into the speech in some way. He also voiced some general ideas on controlling the deficit and freezing discretionary government spending for the next years. This call for some measure of restraint is also very much a reflection of Saturn's intrinsic austerity and preference for simplicity and reduction.

But I also noted how the close Mercury-Saturn square might cause some difficulty for Obama, as if his speech or proposed programs might encounter some resistance or have some kind of problem down the line. While loyal Democrats and liberal commentators generally applauded the speech, there was a wider sense that the SOTU was a disappointment which was lacking in specifics and did not quite strike the right note. It quickly became fodder for comedy and talk shows such as Jon Stewart's The Daily Show. This was perhaps a reflection of Mercury (communication) being out of sync with Saturn (authority, rules). As they say: you can't fight City Hall and you probably can't fight a bad Mercury-Saturn aspect either.

Have a great week,
Chris




---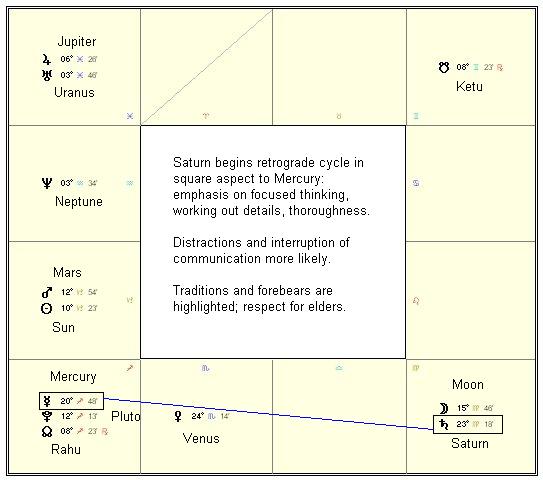 Week of January 24th

Saturn turns retrograde: respect for traditions and the long term

Saturn takes center stage this week as the Great Malefic turns retrograde on Wednesday at 23 degrees of sidereal Virgo, where it will begin its 4-month backward journey in the sky. The time around these retrograde stations are often accompanied by an intensification of the planet's influence, as if it is idling at a higher RPM and building up energy in anticipation of its new direction. In the case of Saturn, this may mean a greater emphasis on traditions and routines, and a recognition that there are limits to what we can achieve. Since Saturn is considered the planet of Time, its retrograde station may coincide with situations of delay and postponement, as our desires may be confronted by the unforgiving circumstances of cold, hard reality.

The retrograde cycle of Saturn may also correspond with situations of seclusion and renunciation. This may mean that there is a turning away from the material dimension of the world toward a search for deeper meaning and enlightenment. For spiritually oriented people, Saturn's retrograde period from now until early June may bring new opportunities for clarity in their search. For those of us who may have a more secular, mundane orientation, the renunciatory dimension of Saturn can work at cross-purposes to our worldly desires. At very least, this slow, backward moving Saturn may compel us to rethink our relationship with the material world and help us prioritize what we really need.

What is especially interesting about this Saturn retrograde is that it will occur at the same time that it aligns in a square aspect with Mercury. When these two planets combine, there can be a mutual enhancement of influences as Saturn's persistence and focus meshes well with Mercury's communication and thinking. The result can be an ability to tackle complex problems and work out every minute detail. The difficulty here is that the square aspect often causes problems or distortions. A desire to focus deeply on a problem can easily descend into an unhealthy obsession or a fixation on trivial details. There is also a greater likelihood of misunderstanding and miscommunication here as Saturn has the power to do damage to our stated intentions.

At the most basic level, there is a greater risk for the interruption of computer and transportation systems here as Saturn interferes with the normal functioning of Mercury's significations. So this is not a great week for buying a new computer, switching servers, or starting up with a new mobile phone carrier. The Saturn influence here may mean that transportation or communication systems are too old and out of date and no longer able to function properly.

With Saturn extra-powerful this week, there could be a special emphasis on age and aging, as we are reminded of our indebtedness to older generations. The Mercury aspect suggests there will be an attempt to share and discuss some of the legacy of our forebears and the traditions they have handed down to us. I see that President Obama is due to give his State of the Union speech on Tuesday just one day before Saturn turns retrograde. It's possible that there may be a special manifestation of this Saturn influence in the speech or perhaps in the reaction to it. We already know that he will be talking about more government spending on infrastructure. Since Saturn rules structures and buildings of all kinds, a new commitment to spend more on infrastructure is very appropriate near a Saturn station. Interestingly, Mercury rules transportation and communication, so the Mercury-Saturn aspect could represent new money for programs in those areas. The fact that the planets are in a tense 90 degree aspect is somewhat concerning, however, as if Obama's plans may not quite come off as intended either this week, or down the road. Remember that new projects of any kind are inculcated with the planetary energy at the time of their "birth". New programs announced at a time of this Saturn-Mercury square aspect may therefore have a bit of an uphill battle.

So there could be a lurking sense of disappointment or sadness this week as we may be tempted to think or ruminate (Mercury) about our past (Saturn) a bit too much. One way to avoid succumbing to the more negative side of this aspect is to focus on planning and organizing one's mundane life. This could be anything from doing a thorough cleaning and culling of closets to reviewing the household budget. By shifting the emphasis towards detailing (Mercury) one's routine (Saturn), we may be able to avoid falling prey to Saturn's gloomier side. Of course, if you're in the mood for a good bout of mid-winter rumination in all its self-absorbed glory, then this is definitely the week to do it!

Have a great week,
Chris


---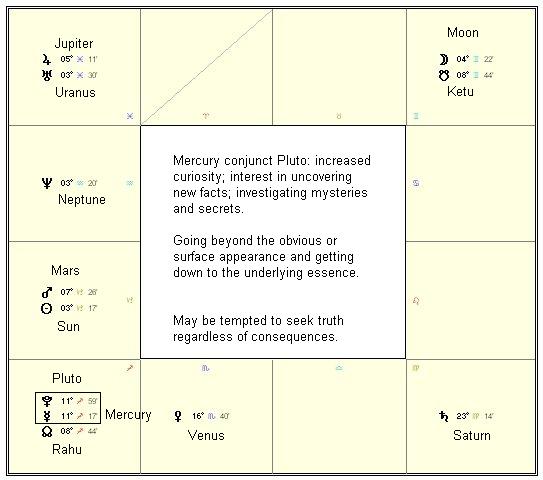 Week of January 17th
The Great Zodiac Debate Revisited and Ophiuchus
The internet was all abuzz last week about the "new" and corrected zodiac and the supposed 13th sign of the zodiac, Ophiuchus. Mostly it was a case of old wine in new bottles as astrologers on both sides of the zodiac divide have long known how the signs of the Western tropical zodiac do not match the physical location of their constellations. It was a very strange experience to read this in the media as if it was news. Hasn't anyone told these astronomers that the gap between the star-based sidereal and season-based tropical zodiacs is two thousand years old?


This article
explains how one little news release got picked up by Twitter and was endlessly repeated and eventually snowballed into a major news story. It turns out there is nothing new here at all; it was just a press release picked up on a slow news day. The 13th zodiac sign of Ophiuchus is also old news for most astrologers as it has been posited as a possible astrological update to the zodiac for several decades now. The constellation was known as far back as Ptolemy, who himself was an astrologer and chose to omit it from the twelve zodiac signs. While this may spark some new interest in Ophiuchus, I'm not expecting any radical new breakthroughs here.
I don't think any of these alleged news stories amount to very much because they assume that astrology requires an exact correspondence between the constellation in the sky and in the horoscope. This was never the case, although the sidereal zodiac that is used in Vedic astrology is based on the approximate correct locations of the constellations. The sidereal zodiac is more faithful to the actual location of the constellations than the Western tropical zodiac.
But even here, there is slippage: the sidereal zodiac evens out the length of each constellation to equal 30 degree sections instead of retaining the irregular width of each constellation. To view them in the sky, one sees that Virgo, for example, is actually 44 degrees wide, while Cancer is only 20 degrees wide. The Western zodiac is even more out of sync with the stars since their signs are based on the equinoxes and seasons. As a result, a person who is born on April 1 is an Aries in the Western system but is considered a Pisces in the sidereal zodiac. And that means that on April 1, the Sun was actually transiting through the constellation of Pisces as it was seen in the sky. Maintaining that essential integrity of the constellations is what the sidereal zodiac in Vedic astrology attempts to do, even if it does engage in some artful rounding for aesthetic and mathematical reasons.
This week features a conjunction of Mercury and Pluto on Monday which may focus our attention on the difference between surface appearance and underlying essence. As the planet of intelligence and perception, Mercury is a cerebral energy that governs how we make rational sense of the world. Pluto's willpower and drive to attain goals can transform normal human curiosity into a much deeper fascination with the process of discovery and the uncovering of secrets. As a result, this Mercury-Pluto conjunction can highlight the need for doing research and looking beyond the obvious. So this week there may be situations where quick acceptance of the apparent facts is unsatisfying; there may be a need to investigate further.
A state of unknowing can be stressful, so there can be deeply felt urge to uncover truths and get to the heart of the matter. The warning here is that Pluto's intense willpower can sometimes prompt us to engage in deceitful behaviour where the ends justify the means. But knowledge worth knowing is best acquired through fair and ethical means. An appropriate thought perhaps as our American friends this week celebrate the life and work of Dr. Martin Luther King, Jr.
The Vedic sun signs will return soon.
Have a great week,
Chris
---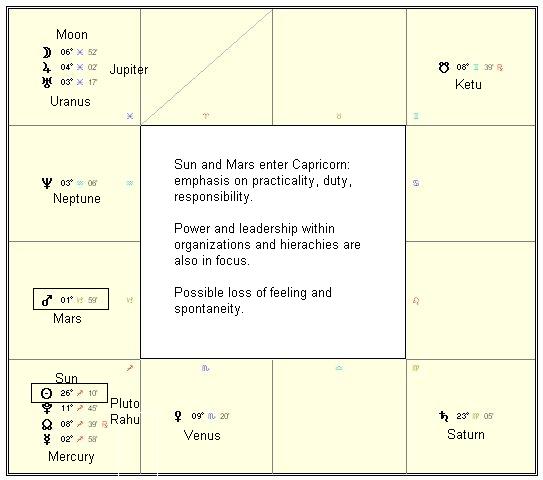 Week of January 10th

It's time to get serious. We will get a double dose of the no-nonsense sign of Capricorn zodiac week as the Sun and Mars both begin their transits here. Mars enters sidereal Capricorn over the weekend while the Sun will make its grand entrance on Friday. The transit of Capricorn by these two masculine, assertive planets will last until mid-February. Of special note is that Mars is exalted in Capricorn where its highest qualities of courage and leadership and can manifest.

Capricorn has the reputation of being a little too serious for its own good, maybe too bound by rules and methods and overly identified with a sense of duty and responsibility. Capricorn may also be uncomfortable expressing their emotions and can sometimes lack a sense of fun-loving spontaneity in their lives. Of course, everything has its rightful place under the sun, including people who respect authority and play by the rules. In the egalitarian idealism of the 1960s, well-meaning musicians experimented with an orchestra without a conductor. It didn't work. As any Capricorn can tell you, someone has to be leader and we need rules and order for society to function.

This Capricorn emphasis may alert the rest of us non-Capricornians to the importance of its distinctive realm: methodical planning, rational decision-making, rules and structures, and the role of power and leadership in our lives. Power is sometimes seen as a nasty concept. Even if one accepts its presence in society, it's something not readily discussed, much less appreciated. And yet without it, nothing would get done. You may not always get along with your boss, but the boss fulfills an important and indispensable function in the hierarchy. (OK, just hopefully not in your hierarchy.) This Sun-Mars transit of Capricorn may bring the role of the boss and authority in general into greater focus.

The risk here is that we may place too great an emphasis on the instrumental logic of our actions and forgo consideration of the emotions and feelings of those involved. Planning and action are necessary things but without a place for the emotional component, there is only a partial approach to a problem. The challenge this week -- and for the next four weeks or so -- will be to resist the urge to act on pure rational logic and efficiency and make some room for joyful spontaneity and the realm of human emotions.
---

Aries (Apr 13 - May 14) During the egalitarian idealism of the 1960s, orchestras experimented playing without conductors. While it produced some "interesting" avant-garde pieces, it really didn't work. The moral of the story is that leaders are a necessary part of life. That's good news for you, Aries, because you are more likely to assume a leadership role here as Mars is exalted in your 10th house. Don't be shy; get out there and take your rightful place out front. Remember that the most successful leaders engender consensus.

Taurus (May 15 - June 14) Two heads are better than one. With Venus strong in your 7th house this week, you may find yourself collaborating, cooperating, and just hanging out with other people more than usual. You may feel a special energy to get together with others whether for work or play and the results should be worthwhile. In fact, this may be a time where you get some first-hand benefit from other people's luck. Caring and sharingnever felt so good.

Gemini (June 15 - July 14) There are two schools of thought on human nature. One says that people are fundamentally similar wherever you go, while the other, more pessimistic view insists that people are very different and are ultimately unknowable. This week may be a time when put the latter viewpoint to the test, as you may encounter someone who is very different from you and whose motives you can't quite figure out. This may simply be a case of taking a little more time.

Cancer (July 15- Aug 14) They say perfection is an impossible goal where human beings are concerned. We're an inherently flawed species that only seeks perfection and never actually achieves it. Well, this could be a banner week for that perfect process as you appear to be doing everything right. Life may be moving in finely-tuned harmony here as you find the right balance between work and play, self and others, and material and spiritual realms. Of course, we know it can't last, but then nobody is perfect either.

Leo (Aug 15 - Sep 15) There's no defense like a good offense. As the Sun enters Capricorn this week, you may feel a greater urge to take action and confront any problems that may be lying out there. It can be a very constructive time to be sure, as you are likely more motivated than usual. The risk, however, is that you push too hard and end up making enemies and having to deal with the fallout. You may be more successful in the long run if you signal your actions first, so as to make them less surprising to others.

Virgo (Sep 16 - Oct 15) Philosophical idealism asserts that there is nothing outside the mind. Reality may be "out there" but it doesn't have any meaning beyond what the human mind confers upon it. As the Sun and Mars enter your 5th house this week, you may develop a deeper appreciation for the intellect and to the thinking process in general. This may lead to new educational opportunities, possibly involving some fairly unorthodox or unfamiliar ideas. The mind is your fertile playground here.

Libra (Oct 16 - Nov 14) A sense of security is one of the most fundamental human needs, and yet all too often, we take it for granted. Besides the physical security of our person, financial security ranks a close second in the pantheon of needs. As Venus strengthens in your 2nd house this week, I hope you will take this opportunity to fully appreciate all the sources of financial security you enjoy. You may find a greater pleasure here through the home and land as sources of wealth -- even if in a symbolic sense of that word.

Scorpio (Nov 15 - Dec 14) Scorpios are definitely on a roll here. I doubt if it was always this easy making friends and getting started on new projects, but lately this has become the norm for you. Creative efforts in particular seem to go especially well, as your have the Midas touch. What's interesting is that you probably aren't the least bit selfish in your goals as you take the broader view. This may be a clue for the best way forward: act on behalf of others and you will surprised how well that reflects back on you.

Sagittarius (Dec 15 - Jan 13) Money -- filthy lucre or a means to happiness? As the Sun and Mars enter your 2nd house of wealth, you may become more aware of financial matters this week as you contemplate the age-old question surrounding money. I suspect you may be more oriented towards the happiness side of the equation here as you may feel a special sensitivity here. Since both of these planets are action-oriented, you may feel more restless about a money-related situation that is pushing you to act quickly. As always, balance the demands of the present with the promise of the future.

Capricorn (Jan 14 - Feb 12) It may only be the start of winter but there is reason to think that you may be coming out of hibernation this week. As the Sun and Mars enter your sign of Capricorn, you may feel a revitalization and renewed sense of purpose in life. If you're been pondering some ideas without putting them into action, now is the time to make progress. Think of the planets as your team members: Mars will provide the raw energy while the Sun supplies the confidence and the spotlight.

Aquarius (Feb 13 - Mar 12) Is it contradictory to actively engage in peaceful solitude? As Mars moves into your 12th house, you may find yourself with a special emphasis on the joys of being far from the madding crowd, whether that be interminable meetings at work, busy family responsibilities, or the crush of the shopping mall. Even on a metaphorical level, you may find that the quiet and solitary approach works best in many situations, especially those oriented towards helping and healing.

Pisces (Mar 13 - Apr 12) "What's in it for me?" Yes, it's a crass sentiment, but let's face it: the vast majority of human behaviour is guided by self-interest. It may be broadened to encompass a wider group, but there is no escape from this simple fact. As the Sun and Mars enter your 11th house of gains this week, you may find your thinking oriented towards profit and loss and cost vs. benefit. Of course, you may choose to define these terms in any way you wish: what is considered a cost now may be a benefit later.



---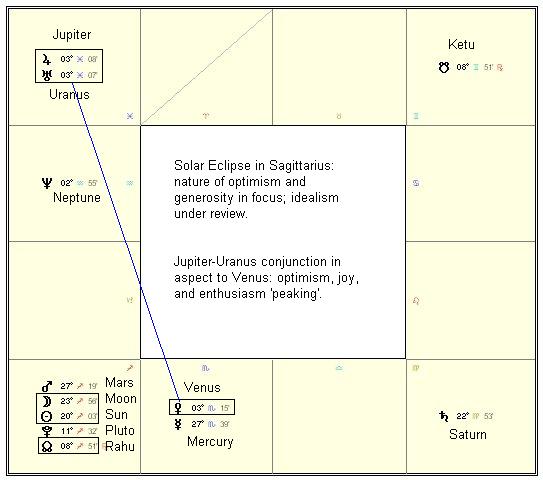 Week of January 3rd

Happiness is a universal human desire. No matter how one chooses to defines it, everybody wants to be happy. Whether it is defined in terms of achieving one's goals, or enjoying a feeling of belonging and personal satisfaction, the desire to be happy is at the root of most human activity. Despite its ubiquitousness, however, it is often elusive for many people. We cannot simply flick a happy switch and emerge into a state a joy or contentment. We sometimes actually have to work at it. It sounds almost paradoxical: we have to expend effort to achieve a state of happiness. But the demands of our busy, modern lives often distract us from our natural inclination towards joyful situations. As a result, we may have to 'make time for ourselves' or our families when we can relax or recharge our batteries and thereby attempt to achieve a state of contentment.

As we turn the page of the calendar and begin a new year, the stars this week offer a unique opportunity for us to reflect on the role of happiness in our lives. On Tuesday, there is a solar eclipse in sidereal Sagittarius, the sign that is usually associated with optimism and generosity. Eclipses occur when the Moon conjoins the Sun and Rahu (that's the North Lunar Node) and often highlight periods of instability and change. Just as the light from the Sun is interrupted by the Moon to produce a shadow that crosses the Earth, so an eclipse can mark a shift in prevailing attitudes and practices and introduce new ways of thinking. Perhaps this Sagittarian eclipse may generate new ways of creating our own happiness, especially through maintaining a positive and energetic outlook within ourselves. In the end, happiness comes from within.

Coincidentally, Jupiter (optimism, wisdom) conjoins Uranus (independence, individuality) on the very same day as the eclipse, January 4. This positive combination of energies is further enhanced by a close aspect with Venus, the planet of joy and pleasure. This trio of planets therefore represents a peaking of favourable energies that can support all kinds of new projects and initiatives. It's almost a cosmic joy fest in the sky this week, so there is no better time to contemplate the sources of personal happiness. Once Jupiter begins to separate from Uranus later in the week, we may anticipate some hangovers, so remember to take a balanced approach between work and play, and responsibility and indulgence.
---


Aries (Apr 13 - May 14) There's no time like the present! It looks like a busy and industriousness start to 2011 for you as the planet Mercury will have you on the go for much of the week. There is a special opportunity to incorporate some new kinds of ideas here from some thoughtful sources, so do try to take advantage of solutions when they are offered. Mercury works best when it is interactive, so a little participation and feedback will go a long way.

Taurus (May 15 - June 14) Does it get any better than this? A very nice start to the new year here as everything seems to be coming up roses. You may find a renewed joy in your relationships this week as Venus is very strong in your chart right now. This is a great time to spend time with other people, whether it is with old friends and colleagues or making new ones. Money and good fortune may also flow more easily here, so don't hesitate -- go for it!

Gemini (June 15 - July 14) Less is more. This minimalist creed is a useful reminder that sometimes we are better off holding back our urge to assert ourselves in a situation so that the other person has enough room to breathe. With the solar eclipse occurring in your 7th house this week, it may be a good time to take a slower, softer approach with others in order to better adjust to any new developments. The best approach is to listen first, and then try to find some common ground.

Cancer (July 15- Aug 14) New research suggests that the happiest people are the ones who actively work with towards helping and serving others, whether the organizations be political, religious, or charitable. There's no mystery here of course, since relationships of all kinds provide the deepest feeling of belonging and contentment. And the most amazing thing is that all this altruistic generosity towards others ends up benefiting you by making you happy in the process. Now that's what I call a good deal.

Leo (Aug 15 - Sep 15) "I think, therefore I am." Descartes' bumper sticker for arm-chair philosophizing was never more apt than this week as the solar eclipse occurs in your 5th house of the intellect. While eclipses sometimes have a nasty reputation, they are better seen as a kind of cosmic wake up call. This time around the flashing lights may compel you to reconsider the role of the intellect in your life. If you have been a head person, it may be time to yield some territory to the heart.

Virgo (Sep 16 - Oct 15) After food and water, shelter and a sense of security are the most fundamental human needs. With the solar eclipse falling in your 4th house this week, this may be the universe's way of getting you to examine your current living situation. A home should provide that unique blend of relaxation and stimulation through the people and things that comprise it. As the new year begins, you find a renewed energy to enhance your surroundings and make it both more comfortable and more creative.

Libra (Oct 16 - Nov 14) Rationalists and skeptics say that luck doesn't exist; life is all just random coincidence. Well, this week may provide some evidence to the contrary as you begin 2011 with a proverbial rabbit's foot in your pockeet. With Venus extra powerful here, there is really some happy and fortuitous karma surrounding Libra in all matters. That solar eclipse occurs in your 3rd house of communication, so this could be a good time to present your ideas with confidence. People will be hanging on your every word.

Scorpio (Nov 15 - Dec 14) I've heard that a lot of people are reluctant Scorpios. It's not a sign that gets a lot of good press. But the truth is that your intensity, passion, and sheer willpower are very desirable traits that a lot of people secretly envy. This week some of that envy may manifest publicly as you add 'oodles of charm' to your astrological resume. As Venus enters Scorpio this week, you are more likely to take greater pleasure in the company of others, especially those that are involved with typically feminine pursuits.

Sagittarius (Dec 15 - Jan 13) Talk about starting the new year right! As the solar eclipse occurs in Sagittarius, you are more likely to be filled a sense of self-renewal and revitalization. This may well go beyond the usual health club memberships and resolutions that quietly disappear into the depths of February. There is real sense of asserting your uniqueness here, as if you are preparing some exciting new chapter for your biography, already in progress. With all this energy for change in the air here, your best bet may be to step outside your comfort zone.

Capricorn (Jan 14 - Feb 12) What is the meaning of life? Even if this question first conjures up the Monty Python movie, there is still an opportunity this week to reflect on the role of enlightenment and the ultimate meaning of your existence. Solar eclipses in the 12th house tend to have that effect. What is interesting is that eclipses often shake things up and force us to look at ourselves in new ways. Old reliable answers to this question may be found wanting here, as new information puts it in a new light.

Aquarius (Feb 13 - Mar 12) What do you want out of life? The nature of our desires sometimes defies easy explanation, although we are sometimes clearer in our wish list. But just where do desires come from and why are we so attached to them? As the Sun is eclipsed in your 11th house of desires and gains, you may have occasion to rethink your preferences this week. If you are more materially inclined, for example, you may find that view coming into question by force of circumstance.

Pisces (Mar 13 - Apr 12) Critics say one of the casualties of our modern world is authenticity. The ubiquitousness of chain store malls and technological gizmos has made a unique individuality a little harder to achieve. That shouldn't be a problem for you this week as you begin 2011 with gusto and a plea for independence and freedom. As the Sun is eclipsed in your 10th house here, much of this energy to assert the self will go towards re-evaluating your work and your career goals.

---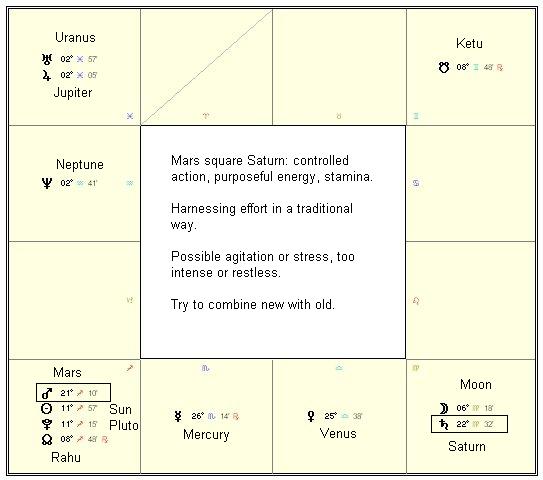 Week of December 27th

Do opposites really attract? Or are they irreconcilable and best kept apart? The planetary situation this week may be an interesting case study of this question as Mars is in aspect with Saturn. Mars is a planet that symbolizes energy and action. It is the thing that gets us up off the couch and actually compels us to go out into the world, come what may. Soldiers, athletes and executives are the human embodiments of Mars because they assert their inner will through forceful and quick action.

Saturn, however, lies at the opposite end of the spectrum. Saturn is all about structure and responsibility and symbolizes order and control in the universe. In a perfect world, we would be free to do whatever we felt like whenever we felt like it. Well, Saturn reminds us that in the real world, there are always limits to our freedom. Farmers, servants and manual labourers are all represented by Saturn because their freedom is limited by the circumstances of society's structures. If Mars equals speed, Saturn is typified by slowness and deliberation.

This week's Mars-Saturn aspect will give us the opportunity to see how these two opposites are both necessary parts of the equation of life. The often raucous energy of Mars will be channeled through the strictures of Saturn. The emphasis may be on dedicated efforts here as we might find in the notion of 'an honest day's work'. They say hard work is good for you, and the bonus here may be that we get to work off all those extravagant holiday meals. While energy and stamina may be readily available, the potential risk in any Mars-Saturn aspect is for stress and agitation without a constructive outlet. Since Saturn is all about conventional forms of control, the best strategy may be to fall back on the tried-and-true. Use traditions to harness your creative impulses.
---


Aries (Apr 13 - May 14) Slow and steady wins the race. This message may be heretical for an Aries to accept, but with a heavy Saturn influence this week, you may find yourself appreciating the role of incremental progress. Whenever responsibilities become burdensome, too often we feel frustrated and would rather throw then over in favour of a new start. But Saturn reminds us that the better strategy may be to accept our roles and press ahead knowing that efforts will be rewarded in good time.

Taurus (May 15 - June 14) If only things could be like this all the time! With Venus is shining its beautiful light this week you are likely going to be able to see the goodness in all people and things as the year winds down. Women are likely to figure more prominently here as you take pleasure in the feminine energy in its various guises. Take this opportunity to reflect upon what your life would be like without some notion of beauty and then feast your senses on its many manifestations in the here and now.

Gemini (June 15 - July 14) Forward, march! As Mercury wraps up its retrograde cycle this week, you may find some added impetus for getting the ball rolling -- in a forward direction, that is. If you've been sorting through unfinished projects or a backlog at work, now may be a good time to chart a course towards something unfamiliar and perhaps more exciting in 2011. There is still no substitute for due diligence and solid planning, so take the time to have your ducks in a row before setting sail.

Cancer (July 15- Aug 14) Humans love rewards. As long as we know that there will be some benefit from our travails, we are willing to put up with quite a bit. As the Moon transits Saturn and then Venus this week, you may be reminded of the neatness of this system. All the hassles of hard work and demands on your time early in the week may give way to a more pleasant and comfortable state of contentment by the time Friday rolls around. A nice way to finish up 2010.

Leo (Aug 15 - Sep 15) As 2010 comes to a close, there's a sparkle in your eye and maybe even a swagger in your step. As you receive an infusion of Jupiter's optimism here, you may be seeing the world more for its opportunities than its obligations. It may even seem like there's no time to lose as you are eager to break free from routine and look for people and places that bring out the best in you. While there's no need to go overboard, this may be positive situation to consider new paths.

Virgo (Sep 16 - Oct 15) Is it safe to come out now? As Mercury ends its retrograde cycle this week, this may be a good time to put away all that old stuff and consider your options for pressing ahead in 2011. With Mars and Saturn doing their thing this week, the trick will be to find the right kind of energy for the tasks at hand. Mars will want to do everything quickly and all at once, while Saturn will want to draw up a long list of pros and cons and then do one thing at a time. Try to find the best of both approaches: action that follows a plan.

Libra (Oct 16 - Nov 14) Is beauty all it's cracked up to be? I think it probably is, because a world without it is inconceivable: an ugly rose? This week you are likely to be reminded of the role of beauty and love in your life as Venus shines its light extra brightly. Amidst all the holiday socializing, you may find yourself reminded of the importance of friendship as your connections with others have a special poignancy. The self takes its cue from the other.

Scorpio (Nov 15 - Dec 14) According to the Stoic philosophers, the path to happiness lay in imagining an absence of something or someone in your life. They reasoned that the best way to feel happy was to consider what your life would be like without it. It's good advice here as you may find yourself reflecting on the past year over the coming days. The most profound joys often come from things that we take most for granted. The older it is, the more precious it is.

Sagittarius (Dec 15 - Jan 13) Ring out the old, and ring in the new. As 2010 comes to a close, you may feel the change in the calendar more than usual as the planet Uranus is coming on extra strong for the Archer. This can mean that you feel the urge to purge or just find some new ways to entertain yourself. There's no need to change just for change's sake, but it is an energy that must manifest in some way. Turning over a new leaf has never felt so good -- and so necessary.

Capricorn (Jan 14 - Feb 12) The goat may get some long overdue respect this week as the Moon transits your 9th and 10th houses. Your reliable demeanor and penchant for caution stands you in good stead here as you may become a kind of guru-figure, if only on a micro scale. Don't be surprised if people come to you seeking out advice on the thornier questions of life, or just want to know where you got those shoes for half-price. Authority has its perks.

Aquarius (Feb 13 - Mar 12) Einstein once remarked that mathematical equations were beautiful. As the Moon and Venus transit your 9th house this week, you may be able to relate to this notion as knowledge takes on a wondrous and perhaps beautiful quality. Some of this knowledge may take the form of ethical principles that guide you to make the right decisions. Other knowledge may come from a cherished source, either in its ancient and traditional forms or perhaps through a particularly appealing person.

Pisces (Mar 13 - Apr 12) Freedom is one of the most powerful ideas in human history. Few ideas have inspired as much as the notion that all individuals require freedom to choose their own life path. As 2010 comes to a close, this week may see you reflecting upon how much freedom you need in your life. With the planet Uranus still conjoining Jupiter, you are likely to choose the path that gives you the most independence. But be mindful that more freedom means fewer bonds with others. As in everything, there are trade-offs to consider.


---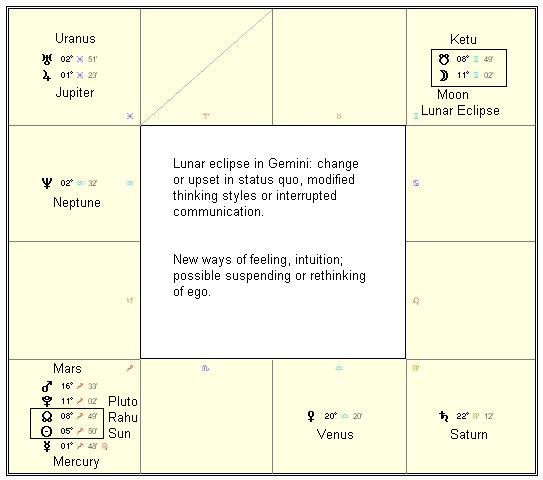 Week of December 20th

The celestial highlight this week is a lunar eclipse in the sign of Gemini. As if to punctuate its importance, this occurs on Tuesday the 21st, the same date as the winter solstice. Above all, eclipses teach us about the necessity of change and the "impermanence of all created things", as Buddha succinctly put it. In a lunar eclipse, the reflected light of the Moon is interrupted and transformed by the shadow of the Earth. In solar eclipses, it is the light of the Sun itself that is blocked or interrupted by the shadow of the Moon.

It is this interruption of the light that underlies the astrological belief that eclipses are harbingers of change in human affairs. Eclipses often mark periods of instability when the status quo is upset, and when new ways of thinking are undertaken. The Earth itself manifests this sudden jolt of disruptive energy as earthquakes, volcanoes, and other natural phenomena are more common around eclipse periods. Eclipses are therefore a kind of celestial wild card that compels us to reconsider our preconceptions in a new way.

On a more practical level, this lunar eclipse in Gemini may offer opportunities for the denial of self and ego. As the Sun (ego) conjoins shadowy Rahu (North Lunar Node), our usual way of expressing our self interest is more open to review and change. Since this is the season for selfless giving and generosity, we may find this influence somewhat easier to bear than it would be at other, less altruistic times of the year. The Moon's conjunction with Ketu can open our emotional lives to new and unfamiliar feelings and experiences. Since the eclipse occurs in Gemini, our rational thinking process may interpreted more in terms of our emotional needs rather than simple binary yes/no or either/or type thinking. Since communication will also be affected by this Gemini eclipse, we might also expect that holiday get togethers could feature some fairly interesting and intense dinner conversations.

Have a great week,
Chris


---


Aries (Apr 13 - May 14) One of the lessons of the theory of evolution is that human beings survived and thrived not through strength or even brains necessarily but through their ability to adapt to changing circumstances. As the lunar eclipse activates your third house this week, you may experience your own personal Darwinian moment as you may be called upon to be flexible and act quickly. A determined attitude is definitely a plus here, as is a recognition that the whole is greater than the sum of its parts. When you act, act for the good of all.

Taurus (May 15 - June 14) When I was a kid, one of best things about Christmas was the prospect of receiving money and gifts from doting aunts, uncles and grandparents. As a child, one has few obligations but many pleasant opportunities for gains. Ah, such were the joys! As the eclipse touches your second house this week, you may recapture something of that childhood experience as the gifts you receive may surprise you in their generosity. Even if your cup runneth over here, remember that giving actually makes you happier.

Gemini (June 15 - July 14) How much coffee do you need to wake up in the morning? For most people, mornings without a cup of java is a recipe for life moving in slow motion. With the lunar eclipse occurring in Gemini this week, you may be on the receiving end of a kind of cosmic-sized espresso. This may be more than a simple boost of energy, but rather a wake up call to action. Let this eclipse power surge fuel your ambitions and help you turn impulses into actions, and actions into results.

Cancer (July 15- Aug 14) What's the real meaning of Christmas, Charlie Brown? As the lunar eclipse hits your 12th house of enlightenment and spirituality, you may find this reference to that childhood cartoon character more poignant than usual. It is not just that you will renew your interest in the spiritual origins of the holiday, but the eclipse may introduce a new wrinkle into your thinking. This may be a time when you discover a greater willingness to translate the ancient lessons into contemporary practice.

Leo (Aug 15 - Sep 15) What's behind door #2? Curiosity is one of the driving forces in all of human history -- and that includes 1970s US game shows -- and you could well be more captivated than usual with a desire to discover the answer to all those nagging questions. The strength of Rahu this week suggests that the desire for novelty may trump most considerations for routine, tradition and even propriety. A good rule of thumb might be to follow your instincts until your intellect taps you on the shoulder.

Virgo (Sep 16 - Oct 15) A generation ago, people used to stay in one career and even one job for their entire working lives. Nowadays people are not only changing jobs with greater frequency, but they may wind up having several completely different careers. As the lunar eclipse energizes your 10th house this week, work issues are likely to figure more prominently as you ponder your own career trajectory. This is a great time to harness all your Virgoan analytical skills and raise your game.

Libra (Oct 16 - Nov 14) The pace of technological and social change has never been faster and threatens to undermine the rightful place of older generations in our society. As the lunar eclipse highlights your 9th house, you may feel a bond with tradition and your antecedents more deeply this week. This could be a time to reconsider the importance of tried and true knowledge in your life and renew your attachment to it. Whether its attending The Messiah or buying your favourite uncle a drink, respect takes many forms.

Scorpio (Nov 15 - Dec 14) New studies suggest there might be something to ESP after all. Of course, most people already acknowledge some place for the role of intuition and extra sensory perception, as we have all experienced uncanny coincidences or perhaps dreams that have revealed some future event. As the lunar eclipse occurs in your 8th house of obscure or hidden phenomena, you may have your intuitive side operating at full capacity this week. That's not to say that you'll suddenly be reading people's minds, but it is an opportunity to learn in new ways.

Sagittarius (Dec 15 - Jan 13) Do people change? Cynics would say they don't because the essence of the person is fixed, but optimists insist that it is human nature to improve oneself. As the lunar eclipse lights up your 7th house this week, you may find yourself thinking about relationships in a new way. Perhaps this takes the form of reconsidering the way you interact with other people in general. It may also entail partners and friends making that change for the better in an act of re-invention.

Capricorn (Jan 14 - Feb 12) Genius is the ability to hold two contradictory ideas in mind at the same time. As the lunar eclipse occurs in your 6th house, you may access a special ability to make sense of some contradictory or ambiguous information this week. This may involve resolving or mediating conflict between people in your life, or it could mean that your problem solving abilities will be put to the test. Eclipses are often times of novelty, so your best strategy may be to toss the instructions and think outside the box.

Aquarius (Feb 13 - Mar 12) The holidays are a time to re-connect with family and friends and often to revisit our own childhood memories of the season. As the eclipse activates your 5th house this week, children and childhood may figure more prominently as you gain new understanding of that early stage of life. While our own childhood experiences remain fixed in the past, our interpretation of them can undergo substantial development. This is a great time to be inspired by all notions of childhood -- past, present and future.

Pisces (Mar 13 - Apr 12) No matter how intelligent or wealthy we are, our ultimate source of happiness is rooted in our emotional make-up. A resilient and flexible emotional profile is an important part of a fulfilled life. As the eclipse lays claim to your 4th house this week, your emotional maturity will be highlighted. This is therefore a time when you may be called upon to reflect on all the sources of happiness and comfort in your life. While events and people may lie beyond our control, it is our reactions to them that are entirely within ourselves.
---
---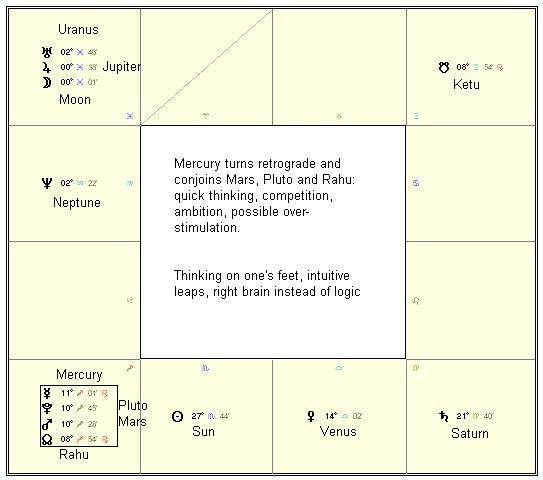 Week of December 13th

This week may highlight that always useful life skill of "thinking on your feet". Malcolm Gladwell's book Blink focused on our innate ability to make fast judgements of people and situations, sometimes within just a blink of an eye. We often underestimate the ability of the intuitive human mind to absorb and process complex information, even when it means ignoring rational thinking. While there will always be a place for carefully weighing pros and cons, this may be a time when we choose to respond to circumstances with snap decisions and quick problem solving.

With Mercury now moving retrograde this week, there may be a special focus on our thinking process as rationality is called into question. As the planet of thinking and communicating, Mercury often provides a window onto the way we make judgments about the world around us. To be sure, Mercury's retrograde cycle has a bit of a bad reputation as there may be a greater likelihood for unexpected events and situations to confound our best laid plans. The standard remedy here is to review past actions, double check the facts and only then move forward.

But the planets this week make this situation more complicated: Mercury is conjunct Mars, Pluto and Rahu (the North Lunar Node). The conjunction with Mars may be most telling here as it suggests that the mind will speed up as we may be compelled to solve problems quickly. There could be a risk of becoming overstimulated mentally (e.g. having a restless "monkey mind") or focusing too much on the competitive instinct and personal ambition.

So the tension here is that while we may feel the need to think our our feet and resolve questions quickly, the retrograde influence may be better served by caution and logic. This may require a balancing act that integrates quick intuition with a recognition for the need for a more systematic approach to problem solving during the Mercury retrograde cycle. But the urgency of Mars would appear to prevail here and hence we may have no choice but to concur with Holbrook Jackson who once said, "intuition is reason in a hurry."


---



Aries (Apr 13 - May 14) Do you believe in luck? If you're reading this column, there's a good chance that's a rhetorical question! This week has all the makings of a lucky week, albeit with a twist: your luck is more likely to come from contact with someone else. Encounters with other people may be prove to be particularly beneficial and heartening this week as their luck may well rub off on you. Their world-view may give you some important hints that could give you a new perspective.

Taurus (May 15 - June 14) Encouragement comes in many forms, from a friendly and understanding conversation over a cup of tea to a blunt, tough love message from someone who knows you but wants to cut to the chase. This week may see a little more of that blunt, motivating energy in your life as you confront the naked facts. Even if it feels a little uncomfortable at first (personally I prefer the tea approach), try to make the most of the elemental energy that is around you. Reawaken your instinctual self.

Gemini (June 15 - July 14) Expect the unexpected this week. Your ruling planet Mercury is going through quite a throng of dance partners here and to top it off, it's moving backwards. This can still be a productive time, although you may have to avoid stressful situations and doing too much. Admittedly, this is tough to do during the holiday season. Retrograde periods offer their own unique advantages, not the least of which is getting in touch with your intuitive side. Facts are sometimes not the truth, especially when it comes to people.

Cancer (July 15- Aug 14) "The bigger they are, the nicer they are." This week you may be able to test this assertion first hand as prominent people may figure in your life in some way. With the Moon transiting Pisces in the early part of the week, there's a good chance fortune will smile on you, or least offer a reassuring grin. Of course, it may not come out of the blue. Some amount of sincere effort may be required first before the wise and wonderful cast their lot with you.

Leo (Aug 15 - Sep 15) Some say that Leos think they're better than the rest of the us. Not true, I would say, since Leos are misunderstood. After all, somebody has to be the leader! This week has the potential for you to show off your talents and skills just to let the world know once again why you think the way you do. Your intelligence and wisdom may be more appreciated here as you offer valued input to those seeking insights. Use your experience to enlighten those younger than you.

Virgo (Sep 16 - Oct 15) Sometimes doing nothing is the hardest thing in the world. Just ask all those naturally energetic and restless people who have tried meditation. This week may see a rise in activity level and with it, a rise in tension and stress. 'Tis the season, after all. While I could suggest taking it easy, going for long relaxing walks and yes, even some purposeful sitting, I have a feeling that life will not leave you alone this week. The planets beckon, and you may have no choice but to play. I would still advise: walk before you run.

Libra (Oct 16 - Nov 14) There's no time like the present! Like that Zen injunction to 'be here now', you may find a burning desire to live in the moment as there is a fire beneath your feet. Sitting still isn't really an option here, as you find a renewed ambition to do things your way. Libras are usually quite good about avoiding social miscues, so you may have to draw on your diplomatic skills in case your instincts get the better of you. In this case, act second and ask permission first.

Scorpio (Nov 15 - Dec 14) The universe is really pulling for you this week Scorpio. With a little effort to get your message out there, you may find a more receptive audience than you expected. Don't just stand there basking in the applause -- mingle! There could be enhanced socializing opportunities here so you could make the acquaintance of an interesting new person. Since this is the season of generosity, extending a helping hand to those in need may bring a special sense of reward.

Sagittarius (Dec 15 - Jan 13) Your renowned Sagittarian optimism may win some new converts this week, especially in the early going. Not that you're setting up a religion or anything like that, but your ideas and approaches could gain a new respect from the people around you. All of a sudden, your input matters and people want to hear more. This could take the form of simple verbal acknowledgment or it might mean some more tangible benefits. Somebody may even buy you lunch.

Capricorn (Jan 14 - Feb 12) Read the fine print! As Mercury turns retrograde in your 12th house this week, you could be so busy and distracted that you risk missing some important details. You may be tempted to rely on intuition and snap judgments, but this is not a great planetary setup for quick thinking. Take the extra time to sit down and examine all the angles before committing yourself to a particular course of action. Developments from abroad may bring some new possibilities to light.

Aquarius (Feb 13 - Mar 12) With Mercury turning retrograde in your 11th house, you may need to practice some extra discipline with the credit cards this week. It's not that you're a spendthrift by nature; it's just that the planets this week suggest that you might end up spending more than you want to. Amidst the act of generosity in gift giving, you may want to double check your lists and make sure that everything is copasetic. A little extra time in preparation before you go shopping may save you down the road.

Pisces (Mar 13 - Apr 12) It's all about confidence. They say that as long as you believe in yourself, then others will, too, and you can get what you want out of life. Of course, you still have to make real contributions, but you are likely to enjoy the benefits of a confident disposition this week. That's not to say that everything will go your way, but you will get noticed in such a way that affords you proper respect. Results could be another matter, however, as goals could be lost in the details.

---
---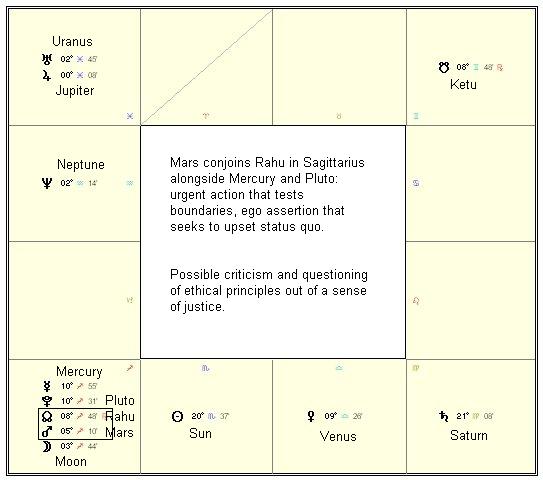 Week of December 6th

Actions speak louder than words. While thoughts and beliefs may form our interior personality, it is through action that we assert ourselves upon the world. In this way, action is rooted in the ego: what do you want, and how will you go about getting it? Ego is sometimes a dirty word in our age of enlightened "political correctness", and yet even the most altruistic and humanitarian impulses must come from the ego. Whether we take action to help someone in need or to assert our views in the face of opposition, we are expressing our own unique will to exist.

The notion of action and its objectives may be front and center this week as Mars conjoins Rahu (aka the North Lunar Node) in Sagittarius in a rare four-planet alignment alongside Mercury and Pluto. Mars is the planet of action par excellence as it reflects human will and the drive to express oneself in the world. Executive power and leadership ability flows largely from Mars, as many political and military leaders have strongly placed Mars in their horoscopes. The conjunction of Mars with Rahu this week emphasizes the motivations behind our actions. Rahu is a planet that enjoys testing boundaries as it often rejects tradition and the status quo in favor of novelty.

So the combination of the assertiveness of Mars with the novelty-seeking quality of Rahu could translate into an urge to express oneself with less regard to consequences. In some situations, this sense of urgency may occur out of a genuine desire to make good on your intentions. If taken too far, however, this can result in an excessively critical approach that does more harm than good. As the English physicist Isaac Newton once famously stated: for every action there is an equal and opposite reaction. We all want to make our own unique contribution, but we are better off in the long run if it takes into account the interests and sensitivities of those around us.


---


Aries (Apr 13 - May 14) "Necessity is the mother of invention." You may find yourself confronted with new and unusual circumstances this week that test your belief system and compel you to think on your feet. Sometimes our most deeply held assumptions about the world need to be revisited from time to time just to remind us how important they are in our lives. New situations may require new solutions, or least an upgrade to Life Philosophy 2.0.

Taurus (May 15 - June 14) The pace of life may be picking up here, and it's likely not just due to the usual holiday get-togethers. With Venus in aspect to several planets this week, you may find yourself the center of attention or least pretty close by. Communication will become more important as you seek to lay the groundwork for future activities. The objective here will be to undercover missing information that you may not have thought of before. The best strategy will be through working cooperatively with those who share a common interest.

Gemini (June 15 - July 14) Nietzsche once remarked that art existed so that we would not perish from the truth. Well, things needn't be quite that serious, but with Venus strong in your horoscope this week, you may be in a better position to enjoy both art and companionship in its many forms. It could be in a new-found appreciation of the inherent beauty of the world, or it could be in the beauty of friendship and the 'living art' you find in the people in your life.

Cancer (July 15- Aug 14) As the old saying goes, "you gotta serve somebody". No matter how independent and self-actualized we may be, there is usually no getting around the fact that there are forces outside us that we have to answer to, and homages we have to pay. While these can take many forms from spiritual deities to secular authority figures, some of the most powerful reminders of our need to serve come from those around us in our own communities. As Mars and Mercury transit your 6th house this week, you may have an ideal opportunity to perform a service when it counts most.

Leo (Aug 15 - Sep 15) Your inner lion is roaring with enthusiasm this week. As half the solar system congregates in your 5th house here, you may have an extra reservoir of creative energy to put some ideas out into the world. Even if you're brimming with natural charisma, this is a good time to rely on your wits and intelligence as you will find better results after the use of some brainpower. Bonus points for originality and cleverness, as the tried-and-true may not enjoy the same curb appeal.

Virgo (Sep 16 - Oct 15) A basket of abundance may greet you this week, at least on a metaphorical level. How much is enough? There is no fixed answer to that question since our needs change with our situation as well as on our outlook. With Venus taking a front seat in your horoscope this week, you may find yourself reassured and pleasantly surprised by your sense of comfort and wealth in all forms that it may take. The greatest source of wealth may be found in the people who share our lives.

Libra (Oct 16 - Nov 14) Cooperation is all well and good, but sometimes you have to do things yourself. As your 3rd house fills up with a veritable duck soup of planets, there is no better time to take action according to your own plan and do what needs to be done. Obviously, we're not talking about aggressively foisting one's views on a reluctant audience. That wouldn't serve any purpose. But there is definitely a lot of room here for a considered course of action that is yours and yours alone.

Scorpio (Nov 15 - Dec 14) They say talk is cheap but when it's done right, talk can also be a source of money and security. The gathering of planets in your 2nd house this week suggests that the notion of money and communication will somehow figure prominently. Perhaps you talk your way of trouble using your very best Scorpionic instincts. Or someone tells you about a potentially beneficial new program at work. Whatever it may be, it could come from an unexpected source or be delivered in a curious or arresting way

Sagittarius (Dec 15 - Jan 13) Congratulations, Sagittarius. There seems to be an exceptionally large planetary convention taking place in your sign this week. With half the solar system transiting your sign here, you may find yourself in the middle of a lot of different kinds of activity either by accident or by design. Your aptitude for delivering impartial and supportive advice on all ethical matters will be high demand here. You are also more likely to reap some rewards from past efforts, even the painfully earnest ones. Now that's some good karma.

Capricorn (Jan 14 - Feb 12) Is knowledge its own reward? Learning and gaining knowledge can open new avenues of understanding that are enormously rewarding on a personal level. But the emphasis this week may well be that knowledge assumes a more tangible form. That's not to say that it will all come down to money, but the strong presence of Venus this week may bring new or possibly unusual rewards in exchange for your experience and wisdom.

Aquarius (Feb 13 - Mar 12) For hundreds of years, people that flying was impossible because airplanes were heavier than the air. The moral of the story here is that every idea goes through a phase when it is ridiculed and rejected. This week may be the time when you see something like this play out as you research and experiment with some unexpected or offbeat solutions to pressing problems. What seems to be unusual or strange at first glance may lead you in the right direction.

Pisces (Mar 13 - Apr 12) The subtitle this week might well be: I work, therefore I am. Workplace issues are likely to figure more prominently here, and if the planets are any indication, things could be quite hectic. That is not to say that there will be pressure exactly, but you may find it tough to hide away and take it easy far from the madding crowd. If bosses are getting you down by their inexplicable behavior, you can seek solace through your common interest with fellow workers.

---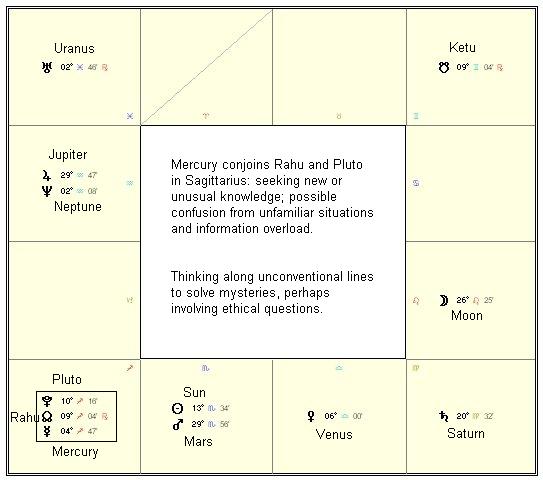 Week of November 29th
The notion of the unknown occupies am almost paradoxical place in the human psyche. On one hand, we have an innate curiosity to expand our knowledge of the world around us. Knowing more is an inherently good thing and improves the quality of our lives. The unknown is a lure that can entice us to seek out new experiences. This is no doubt why mysteries are such an enduring genre in movies and books: seeking and obtaining knowledge is part of what makes us human. And yet, the unknown is also as a source of fear and insecurity. We take comfort in the familiar and tend to avoid what we don't know. People and things that fall outside of our daily world may arouse suspicion and discomfort. Sometimes it is too much trouble to break out of routines or we may make hasty or incorrect judgments about things we may not know. There is a delicate balance between seeking new knowledge and taking comfort in the familiar.
This week may bring our relationship with the unknown into sharper relief. Mercury, the planet of thinking and the intellect, approaches a conjunction with Rahu (aka the North Lunar Node) and Pluto in Sagittarius. Rahu is a planet most associated with the unknown. It symbolizes people and things that are seen as unusual or foreign to our everyday experience. Rahu also has the connotation of breaking down barriers or dissolving the status quo. Research and innovation are frequently connected with Rahu since it implies seeking new knowledge that lies beyond the boundaries of the known. In its more negative form, Rahu may mean distortions or confusion and lead to situations of uncertainty.
The combination of Mercury with Rahu suggests that our knowledge and thinking process may come from some unusual sources this week. While there is a greater risk for confusion and a disruption of our comfort zone here, this may be a time when we are better served by our curiosity. With Pluto also in the mix this week, there may be a greater willingness to delve into mysteries and satisfy that human desire for knowledge. The Rahu influence means that the answers we find may be surprising and even a little unsettling as we are prompted to look at the world in a different way. Amidst all this searching and probing, we may arrive at a better understanding of the kinds of knowledge we need to live comfortably and thereby re-affirm our sense of security. Since this conjunction takes place in Sagittarius, some of this knowledge may involve ethical questions of right and wrong.
---
Aries (Apr 13 - May 14)
Who's the boss? As Mars moves into your 9th house this week, you may be dealing with authority figures in some way. Even if you are facing stiff competition, you are more likely to get noticed and find favour by demonstrating the inherent correctness of your approach. The most persuasive arguments not only give supporting facts, they also buttress their case by appealing to higher principles. If you can invoke the notion of the wise and the just, your are more likely to thrive.

Taurus (May 15 - June 14)
They say relationships are all about give and take. The more enduring relationships are pretty even on this score and the ability to compromise is the key to whole thing. This week may be a time when your sense of give and take is subject to change. It may be that your expectations about stability and security are out of sync with your partner's. What feels secure to one person may feel overly restrictive to another. A return to the familiar will soothe any differences.

Gemini (June 15 - July 14)
That tall, dark, handsome stranger may prove to be a new and interesting friend. It's not necessarily all romance this week but you could meet some new and unusual people as Mercury encounters mysterious Rahu. Don't fall prey to shallow stereotypes and quick judgments since difference has a way of encouraging growth as long as we can get over our bias and prejudice. Expect the unexpected and relish the role of novelty in your life.

Cancer (July 15- Aug 14) "
The journey of a thousand miles begins with a single step." This old chestnut from Confucius is a reminder of the need to start somewhere and persevere in any arduous undertaking. You could find yourself in situations that demand concentration and determination in order to achieve your goals. This may not be the best time for improvised back-of-a-napkin plans, but rather a more careful thinking through of what you want and how you can get it.
Leo (Aug 15 - Sep 15)
Routines have a bad reputation. In our freedom-loving society that values creativity and spontaneity, the prospect of following an orderly routine is not exactly cause for celebration. But everything from the 24-hour clock to traffic lights are proof that rules and routine are a necessary part of life. This may be a good week for those of a Leonine persuasion to make progress through abiding by The System and paying attention to the structures that govern our lives.

Virgo (Sep 16 - Oct 15)
You may find yourself taking a "walk on the wild side" this week as you encounter new situations that upset the balance and force you out of your comfort zone. But as the economist John Maynard Keynes once observed, when faced with new facts it is better to change one's theory rather than stubbornly cling to the past. If you take it one step at a time, there is no need to feel stressed out. Virgos are known for their attention to detail, so this could be a good time to be thorough.
Libra (Oct 16 - Nov 14)
Woody Allen once said that 90% of life was just showing up. In other words, determination and initiative can be overrated since most of the time we only have to keep doing what we've been doing and everything will come out alright. While that's not an argument for inertia, it does put the nature of our own efforts in another light. This may be a time when your initiative moves in a more quiet, understated way as you examine what lies behind your desires and goals.

Scorpio (Nov 15 - Dec 14)
Is money all a question of attitude? Can you attract money simply by wishing it? While some naively hopeful people would like to think so, this week may have other plans for you on the subject of filthy lucre. As Mars enters your second house, you may have occasion to reconsider the value of money as some old assumptions may be challenged by new developments. The best money you have may be in the bank rather than that which you spend.

Sagittarius (Dec 15 - Jan 13)
Is there such a thing as too much knowledge? In the internet age, the answer may be "yes" although one may be hard-pressed to call internet content "knowledge". Your mind could get a good workout this week as Mercury's urge to communicate and process information will increase your activity level. If things get out of hand, don't be afraid to find the right filter to help you separate the wheat from the chaff.

Capricorn (Jan 14 - Feb 12)
"You can't take it with you". The old saying about the ultimate impermanence of material possessions may be especially poignant for you this week. Situations may prompt you to reflect on the role of money and wealth in your life. Does money bring happiness? To a point, but a lasting happiness may best be found through our relationships with other people. Reaching out to those around us are more likely to bring enduring rewards.

Aquarius (Feb 13 - Mar 12)
Two heads are better than one. You may find yourself more other-directed than usual this week as work situations may compel you towards greater cooperation. A desire to go it alone excludes valuable input from people who share your aims. Why not work with them and take advantage of the best of both worlds? This is a good time to set aside any differences you might have and give priority to the task at hand.
Pisces (Mar 13 - Apr 12) "
The fish" is in the house. Jupiter enters Pisces again late this week and that should have you standing tall and feeling pretty good about yourself. There's a good chance everybody else will feel pretty good about you, too, as your leadership skills may be on display. The only risk here is that you may exaggerate your own capabilities and ignore your limitations much to the detriment of the people around you. Remember that fish can't walk; they can only swim.
---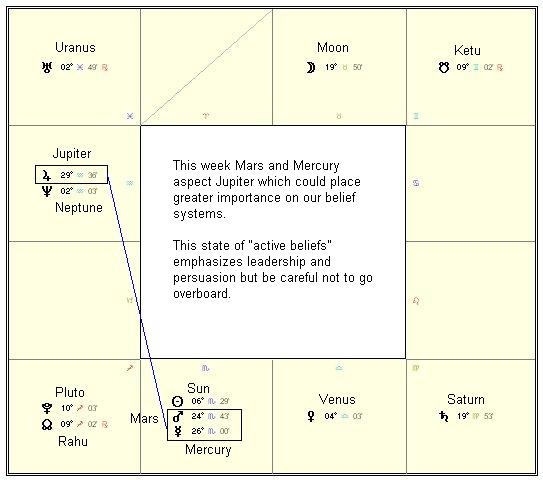 Week of November 22nd
Belief is at the root of most human action. In our spiritual lives, our beliefs that guide us through the ethical and existential challenges that confront us every day. But our rational mind is no less dependent on a notion of belief. While we use facts and logical planning before taking a particular course of action, but we still have to believe that we are following the correct course of action. How to decide what is the right path to follow? Listing of pros and cons can only take us so far; at bottom, every action is ultimately a leap of faith. This week's theme could be summed up in the term "active belief".
Jupiter is the planet of wisdom and higher intelligence that is closely associated with our various belief systems, whether they be religious, ethical or political. But this week Jupiter comes under the square aspect of Mars, the planet of action and raw energy. Mercury is also in the mix here through its close conjunction with Mars, so there may be an added desire to communicate our beliefs. On the positive side, this combination can generate enthusiasm for new ideas and boost activity levels that were previously flagging. Persuasion and cajoling may be more in evidence as those adhering to different belief systems may seek to espouse the benefits of their views to those around them. This could therefore be a good time to pitch an idea to an unsuspecting or skeptical audience. A little confidence can go a long way in this respect, just enough to get you out there so that people pay attention to you. Tapping into your sense of leadership may also be particularly rewarding.
Since Mars is sometimes an unpredictable and untamed energy, the Mars-Jupiter aspect can lead to excesses. Jupiter's penchant for moderation may therefore be in short supply here as Mars urges a more extreme or urgent outlook. This could translate into excessive spending and impulse buying (Happy Day After Thanksgiving!), and conflict over worldviews and life philosophies. No matter how correct you may think your beliefs are, try to refrain from forcing your opinions onto others. Beliefs are anchored in our unique life experience, and unless someone else grew up the same way you did, you have to make allowances for those different life experiences. So let Mars help you put your ideas and assertions out into the world, but don't let them run roughshod over innocent bystanders.
---
Aries (Apr 13 - May 14)
Hold on tight, Aries, because the ride is only just beginning. You may find yourself with boundless energy to get things done and start all manner of new projects this week.
Go for it! The Mars-Jupiter aspect will light a fire under your feet that will surely shake off Saturn's shackles. Every new idea needs a good dose of passionate idealism before it can be brought into reality. You may be at your persuasive best here, but do take the time to address all concerns of those around you.

Taurus (May 15 - June 14)
With Venus now resuming its direct motion, you may find greater need to express your nurturing side. Taureans are typically appreciative of the role of comforts and pleasure in life, so you may have an opportunity to share this with others. A small gift or just a reassuring phone call can do wonders to make someone else feel more comfortable, especially if they have been under stress. Partners are more likely to succeed or be in the limelight and this is more likely to reflect back upon you.

Gemini (June 15 - July 14)
If you've been mired in a defensive posture recently, buck up. This week looks like it will lighten your load as Mercury escapes from the influence of astro-baddies Saturn and Mars. Relaxing may be the most natural reaction to this new state of affairs, especially after Wednesday when Mercury enters Sagittarius. You may feel a renewed interest in your fellow man (and woman) as the previous need for getting things done is pushed aside for getting in touch.

Cancer (July 15- Aug 14)
As Mars strengthens in your 5th house, your keen intellect will likely get a workout this week as you assess risks and rewards and pursue the trail of evidence. There could be some special role for mystery in your life here, with you playing the role of the indefatigable detective. Of course, there will be the usual number of blind alleys and wild goose chases, but these will only enrich the path towards a fuller, truer knowledge. Children will be a source of optimism and inspiration.

Leo (Aug 15 - Sep 15)
Learning and education may come into focus now as your 4th house is highlighted this week. Even outside of a formal program, we are always learning something new whether it is refining what we already know or branching out into completely new areas. Whether this the week you start to study Italian or discover a useful new website, you may be more likely to recognize its practical advantages rather than pursuing knowledge for knowledge sake.

Virgo (Sep 16 - Oct 15)
As Mercury reaps some Jupiterian benefits here, this may be a time where you spread your wings a little. If you've been feeling a bit too much like a hamster on a wheel lately, there may be a chance for you to escape the cage. Learning some new ideas and skills may be just the ticket to liven things up as you awaken to a whole new world of possibilities. Changes involving work are also likely to be in your long term best interests, even if unexpected.

Libra (Oct 16 - Nov 14)
Venus has been good to you lately, and there's no reason for it to stop now. While the spotlight may not shine as brightly this week, money matters may be more likely to sort themselves out. If spending has been constrained, then it may flow more easily. Financial statements are more likely to bring good news and increase your sense of financial security. You may be in a better position to give to those in need.
Scorpio (Nov 15 - Dec 14)
Your burning ambition was never brighter this week, but just make sure there is a fire extinguisher close at hand. Your intensity and stamina may be off the charts there, so this is a great time to get out there and press the flesh and do what is necessary to turn your ideas into reality. But do remember that Rome wasn't built in a day and that the best ideas are ones that have benefits for all. If your persuasive strategies take this into account, then the sky is the limit.

Sagittarius (Dec 15 - Jan 13)
As Jupiter is aspected by Mars this week, you may feel a renewed vitality and urge to act upon your beliefs and assumptions. This energy to express one's beliefs is the essence of a healthy ego but make sure your ideas are not falling on deaf ears. In more practical terms, activity levels may rise this week as you feel the need to get out and about. The Mars influence may also mean that males, especially active or martial ones, take on a more prominent role.

Capricorn (Jan 14 - Feb 12)
As Mercury enters your 12th house this week, your immediate interests may shift towards hidden or ethereal realms. Your usual Capricornian focus on the practical will still be there but you may take a special interest in areas that fall outside of the mundane everyday world. Foreign or offbeat ideas and people may hold a special allure here, especially as they provide insight into some nagging questions. While the answers are unlikely to be simple or straightforward, you may still find some measure of progress.

Aquarius (Feb 13 - Mar 12)
Let your curiosity lead you to new discoveries this week. If you've been facing situations that have been tough to understand, it might be worthwhile doing some digging this week. A little research into some unexpected or unusual places may reap some dividends. Since Mercury moves in your 11th house of gains midweek, you are more likely to find some useful answers that both illuminate and benefit.

Pisces (Mar 13 - Apr 12)
This may be a good time to shift gears and move into action mode. If you've been spending time planning, researching and thinking
,
the Mars influence here may give you the needed push to put everything in motion. Of course, with every new project there is a risk of complications, headaches, and yes, even failure. But every risk carries with it the possibility of success and reward. Just make sure that risk-loving Mars isn't running the show here and you've still got Jupiter's sense of proportion and wisdom guiding your hand.
---
---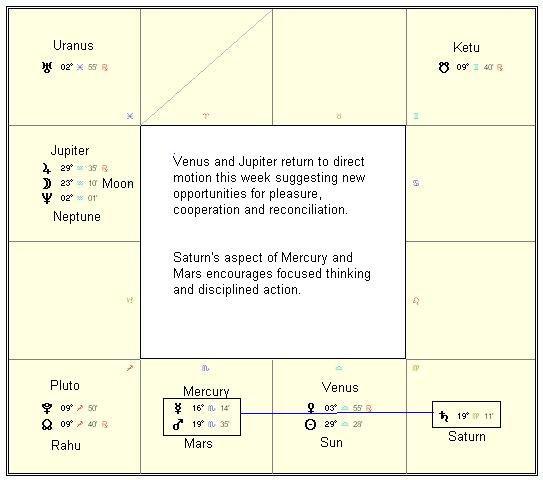 Week of November 15th

Pleasure, knowledge and cooperation are all highlighted this week as Venus and Jupiter are especially strong. On Friday the 19th, there will be a very rare double direct station of Venus (harmony, social interaction, pleasure) and Jupiter (knowledge, expansion, advice). This means that both planets will end their retrograde cycles and resume their normal forward motion on the same day -- very unusual! These planetary stations usually confer a special power to planets since they are moving very slowly. Since both Venus and Jupiter are considered benefic, fortunate energies, they are more likely to confer a positive influence to projects and initiatives that are begun this week. Needless to say, any children born this Friday may well grow up to be skillful diplomats or counselors. The symbolisms of Venus and Jupiter blend in a very complementary way and enhance mutual understanding and empathy. There is also the greater likelihood for disagreements and disputes to be settled in a constructive manner.

Saturn remains in the picture this week through its full-strength Vedic aspect of both Mercury and Mars in Scorpio. Lest we all get carried away by the indulgent pleasures of this Venus station, the Saturn aspects here underscore a need for focused thinking and disciplined action. Spontaneity may therefore not be the best approach here as Saturn often prefers plans that cover off on all the details. When Saturn's influence is ignored and actions are taken without proper preparation, situations are more apt to go awry, or we may only perceive its demands as a burden. Once we play learn to play by Saturn's rules, then we are "free" to achieve what we desire. It may not be freedom in the conventional "do-whatever-you-want" sense of the word, but it may better reflect social and karmic reality. Since human beings are social animals, individual freedom still requires some kind of compromise and accommodation with the wider social group.


---


Aries (Apr 13 - May 14) You may find yourself with your nose to the grindstone here, especially early in in the week. But nothing bad ever came from a little hard work. Amidst all the work demands, there will be opportunities for learning and sharing here that should make all your efforts worthwhile. A young person may provide a fresh perspective that makes you look at things in a new way. As always, an open mind is its own reward.

Taurus (May 15 - June 14) With your ruling planet Venus turning direct this week, you may enjoy a renewed sense of well being and a desire to reach out to those in need. Your charm and natural glow will rarely be stronger so it may be a good time to apply your powers of persuasion to situations that may require some attention. Time spent in the service of others will yield tangible benefits down the road and intangible feel-good benefits right now.

Gemini (June 15 - July 14) Geminis are often at their best when they are freely brainstorming ideas without regard for form or function. But with Saturn in play this week, you may have to slow down your thought processes a bit. All those creative leaps of imagination are still useful but they may fare better if they are directed towards specific ends. In other words, embrace the rules and you will come out ahead.

Cancer (July 15- Aug 14) With Saturn in focus this week, you may feel particular benefit in planning and organizing your life. Reminders, to-do lists, and day planners all serve their necessary purpose to get things done and help us avoid becoming overwhelmed by our responsibilities. This will definitely be a good week to take stock and prioritize your goals. Be careful not to take the cost-benefit analysis too far, however, and remember that people are not things.

Leo (Aug 15 - Sep 15) As the Sun enters sidereal Scorpio on Tuesday, you may feel a sudden burst of energy and enthusiasm. With your new-found vitality, you may seek out situations that allow greater expression of your own intuitive ideas and actions, and the sooner the better. Malcolm Gladwell's "Blink" may hold a special appeal as you become frustrated or bored with complex explanations. But a little patience goes a long way.

Virgo (Sep 16 - Oct 15) Ever wonder what note is between C and C#? There is a note there of course -- or more specifically a sound frequency -- but western music chooses not to formally recognize it. The structure of western musical scales reminds us of the need for order and organization in the production of all things. We can still act as we wish and improvise freely but it's important not to lose sight of the foundational rules that lie behind our choices. You may reap the benefits of acting according to a set plan this week.

Libra (Oct 16 - Nov 14) As Venus returns to direct motion this week, you have a special opportunity to shine here. Getting noticed in a crowd will never be easier, and feel free to expound on all manner of topics as your audience will be in the palm of your hand. Your innate Libran ability to connect and charm other people will be on show especially toward the end of the week.

Scorpio (Nov 15 - Dec 14) The biography of George W. Bush came out this week and emphasized his role as a decision maker, or as he once put it, "the decider". This week could see your decision-making abilities highlighted as you weigh the proverbial pros and cons. Recently, you may have felt burdened by obligations and by less than optimal circumstances. But as Mars slowly emerges from Saturn's aspect this week, you may enjoy a renewed sense of empowerment from your decisions. Decide away!

Sagittarius (Dec 15 - Jan 13) Jumping Jupiter! This could be a week where you actually live up to that overworked image of the idealistic and optimistic Sagittarius. As Jupiter once again returns to direct motion on Friday, you may find your ideas gaining traction among a more interested audience. If you have been uncertain about taking a new approach, this could be a good time to give it a try. As always, you may be best served when you include the needs of all.

Capricorn (Jan 14 - Feb 12) With all this Saturn activity this week, there may be grounds for optimism, even if it is the tempered, almost apologetic Capricornian variety. Benefits are more likely to come your way where you invoke higher ideals and the more respected forms of knowledge. This perhaps leaves out "eeni-meeni-miny-mo" as a useful strategy to say nothing of buying lottery tickets, or playing online poker. Nonetheless, gains can flow here when teamed up with a good dose of intelligence.

Aquarius (Feb 13 - Mar 12) As Jupiter turns direct in your sign this week, you may feel a wave of self-confidence wash over you. This is an excellent time to harness all those good "me" vibes and put them to practical use in the workplace. In keeping with the best side of Aquarius, your actions stand a better chance if they incorporate some element of the wider social good. Self-confidence is a wonderful thing, but it produces the best results when it acknowledges "other-confidence."

Pisces (Mar 13 - Apr 12) By Jove -- I think you've got it! With Jupiter resuming its direct motion on Friday, you may experience a much-deserved respite from any trials and tribulations that may have befallen you in recent weeks. Not to say that all will be right with the world, but you may find new sources of hope and optimism about the future. Perhaps you will tap into the knowledge you need to change a situation for the better. A new found sense of freedom may be at hand.
---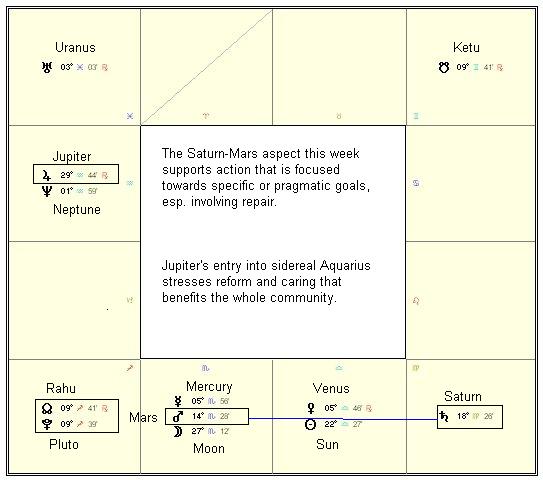 Week of November 8th
The emphasis this week may be on getting things done, completion and accomplishment. As I mentioned last week, Pluto will exactly conjoin Rahu this Tuesday the 9th. This conjunction will continue to animate the themes of willful transformation and clarification. The defeat of President Obama's Democrats in the House last week can be seen as a manifestation of some of this strongly asserting energy. The American people sought to make a clear break (Rahu) with the status quo and compel (Pluto) their leaders to change direction. Of course, Obama won the presidency on a mantle of change but Rahu and Pluto have little time for the high-minded optimism of "hope and change". It's more like "change or else", as the assertive and disruptive sides to Rahu and Pluto insinuate themselves without regard for niceties or diplomacy.
We can also see that Mars is coming under the aspect of Saturn through much of this week. According to traditional Vedic aspecting rules, Saturn in Virgo casts its full strength aspect three houses forward (60 degrees) to Scorpio. By degree, Saturn's influence is greatest on Mars over the weekend and will aspect Mercury next week. Saturn is all about focus, structure and responsibility and when it is harnessed wisely it can be a constructive force for accomplishment and creating a sense of security in our lives. Mars is the planet of action and initiative and its aspect with Saturn this week can mean performing duties and responsibilities until their successful completion. We need Mars to get us to get up off the couch and actually start work while Saturn guides us where to apply our energy and actually 'git 'er done'. Saturn therefore provides the plan and Mars the manpower in this coordination of yin and yang, and start and finish.
Jupiter enters sidereal Aquarius this week and will remain there until December 4. As the planet of wisdom and justice, Jupiter in this sign emphasizes the practical side of idealism. Whereas Pisces may connote the highest ideals of ethics and knowledge, Aquarius is more down to earth, although still very committed to improving the human condition. If the Dalai Lama embodies the notion of Jupiter in Pisces, Jupiter in Aquarius is perhaps more like Mother Theresa with the emphasis on getting down to the actual business of helping others. Jupiter in Pisces sits on a meditation cushion, while Jupiter in Aquarius rolls up its sleeves. Together with the Mars-Saturn aspect, this Jupiter influence can be a complementary energy that highlights the real world and the role of tangible action in improving lives in concrete ways.
---
Aries (Apr 13 - May 14)
As go-getting Mars comes under the influence of the taskmaster Saturn this week, you may find yourself more productive than usual. This is a great opportunity to run through a laundry list of to-dos, especially those you may have been putting off because they were unexciting, unrewarding, or just plain dull. Saturn can sometimes feel like a burden but try not to succumb to excuses or self-pity as a way of avoiding the tasks at hand. Bearing one's responsibilities now means more fun and creativity down the road.

Taurus (May 15 - June 14)
You may find yourself reflecting on relationships more than usual this week. As the conscience of the solar system, Saturn likes to remind us the nature of obligation and the ties that bind. As always, empathy is a good starting point when trying to better understand a relationship. If you feel the demands of others are too much, take a moment to value the things you share. The lessons of Saturn help us understand the benefit of the long haul and staying the course.

Gemini (June 15 - July 14)
As Rahu transits your 7th house, you may find yourself keeping the company of more strangers -- the stranger the better. Perhaps they hail from far away and have an intriguing accent, or perhaps they just dress oddly and espouse weird theories. Some of these encounters may give you a much needed dose of energy, even if it briefly disorients you. Remember that our comfort zone exists only to be broken, or at least blurred. We stay sharp and alert through challenge, not through habit.

Cancer (July 15- Aug 14)
At bottom, humans are problem solving animals. We face problems every day and define ourselves by the way we choose to solve them. Custom and habit have their place -- you can usually do things without thinking. But this week offers the rare opportunity to use some unusual or alternative techniques to great effect. While it may be unfamiliar and feel a little alien, you may find the upside in the unconventional. If in doubt, take the road less travelled.

Leo (Aug 15 - Sep 15)
When you were younger, you might have questioned the establishment and the role of the moneyed classes. As a headstrong Leo, you couldn't understand what the big deal was with status and position. Now that you've matured, you may be in a better position to appreciate the positive side of order and tradition. Expect order and tradition to score another point this week, and results should be quite rewarding.

Virgo (Sep 16 - Oct 15)
The 17th-century poet John Milton ("Paradise Lost") used to reject the notion that the formal structure of blank verse was in any way restrictive to his art. Abiding by the rules of metering provided a channel through which his ideas flowed in a recognizable and easily communicated fashion. If you feel Saturn's structural demands bearing down on you this week, resist the urge to break free, or worse, fall into indolent rumination. Rules exist to carve order out of chaos.

Libra (Oct 16 - Nov 14)
They say actions speak louder than words but this week your words may carry a special weight to affect the people around you. How we choose to communicate can alter a situation for good or ill. An unexpected kind word can work wonders to convert indifference to sympathy, and anger to amity. By the same token, a statement made in thoughtless haste can create tension, even among friends. A cautious and considerate approach will serve you well here.

Scorpio (Nov 15 - Dec 14)
If necessity is the mother of invention, you may feeling especially creative this week in doing what needs to be done. You may feel some of these tasks have an onerous quality to them, but don't let that get you down. Your indefatigable Scorpionic drive may be harnessed more efficiently, if prosaically, here as the tortoise defeats the hare. Keeping your nose to the grindstone will yield a rich harvest soon enough.

Sagittarius (Dec 15 - Jan 13)
Since Jupiter enters Aquarius this week, now may be the time to do your bit. This could mean helping someone in need and pitching in where your idealism and service can make a difference. Your goals don't have to be overly lofty so don't worry if you're not inclined to follow Miss America's desire to foster world peace. Even your work and home environments would be suitable recipients of your expansive largesse.

Capricorn (Jan 14 - Feb 12)
While deliberative Saturn is sometimes an unwelcome member of the planetary club, it may actually do you some favours this week. Whether or not you are on the receiving end of some beneficent cosmic bailout will depend on how reasonable your actions have been up to this point. If you've been flying by the seat of your pants, then you may miss some of this opportunity. If, on the other hand, you've put together a decent plan and followed it prudently, then I like your chances.

Aquarius (Feb 13 - Mar 12) '
Close encounters with the rich and famous' might summarize some of the possibilities for you this week as Jupiter makes a very welcome arrival in your sign. You may find yourself in the company of some smart, wealthy people as your growing reputation puts you in touch with "your betters". In its more psychological (and less exciting) manifestation, this placement may simply allow you to look in the mirror and see yourself as that person of high intelligence and good manners. No matter -- confidence is 90% of the game.

Pisces (Mar 13 - Apr 12)
You may find yourself resisting the commonplace and the mundane as you indulge your inner seeker in a quest for ultimate truth. Well, that may be overstating things a bit but the idea here is that the realm of the obvious and familiar may come up short somehow. It may be that you find the answers in something (or someone) that lies beyond your usual stomping grounds. Or you have to look behind the facade in order find what you are looking for. Sacred are the seekers.
---
---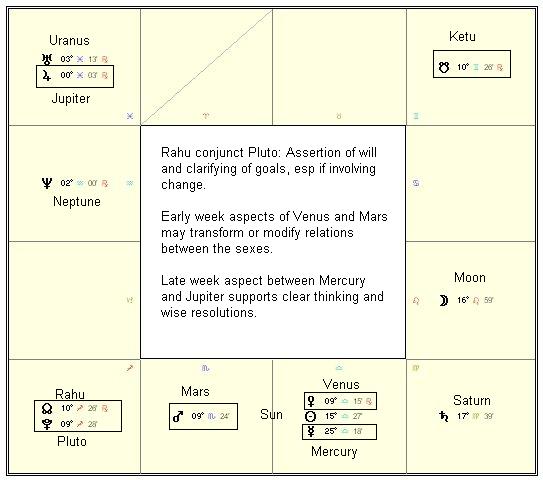 Week of November 1st
The approaching Rahu-Pluto conjunction is the focus this week as it receives supporting aspects from Venus and Mars. Rahu, as the North Node of the Moon is called in Vedic astrology, is an planet of desire, especially involving material things, and embodies the notion of transgression and the breaking of boundaries. Transgression can have positive connotations such as novelty or improvement as we might find in the realm of research which seeks to find a new and more efficient solution to an old problem. In that sense, Rahu symbolizes that which lies outside of the status quo or the mainstream. Rahu is innovative and likes unconventional approaches. If you desire more money or status in your life, then that can also be understood in terms of Rahu, since you must break free of your current situation in order to improve your status.
But all planets have a dark side and Rahu is no exception. When Rahu's materialistic impulses are left unchecked, it can easily morph into wanting things for their own sake no matter the cost. At its worst, Rahu's more malefic side involves distortion or deception that is used in satisfy our desires. While this narrow strategy may be yield rewards in the short term, it produces pain and regret in the long run.
Rahu's conjunction with power-seeking Pluto here definitely highlights the notion of wanting or desiring a particular situation. Since Pluto symbolizes power and our capacity to get what we want, it is sometimes associated with change and transformation at the most fundamental level. On a large scale, it can represent forces that are connected with the social change. Perhaps it's no surprise that this week's US midterm elections are being held at a time of a Rahu-Pluto conjunction. The Republicans are expected to replace the Democrats in the House of Representatives, if not the Senate, so that seems very much in keeping with a drive for transforming society according the collective will. Many Americans are unhappy with the direction of the country and are seeking to exert (Rahu) their collective power (Pluto) and make a fundamental change, presumably away from "big government".
At an individual level, we may experience this energy in terms of clarifying what it is we want out of life in general, or out of specific situations and relationships. If you have been uncertain about your goals, this may be a good time to review them. Both Rahu and Pluto can have harsh edges to them, so it is important not to become overly selfish or instrumental in one's thinking. Of course, we all have desires and preferences in terms of the things and people we like, but there is a risk in this conjunction of pushing too hard or being too blunt with the people around us. Take the opportunity to make your feelings known, but do it in a respectful way that is mindful of others.
---
Aries (Apr 13 - May 14)
As Mars moves into aspect with Rahu and Pluto early in the week, you may be feeling restless as you attempt to change some nagging elements of your life. There's nothing wrong with this impulse but try to remember that changing people isn't the same thing as changing a light bulb. Relationships are in focus towards the end of the week, with flirtation just a smile away. Your best efforts to help someone in need will be successful.

Taurus (May 15 - June 14)
Mars may dominate your early week so this could lead to one of two situations: either you speak with a refreshing candor that garners new-found respect or your insensitivity causes embarrassment that goes viral on Youtube. Good thing you have a choice. Resisting the urge to point out the faults of others will win new allies who will respect your discretion. Later in the week social situations bring out the best in you as you discover once again that friendship cures all ills.

Gemini (June 15 - July 14)
According to writer Hunter S. Thompson, "when the going gets weird, the weird turn pro." The start of the week may see some weirdness enter your life that you will be forced to react to. There's no need for professionalism here, but you may want take things one step at a time. This will not only allow to you manage the unpredictable eddies of life, but it will also help you get something out of the experience. Wisdom will not be far away, so by the end of the week, you may well have it all figured out.

Cancer (July 15- Aug 14)
Are dreams just the random electric pulses of our resting minds or do they have some kind of meaning? You may gain a new perspective on this question this week as the realm of the mystical and the hidden assumes a more energetic reality. It may be that you may actually find a brilliant but completely bizarre solution to a problem you've been grappling with for some time. The end of the week will be a wonderful opportunity to share you ideas and experiences in a comfortable surrounding.

Leo (Aug 15 - Sep 15)
They say that happiness resides in the journey rather than in the reaching the goal. Whether that is simply a nice-sounding sop to all those who never actually reach their goal, there is a great opportunity for you to enjoy the journey this week. As you bask in the glow of your own creativity and initiative, take time to reflect on how important and cool it is that you are making your own choices and following your own path. Friday's New Moon will punctuate your efforts and you may even see some early benefits.

Virgo (Sep 16-Oct 15)
As your ruling planet, Mercury, approaches the welcoming rays of Jupiter this week, there is a genuine opportunity for progress. Your boost in recognition and overall contentment here is perhaps Jupiter's Halloween treat for you, Virgo. The "trick" is that it may be borne out of some unexpected situations, especially early in the week. Success is more likely if you are quick on your feet and you can negotiate the curves that lifethrows at you.

Libra (Oct 16-Nov 14)
Everybody loves Libra this week. Friday's New Moon takes place in your sign so you might want to wear some sunglasses lest the glare of the spotlights blind you. Your personal charm is on full display and may even be enough to win over bosses and other people who may occupy positions of authority. Don't mistake any strange or irrational behaviour for hostility. Sometimes pressure gets the worst of all of us, so a little sympathy on your part will go a long way. Besides, you're a Libra. You can smooth over anything.

Scorpio (Nov 15 - Dec 14) "
Where there's a will, there's way." Very true for you this week, Scorpio, as all that Rahu-Pluto energy can be channeled to move mountains, or heaven and Earth or may other mythological entity for that matter. But try to be mindful of the fine line between asserting yourself and just being pushy. If someone doesn't quite see things the way you do, don't ignore them. Take the time to lay out the world as you see it and invite them in for a while. As a mode of interaction this week, quiet and gentle may have a special currency.

Sagittarius (Dec 15 - Jan 13)
I would not be surprised if you found yourself compulsively listening to Bowie's "Changes" this week. Your ruling planet, Jupiter, changes signs this week as it makes a brief entry into Aquarius. This may reflect a shift in the way you think about yourself, and you may even entertain some fairly radical Coupland-esque notions of the new you. After all, Rahu does conjoin Pluto in Sagittarius, so you may shift into self-reno mode here. It's definitely a line of thinking worth pursuing but don't overdo it. Coupland writes fiction, not biographies.
Capricorn (Jan 14 - Feb 12)
Even though Capricorns are known for their hands-on approach to things, you may find it difficult to resist the desire to escape or explore hidden realms this week. In true goat-like fashion, you are more likely to find a practical use for the time you spend in seclusion, either through bodily rejuvenation or bringing those would-be spiritual insights to bear on problems that have hitherto refused explanation. Knowledge may be its own reward, but this is a good time to have more tangible expectations.

Aquarius (Feb 13 - Mar 12)
Somebody up there likes you, Aquarius. This may be a time when you do your best impression of the teacher's pet as bosses shower you with accolades and free trips to Bahamas. It may be that some of those offbeat (but not crazy -- there's a difference) ideas you've been coming up with have finally yielded real dividends. Just try to make sure not to be 'too clever by half' or embark on a course of action that is merely a means to an end.

Pisces (Mar 13-Apr 12)
With Jupiter slipping back into Aquarius this week, you may feel the need to take a breather and regroup, perhaps in a way that takes you far, far away from the intrigues of the office. The risk here is that by avoiding your responsibilities you may actually make things more difficult when you decide to re-engage with the world. If your workplace increasingly resembles a zoo during a zookeepers strike, withdraw to a neutral corner but stay in the game. The time will soon come when you can fix what is wrong.
---
Transits for Monday, October 25, 2010

Week of October 25th

Overview
This week will be dominated by two very different energies. On one hand, Venus, the planet of love, relationships, and beauty conjoins Mercury (intellect) on Monday and the Sun (ego, vitality) on Thursday. Both of these contacts are wonderful influences for sharing ideas, making new friends and enjoying the finer things in life. But there's a catch. Both of these Venus conjunctions will take place under the close aspect of Ketu, aka the South Node of the Moon. As the planet of mysticism and enlightenment, Ketu tends to shun the conventional and material realms. People who are born with a strong Ketu often seek change and prefer to blaze their own path rather than blindly following the crowd. Ketu is more suited to pondering the riddles of existence than expanding one's social circle or -- perish the thought -- actually having fun and indulging in simple, sensual pleasures.
The combination of these disparate energies could lead to some pretty intriguing situations this week, especially involving relationships. Maybe this is the time to take a walk on the wild side and meet some unusual new people. Or the moment when the offbeat iconoclast is brought back into the fold, at least for a reality check. Those who have rejected the ordinary world may find themselves taking a second look this week as the bridges between the sacred and profane are found to be sturdier than previously thought. As Venus meets Ketu in the sky, we are better positioned to reflect on the transcendent nature of love and companionship. It has been said that love is the modern day equivalent of religion since that is the last bastion of faith and belief in a world increasingly dominated by science. If love really does transcend all, it may be that love is actually an inherently spiritual condition. And if that's the case, then this isn't such an odd mix after all; maybe the cocktail parties of Venus do belong beside the prayers of Ketu.
---

Aries (Apr 13 - May 14)
You may be faced with a lot of pleasant distractions this week as Venus does all its dancing in your 7th house. Social matters with more than a hint of romance are very possible here as everyone will be dazzled by your intensity, charm and pure magnetism. Try not to get carried away by all the high octane socializing as you run the risk of complicating things unduly. Meetings with colleagues and partners may lead to some surprising and unexpected situations, especially towards the end of the week.

Taurus (May 15 - June 14)
Change may be your watchword this week as Ketu exercises a stronger pull on your consciousness. Ketu often compels us to re-examine our assumptions about our everyday life and our sources of self. Are we the sum total of our daily routines and the people we interact with or is there something more? Ketu likes to push us to travel outside of our comfort zone and expose us to novelty, especially with people and things which we may not understand or appreciate. This will be a good week to open your eyes to some new realities.

Gemini (June 15 - July 14)
Since the Moon transits Gemini this week, your counseling and nurturing skills may be pressed into service. You may find yourself "on call" to help friends and co-workers sort out their problems and to dispense advice to the lovelorn and the terminally invisible. Your intellect and know-how may also be on display in the workplace as the wisdom of your experience gains you new admirers and recognition. Rewards may follow in due course, perhaps as soon as the weekend.

Cancer (July 15- Aug 14)
You may feel a certain restlessness this week, especially on the home front. Perhaps you have the urge to redo the kitchen or just move around the furniture. As Venus transits your 4th house, you may feel a greater desire to beautify your surroundings. This will be a good time to focus on those things that create happiness and a sense of ease in your life. Resist the urge to change for change's sake. You'll be better served by first outlining a plan and then following its steps in a more methodical way.

Leo (Aug 15 - Sep 15)
It's a cliche now, but "thinking outside the box" is still a useful notion. And with Mercury, the planet of thinking, mixing with Ketu this week, there may not be a better time to discard the tried-and-true and go with a fresh approach. You may enjoy a special interest in sharing your ideas and experiences with those around you and generally you should fare quite well as long as you keep an open mind. Don't be thrown off your game by any unforeseen developments.

Virgo (Sep 16 - Oct 15)
As Venus continues its transit of your 2nd house this week, family matters may be in greater focus. It may be that changing circumstances will remind you of the ultimate value of your family connections both at home and far away. More than usual, your words may carry a special weight here so take the time to make your views heard. By the same token, be sure to acknowledge the the high esteem you hold other family members.

Libra (Oct 16 - Nov 14) "
Everybody's different." This week may well be your turn to feel the truth of that statement as Venus shakes hands with Ketu across the sky. You are therefore more likely to encounter something or someone who makes you think in a new way. If you can go with the flow, there could be some genuine upside here you never would have dreamed of. You may find you're surrounded by people this week so try to make room for yourself amidst all the hub-bub.

Scorpio (Nov 15 - Dec 14)
With Mars continuing its transit of Scorpio this week, you may feel the urge to take charge of the situation as you're feeling especially confident and in command early in the week. Go for it! But remember that the most effective leaders ultimately rely on reasoned persuasion, even if they have the best ideas and ooze charisma in their spare time. Partners and clients may come under increased stress this week so a little kindness and understanding can go a long way.

Sagittarius (Dec 15 - Jan 13)
You know all that money you spend on lottery tickets? Well, this may be the week that you finally get something in return for your faithful "efforts", even if it turns out to have nothing to do with money. You see, Ketu isn't into money; in fact he's post-money. Not in the the literal poverty sense, but in the sense that self-worth shouldn't be tied to one's bank account. There are real rewards in store for you but you may have to look beyond the simple, material realm to find them.

Capricorn (Jan 14 - Feb 12)
You may feel like you're caught in a whirlwind this week as your fortunes may rise and fall quicker than you would like. Even Capricorns have to let their hair down every once and while and let go of their preference for dull predictability. With your 10th house being especially active here, you may receive some accolades that come from a surprising source. This may be a time when your good judgment and wisdom are more fully appreciated. Take a bow.

Aquarius (Feb 13 - Mar 12)
Maybe the emperor really has no clothes -- or just funny looking ones. Expect some changes or surprises involving authority figures this week as you may discover that your boss is actually a nice guy who is incredibly generous. Perhaps not all these revelations will be as pleasant, but it may be best to view these developments as necessary. As a result, however, don't be surprised if some of your deeply-held beliefs about the world undergo some refinement.

Pisces (Mar 13 - Apr 12)
With Venus transiting your 8th house this week, you are both more mysterious and more attractive than usual. And being a Pisces, no doubt part of that allure will be bound up with your legendary empathy and sensitivity. Don't make the mistake of assuming too much or taking other people's interest in you for granted. This may also be a good opportunity to prevent misunderstandings by doing some research before plunging ahead with your plans. Financial assistance may come from an unexpected source.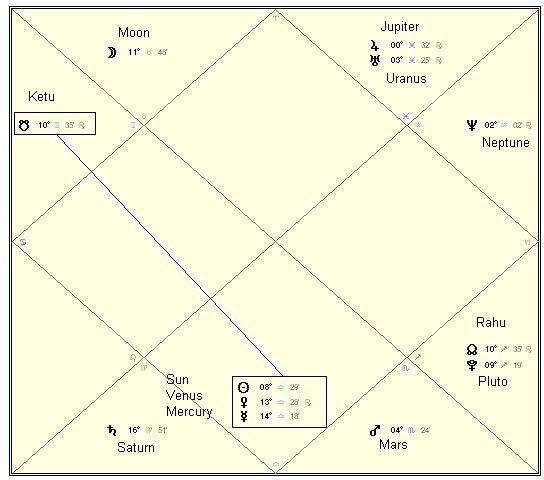 Northern Chart

---
---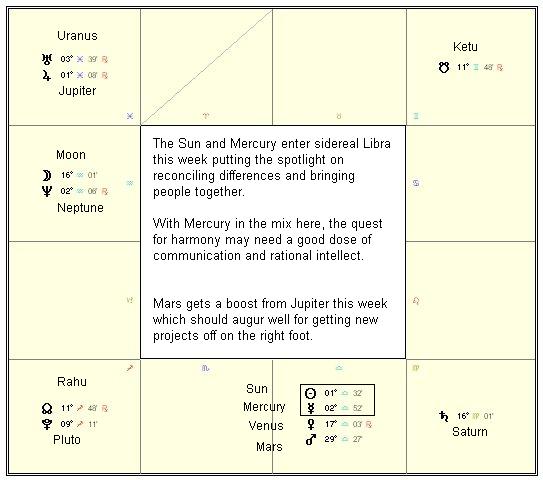 Transits for Monday October 18, 2010
Week of October 18th

Overview
The Sun enters sidereal Libra this week alongside the welcome company of Mercury. Since Libra is a sign associated with harmony and reconciling the differences between people, this may be a fortuitous time to forge alliances, settle differences, and break bread with your "frenemies". The simultaneous entry of Mercury into Libra could add an intellectual component to the proceedings as you may discover that the free and open exchange of ideas reveals you may have more in common than you thought. Since Mercury is the geek of the solar system who spends his time evaluating and assessing things, social interaction may have a decidedly rational bent this week as the emphasis will be on learning from each other rather than, say, feeling.
Mars enters sidereal Scorpio this week where it will get a helping hand from the aspect of Jupiter. This will prove especially helpful to Aries and Scorpio people who are ruled by Mars, and will generally encourages a supportive atmosphere for the taking of action and launching new ideas. There could be a real "can do" attitude here as problems are resolved quickly. There may be a risk of impatience and frustration here as obstacles may not be well tolerated. Resist the urge to do everything at once and try to channel some of Jupiter's sense of propriety in order to disarm potential opponents by showing that what is in their best interest is also best for all concerned. Scorpio also involves the secret realm of the hidden and therefore speaks to the ideas of seduction, investigation and exploration of the unknown.
---


Aries (Apr 13 - May 14)
Mars enters sidereal Scorpio this week where it teams up with Jupiter, the wise guru figure, and Neptune, the dream-meister. This is likely to make life congenial, especially in the early part of the week, as opportunities arise from prestigious sources. So if a wealthy professor makes you an offer, it might be a good idea not to refuse it. Some of this happy shine may wear off later in the week, as you become more susceptible to a loss of focus or just feeling spaced out as Neptune takes over. Situations involving water and liquids may also be the source of hassles.


Taurus (May 15 - June 14)
This week looks like a time to roll up your sleeves and attend to your most pressing responsibilities. As Saturn drops in for a visit early in the week, there may some heavy work demands that tax your reserves. Your natural Taurean inclination towards the sensual pleasures will have to be put on hold as you take care of those around you who are in need. The weekend looks like a time of ease when you can kick back and reflect upon the dense web of interconnectedness that binds us all in this life.


Gemini (June 15 - July 14)
You may never feel more intelligent or more in control of your destiny as you do this week. Your ruling planet Mercury is exceptionally strong right now so this is a good time to figure out complex problems and let your views be known. Your natural communicative gifts will likely carry the day and win over many converts. The weekend may feature an unusual situation that benefits from creative problem solving.
Cancer (July 15- Aug 14)
This has all the makings of a wonderful week. As the Sun and Mercury transit your 4th house for the next while, you may find yourself pleasantly preoccupied with the home front as the nurturing side of shelter and family are in focus this week. At the same time, work life and social standing are likely to get a nice boost as the Moon joins Jupiter here. Remember that Jupiter's generosity is a two-way street -- it brings good luck and favors to us and also engenders our own spirit of giving.


Leo (Aug 15 - Sep 15)
Like the title of the old Charlie Parker tune, now's the time! As the Sun enters your 3rd house this week, you can finally take action on all those marvelous ideas of yours and begin to transform the theory into reality. With a beneficent dose of Jupiter in the mix here, there's a good chance you may see some fruits of your efforts early in the week, especially if they appeal to the realm of higher human values.
Virgo (Sep 16-Oct 15)
Life gets pretty interesting this week as Mercury moves into your 2nd house and encounters a whole gamut of planetary aspects. Finances may have a special focus for you at this time as you may be reminded of the central role of money in our society. You could well gain a renewed appreciation for the notion that 'money equals freedom'. The weekend could see you open to a new and transforming experience.


Libra (Oct 16-Nov 14)
With the Sun and Mercury entering your sign this week, you may be meeting new people and socializing more than usual. This is a great opportunity to show off your Libran charm and display your considerable talents for making people feel comfortable, especially people who may come from a very different background. The early part of the week may have you wishing for some down time as you want to get away from it all, if only for a moment. The weekend will likely see you in the thick of it once again as you appreciate the special rewards that come from human relationships.


Scorpio (Nov 15 - Dec 14)
With Mars entering your sign this week, you will be firing on all cylinders here. This should translate into increased energy and an ability to put your best foot forward. The strong Jupiter influence here should help you realize some dividends to your efforts. The weekend may bring some confusion and miscommunication, especially on the home front. Mars takes about six weeks to complete its transit of Scorpio, so try to make the most of this time of increased vitality and renewed vigor.


Sagittarius (Dec 15 - Jan 13)
As Mars joins with Jupiter this week, you could be more persuasive than usual in getting what you want. Mars is a more assertive executive sort of energy but its combination with Jupiter softens it considerably with the result that you are able to pitch your ideas and desires more effectively and with greater charm. Education or humanitarian concerns may figure prominently, especially pertaining to faraway or isolated places. A reminder of the limits of our desires and the necessity of the spiritual realm may also be forthcoming here.


Capricorn (Jan 14 - Feb 12)
The universe may well be showing up at your door this week with the metaphorical cashier's cheque to present to you for all your hard work. Work matters may be in focus as Sun and Mercury have moved into your 10th house. Generally speaking, things should go your way. You may feel more at one with the world this week as home life improves and this spills over into other areas of life. The weekend looks good for enjoying time with family and friends as the Moon transits your 4th house.


Aquarius (Feb 13 - Mar 12)
With Sun and Mercury moving into Libra this week, this may be a time when you acquire new knowledge. As you take time to appreciate its origins and status in the world, you may find yourself in a better position to understand a little more of the puzzle of this life. As Mars enters your 10th house later in the week, you are more likely to get recognized for past efforts and new potentials. An unexpected person or situation over the weekend may produce a new way of thinking.



Pisces (Mar 13-Apr 12)
You may willingly enter the Twilight Zone this week as the Sun enters your 8th house of mystery and the unknown. You may find an unusual encounter with the spiritual, the esoteric, or just plain weird here. The weekend seems more likely for meetings with remarkable but offbeat people. Money matters may also be in focus as your cup runneth over, if only in a symbolic, subjective and depressingly non-material sort of way.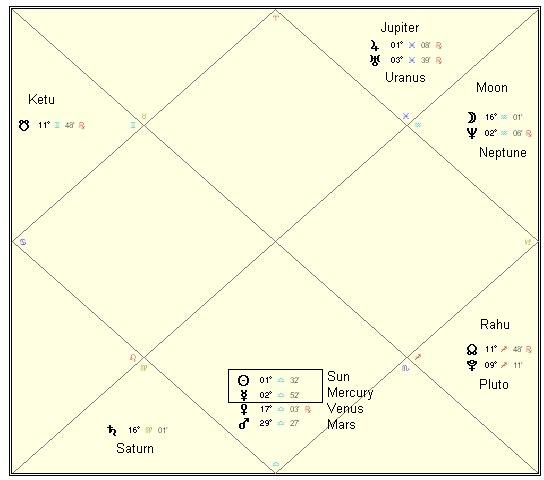 ---
---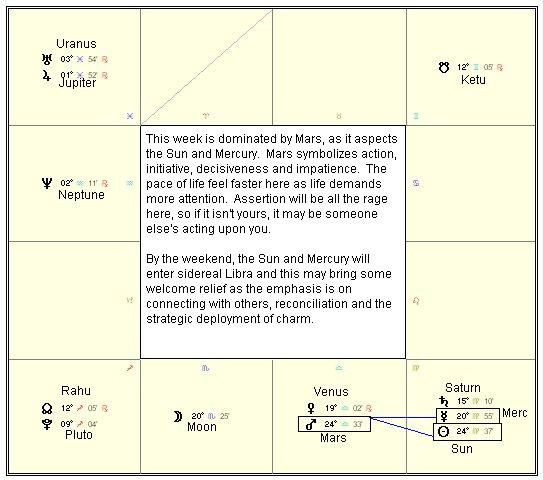 Transits for Monday October 11, 2010



Week of October 11 - 17
Overview

This week may feature an extra dose of Mars as it aspects both the Sun and Mercury. Mars is a planet with a bit of a nasty reputation given its unfortunate (but not undeserving) historical association with war and violence. More generally, however, Mars involves the notions of action and assertion. Above all, Mars seeks to realize its will and act upon desires. Think Freud. In bad situations, it's a bully. In more civilized environments, it is a responsible executive power that takes initiative by making decisions quickly. So with two Mars aspects in the sky this week, there could be a greater urgency to act and react. The pace of life may feel a little more hectic than usual so be careful not to succumb to impatience. With all this assertive energy flying around this week, it may be tempting to push one's own agenda and disregard the interests of others.

By the weekend, the Sun and Mercury will conjoin and simultaneously enter sidereal Libra. Libra is all about connecting with other people, reconciling differences, and recognizing the role of social graces so this may be a nice time to refocus on people instead of tasks. The Sun-Mercury conjunction at the time of this Libra ingress is quite unusual and introduces a more communicative and intellectual flavor to the proceedings. This is a nice combination for the production of art and it may also enhance communications surrounding the aesthetic realm -- art galleries, film festivals, and youtube videos. This is a great time for creativity that builds bridges between people and which reflects the social nature of human life.

Aries (Apr 13 - May 14)

As Venus moves away from Mars, you may find yourself shifting gears and getting down to business this week. The concept of authority figures prominently this week, as you find benefits from listening to elders and traditional wisdom. You may feel the greater need to seek recognition but it will be important to temper your expectations since crude displays of ego will generate resistance. By the end of the week, you may be more inclined to think things through. Encounters with young people prove valuable.



Taurus (May 15 - June 14)

Life may be a little less frantic this week as truculent Mars has finally left Venus alone. You may find comfort in a more balanced approach here between enjoying life's pleasures and helping those who are in need of assistance. This is a good time to put your brain power and organizing skills to work and bring some resolution to a situation that needs fixing. A pleasant surprise is possible midweek that could reaffirm what is important to you.



Gemini (June 15 - July 14)

You may feel lighter on your feet this week as Mercury has escaped from Saturn's deep, dark cave of pessimism. The people around you can now once again enjoy your witty banter and stream of consciousness about the world. With the Moon in your 7th house, the first half of the week will be a good time to mix and mingle. The pace may pick up towards the end of the week as demands on your time may get a little out of hand. Of course, in true Geminian form, you will be able to talk your way out of anything. You may get noticed more by "respectable" people on the weekend so don't be afraid to take the lead.

Cancer (July 15- Aug 14)

This week may be a good time to put some new ideas out into the world. If you've done your homework, it may be time to go live and let the chips fall where they may. The early week could see you focusing on resolving some differences of opinion. Putting yourself in the other person's shoes is usually a good starting point. Your powers of persuasion are in top form here, so present your version of things with a soothing blend of rationality and empathy.


Leo (Aug 15 - Sep 15)

With the Sun conjoining Mercury this week, you may be sharing your thoughts and ideas with more people than usual. Business is likely to improve here, especially involving education or communication as you impress those in positions of power. Some tangible benefits are possible by the weekend as all sincere efforts will be rewarded. Sometimes all you have to do is buy a ticket.



Virgo (Sep 16-Oct 15)

Activity levels are likely to increase this week as the caution of Saturn is replaced by an injection of the energy of Mars. There may be moments when it gets to be a bit much (especially near Friday) so be careful not to lose sight of your plan and your ultimate goal. With Mercury moving towards a conjunction with the Sun, the week should finish quite nicely as you become a key player. Governments and father figures could play a more prominent role this week.



Libra (Oct 16-Nov 14)

As Mars shuffles off into the sunset, you are in a better position to indulge your Venusian pleasures for people and objets d'art this week. Take the time to get in touch with any neglected friends and family and work your Libra charm on them. A nice midweek surprise is possible here from an unusual source. This may have the unexpected effect of allowing you to understand the plight of others less fortunate than yourself.



Scorpio (Nov 15 - Dec 14)

This is a good week to have your eyes on the prize. Your hard work can pay off handsomely for you here especially if you have enacted a clear, methodical plan of attack. Resist the urge to go it alone and look for sources of support among like-minded people. A little sacrifice can go a long way. You may receive some welcome information at the end of the week that makes your objectives clearer.

Sagittarius (Dec 15 - Jan 13)

This is a good time to take center stage as you are more likely to have an attentive audience. All your quirks and idiosyncrasies are more likely to go over particularly well this week as friends and colleagues are inclined to see the world through your eyes. This is a good time to channel any restlessness you've been feeling on the home front into creative projects that put your vision out into the world. The weekend looks good for exchanging ideas with workmates.



Capricorn (Jan 14 - Feb 12)

Your ambition may be uppermost in your mind this week as you may spend more time pondering your goals. What do you want and how do you want to go about getting it? The universe should welcome these aspirations as the Moon enters Capricorn towards the end of the week. The goat rules! More mundanely, work matters should go well, especially those involving women.

Aquarius (Feb 13 - Mar 12)

Money matters are likely to be responsible for some smiles this week as the Moon transits your 11th house of gains. Probably no major lottery wins, but don't be surprised to find a rolled up twenty in your fall jacket. Spouses and partners may also get a lot of your attention this week, as their activities are a focal point for discussion and admiration. By supporting and cheering them on, you can participate in their success.



Pisces (Mar 13-Apr 12)

As Saturn recedes in the distance, you may find a renewed enthusiasm for life, especially in terms of working and relating with others. You may find fulfillment here by attending to the needs of people around you who are in a state of distress. With the Moon transiting your 10th house of status for much of the week, you are likely to be recognized for your good works. The weekend promises to bring some stimulating new people and situations into your life.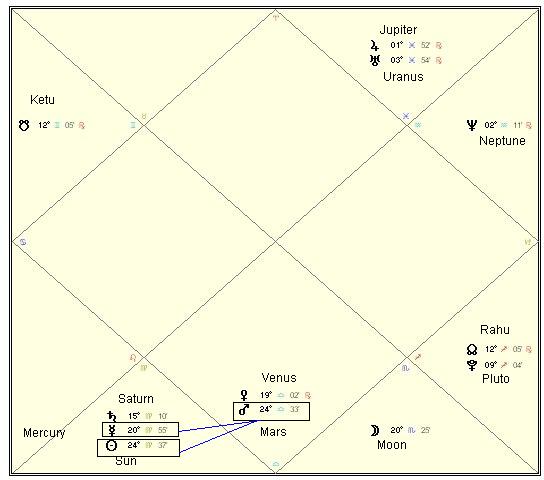 ---
---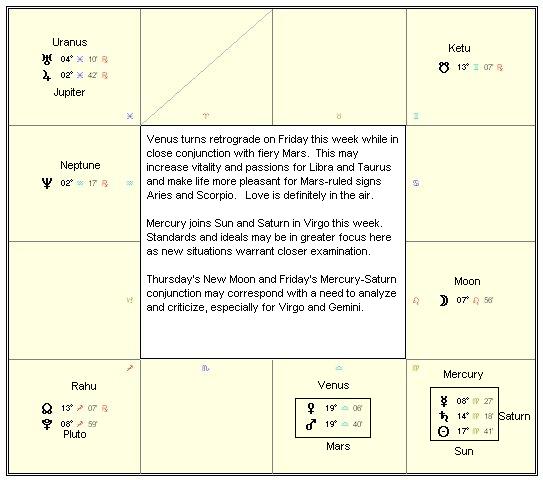 Transits for Monday, October 4, 2010



Week of October 4 - 10

Overview


Venus turns retrograde on Friday this week and so begins its six-week backwards journey across the sky. Venus will be in retrograde motion until November 18 and will mark a time when matters of love and beauty may occupy a greater role in our lives. Retrograde cycles are often seen as periods when we review or clarify our relationships as if to prepare for happier and more constructive associations in the future. There certainly may be some of this reflective quality in the retrograde cycle, but the increased brightness and slower velocity of Venus in the night sky simply means that Venus is stronger now and will play a greater role in human affairs for the next little while. Venus represents women and the feminine ideal so we can look forward to a time when we become more conscious of the feminine archetype of beauty, sociality and compassion. Venus is also symbolic of money and pleasure, so we will see a greater importance placed on spending and enjoyment of sensual experiences this week. This will especially be true for Mars-ruled signs of Aries and Scorpio and the Venus-ruled signs of Taurus and Libra, although all the signs of zodiac will partake to some extent in this Venus-fest.
While the Venus retrograde cycle is a time to put us in touch with our feminine side, this one will be made more complicated by the close conjunction with Mars. This conjunction is exact on Monday although it will be in close proximity the whole week. Mars is an energy for action and assertion, and its blending with Venus this week may give a spark or edge to relationships and male-female interactions. Some interactions will see the sexual dynamic given a wider role, as the emphasis will be vitality and activity. So this week will be a good time to initiate new social contacts and for taking pleasure (Venus) in any sort of physical activity (Mars).
Mercury joins the Sun and Saturn in sidereal Virgo this week. This is likely to accentuate the role of thinking and our discriminatory faculties as they pertain to the upholding of standards and ideals. Criticism of situations that are not living up to expectations may be more likely this week, especially with the Mercury-ruled signs of Gemini and Virgo. Capricorn and Aquarius may also get a dose of this Mercury energy and use their powers of judgment to gain the information necessary to make productive decisions. Thursday's New Moon and the Mercury-Saturn conjunction on Friday may well highlight this penchant for analysis and scrutinizing of standards.
Aries (Apr 13 - May 14)
This week is looking very good for you as Mars joins Venus in Libra. You are more likely to find new friends and contacts here and relationships generally get a boost. This is a great time to go on a romantic date or enjoy an outing to a place of beauty or relaxation. The weekend looks like your best time to shine. Work and family responsibilities may be more onerous, however, as there are greater demands placed upon you. Take it all in stride and rely on a methodical approach. Slow and steady wins the race.

Taurus (May 15 - Jun 14)
As Venus meets Mars this week, you may feel greater vitality and need for action as Mars lights a fire under your feet. You could be busier than usual here and may be distracted by situations that demand repair. Relationships could also be in focus here as you feel the need to clarify some grey areas. Mars can make us overly aggressive at times, so try to avoid overdoing it. Happiness is within your grasp if you take a moment to stand back and see both sides. The weekend looks like a great time to mix relaxation with productive activity, especially involving children.

Gemini (Jun 15 - Jul 14)
Some improvement is likely this week if last week's Saturn-Ketu aspect may have weakened your resolve. Saturn is still in the picture here so that heaviness that may weigh on you if you choose to let it. The end of the week will be a time when your duties and responsibilities become clarified, especially on the home front. Relationships may be unsettled and uncertain and they may take up more of your time. It's probably best not to force the issue as the situation will likely move to a better resolution once Mars moves away from Venus next week.

Cancer (Jul 15 - Aug 14)
As Mercury enters your third house, you will feel a greater need to communicate your ideas and put yourself out into the world. If you were lacking in motivation, this week may give you a boost as your sense about what you want becomes clearer. With Saturn in the picture here, this may not be the best time for back-of-a-napkin type improvised plans. Take the time to plan your next moves and they will pay off handsomely. Working life looks quite positive this week and you may get some recognition for a job well done.
Leo (Aug 15 - Sep 15)
There is a nice start to the week as the Sun is in aspect with Venus. This should help you see the joys of life and lighten your load going into midweek. Mercury enters your second house here so money issues could be front and center by Friday. These are more likely to go well if you bring in the viewpoints of friends and partners. Other perspectives can sometimes suggest a new way at looking at things. This may be a better time to leave your Leo charm behind and rely on cold, rational calculation. New initiatives may pay some dividends by the weekend.
Virgo (Sep 16 - Oct 15)
All eyes are on you this week. This is a perfect opportunity to impress the world with your sense of propriety and balance in all things, and the importance of "doing the right thing". Thursday's New Moon occurs in Virgo and this may well highlight your best qualities to those who share your life. This could be a time when serving the needs of other makes more sense than looking out for oneself. The benefits of taking the high road will become clear soon enough. Money and finances may be a source of comfort during the weekend.
Libra (Oct 16 - Nov 14)
You will gain first hand experience with the Venus-Mars conjunction this week. Relationships and the opposite sex should take prominent place in life here, and you may learn a lot about the role of leadership. While the best relationships involve compromise and give and take, the Mars influence this week might place the emphasis on the "taking" part of the equation. Romance may take on a more purely sexual tone as niceties take a back seat to more essential Freudian urges. There could be an unsteady balance between the demands of others and the desire to escape and be alone.
Scorpio (Nov 15 - Dec 14)
You will be surrounded by beautiful things and people this week as Venus casts is luminous glow. Make the most of this time to enjoy the finer things in life. There is a parallel theme of sanctuary and isolation here as if sexual contact can provide sanctuary from the madding crowds of our mundane lives. The allure of utopias and distant shores may be irresistible here and you may be tempted to run away with a lover with a foreign accent. Ah, if only Venus and Mars could be in your 12th house forever! The weekend looks great for a romantic getaway.
Sagittarius (Dec 15 - Jan 13)
Since the Venus-Mars conjunction falls in your 11th house of gains, it may be useful to think of this as harvest time. If you've been laying the proper groundwork, efforts may bear some significant fruit here, especially going into the weekend. With Mercury entering your 10th house of career, there is a space here for your ideas to reach a wider audience. Work-related situations generally go well, even if the boss is always looking over your shoulder. You may have more social interactions with older or spiritual people here, especially those that are pursuing alternative paths.

Capricorn (Jan 14 - February 12)
You could take a greater interest in traveling this week as Mercury enters your 9th house. This would be a good time to plan a vacation or take off to places unknown. You may also be drawn to complex systems of thought as you enjoy parsing the details of all manner of facts, figures, and texts. With the Venus retrograde cycle taking place in your 10th house this week, the universe is making a bigger space for you. Don't be shy about stepping out into the limelight even if it means temporarily surrendering some of your traditional Capricornian defenses.

Aquarius (Feb 13 - Mar 12)
With Thursday's New Moon occurring in your 8th house of mystery, you may be distracted by the realm of the offbeat. Conspiracy theories and alternative health information may be particularly salient this week as you weigh the pros and cons of going off the beaten track. The themes of searching and investigating will likely bubble up at different times this week and could also include everything from fact finding missions about office gossip to coming to terms with transcendental knowledge of esoteric realms. Money matters may be a source of unexpected relief this week as you realize you have more than you thought, or at least expenses were less than you remembered.
Pisces (Mar 13 - Apr 12)
The urge to reformulate your life continues this week as Jupiter, your ruling planet, receives the aspects of Mercury and the Moon. If things have been unsettled lately, this is likely to amplify that feeling. This may not be a bad thing, however, since Mercury often brings good fortune. But it may take time for any benefits to accrue. Your relationships are likely going to be a source of comfort and happiness here as life's demands are more easily borne in the company of those who care for us. You may find a special sense of joy helping someone in need early in the week. Some intriguing romantic or sexual developments may be more likely over the weekend.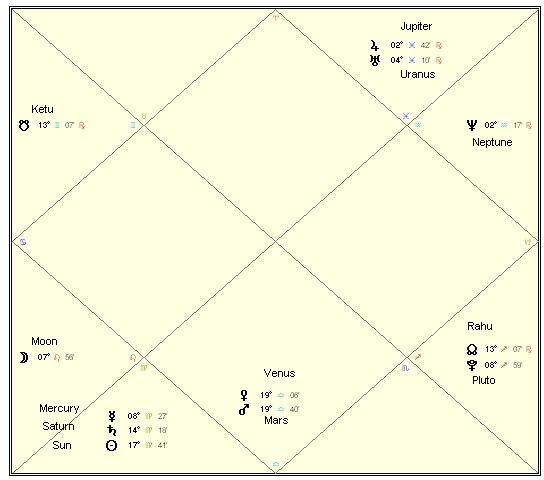 ---
---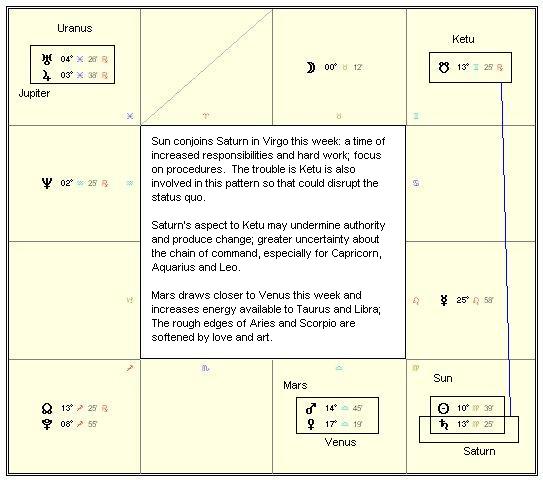 Transits for Monday, September 27, 2010


Week of September 27 - October 3

Sun conjoins Saturn in Virgo; Mars pursues Venus

There are a couple of interesting patterns in the sky this week. On Monday, Saturn will cast its square aspect to Ketu, the South Node of the Moon. This aspect has been been building for the past week or two but is finally exact this week. Saturn symbolizes structure, tradition and limits and when it combines with unpredictable Ketu, reliable habits and patterns may be interrupted. Authority is more likely to be called into question at this time, as the usual chain of command comes under greater scrutiny. Saturn also represents debts and losses, so this is a time when our understanding and expectation of these concepts may be subject to change. And since Ketu is a planet of spirituality and renunciation, the conventional separation between the mundane and spiritual realms may be highlighted in some way.
As if to underline the importance of this aspect, the Sun will conjoin Saturn on Friday. Usually, this combination increases our sense of responsibility and our sense of duty. Workloads may increase and there may be a loss of freedom and independence under this transit. But the effect of the aspect to Ketu throws a wrench into this staid picture of obligation. As a result, we are more likely to find disruption in our daily routines here as duties are redefined and tradition may undergo a reformulation.
Virgo
and especially
Gemini
may feel this pattern more personally so this may be a good time to reflect on the nature of your duties and obligations to others. As the Moon enters Gemini after midweek, Gemini may feel a greater need for personal space as some of these issues may be brought into deeper relief. Virgo may find a particular strength in upholding their traditions and providing for others who depend on them.
This Sun-Saturn-Ketu pattern may be felt differently for
Capricorn
and
Aquarius
as there may be a greater sense of ambition as the Sun's influence will urge you to take on a more central role in your life. So Capricorn and Aquarius may find yourself in the spotlight this week as your efforts get noticed, even if the accolades come out of nowhere. Capricorn may occupy more of a guru role here or you are drawn towards more abstract realms, especially early in the week. Like TV's "House", Aquarius may find themselves delving into the unknown as your curiosity will take the lead here.
The approach of the Venus-Mars conjunction (due next week) will continue to animate the signs ruled by the love planets.
Aries
and
Scorpio
are likely to have their rough edges smoothed by the charm and grace of Venus. Aries are more likely to have pleasing social encounters here with the hint of flirtation never far away. It will still be a busy and demanding week for you workwise, however, so fitting it all in may be tougher than usual. Scorpio is also likely to benefit from the Venus-Mars conjunction as the early week period could bring meetings with kind and beautiful people, especially from foreigners or those outside the mainstream. Money could be tight, however.
Taurus
and
Libra
will be energized this week as Mars lights a fire under you that compels you to action. Taurus will find the early week quite hectic as the Moon will transit your sign from Monday to Wednesday. Business matters may be more frustrating that usual, though, so be sure to take enough time to plan your next move. Relationships may be more unsettled here as expectations and boundaries are modified. Libra could feel a stronger need for self as demands made by others will compel you to make fast compromises. You may also feel a need to funnel this Mars energy into something with tangible results through the expenditure of money. Beware overspending.
Sagittarius
and
Pisces
will continue to feel the invigorating effects of the Jupiter-Uranus conjunction. Sagittarius will feel the jolt of Uranian energy on the home front as you will be interested in changing and improving your home environment. You are also more likely to find favour in the workplace this week as the boss may acknowledge your efforts. Pisces will feel the need for personal freedom as you ponder the pros and cons of a complete life makeover. The past few weeks have seen you reflect on all facets of your life with an eye towards self-improvement. Relationships may require more time and effort this week. An emotional investment now will pay off down the road.
Cancer
may feel the Sun-Saturn conjunction as greater determination and courage to face up to challenges. Saturn's involvement here guarantees there will be some big obstacles to overcome but the right plan and right knowledge will speed matters to a desirable conclusion. The early week generally looks better for fulfilling your wishes while the second half of the week has a more reclusive quality.
Leo
may focus on money matters this week as obligations require proper reciprocation. With Ketu in your 11th house of income, be sure to take a careful assessment of revenue sources as they may be subject to unexpected change. Venus and Mars in Libra may mean that you have a special urge to share your ideas with the world.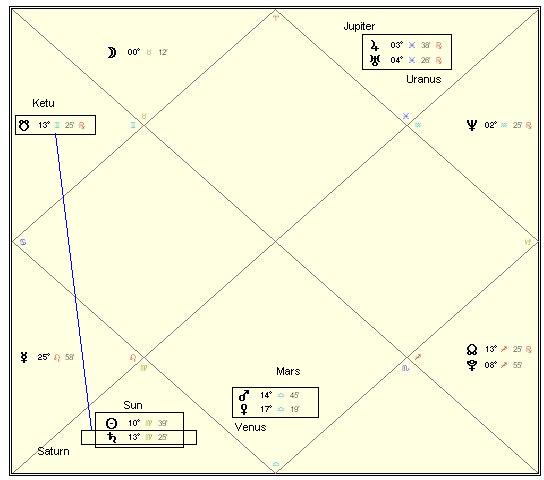 ---
---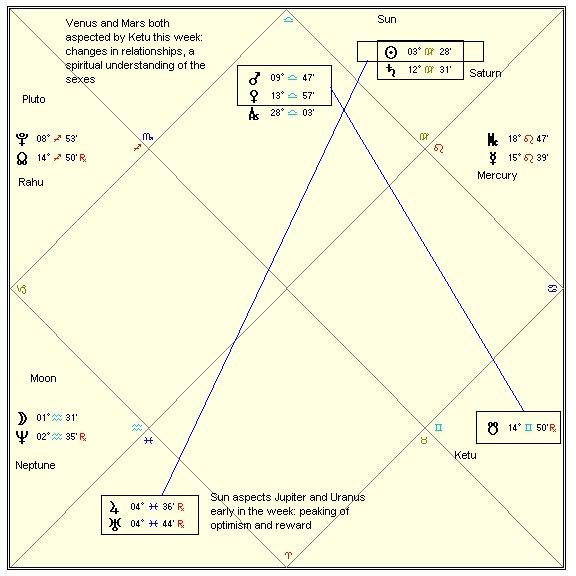 ---
Transits for Monday, 20 September 2010 12:00 GMT


Week of September 20 - 26

With the completion of the conjunction of Jupiter and Uranus over the weekend, there could be a little less willingness to embark on new projects and take risks this week. The aspect from the Sun to Jupiter-Uranus early in the week may represent a culmination or peaking of this adventurous and optimistic energy. This sense of achievement may be more noticeable for people with prominent Sagittarius, Pisces, Gemini, and to a lesser extent, Virgo. Virgos have to contend with the approaching Sun-Saturn conjunction next week so this mean expending more energy on fulfilling duties and responsibilities.

The love planets, Venus and Mars, continue their transit of Libra this week. Mars is slowly catching up to Venus as Venus is slowing down ahead of its retrograde station in early October. What's interesting here is that both Venus and Mars come under the aspect of Ketu. Ketu (the South Lunar Node) is a planet that represents change and reorganization, so relationship issues may be more prominent this week, especially for Aries and Libra. Watch for unusual and unexpected developments involving the opposite sex. Scorpios may have much of this activity take place at a distance or out of public view. Taurus may experience this energy in a more rehabilitative or restoring sort of way. Ketu has carries an undertone of spirituality and renunciation, so there could be a greater willingness to examine love and sex in terms of its higher manifestations and goals.

The Moon begins in Aquarius this week with Neptune so this could provide a boost for Aquarian individuals, particularly in terms of researching old or obscure systems of knowledge. Leos may find themselves busier than normal talking, texting, emailing and travelling as quicksilver Mercury projects its influence.

As the Moon transits Pisces on Thursday and Friday, that will re-energize Pisces and Virgo, and enhance the profile of Sagittarius and Gemini. Thursday's Full Moon will underline this sense of confidence and attention-seeking. Capricorn may find more get-up-and-go as your determination for action take precedence over all other concerns. Cancer may find life more pleasurable at this time and find solace in youth.

The weekend will find the Moon in Aries, so this will bring relationships into sharper relief. If you're Aries or Libra, this could be a great weekend to mix and mingle with the opposite sex. Leo and Sagittarius may be more bookish on the weekend, however, and might prefer the company of words to people.