Stocks rebound as inflation worries subside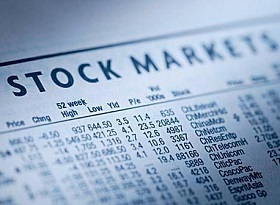 (15 February 2018)
Stock markets are stabilizing this week after last week's turbulence. Starting with last Friday's powerful rebound off the low of 23,500, we have see five straight days of gains as the Dow has climbed back above 25,000. And yet markets will have some ways to go yet before they can recapture their highs of January 26th at 26,616. This could be more difficult now that inflation has re-emerged as a threat to the goldilocks' economy of moderate growth, low interest rates and low inflation.
Yesterday's CPI number was higher than expected at 2.1% and that pushed yields on the 10-year Treasury to 2.91%. Higher bond yields are seen as problematic for stocks as they will raise borrowing costs and choke off further growth. 3% may be a key threshold in this respect. More analysts are now questioning if this could be the end of the nine-year bull market that began after the financial crisis of 2008.
In my view, I think the bull market isn't done yet. While we will likely see higher volatility from now on, I am expecting markets to eventually recover from this correction. Taking the main planetary factors into consideration, I would expect there is a good chance to see higher highs later this year, most likely during the summer, and then possibly again in 2019. Without going into an exhaustive analysis, let's just take a look at the horoscope of the New York Stock Exchange.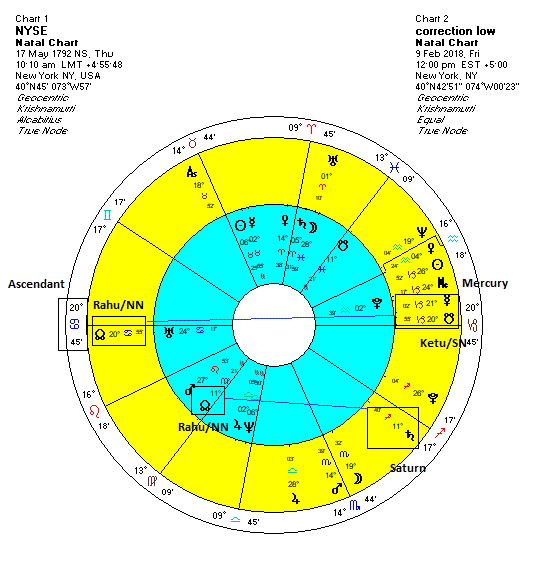 Just looking at the transits, we can see that the recent correction fits nicely with the 10.10 a.m. chart. Rahu (North Lunar Node) is exactly conjunct the Ascendant (20 Cancer) while transiting Saturn (11 Sagittarius) exactly squares the natal Rahu. By themselves, neither of these factors would likely have brought about much downside. While both are considered malefic planets, other factors can often alter how they influence collective sentiment. But together, they provided a key element in turning market sentiment negative. In fact, we can also infer that their unique interrelationship in this alignment was crucial. Saturn's negative aspect to natal Rahu may have been transferred and amplified by the fact that by transit, Rahu was conjunct the most sensitive point in the whole chart, the Ascendant. This created a kind of malefic feedback loop between the malefics Saturn and Rahu. As if they were handing off a bearish baton in a race, Saturn to Rahu, and then Rahu to the Ascendant, and hence the chart as a whole.
The rebound we have seen since February 9th has not only reflected the fact that Saturn has now moved past its square with Rahu, but that positive transits are now occurring involving the natal Jupiter (2 Libra), and by extension, the very strong Jupiter-Mercury-Pluto alignment which resonances very strongly at 2 degrees of those planet's respective signs. We had a solar eclipse this afternoon at 3 degrees of sidereal Aquarius which highlighted this Jupiter alignment very nicely. Given the significant interruption effects of eclipses, however, there is a real chance we could see stocks fall back somewhat in the days ahead.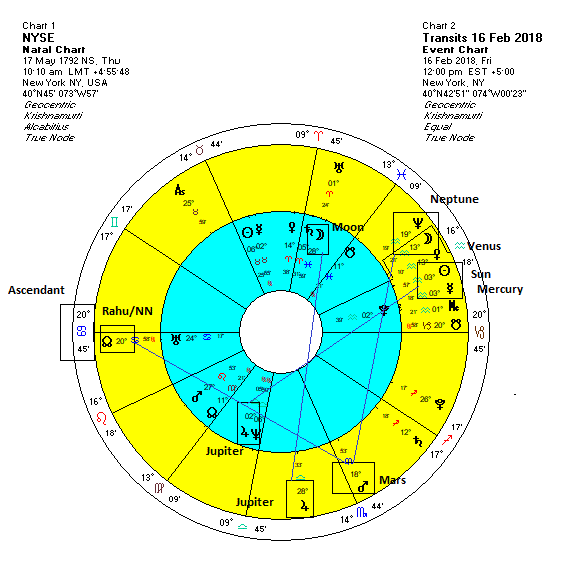 I would expect some pullback tomorrow (Friday, the 16th) as well as into next week as the positive transits are moving away from the Jupiter alignment and malefic Mars comes under the aspect of Rahu. Actually, Mars will also cast its square aspect on Neptune (Feb 17th), Venus (Feb 24th) and then Mercury (Feb 28th). These various Mars influences are negative and could offset the ongoing positive influence of the approaching Jupiter retrograde station on March 8th which aligns closely with the natal Moon in the NYSE chart.
It is difficult to predict how far stocks may fall in the rest of February. Perhaps not as far as in the first part of the month. While I think there could be more upside again in March, the outlook for April looks much more troublesome given the Mars-Saturn conjunction and the Saturn retrograde station. In other words, bullish investors may have to be patient for a while before the market resumes its upward climb.
For more details and analysis on market trends for this week, this month and this year, please check out my weekly
MVA Investor Newsletter
. The newsletter is published every Saturday and includes extended discussion of US and Indian stock markets, as well as gold, oil and major currencies.
---