Stocks bounce after bad week; Q3 earnings reports in focus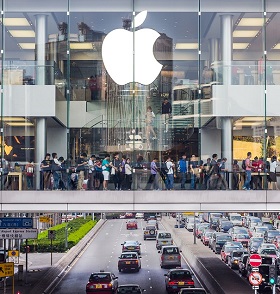 (29 October 2018)
Stocks sold off sharply last week on renewed fears that Trump's trade war will reduce revenues and profits of many large US corporations. The Dow lost 3% on the week and closed below 25,000 for the first time since July. Indian stocks joined the global sell-off as the Sensex fell almost 1000 points and came close to testing its March low.
Stocks have rebounded here on Monday in Europe and the US on the proverbial oversold bounce. Besides bargain hunting, investors may also be looking forward to corporate earnings as some big names will report Q3 earnings this week. Facebook reports on Tuesday, Apple reports on Thursday, and Exxon Mobil on Friday. While it is still possible the news could disappoint the market, at least it changes the subject for a few days away from the gloom that has been hanging over the US market during October.
Last week's decline was in keeping with my bearish expectation as I thought the Saturn influence would be problematic at very least. Saturn was aligned with the Sun and retrograde Venus during the week so there was good reason to be cautious. If that weren't enough, Wednesday's Full Moon also suggested that caution might be a more prudent strategy. In fact, Wednesday turned out to be the worst day of the week.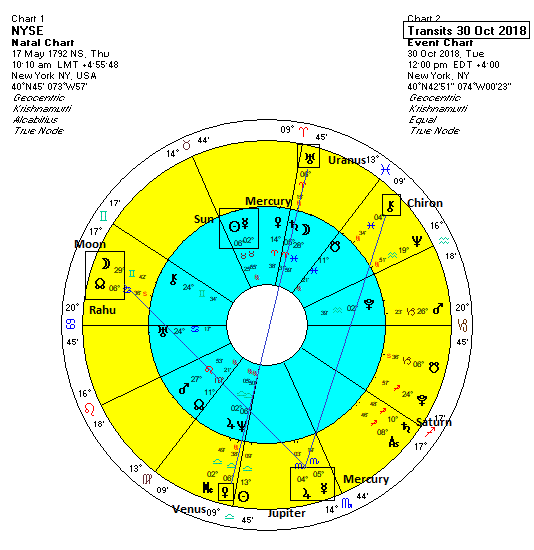 Not surprisingly, this week has started off on a more positive note as the Sun and Venus have moved away from Saturn's influence. In addition, Mercury conjoined bullish Jupiter today and both will align with Rahu (North Lunar Node) and Chiron this week so that is another reason to think that we could see stocks rebound further. We can also see how the Mercury-Jupiter conjunction in Scorpio is aligning with the Mercury-Sun conjunction in Taurus in the NYSE chart. This looks fairly positive in any event. The Moon joins the alignment tomorrow (Tuesday Oct 30, see chart), so it seems likely we will have more gains this week. Venus also aligns with Rahu and Uranus so that is another potentially positive influence. It's difficult to be certain which other days may be bullish although I think Thursday's Moon-Mars opposition could be bearish.
So is the correction over? I'm not sure, although I suspect there could be some more significant weakness upcoming later in November and possibly into December. Whether or not it creates lower lows is another question.
For more details on possible scenarios for this correction in the coming days, weeks and months, check out my
weekly subscriber newsletter
which is published every Saturday. I cover US and Indian stock markets, as well as currencies, oil and gold.
---