Stocks fall after Saudi oil attack; oil rises 12%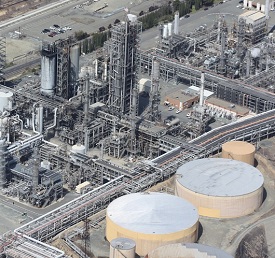 (16 September 2019)
Stock markets ended Monday modestly negative after a sudden drone attack on Saudi oil facilities. US stocks fell about 0.5% while bonds, gold and, of course, oil rallied on the news of the supply interruption. While it is unclear who was responsible for the attack, the US is already pointing fingers at Iran or its Yemeni allies. Retaliation from the US or Saudi Arabia has not yet occurred, but the situation is dangerously uncertain. Moreover, the attack reveals a major vulnerability in Saudi oil production going forward.
The timing of the attack comes at an awkward time as stocks are within 1% of their all-time high and investors await the latest statement on interest rates from the Fed on Wednesday. In other words, it may become harder to stocks to move to new highs given this unwelcome geopolitical development. The Federal Reserve may also have to reconsider its default position of cutting rates in light of this possible inflationary spike in oil prices.
Here are a couple of charts worth considering. First, the NYSE horoscope suggests declines were somewhat more likely today and indeed, this week generally as Mars approaches its natal position at 27 degrees of Leo. Mars-to-Mars transits are often stressful and frequently coincide with declines in stocks. Mars will remain in conjunction with its natal position for the rest of the week, including the Fed meeting. This increases the probability of more declines this week.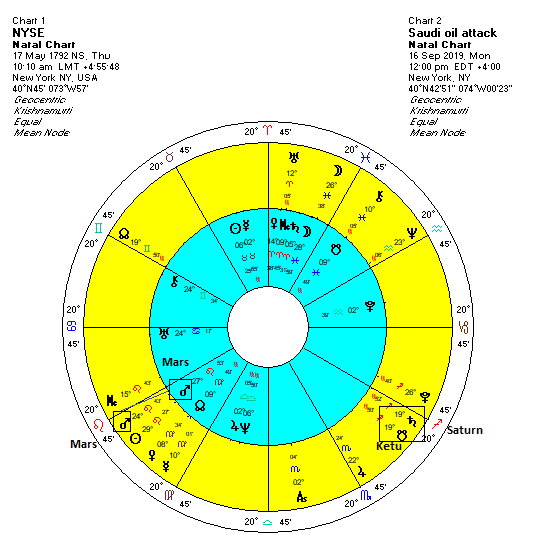 We can also note that the ongoing Saturn-Ketu conjunction still looms large in the chart. Saturn ends its retrograde cycle on Wednesday (FOMC day!) and will resume its normal forward motion. As I have previously written, the
Saturn-Ketu conjunction
bears close attention as it is frequently associated with falling markets. This year's Saturn-Ketu conjunction was unusual in that both Saturn and Ketu were moving backwards (retrograde) in tandem for several months. This did not produce a uniformly bearish effect, however. Asian markets (China, India) and many emerging markets were generally lower for the duration of the conjunction from April until now. But the US and Europe were more positive, albeit with some choppiness.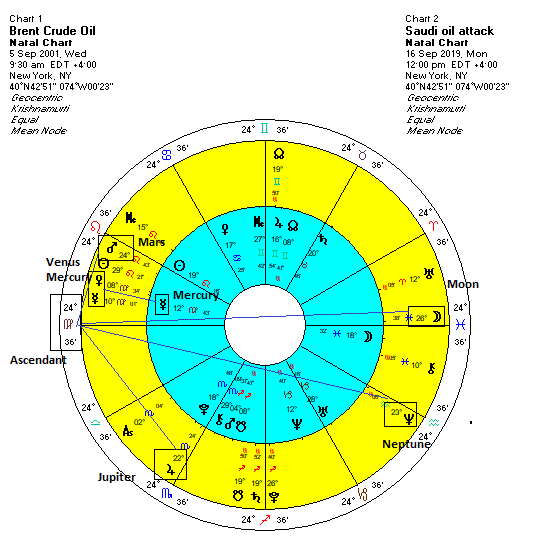 As it happened, the chart for Brent crude oil was looking somewhat bullish this week. Jupiter and Neptune were aligned with the Ascendant, along with Mars and the all-important Moon. This is a mostly positive pattern, especially given the inclusion of Jupiter. The Mercury-Venus conjunction is aligned with natal Mercury this week so that was another potentially positive configuration. I'm less convinced there will be more upside in the days to come, especially after the Fed meeting. To be sure, the slow-moving Jupiter-Neptune influence is a fairly bullish influence but the Saturn-Ketu conjunction may be operating in the opposite direction.
Weekly Market Forecast
The rest of the week may bring more downside, especially after the Fed statement on Wednesday. One source of concerns is the midweek Mars-Pluto alignment. This combination carries some downside risk, especially later in the week. We should also note that both Mercury and Venus come under the full-strength square aspect of Saturn during the late week and into early next week. This isn't always bearish, but it nonetheless skews the probabilities towards a negative outcome.
Ordering the various influences of each planet on a daily basis produces a speculative dot plot chart. Here I am using the Vedic Shad Bala and Ashtakavarga charts as inspiration, rather than as a specific data source. My own view of the respective planetary strengths is a composite of aspects, sign placements, and relative house rulerships. The dip below 50 for several planets focuses on midweek and the Fed meeting. Let's see if Jay Powell will disappoint the markets once again.
For a more detailed analysis of the markets, please check out my
weekly subscriber newsletter
which is published every Saturday afternoon (EST). I outline the key technical and planetary influences for US and Indian stocks for the short and medium term, as well as currencies, gold and oil.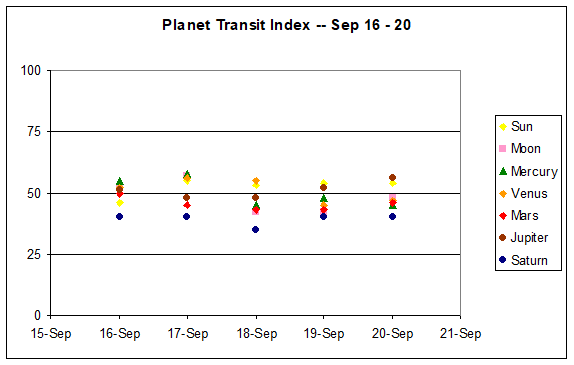 ---
These forecasts are usually posted weekly.
You can be notified of new posts if you follow
ModernVedAstro on Twitter
.

Please note that this is a more general and much abbreviated free version of my
investor newsletter which can be subscribed to
here
.

Please read my
Disclaimer