The astrology of recession: Saturn, Jupiter and Pluto in 2020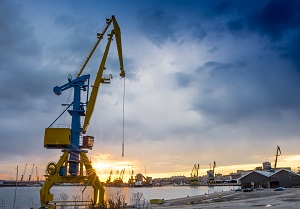 (7 October 2019)
Stocks have trended lower over the past week as surprisingly weak US manufacturing data has renewed recession concerns. While Friday's middling US jobs report offered some respite, US markets were down for the week. European and Asian markets were also generally lower as bonds and gold rallied.
This bearish outcome was not unexpected as I thought the midweek Mercury-Mars alignment would likely correlate with some downside. The late week rebound in the US and Europe also fit nicely with the entry of bullish Venus into Libra on Thursday and Friday.
As bond yields are again testing their recent lows, the market is still focused on a possible recession next year. The 10-year US Treasury is again yielding near 1.5% and remains the only game in town for many international investors who are seeking both safety and a positive return on capital. With most Japanese and European government bonds with negative rates, money is flooding into both US equity and debt markets.
Recession and planetary alignments
So how likely is a recession? The planetary alignments would suggest a recession next year is more likely than not and certainly more likely than the ever-sanguine Federal Reserve. Saturn is the planet of pessimism and restriction and it is often prominent during times of economic contraction and slowdown. Saturn is due to conjoin Pluto and Jupiter in the first half of 2020. Typically, close alignments between Saturn and other slow-moving planets increase the probability of economic difficulty.
The last time Saturn, Pluto and Jupiter similarly conjoined was in 1981-1982. This coincided with a
16-month long recession under Reagan
that saw unemployment peak at 11% in November 1982 while the GDP fell by almost 3%. We can see that Saturn was exactly conjunct Pluto at 4 Libra during the depth of the recession in late 1982 while Jupiter has moved past somewhat although still in the sign of Libra.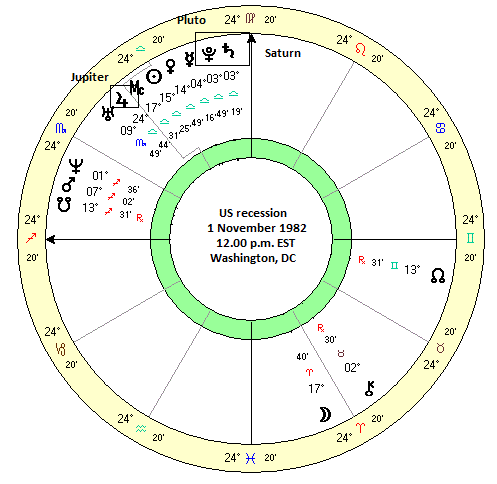 Interestingly, the exactly conjunction of Saturn and Jupiter occurred in July 1981 right at the time the recession began. We should also note that the preceding Saturn-Jupiter conjunction occurred in 2000, the same year as another recession began. We won't consider that case here since Pluto was not conjunct Saturn that year.
(N.B. Saturn conjoins Jupiter every 20 years; Saturn conjoins Pluto every 35 years. Saturn last conjoined both Jupiter and Pluto in 1820, and even then with a wider orb than in 2020)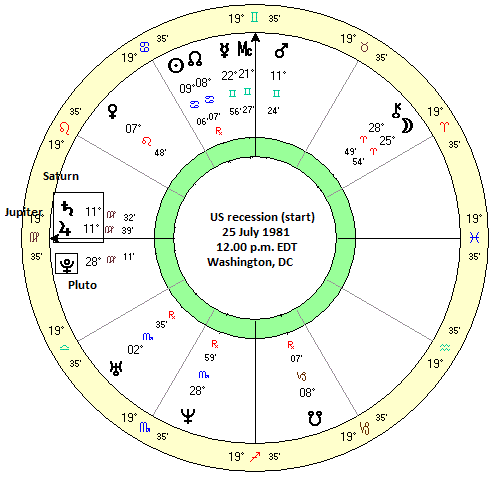 This time around we will see these planets converge, albeit in a different sequence. Saturn will first conjoin Pluto in January 2020, while Jupiter is due to make a wide five-degree conjunction with Saturn in May 2020 before both planets turn retrograde. The exactly Saturn-Jupiter conjunction will then occur in December 2020.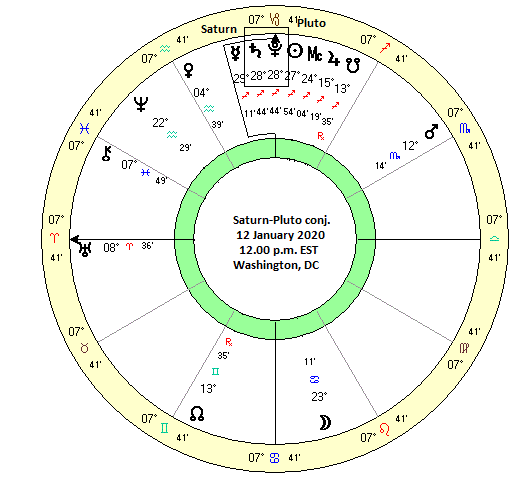 My general expectation is that these Saturn conjunctions with Pluto and Jupiter greatly increase the likelihood of a US recession in 2020. Europe may already technically be in a recession so it may not take much for the US to follow suit, especially given the ongoing trade dispute with China and now the very real possibility of a Trump impeachment or resignation.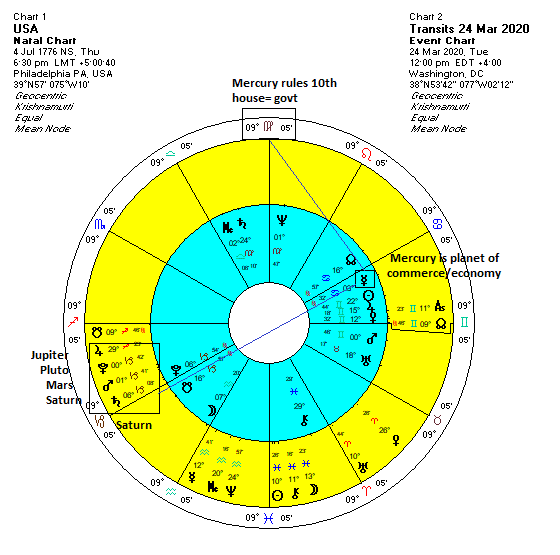 Moreover, I would note that the Saturn-Pluto conjunction in March 2020 will exactly oppose the natal Mercury (3 Cancer) in the US national horoscope. Mercury is closely associated with commerce and economic activity so the Saturn-Pluto influence will likely have a negative impact. As an alternative interpretation, we should also note that the affliction of Mercury could reflect the growing government crisis over impeachment since Mercury rules the 10th house in the chart and the 10th house symbolizes leaders and governments.
Weekly Market Forecast
This week has started off on a bearish note as stocks were lower on Monday. This produced a fairly predictable decline given the Sun-Saturn square aspect. The rest of the week looks choppy at best with more down days possible as both Mars and the Sun will remain under some pressure from Saturn. The late week looks somewhat more bullish, however, with Friday's Sun-Jupiter-Pluto alignment looking fairly good for an up day.
For a more detailed analysis of the markets, please check out my
weekly subscriber newsletter
which is published every Saturday afternoon (EST). I outline the key technical and planetary influences for US and Indian stocks for the short and medium term, as well as currencies, gold and oil.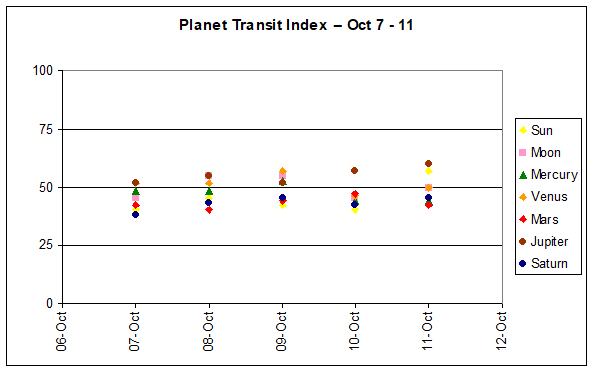 ---
These forecasts are usually posted weekly.
You can be notified of new posts if you follow
ModernVedAstro on Twitter
.

Please note that this is a more general and much abbreviated free version of my
investor newsletter which can be subscribed to
here
.

Please read my
Disclaimer