It's Mueller time again; stocks pull back on Fed uncertainty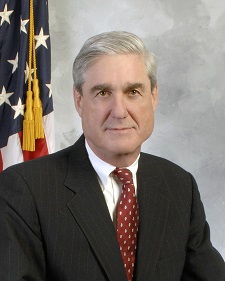 (22 July 2019)
It's Mueller time once again. Former FBI Director and Special Counsel Robert Mueller is due to testify to Congress on Wednesday. Mueller will respond to lawmakers questions in the Justice and Intelligence Committees regarding his investigation of Russia's involvement in the US 2016 election.
This will be Mueller's first full public appearance since delivering his report back in April. His report concluded that Russians did interfere with the elections but he took a more nuanced view of Trump's role. While no bombshells were forthcoming, he did not exonerate the Trump campaign from illegality in deference to the constitution which holds that sitting presidents cannot be indicted.
Mueller's testimony will likely determine if impeachment will go forward. With time running out before the primary season begins in February 2020, the pro-impeachment Democrats are now up against it. So what can we expect from Mueller's testimony on Wednesday?
First off, Robert Mueller's horoscope suggests he has a good chance to come out of this process with his reputation intact. Transiting Mars (action, energy) will be conjunct his Sun (self, ego) just as Jupiter prepares to station direct while in close favourable alignment with his natal Sun. The Mars-Sun pairing denotes intense events, while the Jupiter influence usually provides a protective effect. Mueller may be under considerable pressure here, but Jupiter ensures that he will likely remain in high esteem by the American public regardless of what happens.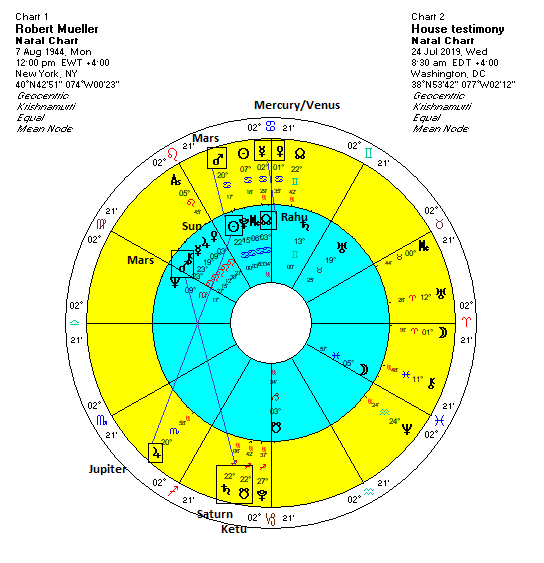 However, there are also hints of possible conflict and negative consequences for Mueller. There are two potential problems. Mercury and Venus will be conjunct his natal Rahu. On one hand, this likely reflects the huge importance of his testimony to the country. Rahu acts as a magnifier in that respect and Venus tends to produce more positive outcomes. Mercury's role in this pattern is more equivocal, however. Mercury-Rahu alignments are typical of confusing situations that can undermine outcomes for the individual. Let's call this interesting but not decisive.
The second problematic alignment concerns the Saturn-Ketu conjunction at 21-22 Sagittarius with natal Mars at 23 Leo. This pattern strongly suggests conflict and frustration and may represent some difficult implications of his testimony. Since this aspect is
past
exact, we should consider the possibility that some of this frustration may have manifested already, perhaps as a result of private White House directives to Mueller himself about what he can and cannot say. Nonetheless, there is some potential for conflict this week even if I'm not convinced anything too dramatic will happen in the Committee hearings.
So while the planets for Mueller's testimony looks appropriately intense, I'm less convinced there will be any immediate damage for Trump. The Mercury-Venus conjunction occurs atop Trump's Venus which typically signifies positive events, for example. However, there is an elevated risk of some political damage to President Donald Trump in the days following the testimony. There are a couple of things worth noting.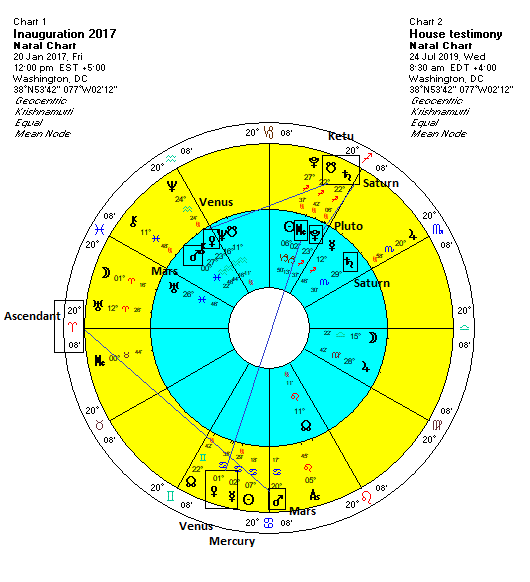 If we look at the 2017 inauguration horoscope, we can see that Mars will conjoin the equal 4th house cusp this week at 20 Cancer. This is an unsettling influence on the nation as a whole, as the presidency in particular. This increases the chances that Mueller's testimony will be politically important and quite possibly disruptive of the status quo. The Mercury-Venus conjunction at 1-2 degrees of Cancer will hit the IC (unequal 4th house cusp). I would not interpret this as inherently positive or negative but rather see it as underscoring the importance of the testimony for the current administration. Located at the bottom of the chart, the IC has a slightly negative energy, however, so that may also increase the chances of new problems arising as a result of the testimony.
This summer's ongoing Saturn-Ketu conjunction is still conjunct natal Pluto and forms a very close 60-degree/3rd house aspect to the natal Venus in the inauguration. This is one very key reason why the US has been riven with such acrimony over the immigration crisis and more recently with Trump's racist pronouncements against some minority Democratic congresswomen. Both Saturn and Ketu are malefic planets which damage national well-being while happiness as represented by Venus. The Pluto influence serves to amplify this effect, and introduces the role of power and coercion into the mix. Overall, it is a nasty brew of influences that reflects the increasing political polarization of the US.
Looking ahead a few days, we can see that Mercury is due to station direct at 29 Gemini on July 31. This looks particularly difficult since it will align with Mars (0 Pisces) and Saturn (29 Scorpio). While it is possible this could reflect a negative market reaction to the Fed meeting that day(!), there is also the possibility of fallout from the Mueller testimony with this station.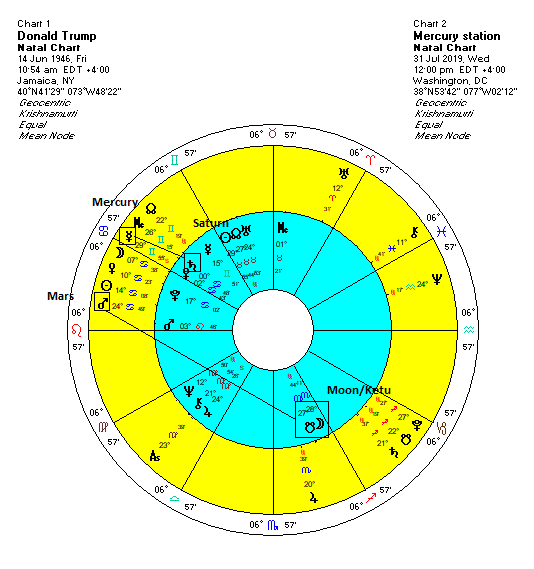 Moreover, we should pay close attention to the fact that the Mercury station will conjoin Donald Trump's Saturn at 0 Cancer. Mercury-Saturn alignments tend to equate to "bad news". Therefore, we cannot rule out the start of impeachment proceedings with this pattern, although it may well be something less earth-shaking. The Mars alignment to Trump's Moon-Ketu in the first days of August is another warning sign of uncontrollable anger and frustration for the US president.
Weekly Market Forecast
Global stocks have generally retreated over the past week following last Tuesday's lunar eclipse. I had thought that the lunar eclipse would be bearish for stocks and so we did see markets sell-off in the US, Europe and Asia. After comments from various Fed members, there is now some uncertainty about what the Federal Reserve may do in its next meeting on July 31. CME probability puts the odds of a rate cut at 100% although the more likely scenario is only a 25 point cut versus a 50 point cut.
This week is a mixed bag. We got some upside in the Monday US trading session as Venus prepares to enter sidereal Cancer. However, I would be skeptical about any gains this week as Mars aligns with Jupiter, Saturn and Ketu after Tuesday. The Mars influence raises downside generally risk this week, especially from Wednesday to Friday.
For a more detailed analysis of the markets, please check out my
weekly subscriber newsletter
which is published every Saturday afternoon (EST). I outline the key technical and planetary influences for US and Indian stocks for the short and medium term, as well as currencies, gold and oil.
---
These forecasts are usually posted weekly.
You can be notified of new posts if you follow
ModernVedAstro on Twitter
.

Please note that this is a more general and much abbreviated free version of my
investor newsletter which can be subscribed to
here
.

Please read my
Disclaimer