Modi scores historic victory in Indian election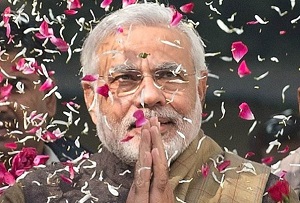 (18 May 2014)
Narendra Modi scored a landslide victory in India's Lok Sabha election last week as the incumbent Congress Party suffered a devastating defeat. The win for the pro-business BJP promises to bring sweeping change to India which has seen its economic progress slowed by endemic corruption, bureaucratic red tape, poor infrastructure, and stubbornly high inflation. But how successful will Mr Modi be in undertaking these massive challenges?
A reliable way to gain insight into the future tenure of a sitting government is to view the horoscope of its swearing-in ceremony. At this time, however, it is still not yet known when Narendra Modi will be sworn-in as Prime Minister, although current indications suggest it will be May 21st. I will update my site once the date and time of his swearing-in becomes known. Alternatively, the other tool we have is Modi's natal chart. While his birth time remains in dispute, it is still possible to glean some indications of future trends using just his day and year of birth.
The first year of his administration looks quite mixed with no shortage of obstacles and setbacks. This is perhaps to be expected given the enormous tasks ahead of him as he endeavours to take on decades of institutionalized corruption and mismanagement. June and July look difficult as transiting Rahu (1 Libra) will intersect the midpoint of his Mars (1 Scorpio) and Sun (1 Virgo). Rahu often indicates disruption and instability while both the Sun and Mars are reflective of executive and leadership capacity. Therefore, we should expect some challenges to his leadership. Modi may be blocked from acting in the way he would want by other powerful actors (e.g. The Reserve Bank of India), or his actions may be erratic in some way.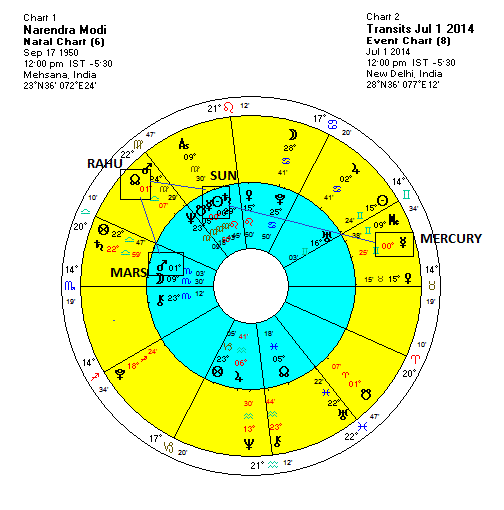 Late June and early July may be particularly challenging as Mercury will station direct at 0 Gemini and thus form a difficult square aspect to Modi's triple conjunction of Sun-Mercury-Saturn at 0 Virgo. This looks like a frustrating time where nothing goes according to plan. I suspect economic matters will be front and centre since transiting Saturn (22 Libra) will station in an exact square aspect with the natal Venus (22 Cancer) in the Indian national chart. Venus symbolizes money and pleasures and the influence of Saturn here may translate into a serious economic problem for which Modi will have no easy answer for.
The other time period that stands out is late 2014 and early 2015. At that time, transiting Saturn will enter Scorpio and closely conjoin Modi's Moon and Mars. While Mars is strongly placed in its own sign and thereby can better withstand Saturn's maleficence, Modi's Moon is in a more vulnerable position. As a result, Modi may be beset by problems and feel trapped and isolated, as if his options are severely limited. The period from December 2014 until March 2015 may be more susceptible to this Saturnian influence. Again, there will be a nodal aspect upon India's Venus at this point, suggesting more economic struggles are possible. Neptune squares his Moon at this time which may indicate some confusion as if Modi may be unsure about the best way forward. Some false or half-baked actions are quite possible in early 2015. Controversy and scandal are also more likely with this Neptune influence.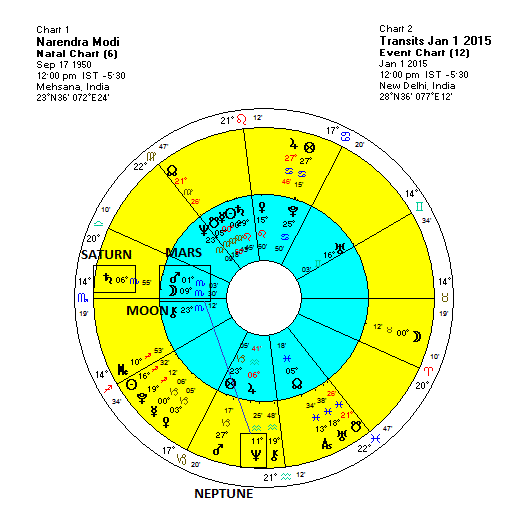 But 2015 could improve as the year progresses as Jupiter transits through Leo and conjoins his Venus and then Saturn. Jupiter transits to Venus usually correlate with happiness, social contacts, and the growth of friendships. Whatever difficulties Modi may encounter in his first year in office, this Jupiter transit of Leo suggests that his personal popularity will remain high and that he may benefit from establishing new alliances and friendships or from deepening pre-existing ones.
I hope to supplement this quick overview of the incoming BJP administration once the exact time of the swearing-in ceremony becomes known.
Financial Markets Update
US Stocks were mixed last week as growing deflationary worries continued to weigh on investors. The Dow closed slightly lower at 16,491. In contrast, Indian stocks soared on the Modi victory as traders were optimistic about the prospects for pro-market reforms. The Sensex gained 4% on the week closing at 24,121. I thought we might have seen more across the board gains late in the week on the Venus influence but US and European markets were more cautious compared with Asian bourses. As expected, we did see more pessimism on the midweek Sun-Moon-Saturn pattern as Indian advances took a breather while US stocks declined.
This week looks more equivocal. Mars culminates its retrograde cycle on Tuesday so we are more likely to see some caution in the first half of the week. The Sun-Rahu aspect on Monday is another potential trouble spot. But the late week offers some hope for bullish investors as both Mercury and Venus prepare to change their respective signs. Jupiter prepares to form its last aspect for a while as it trines Saturn on Saturday the 24th. With no upcoming Jupiter aspects in the near future, it is harder to see where the financial optimism will come from to keep markets elevated.
---