Stocks rebound as Venus leaves Virgo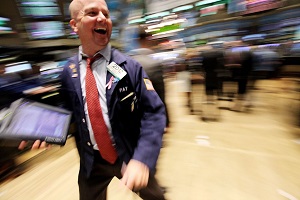 (21 October 2014)
Financial markets appear to have calmed down now after suffering from a serious case of the jitters over the past couple of weeks. After ISIS, the possibility of recession in Germany and then the Ebola scare in the US, investors had become wary of future prospects and had assumed a more defensive position. But now it seems to be a case of 'no news is good news' as sentiment is more stable this week and stocks have rebounded across the globe.
The Dow finished down 1% last week and even briefly traded below 16,000 before recovering on Friday and ending the week at 16,380. The rebound has continued into Monday. India's Sensex also dropped 1% last week as the Sensex closed at 26,108 and came back strongly in Monday's trade. This outcome was largely in keeping with our expectations as I thought last week's Mars-Saturn alignment would likely correlate with significant declines. This was definitely the case as the midweek low was the lowest level for US stocks since April.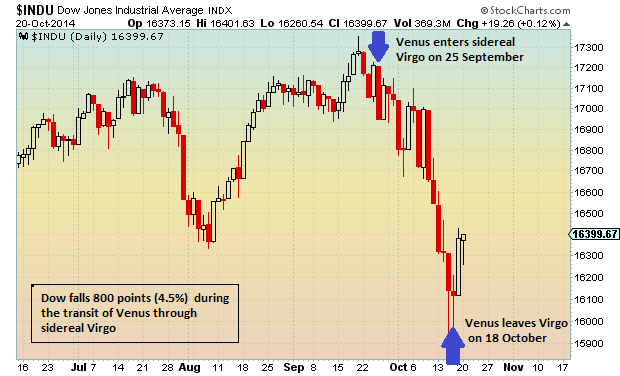 The other factor in the decline and subsequent rebound in financial markets is that the transit of Venus through sidereal Virgo is now over.
Previously, I had predicted
that this four-week transit of Venus would likely correspond to some downside for the markets. My previous research into this transit showed a high correlation with declining stocks markets and this was likely to be the case again here given the absence of other obviously positive influences. In astrological terms, Venus is the planet of money and value and when it moves through Virgo, its traditional zodiac sign of debilitation, values tend to be re-assessed and constrained in some way as optimism fades and caution rises. This transit takes place once a year. It is also important to note that these bearish transit effects appear to have a higher correlation with the sidereal zodiac in common use in India rather than the Western tropical zodiac.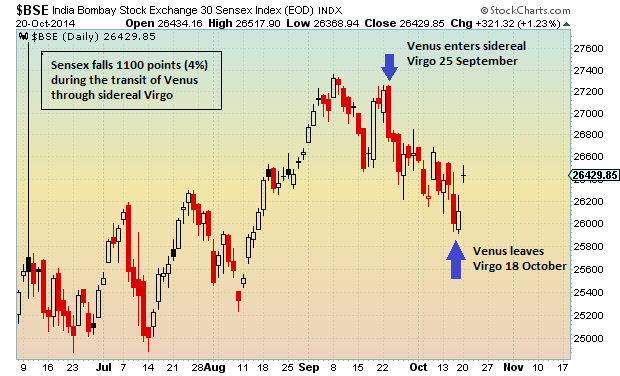 As the charts show, most financial markets lost 4-5% of their value during this transit. Of course, the recent decline cannot explained solely in terms of that one factor, but previous transits have also occurred at times of caution and pessimism in the markets. Markets may also have be weaker because of the culmination of the Jupiter-Uranus aspect on 24 September. This is a typically bullish influence and once it becomes exact much of its positive energy is no longer available. Markets therefore become more susceptible to declines in the wake of the aspect as the planets separate from their 120 degree angle. The rebound has begun now that Venus has left Virgo and has entered Libra, which is typically a more positive sign.
This week could see more gains as the short term aspects seem mostly positive. Rahu/Ketu is in close aspect with Jupiter while Mercury may be acting as the winged messenger of good news through its close conjunction with Rahu. To some extent, Monday's rise may have tapped into most of this positive energy so it is less clear how much will be left for the rest of the week. One would think that the Sun-Venus-Moon conjunction on Thursday will be mostly bullish and in the absence of any clearly negative aspects, it seems fairly likely that stocks will stay strong. Indian markets will be closed for Diwali on Thursday and Friday so that makes a positive finish to their shortened trading week that much likelier.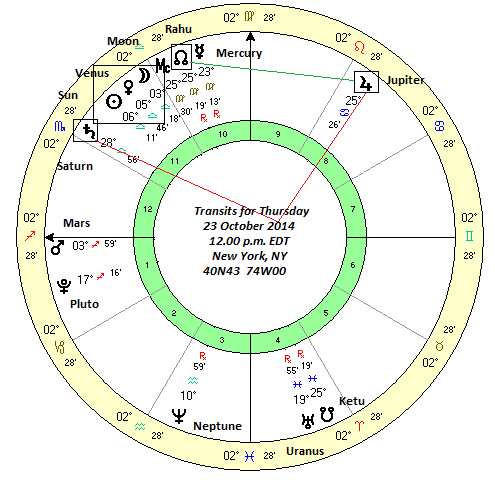 ---