Euphoria confronts reality: the BJP's cautious first budget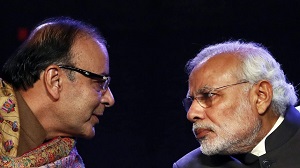 (2 March 2015)
The new government of Narendra Modi announced its much-anticipated first budget last Saturday to initially positive, if muted, reviews. Finance Minister Arun Jaitley's budget was expected to begin the herculean task of reforming the Indian economy away from its statist and populist orientation towards a more deregulated, pro-growth stance. The budget was seen as rather cautious and piece-meal, however, as Jaitley did not reduce subsidies nor did he introduce a general sales tax which is widely seen as necessary to fund overdue infrastructure improvements. Markets rose only modestly on Saturday in reaction to the budget and Monday's session similarly only mildly positive suggesting a lack of enthusiasm and perhaps even a twinge of disappointment. All of the optimism over the promise of sweeping change from the Modi government now appears to fading as reality takes over.
Perhaps we should not be surprised that PM Narendra Modi has been having a tough go of it lately. On February 10th, Modi's BJP was trounced in the high-profile Delhi election by the anti-elite upstart AAP. The defeat was seen a partial critique of Modi's administration, although it is just in the first year of its mandate. Reforms have been too slow for business and the rising middle class but too fast and destabilizing for popular sectors. Now the budget appears to continue this overly cautious approach which tries to be all things to all people.
To some extent, the current malaise of the Modi government can be seen through the application of the principles of
Modern Vedic Astrology
to the swearing-in chart. Mr. Modi was sworn-in at 6.13 p.m. on May 26th 2014. As I suggested in a post I made at the time, Modi was likely to suffer some kind of setback in early 2015 sometime between February and April. The key astrological feature in this regard was the Saturn retrograde station on March 14th.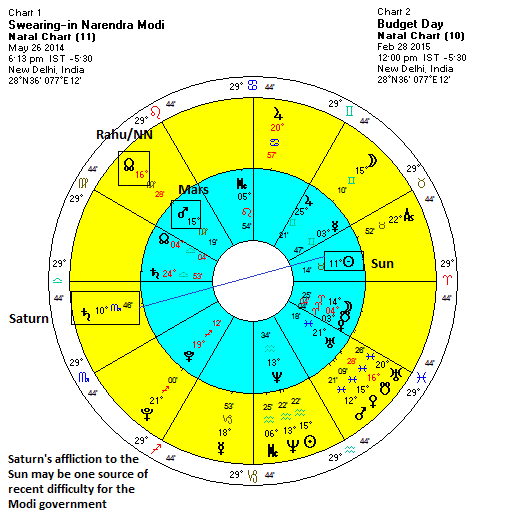 Saturn is due to station and turn retrograde at 10 degrees of Scorpio which is almost exactly opposite the Sun (11 Taurus) in the swearing-in chart. Saturn aspects tend to favour caution over boldness so the budget may also be seen in that light. Saturn-Sun opposition aspects are usually indicators of disappointment, failure, and loss. The loss to the AAP in Delhi in February effectively marked the end of the hope and euphoria of Modi's win the year before. Saturn, via the AAP, ended Modi's political honeymoon. Saturn was situated at 10 Scorpio 06 on Feb 10 just one degree from the natal Sun at 11 Taurus 14. Due to its slow velocity, Saturn had only moved to 10 Scorpio 46 on Budget Day thus reiterating an even closer affliction to the natal Sun.
On May 28th 2014, I wrote that this Saturn affliction to the Sun would likely reflect some
big problems for the Modi government
:
In terms of timing, the transit that stands out most is the Saturn retrograde station at 10 Scorpio in March 2015. Saturn will station in quite a close opposition to the Sun (11 Taurus) between February and April and may correspond with a significant setback, especially concerning Mr Modi himself, as the Sun symbolizes leaders.
The other source of his problems is that transiting Rahu (16 Virgo) is closely conjunct the natal Mars in this chart at 15 Virgo. Rahu-Mars tends to be more associated with sudden developments, especially those involving a sense of conflict, anger and violence. I'm not convinced the BJP Delhi defeat or the muted budget reaction is reflected in this transit. My sense is that the government may have further obstacles to overcome in the months of March and April that are more in keeping with the symbolism of Mars. It could be some political dispute that arises from the budget or it could even be some significant act of violence in the country. Although Saturn will gradually back away from its aspect with the Sun after March 14th, Rahu stations at 15-16 Virgo until May and will only be just one degree past in June. The next two to three months may therefore prove to be quite challenging on several fronts for the Modi government.
Weekly Financial Update
After the budget drama, Indian stocks were modestly higher last week as the BSE-Sensex closed up less than 1% at 29,361. US Stocks were largely flat despite more testimony from Fed Chair Yellen that she was in no rush to hike interest rates. The Dow finished at 18,132. I had been fairly non-committal last week although I noted the likelihood of a favorable reaction to the Indian budget on Saturday. The early week Saturn aspects were only mildly bearish with Monday's Sun-Saturn square being the worst. Jupiter is likely one of the key influences keeping sentiment as positive as it is at the moment.
But this week could see some important developments as Jupiter's bullish aspect with Uranus will exactly culminate its 120 degree angle on Tuesday. Bullish Venus conjoins Uranus on Wednesday while the Sun aligns with Jupiter-Uranus on Thursday. There are a high density of aspects in play this week which could magnify trading outcomes both in terms of size and significance. Mars also conjoins Ketu (South Lunar Node) on Wednesday and Thursday so that introduces an element of the unexpected and the unwanted. It could turn out to be quite a week. The main question is: what happens to the market after Jupiter starts to separate from its angle with Uranus this week?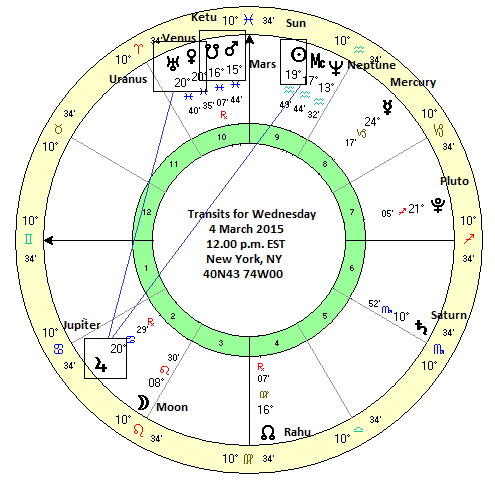 ---