Hong Kong protests complicate trade talks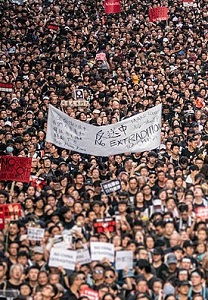 (26 August 2019)
The situation in Hong Kong remains tense. Anti-government protests have been ongoing since June and have recently turned violent. With no clear path out of the stalemate, the Hong Kong stock market has fallen 10% in August as investors seek safe havens. Meanwhile, fears are growing that Beijing will lose patience with this affront to its authority and send in the army to crush the protest movement.
The Hong Kong protests are something of wild card in the continuing US-China trade war. The Chinese government is probably doubly reticent to use the army since it would complicate the trade negotiations with the US. In all likelihood, it would scuttle the talks for good, as well as lead to a range of sanctions from most Western countries. Of course, some analysts have concluded that the talks are already dead until after the US elections next year, no matter how much hopeful jawboning we hear from Trump and Xi.
The horoscope of Hong Kong provides a window on the scale of this unrest. Using the chart for the handover from the UK to China (1 Jan 1997; midnight), we can see that Saturn and Ketu (South Lunar Node) is front and center. For the past several weeks, Saturn and Ketu are almost exactly conjunct Mercury (19 Sagittarius) and just a few degrees away from the Sun (16 Sagittarius). By nature, Mercury is the planet that symbolizes trade and commerce so it no surprise that the economy of Hong Kong has been suffering during this transit.
But it is also important to note that Mercury rules the 1st house (Virgo) and the 10th house (Gemini). The 1st house symbolizes the jurisdiction as a whole and reflects how the protests have created fundamental disruption to daily life in the territory. The 10th house represents the government of Hong Kong and it is clear that even if the protests may fade away in the near term, the government of Carrie Lam has suffered a huge blow to its legitimacy. Even if it manages to hang on, it could become a kind of lame duck administration until the next election.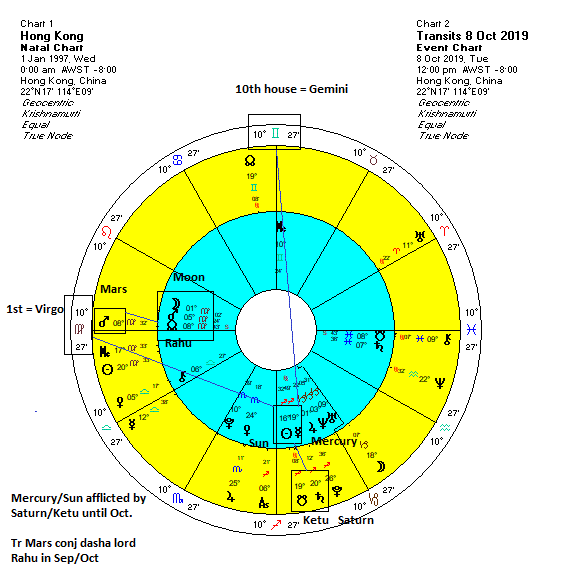 I would expect the unrest to continue for several more weeks at least. The Saturn-Ketu conjunction will continue to be very close to Mercury-Sun until October. Additionally, all of the faster moving planets are due to transit through the 1st house (Virgo) in September and into October. This suggests we could finally see some developments either toward peaceful resolution or more chaos and violence.
These transits through the 1st house are extra important because the chart is currently running the Rahu-Rahu dasha period. Rahu is placed in the first house but it is quite afflicted through its conjunction with Mars and its opposition aspect from Saturn. Rahu-Rahu began in Jan 2018 and will continue until Sep 2020. Its natal affliction means that major setbacks and disruptive changes would be very likely during the time of the Rahu dasha.
The Mercury-Venus conjunction to Rahu in the middle of September could bring some negotiated progress in the conflict. However, there is a risk of a return to violence after September 25 when Mars enters Virgo. The chart below is cast for 8th October when Mars exactly conjoins Rahu. This is more likely to be a time of intense conflict and possible violence.
Could Xi Jinping send in the army? I'm not sure. The chart is heavily afflicted now so I would think a military intervention in Hong Kong would require even worse planetary alignments. For now, I don't really see that. A military conflict usually manifests with an afflicted Mars in the natal chart (5 Virgo) but we don't have that here. It is possible that the transit of Mars through Virgo in late Sep and Oct elevates the possibility of violence involving the army. Perhaps this Mars transit through Virgo would mean that only a lesser amount of violence would be used, unlike, say, Tianamen Square in 1989 which killed hundreds or perhaps thousands. I will update this chart if events warrant.
Weekly Market Forecast
Stocks generally fell last week as the US-China trade war escalated on Friday. This bearish outcome was in keeping with the raised downside risk of the Venus-Mars conjunction that I outlined in last week's post. Despite this apparently bearish influence, Gold pushed even higher towards $1550.
This week has started off on a positive note, perhaps as a reflection of Monday's Venus-Uranus alignment. The rest of the week looks less positive so we are more likely to see a return to at least some volatility and choppier markets. The Sun is approaching its conjunction with Mars (exact Sep 2) so it could translate into intense or bold actions involving governments and leaders this week. Next week looks more volatile as Mercury will join the Sun and Mars in Leo in the days immediately following Labor Day.
For a more detailed analysis of the markets, please check out my
weekly subscriber newsletter
which is published every Saturday afternoon (EST). I outline the key technical and planetary influences for US and Indian stocks for the short and medium term, as well as currencies, gold and oil.
---
These forecasts are usually posted weekly.
You can be notified of new posts if you follow
ModernVedAstro on Twitter
.

Please note that this is a more general and much abbreviated free version of my
investor newsletter which can be subscribed to
here
.

Please read my
Disclaimer