The Hillary Clinton email controversy: Mars under affliction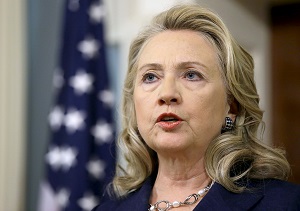 (10 March 2015)
Hillary Clinton has been back in the news recently, but for all the wrong reasons. The frontrunner for the 2016 Democratic Party nomination has come under scrutiny for her emails during her tenure as Secretary of State. Ms. Clinton apparently did not use government email as required by the rules and instead used a private email address. In addition, she sent and received emails through a private email server located in the Clinton house in New York.
It's really the last thing she needs right now as rumors were rife that she was on the verge of formally announcing her candidacy for President. She is likely to speak publicly about the email controversy soon as she hopes to clear the air in order that she can declare in the coming weeks. Whether or not she can quickly douse this fire remains to be seen, however.
Her horoscope provides some intriguing clues about the current situation. While there is some uncertainty about her birth time, I use the 8.00 am chart but try to keep an open mind about it. When The
New York Times
broke the story on March 2nd, we can see that retrograde Jupiter (20 Cancer 41) had just past its conjunction with her natal Mars (20 Cancer 58) while Mercury (21 Capricorn) opposed Mars within one degree. On the face of it, that doesn't look too bad given Jupiter's bias towards favorable outcomes.
But one way of thinking about this Jupiter-to-Mars conjunction is that it was already past exact on the day of the Times' story. It became exact on Feb 27, some three days before. Whatever positive effects Jupiter may have been exerting on Ms. Clinton were therefore diminishing as Jupiter moved away from her natal Mars. So Jupiter's approaching conjunction may have protected her in the days and weeks leading up to the conjunction in late February, but once past, the protective effects lessened and allowed other negative planetary influences to come to the fore.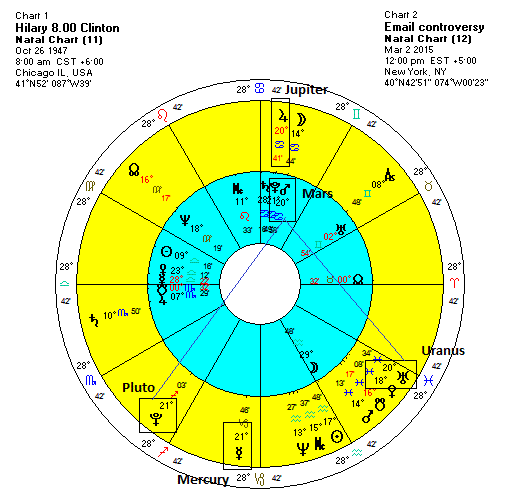 The other part of the equation here is that Clinton's Mars is currently in alignment with both Uranus (20 Pisces 34) and Pluto (21 Sagittarius 03). Both of these outer planets are within minutes of exact angles to Mars. Both Uranus and Pluto are formally neutral influences but can become much more negative if hard aspects are involved (not the case here) or if malefics are involved, which is the case here. Mars is a malefic planet by nature and her Mars is debilitated in Cancer thus increasing possible damaging effects when it is involved in a bad transit alignment.
So how damaging could this be to her political ambitions? My guess is she will not suffer too much long term damage even if the current controversy may last a while. Uranus is moving forward now and thus weakening its ties with Mars in the coming days. That should help her. Pluto moves more slowly so its alignment and potential fallout could linger for a while. Pluto tends to be associated with power plays and coercive situations so we could see Ms. Clinton on her heels somewhat for several more weeks. The good news for Hillary is that Jupiter will station direct on April 9th and therefore is due to pass directly over her Mars again in May. This again could create a protective effect on her and boost her candidacy later in the spring.
Weekly Financial Market Update
Stock markets wobbled last week after Friday's strong US jobs report increased the likelihood of a Fed interest rate hike. Since the 6-year old bull market has been largely dependent on the Fed's ultra-loose monetary policy (i.e. money printing), the Dow tumbled and finished the week at 17,856. Indian stocks fared somewhat better as enthusiasm for the recent Budget gave investors more of a reason to buy. The Sensex gained less than 1% on the week closing at 29,448. This tentative outcome was not surprising as I thought the early week Jupiter-Uranus aspect had bullish potential but that it could well run out before the week was done, especially given the unpredictable midweek Mars-Ketu (South Lunar Node) conjunction. That was pretty much the case as commodities like gold and oil followed most stock markets lower later in the week.
This week will be an important test of the ongoing influence of the Jupiter-Uranus aspect. Although it remains very close to exact, it is nonetheless waning. As we have seen with Hillary Clinton's situation, these close but separating aspects can sometimes shift their polarity in the blink of an eye. And with Mars conjoining Uranus here and forming a square aspect with Pluto midweek, one would expect collective anxiety and fear to become more prominent.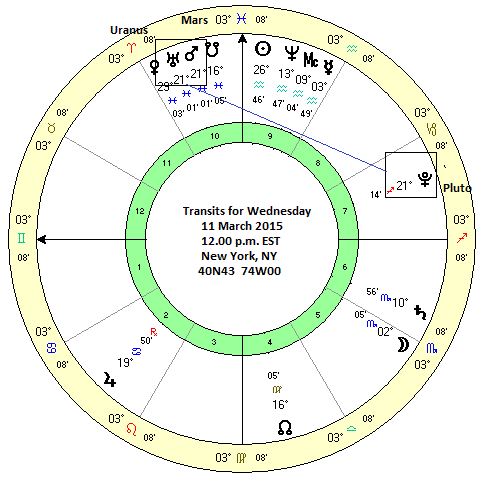 ---