Hillary Clinton's difficult summer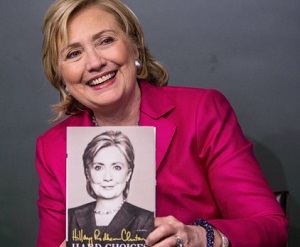 (18 August 2014)
It's been a tough summer for Democratic front-runner Hillary Clinton. The former first lady and Secretary of State published a political memoir that met with tepid reviews and poor book sales. Many commentators saw it as thinly-veiled political ploy designed to boost her profile before her formal declaration for the race to the Democratic nominee for President for the 2016 election. Her subsequent book tour did little to improve the the book's reception as Ms. Clinton tried in vain to deflect criticism. Then in a magazine interview two weeks ago, she was openly critical of Obama and distanced herself from him over his handling of the Middle East and Syria in particular. She was forced to awkwardly walk back her comments in order to appear less confrontational towards the Obama White House. These missteps have seen her popularity fall 10% in the past two months although she remains the overwhelming favorite to be the nominee of the Democratic Party.
We can see that Hillary Clinton has been suffering from a bout of "Saturnitis" for much of the summer. The Saturn station in late July was just one degree off her natal Venus. Saturn-Venus transits are often times when life feels like it is contracting rather than expanding. Our social circles also come under pressure as joy and happiness are harder to come by. Saturn isn't all bad -- no planet is -- but there are two important factors that made this particular transit conjunction worse. First, it was the station of Saturn to her Venus. Stations last for weeks and describe extended periods where we are feeling heavy or slowed down. Saturn was within range for her Venus back in June and is still conjunct Venus at 23 degrees of Libra even now, some two months later. For most people, a little Saturn gives structure, responsibility and maybe some worthwhile life lessons. But a Saturn transit that lasts not for days but for weeks can reflect major obstacles and setbacks that can throw us off our game. Saturn will finally move off her Venus in the next week or two so that bodes well for her.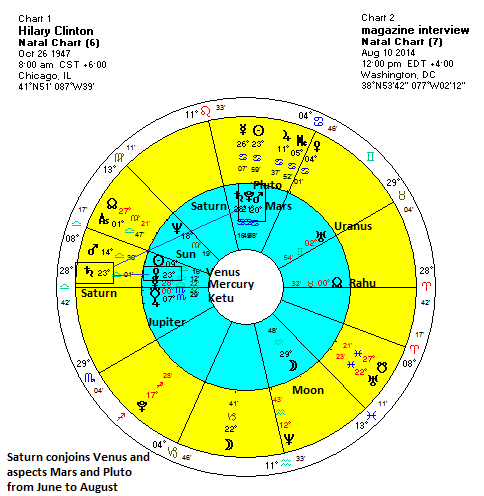 The other problem with this Saturn transit is that it wasn't just Venus that suffered. Ms. Clinton also had her Mars-Pluto conjunction at 20-21 Cancer closely aspected by Saturn during this time. While this aspect was still a couple of degree off exact, it was close enough to cause problems. An afflicted Mars-Pluto can indicate exercises of power that do not end well or may go against you. This is what happened to Hillary following her comments on Obama's foreign policy. The Saturn aspect would also raise the likelihood of frustration, especially in matters pertaining to the 10th house such as career and status. It makes a lot of sense that Hillary would suffer more than her fair share of problems and hassles during this Saturn transit. These difficult Saturn transits suggest that she did not expect to have this kind of fallout from her comments.
Hillary's fortunes will likely improve further as Jupiter moves closer to its conjunction with Mars, Pluto and then Saturn this fall. Jupiter stations exactly on her 10th house Saturn in December so that may be a particularly noteworthy and positive time. I should note that her birth time remains in question but I am using the 8.00 a.m. chart for now. Since I'm not sure it's correct, I tend to give less emphasis to time-dependent factors like house placements and rulerships and more on simpler planet-to-planet transits and progressions which are contingent only on her date of birth.
Transiting Jupiter will remain in Cancer and her probable 10th house for the first half of 2015. This would be an ideal time for her to declare her candidacy for President. Usually Presidential candidacies are declared in the January or February of the year before the election. Hillary could declare as early as December at the time of the Jupiter-Saturn conjunction but she likely won't lose anything by waiting for early 2015 since Jupiter will still be in a powerful position in her chart. I think her chances of winning the nomination are very good indeed, as is her chances to be the next President. I hope discuss the race in greater detail in the coming months once we have a better idea of the other candidates.
Financial Markets Update
Stocks generally moved higher last week on easing geopolitical tensions and mostly positive macro economic data. In New York, the Dow climbed about 1% finishing at 16,662 while the Indian Sensex jumped 3% to 26,103. I had been fairly neutral last week although I noted the likelihood of gains in the second half of the week on the approaching Venus-Jupiter conjunction. Indeed, stocks were mostly bullish after some early week indecision.
We could see a little more upside this week as the Venus-Jupiter conjunction is exact on Monday. Tuesday's Mercury-Neptune opposition is more problematic so that could offset some or all of any preceding gains. The rest of the week may be increasingly choppy and even jittery as Mars gets closer to its big conjunction with Saturn on next Monday the 25th. Gains are still conceivable here but we could see intraday volatility increase.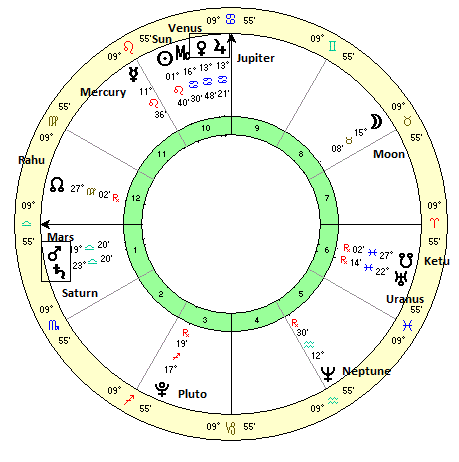 ---