Google plunges 6% on antitrust fears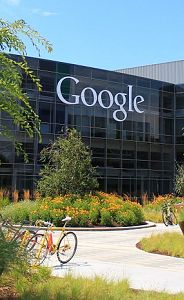 (3 June 2019)
As it turns out, maybe size
does
matter. Large US technology stocks fell sharply on Monday on reports that the Department of Justice is undertaking an antitrust probe of Google, Facebook, Amazon and Apple. While there are no concrete measures in place yet, the US government is looking into increasing regulatory oversight of "big tech" as a means of restoring fair competition. Investors fear that greater regulation will cut into bottom line profitability and may even go so far as breaking-up some of these huge companies.
News of the investigation hit Google shares especially hard which fell 6% today to $1038. This latest decline comes after a large correction in the month of May which saw shares of the search engine giant down 20% from its April 29 high of $1296.
We can quickly spot the problems in the Google IPO horoscope. One of the basic rules of financial astrology is that transit hits from bad planets like Mars and Saturn usually correspond with declines. This is more likely when a weakened natal planets is involved.
Today we see that Mars (17 Gemini) was exactly conjunct natal Venus (17 Gemini) in the 10th house. Generally, Venus fares poorly with Mars transits and perhaps even more so since it is damaged by virtue of its conjunction with Saturn in the natal chart. Venus is therefore less able to withstand the impact of Mars on the day of its conjunction.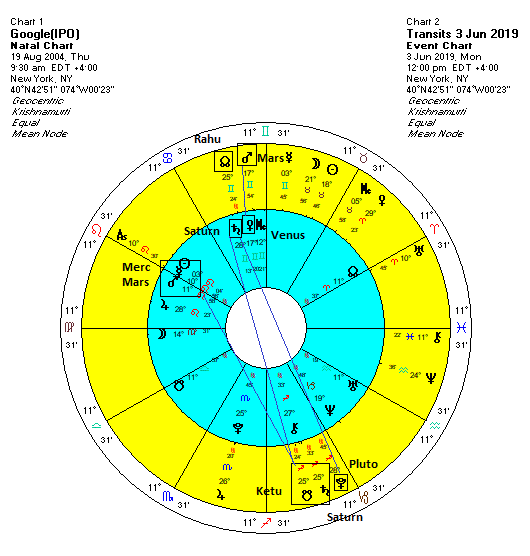 The medium term issue with this chart is that natal Saturn (28 Gemini) has been afflicted for several weeks. Tr. Pluto (28 Sagittarius) is exactly opposite while Tr. Saturn stationed retrograde on April 30 at 26 Sagittarius just one day after the disappointing Q1 earnings report was released. Rahu (25 Gemini) is also very close to that Saturn. All of the above planets are considered natural malefics, especially when in opposition alignment.
The current 20% correction was made much worse because the Saturn-Ketu conjunction at 25-26 Sagittarius was exactly 135 degrees from the Mercury-Mars conjunction in the Google horoscope. This is a nasty aspect, especially when receiving the double dose of pessimism from Saturn and Ketu, the South Lunar Node.
I would expect Google to continue to trend lower as the Saturn-Ketu influence remains in force for several more weeks at least.
Weekly Market Forecast
Global stock markets are in retreat these days as recession worries are taking center stage. Trump's tariff threat against Mexico last week was only part of the story as economic data is showing more weakness in US, Europe and China. The decline was in keeping with my general bearish expectations as Mercury and Venus aligned with bad old Saturn and Ketu in the second half of last week.
This week looks more mixed. Monday's session was mostly negative in the US, China and Japan while Europe and India were more positive. I think we could see further gains across the board as soon as tomorrow as Venus enters sidereal Taurus. There are a couple of potential trouble spots on Wednesday and Thursday (see timeline chart below) that could well correlate with some selling, however. The latest US jobs report is released on Friday when there are actually some decent alignments in play (e.g. Moon aligned with Jupiter) so I would not be surprised to see some upside. But the underlying alignment of Jupiter, Saturn, Ketu and Neptune doesn't look bullish. This alignment of slow moving planets will remain more or less intact well beyond this week.
For a more detailed analysis of the markets, please check out my
weekly subscriber newsletter
which is published every Saturday afternoon (EST). I outline the key technical and planetary influences for US and Indian stocks for the short and medium term, as well as currencies, gold and oil.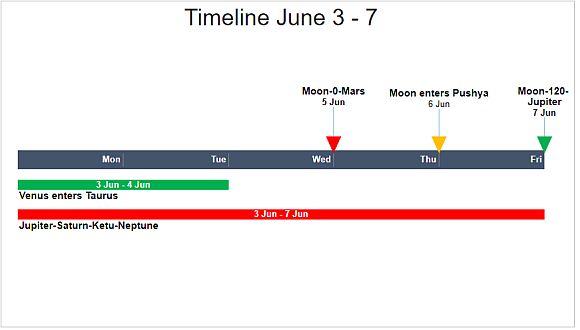 ---
These forecasts are usually posted weekly.
You can be notified of new posts if you follow
ModernVedAstro on Twitter
.

Please note that this is a more general and much abbreviated free version of my
investor newsletter which can be subscribed to
here
.

Please read my
Disclaimer