Gold plunges $80 on Cyprus rumour; Mars enters Aries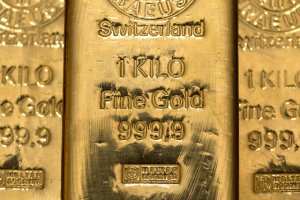 (14 April 2013)
Gold prices plunged last week as rumours that Cyprus would be forced to sell its reserves coincided with institutional downgrades from the likes of Goldman Sachs. Gold lost 6% on the week and closed at $1480, below the crucial technical support level of $1520. Gold has now officially entered a bear market since it has dropped more than 20% since it all-time high of $1923 in September 2011.
The latest decline in gold comes as no surprise to us, however, as I have been generally negative in my outlook for some time. I have noted in previous
gold price forecasts
in this space (
December 2012
and
February 2013
) that further declines were more likely in 2013 due to planetary afflictions to the key horoscopes that symbolize the gold price. In my subscriber newsletter, I had also suggested that more declines were likely in April as Saturn was increasing in strength through its aspects with Pluto, Uranus and Neptune. Friday's death plunge for gold below support coincided exactly with the entry of Mars into sidereal Aries, a clearly bearish influence.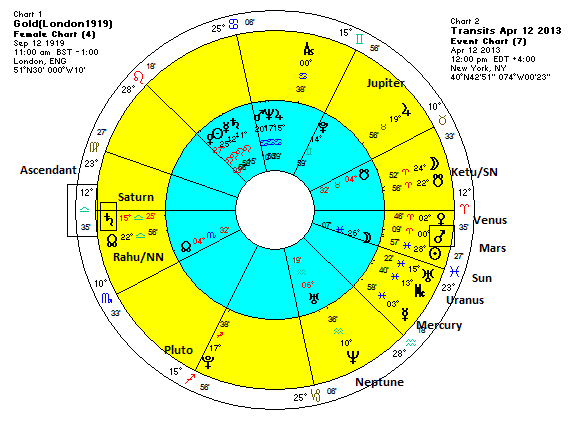 We can see from the London gold fix horoscope from 1919, that Saturn is retrograde and approaching the Libra Ascendant. This is a clearly bearish influence since Saturn is usually inimical to gold. Worse still is that the faster moving inner planets (Venus, Mars, Sun and Mercury) will be transiting opposite Saturn in the 7th house (Aries) in this chart. Such opposition aspects tend to be negative in their consequences, especially when Saturn is involved. The nodes Rahu and Ketu are also disturbing gold's price stability through their transits of the 1st (Libra) and 7th (Aries) houses. Note how Jupiter is not in a strong position in this chart at the moment and hence it has less capacity to offset the Saturn influence and boost sentiment. The medium term outlook would appear to be bearish since Saturn will stay in proximity of the Ascendant until the summer. It is due to end its retrograde cycle at 11 degrees of Libra in early July -- just one degree away from the Ascendant in this chart. This continued affliction to the Ascendant in this 1919 London horoscope is not good and should make it difficult for gold to recover quickly. While there should be some temporary gains around the Jupiter aspect to the Ascendant, the chart looks quite problematic.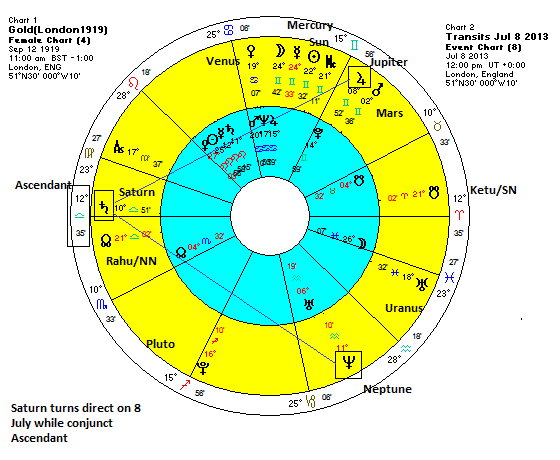 In the short term we could well see gold fall further as the Sun-Mars combination moves into exact opposition with Saturn in the last week of April. To be sure, some of this negative energy has burned off as a result of last week's decline. But I suspect there will be more to come as the Saturn influence on these inner planets intensifies.
More generally, financial markets were mixed last week. US stocks continued their melt-up higher as investors rode the liquidity-fueled optimism from the latest easing from the Bank of Japan. The Dow climbed 2% closing at 14,865. Indian stocks lost some ground, however, as poor earnings guidance undermined confidence for 2013. The Sensex declined 1% to 18,242. I had been agnostic about last week given the mixture of aspects in play. Most global stocks did rise as expected in the early week and Wednesday's bullish entry of Venus into Aries did coincide exactly with the most positive day of the week. Friday was negative across the board as bearish Mars took the spotlight as it entered Aries.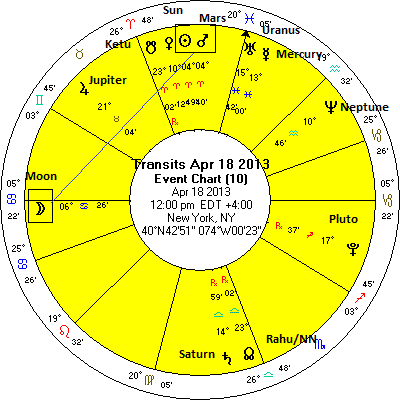 This week features the full force of the Sun-Mars conjunction in Aries which happens on Wednesday and Thursday. There is a sense of too much aggressive energy in this pairing so there is some risk that anxiety could rise and push stocks lower, perhaps significantly. As an added burden, the Sun-Mars conjunction is occurring opposite bearish Saturn. This increases the probability for declines, even if the opposition aspect is not yet exact. Earlier in the week may be less damaging, however, as Mercury is in aspect with Neptune.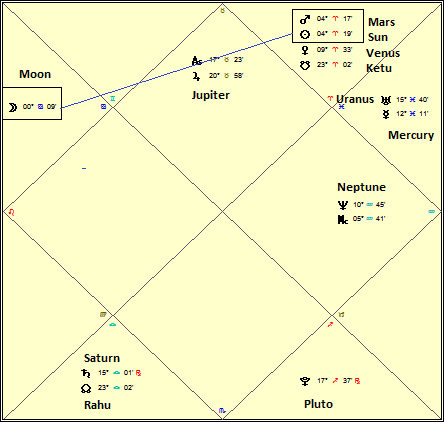 Transits for Mumbai Thursday 18 April 2013 9.00 a.m. IST
---
These forecasts are usually posted every Sunday.
You can be notified of new forecasts
if you follow MVA on Twitter.

Please note that this is a much abbreviated free version of my
investor newsletter which can be subscribed to here.