Gold tumbles to $1240 on Fed taper talk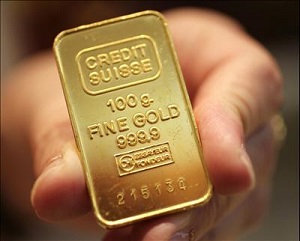 (24 November 2013)
Gold is coming off another bad week as the traditional safe haven investment lost more than 3% closing near $1240. Gold declined because of some bearish comments contained in the minutes of the previous meeting of the Federal Reserve. The minutes suggested that the Fed is moving closer to reducing its QE stimulus program as the US economy gradually recovers. As a rule, gold prices tend to rise when inflation worries are high and tend to fall during times when inflation is not an issue. The possible end to the Fed's money printing would reduce inflation expectations, strengthen the Dollar and thereby depress the price of gold.
As I have noted on several previous
gold forecasts
this year, the current planetary alignment is not favourable for gold. If we use the horoscope of the first London gold price back in 1919, we can see some major afflictions. Transiting Rahu (the North Lunar Node) is closely conjunct the Ascendant. Rahu tends to be a negative influence and its conjunction here is one important reason why gold has failed to rebound off its summer lows. Rahu has been stationary for several weeks on this point so that is another reason why gold has trended lower. We can also see that Ketu (the South Lunar Node) is now closely aspecting the Mercury-Saturn conjunction at 11-12 Leo. Ketu is also considered problematic so this is another potential source of weakness.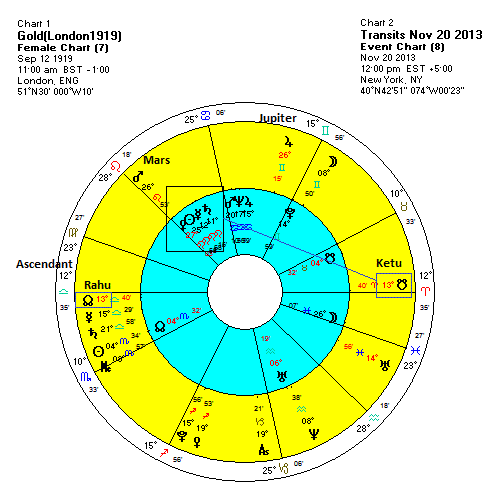 We can see that Saturn is moving off the Ascendant now and away from its square aspect to Mars. This is actually a positive development as Saturn tends to depress prices. As I predicted earlier in the year, the June-July station of Saturn right on the Ascendant corresponded with a low as gold briefly fell below $1200. But while Saturn has moved off, Rahu has basically taken its place on the Ascendant and so we see gold slipping back towards its previous low.
More specifically, we can see that the conjunction of transiting Mars to the Sun-Venus conjunction at 25-27 Leo was likely pivotal in accounting for last week's sharp drop. Wednesday's sell-off corresponded neatly with Mars moving into that exact spot in the sky. In addition, the transiting Sun (4 Scorpio) was conjunct the natal Rahu which is also usually a bearish influence. We can also see that the approach of Mercury to its conjunction with Saturn is activating the square aspect from Mars in the natal chart. This was likely also another negative in the overall picture.
Interestingly, Jupiter station at 26 Gemini doesn't seem to be improving gold's fortunes here despite the fact that it forms lesser aspects to the Moon (26 Pisces) and the Sun-Venus conjunction in Leo. In this instance, the presence of Rahu's malefic contact appears to outweigh any boost from Jupiter.
I would expect gold may have to endure more tough times as long as this Rahu-Ketu combination remains so close to key points in the 1919 horoscope. The presence of the Jupiter aspect may provide some kind of buffer and will prevent a sharp decline. Gold will likely do better in January once the Rahu and Ketu aspects have moved away.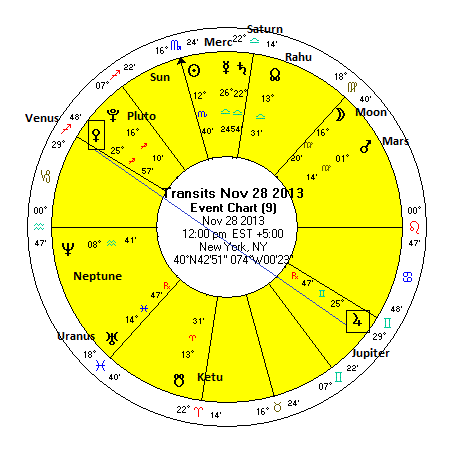 Financial markets were generally mixed last week. US stocks edged higher later in the week with the Dow making a new all-time high at 16,064. As expected, the early week was somewhat negative on the Saturn influence while the Moon-Venus aspect on Thursday helped to restore confidence. Indian stocks moved modestly lower as tapering fears continued to depress sentiment.
This week may see more of the same as the early week features a Mercury-Saturn conjunction. This could coincide with a rise in caution. However, the midweek Venus-Jupiter aspect probably means that buyers will return and stocks should again rebound.
---