Financial Astrology Index for Tuesday, 28 August 2018

Total Trend 1 day ago 1 week ago

38 bearish/down 50 70
Comments: The planets looks worse for Tuesday compared with Monday. Monday's Moon-Jupiter-Neptune alignment was quite bullish as the market rallied strongly. Unfortunately, I was unable to post an update on Sunday. However, I did mention Monday's bullish pattern over the weekend in my weekly subscriber newsletter.
The index is now 38, just falling a bit into the bearish zone below 40. This is the lowest score we've seen thus far. Some profit-taking is likely anyway after today's rally but this score may be hinting that the selling could be stronger. I do think this Sunday's bearish Full Moon has to manifest at some point this week since we have yet to see any volatility. Let's see.
Components:
Moon: 6/30
The Moon is still almost full and hence bearish. It is 8th from the Sun so that is also a minus. It also aligns with Mars and Saturn through the US trading day. This is definitely a worse Moon than we saw on Monday.
Sun: 3/10
The Sun is weakened by its alignment with Rahu (North Lunar Node) tomorrow.
Jupiter: 7/10
Still a net positive from its aspect with Neptune.
Saturn: 2/10
Saturn's negativity could be brought out through the partial alignment with Mercury (135 degrees).
Transit alignments 10/20.
Mercury-Jupiter-Neptune could offer some help but the Moon alignments are bearish.
NYSE transit alignments 10/20
The Mercury-Jupiter alignment could still pay dividends here but the Sun-Rahu is aligning with the Ketu-Rahu transit. The Moon is aligning with the Saturn-Neptune opposition in the afternoon. Hard to be bullish.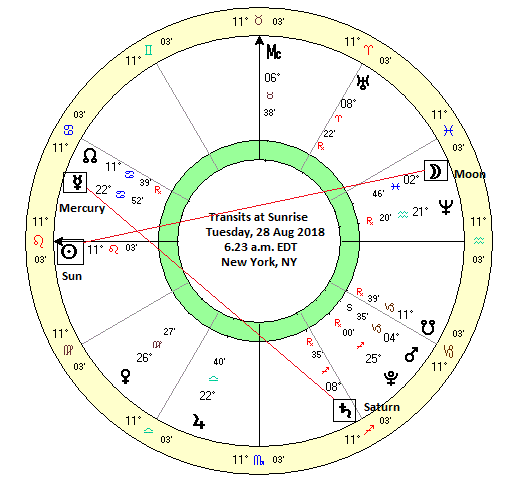 ---
Financial Astrology Index for Friday, 24 August 2018
Financial Astrology Index for Thursday, 23 August 2018
Financial Astrology Index for Wednesday 22 August 2018
Financial Astrology Index for Tuesday 21 August 2018
Financial Astrology Index for Monday 20 August 2018
Financial Astrology Index for Friday 17 August 2018
Financial Astrology Index for Thursday 16 August 2018
Financial Astrology Index for Wednesday 15 August 2018

Financial Astrology Index for Tuesday 13/14 August 2018



---
Background
The Financial Astrology Index (FAI) has a theoretical range between 0 (all bearish) to 100 (all bullish). Most of time, it should move between 20 and 80. Readings above 60 should be considered bullish, while readings below 40 are bearish. Readings between 40 and 60 are neutral.
It may be read in a similar way to technical indicators such as the RSI and Stochastics which show overbought and oversold conditions in the market. A number above 80 is very bullish and suggests a strong up trend. In some situations (e.g. near resistance, in a bearish market), this may also indicate a heightened risk of a reversal lower. The trend in the FAI is at least as important as the actual value in terms of understanding possible future price patterns.
As always, it is not intended as a substitute for established stock market technical indicators. If anything, it is intended to stand alongside them and should be treated as an additional source of information -- just another tool in the investor's toolkit. Fair warning: this is still experimental and more of a work-in-progress. I will likely be tweaking the relative weights of the different factors as I go.
By way of disclaimer, let me state the obvious: do not use this index as a stand-alone method for investing. There are simply too many unknowns in astrology. Astrology is best used as a supplementary source of information in tandem with other technical and fundamental approaches. This is not to be taken as investment advice. For informational purposes only.