Financial Astrology Forecast for Friday, 24 August 2018
Introduction
The Financial Astrology Index (FAI) has a theoretical range between 0 (all bearish) to 100 (all bullish). Most of time, it should move between 20 and 80. Readings above 60 should be considered bullish, while readings below 40 are bearish. Readings between 40 and 60 are neutral.
It may be read in a similar way to technical indicators such as the RSI and Stochastics which show overbought and oversold conditions in the market. A number above 80 is very bullish and suggests a strong up trend. In some situations (e.g. near resistance, in a bearish market), this may also indicate a heightened risk of a reversal lower. The trend in the FAI is at least as important as the actual value in terms of understanding possible future price patterns.
As always, it is not intended as a substitute for established stock market technical indicators. If anything, it is intended to stand alongside them and should be treated as an additional source of information -- just another tool in the investor's toolkit. Fair warning: this is still very much a work-in-progress. I will likely be tweaking the relative weights of the different factors down the road.
By way of disclaimer, let me state the obvious: do not use this index as a stand-alone method for investing. There are simply too many unknowns in astrology. Astrology is best used as a supplementary source of information in tandem with other technical and fundamental approaches. This is not to be taken as investment advice. For informational purposes only.
---
Forecast for Friday, 24 August 2018
US stocks slipped a bit today as investors wondered if Trump's legal troubles might escalate out of control. This bearish outcome was more or less expected although I had been unsure how much damage the Moon-Mars conjunction might do. With the index now drifting down into the 40s, there was increasing downside risk in any event. This was even more the case since the index had been in the 70s the week before.
Friday's outlook does not look much better. In fact, there is new downside risk from the exact Mars-Mercury alignment. Mars is barely moving at all here ahead of its station on Monday the 27th, so even its minor aspects deserve to be taken seriously. Mars forms a 165 degree angle with Mercury tomorrow and this could reflect some tensions in the market. Normally, these lesser aspects of 15 degree multiples don't cause many problems (15, 75, 105, 165) but the slow velocity of Mars increases the likelihood of some declines. Also we should note that the Sun is moved into a Grand Trine with Saturn and Uranus so this could signal a larger than normal move in prices. And since the market technicals look more bearish (three dojis in a row, all moving slightly lower after testing key resistance at 2870 on the SPX), there is some reason to think stocks are at risk again.
Financial Astrology Index (0-40 bearish; 40-60 neutral; 60-100 bullish)

Total Trend 1 day ago 1 week ago
44-48 Neutral/down 44-48 70
Components:
Moon 8-12/30
Moon is almost Full so that is bearish. It forms an alignment with Mars and Mercury near the close so that is another negative. As an added burden, it also conjoins the south Neptune node around noon.
Sun 3/10
The Sun is separating from its Mars aspect but it is entering an alignment with Saturn and Uranus. This could go either way although I would count more towards the downside.
Jupiter 7/10
Jupiter has lost the support of Venus and is gradually pulling away from Neptune. It's still positive, but it seems less so that previous days this week.
Saturn 4/10
Saturn may be bipolar tomorrow as the presence of the Sun alignment could produce greater confidence and thus gains or it may induce a pessimistic atmosphere. I have marked it down just one point here.
Transit alignments 10/20
It's hard to be positive given the Mars-Mercury alignment and the Saturn-Sun-Uranus alignment. 10 strikes a compromise, although I don't know how accurate it will be.
NYSE natal alignments 12/20
Mercury-Jupiter is a bit closer to the Ascendant so that
might
provide some upside. And yet the Mars alignment to Mercury could completely reverse its effects. Nonetheless, I have added a couple points here to reflect a slightly better chart for tomorrow.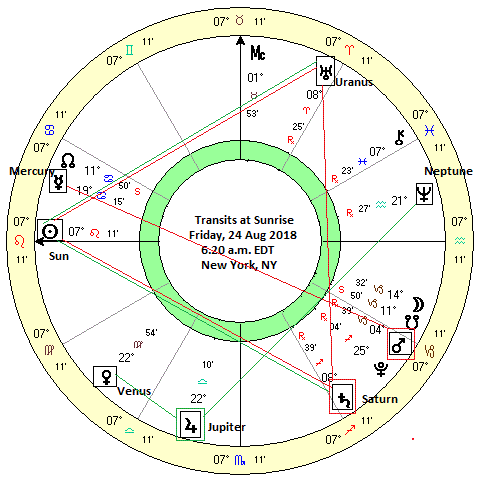 ---
Financial Astrology Index for Thursday, 23 August 2018

Financial Astrology Index for Wednesday 22 August 2018
Financial Astrology Index for Tuesday 21 August 2018
Financial Astrology Index for Monday 20 August 2018
Financial Astrology Index for Friday 17 August 2018
Financial Astrology Index for Thursday 16 August 2018
Financial Astrology Index for Wednesday 15 August 2018

Financial Astrology Index for Tuesday 13/14 August 2018