Markets await Fed decision tomorrow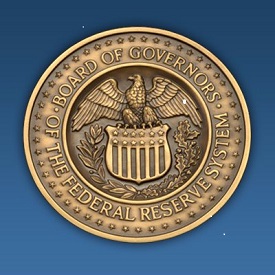 (19 March 2019)
The Federal Reserve meets tomorrow to issue its latest policy pronouncements on the state of the US economy. Financial markets are not anticipating any changes in interest rates but Chair Jay Powell's language will be watched carefully as usual. Since the Fed suddenly reversed itself in early January to a more dovish stance (i.e. no more hikes), stock markets have risen sharply as the low current interest rate environment can keep the debt-driven expansion afloat a while longer.
While the continued low rates are good news for the markets, the economic data is starting to show signs of a slowdown. A recession in the US is looking increasingly possible within the next 6-12 months. Investors now have to weigh the relative benefit of the Fed's cheap money with the likelihood of lower corporate earnings.
It is unclear what tone Powell will strike. If he chooses to emphasize the slowdown in the economy, it could scare investors out of stocks. He may also announce an end to QT (quantitative tightening) which has been reducing the Fed's balance sheet by selling the assets it bought during QE (2008-2014). The end to the QT unwinding would be bullish, as long as the rest of his message didn't stray too far from his previous upbeat remarks about the economy.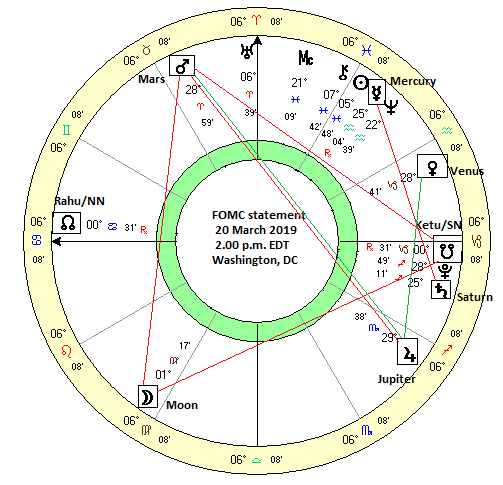 The planetary situation for tomorrow suggests a likely emphasis on prudence and caution. Retrograde Mercury will fall under the exact aspect of Saturn tomorrow and this is more likely to symbolize cautious actions based on methodical analysis. It is possible to see this both ways. Caution may mean he is still very dovish with a possible end to QT. But caution may also mean a bias towards prudent fiscal management which would tend to suggest a more hawkish approach in keeping with his preference for rate normalization (i.e. rates could rise again later in the year). I should note that the Saturn-Mercury aspect also
tends
to be bearish in terms of overall sentiment.
But the picture is complicated due to the simultaneous alignment of the Moon, Venus, Mars and Jupiter, and the Lunar Nodes, Rahu and Ketu. (We can throw in the Full Moon as well.) While such multi-planet alignments tend to be bullish, the presence of Mars and Ketu in the mix here reduces the probability of gains tomorrow and for the rest of the week. This increases the odds somewhat of a negative market reaction to the Fed decision. While it appears bearish, I would not say I have high confidence in that outcome as there are too many variables in play. Nonetheless, the unusually high number of alignments raises the possibility for a large price move.
From a technical perspective, today's intraday reversal at 2850 on the SPX was a possible sign of some downside to come, depending on what the Fed does tomorrow.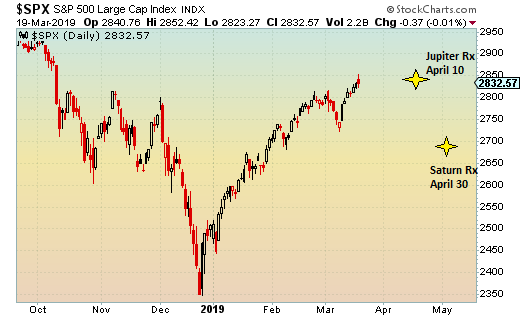 Even if we get some downside this week as I expect, the prospect for a rebound is quite good, since Jupiter will station retrograde on April 10th. The time around Jupiter stations have a bullish bias which could offset any possible late March decline. However, Saturn is also due to station retrograde on April 30th. This tends to be bearish in the days around the station and may well undermine any preceding gains made under Jupiter's influence.
Taken together, this suggests there could significant moves in both directions in the weeks ahead.
For a more detailed analysis, please check out my
weekly subscriber newsletter
which is published every Saturday afternoon (EST). I outline the key technical and planetary influences for US and Indian stocks, as well as currencies, gold and oil.
---
These forecasts are usually posted weekly.
You can be notified of new posts if you follow
ModernVedAstro on Twitter
.

Please note that this is a more general and much abbreviated free version of my
investor newsletter which can be subscribed to
here
.

Please read my
Disclaimer