Popular Egyptian coup forces out Morsi; crude oil price spikes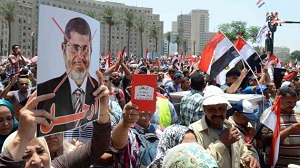 (7 July 2013)
The Arab Spring took a bit of a detour last week as Egypt's first democratically elected president was deposed in a military coup. Mohamed Morsi and his pro-Islamist government lasted barely a year before the Egyptian army took matters into their own hands. While military coups are usually seen as inimical to legitimate rule, this coup was quite popular and was welcomed by cheering crowds all over the country. The instability in the Middle East caused a price spike in oil as crude moved above $100 for the first time since early 2012. Although Egypt doesn't produce much oil, it does control the Suez canal which is the shortest route for Persian gulf oil bound for Europe.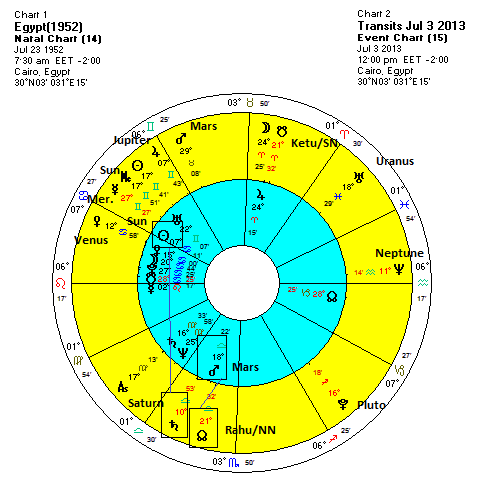 Egypt's 1952 horoscope shows the outline of the current situation as both Mars (violence, military involvement) and the Sun (government, leaders) are under significant affliction by slow moving planets. Transiting Rahu (21 Libra) is bearing down on its conjunction with Mars (18 Libra). Rahu-Mars combinations are classic indicators for violence, especially in the mundane sphere. More broadly, Rahu symbolizes unboundedness and when it combines with Mars' penchant for the sudden release of energy, one often sees situations that are beyond control. It is also worth noting that Egypt's horoscope is currently running the Mars-Sun dasha period which began June 2. This makes both the Mars and Sun transit hits by Rahu and Saturn that much more sensitive and prone to produce unstable circumstances.
Transiting Saturn (10 Libra) is just days away from its direct station and thus is it more powerful than usual. It forms a tight square aspect with the natal Sun, which typically symbolizes government. Since Saturn is associated with loss and destruction, this is a fairly apt influence for a time when the president is removed by military means.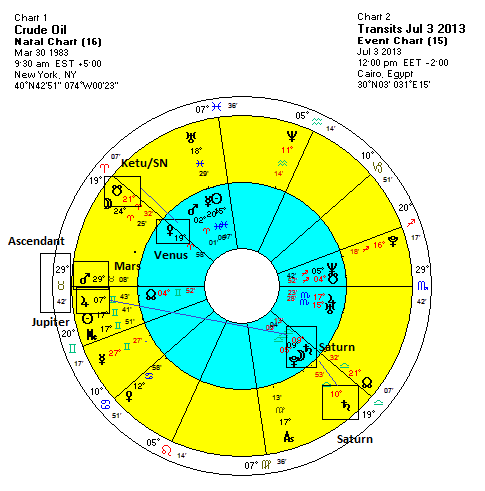 The chart for crude oil also provides a hint of the current price spike as a result of this geopolitical instability. Transiting Saturn is conjunct the Moon-Saturn conjunction in this chart while Jupiter is moving into a close 120 degree aspect with this pairing. To be sure, the Saturn transit seems less amenable to gains since it is usually a negative influence but Jupiter is often bullish.
Transiting Ketu (21 Aries) is closely conjunct Venus (19 Aries) here and suggests volatility in both directions. Ketu and Venus are disposed by Mars, the ruler of Aries, and Mars was transiting very close to the Ascendant of this horoscope at 29 Taurus. Mars tends to create more energy when it makes contact with significant points in a chart as it does here. While usually bearish in its effects, it can also be involved with gains when other chart factors (e.g. Jupiter) are more active. Jupiter's aspect with the Moon-Saturn conjunction will be exact this week and then begin to separate. This could remove one of the positive influences behind this recent price increase in oil.
Stocks generally rose this week, especially after Friday's US jobs report which surprised to the upside. The Dow climbed more than 1% to 15,135. Indian stocks also did fairly well as the Sensex added 100 points finishing at 19,495. I had been ambivalent about last week given the density of aspects in play, especially early in the week. These turned out to be mostly positive. I thought we might have got more downside late in the week on the entry of Mars into Gemini. Actually, the results were more mixed as stocks rallied in the US and India (but not in Europe) but gold and risk currencies such as the Euro fell sharply.
This week features the culmination of the Saturn retrograde cycle on Monday. While we have seen weakness in recent weeks in many markets with the approach of this station, it is unclear what the effects will be of this reversal in Saturn's direction. Markets can sometimes mimic changes in direction in slow moving planets such as Saturn, although the correlation is still fairly low. On that score, Uranus is due to begin its retrograde cycle next week so that is another potential pivot for sentiment. Tuesday stands out this week as the Sun conjoins retrograde Mercury. This tends to be negative for stocks as Mercury is said to be combusted by the proximity of the Sun. With Rahu's aspect to both Sun and Mercury also in play here, there is some potential for sizable moves.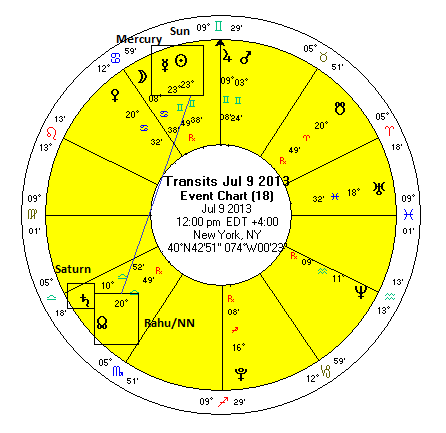 ---
---