Stocks rise further as Bank of Japan takes the QE baton from Fed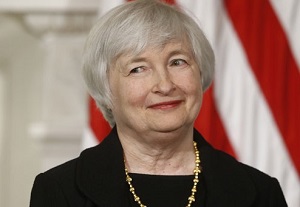 (2 November 2014)
For anyone who owns stocks these days, it is surely comforting to know that no matter what, there is a central bank somewhere in the world that's got your back. Just two days after the U.S. Federal Reserve announced that it would end its QE bond buying program on Wednesday, the Bank of Japan revealed that it would undertake its own massive QE-style program designed to boost inflation, depreciate the Yen and prop up the stock market. Quantitative Easing (QE) is the modern equivalent of the printing press, a monetary tool long-used to try to boost sagging economic growth, usually after a period of policy failures and excessive borrowing.
The Fed's QE program has played a key part in the US economic recovery and caused a tripling of the stock market since 2009. We may also humbly suggest that it has increased inequality in the US as the Wall St. wealthy have disproportionately enjoyed the fruits of Janet Yellen's largesse while Main Street has suffered wage stagnation. The paradoxical assumption of QE is that stagnation brought about by excessive debt can be miraculously cured by issuing more debt as central banks assume the role of the lender of last resort. Most people realize this insane scheme will eventually fall apart and the lenders will have to be repaid. But then again it may make political sense to postpone an economic collapse as much as possible so that elites are given time to best position themselves.
Financial markets cheered this fresh injection of liquidity as it freed up investment capital to chase riskier assets like stocks. Tokyo stocks soared 5% on the news, while other markets enjoyed significant gains. It was perhaps a fitting end to the month of October which has seen many stock markets around the world rebound from lows as Venus exited the difficult sign of Virgo and entered the friendlier confines of Libra on 18 October. Venus will continue its transit of Libra until 12 November.
Does this mean that stocks will continue to rise until 12 November? The short answer is not necessarily, although the presence of a stronger Venus is definitely helpful for investor sentiment all other things being equal. Other factors also have to be taken into consideration such as planetary aspects and also the geometric alignments within the main stock exchange horoscopes. The fact that gold fell sharply last week to new lows for the year at $1170 was proof that there is more to price trends than simple planetary sign placement. A strong Venus is typically good for gold but this was trumped, I would argue, by ongoing afflictions to the key natal horoscope for gold which I have noted in previous posts.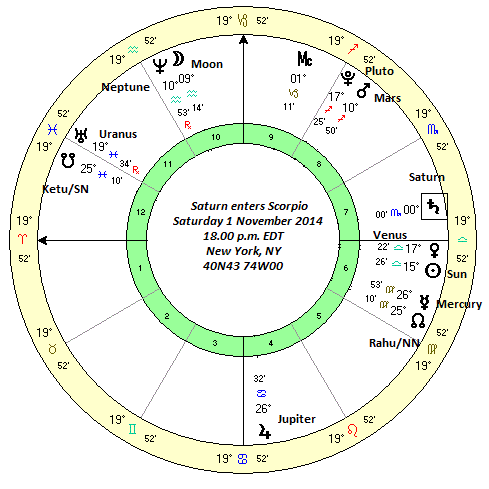 An equally important factor may well be that Saturn has now entered sidereal Scorpio as of Saturday 1 November. For the past two and a half years, Saturn has been transiting the sign of Libra, a sign where it is said to be exalted. This exalted status of Saturn allows for its more positive qualities to come forth such as pragmatism, obligation and respect for large institutions. Although Saturn is often considered a bearish planet where it comes to the stock market, its more favourable placement in Libra since early 2012 may be one reason why many stock markets (e.g. India, USA) have climbed to new all-time highs. But Saturn's new environment in Scorpio may be less constructive as Saturn is said to do poorly in this Mars-ruled sign. This is not to suggest that markets are doomed to fall immediately here in November. Saturn's transit of Scorpio lasts some thirty months and therefore we could see some of its ill-effects spread out over this length of time. It's worth noting that the last time Saturn was in Scorpio, the US stock market suffered its worst crash ever in 1987. I would expect a similar crash-type event to occur at some point between now and 2017.
A quick look at the chart of the New York Stock Exchange shows how the current placement of Saturn is increasingly negative but may well be offset by a similarly positive placement of Jupiter. Transiting Saturn now opposes both Mercury and the Sun in this chart and this tends to be bearish for stock prices. On the other hand, Jupiter (26 Cancer) is exalted and now forms a very nice trine aspect to the natal Moon (28 Pisces) in this chart. Just how these two opposing influences may end up affecting the stock market is unclear in the short term although one would think that the ease of recent gains may no longer be forthcoming. But it seems likely that stocks may have greater difficulty staying aloft once Jupiter turns retrograde on 8 December at 28 Cancer and begins to move away from its close aspect with the natal Moon.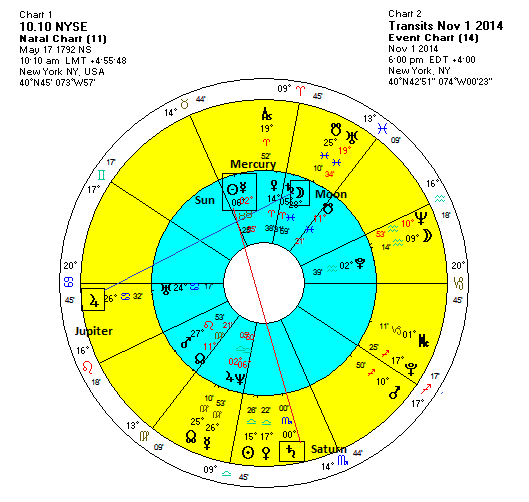 Financial Markets Update
Some negativity is more likely this week on Tuesday's Mercury-Saturn alignment. With Saturn having just entered Scorpio, there may be some renewed sense of caution. And with the US midterm elections scheduled for the same day, perhaps the political outcome will somehow rankle investors. Friday's Mars-Saturn angle also suggests an increase in anxiety.
---