Markets indifferent to latest round of Fed easing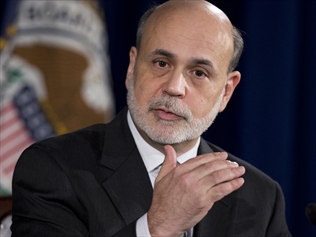 (16 December 2012)
Stocks drifted lower last week as the latest round of easing from the Fed failed to offset fiscal cliff fears. In New York, stocks were modestly lower as the Dow lost less than 1% on the week closing at 13,135. It was a similar story in Mumbai, as economic data were fairly mixed and suggested that growth could be sluggish. The Sensex lost more than 100 points overall closing at 19,317. US markets were generally bullish heading into the Fed meeting on Wednesday but failed to hold onto gains. This was perhaps an apt reflection of the Venus-Rahu conjunction which can generate buying but often lacks follow through. As expected, the late week Sun-Saturn aspect accompanied more negativity as most markets sold off.
Fed Chair Ben Bernanke continues to try his best to keep a floor of liquidity under the market as the Fed announced it was buying a further $40 Billion per month of debt in order to key interest rates low and allow money to flow into riskier assets which might better spur economic activity. The Fed also announced it would continue its current policy of extraordinary easing until unemployment had fallen to 6.5%. These moves were considered quite positive for stocks but investors remain skittish about the fiscal cliff. Bernanke himself admitted that solving the fiscal cliff was more important for the economy than anything the Fed could do.
That sort of candor may have been an unwelcome reminder of the precariousness of the current rally, at least in the US. As I have noted previously, Saturn is approaching a close 60 degree aspect with Pluto that may be a burden on sentiment for some time. The aspect is closest over the next few weeks but due to Saturn's upcoming retrograde cycle in February, the aspect will remain active well into March.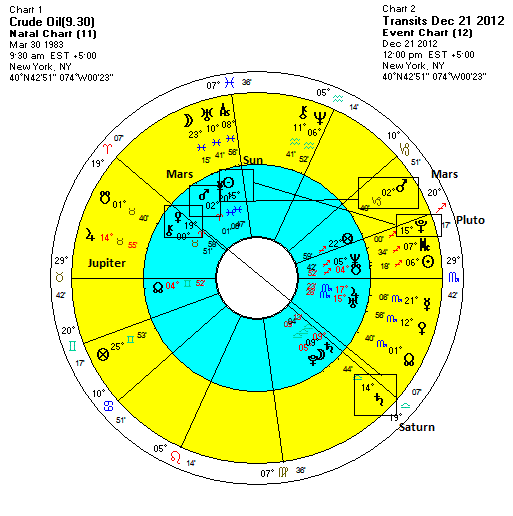 Meanwhile, the price of crude continues to hold fairly steady under $90. Part of the reason why crude has come off its recent highs is that the horoscope of crude oil futures features a number of afflictions. Transiting Pluto is squaring the Sun in this chart and this can make gains extremely difficult. Since Pluto is a slow moving planet, this affliction will last intermittently for several months. Pluto will remain in range of the Sun until well into 2013 and hence this reduces the probability of any major new rallies.

In addition, transiting Saturn is now approaching an opposition to the natal Venus in this chart. This is another probable source of negativity that will tend to suppress oil prices. Saturn will not quite reach the exact opposition as it turns retrograde in February at 17 degrees of Libra. But it does act as a negative influence in the coming weeks.

More immediately, we can see that transiting Mars will square its natal position at the end of this week. This is usually a negative influence so we can expect oil prices to fall on Thursday or Friday. That said, the Venus-Uranus aspect on Thursday does look bullish so it is by no means a clear cut transit influence.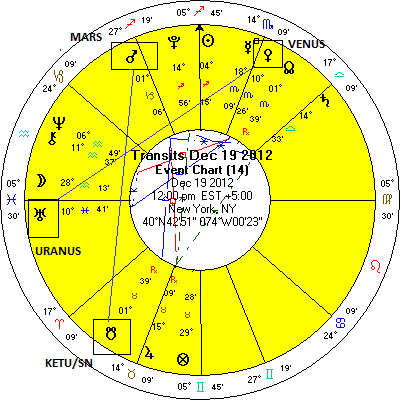 The week as a whole looks mixed for stocks and commodities. Monday's Mercury-Jupiter aspect looks fairly bullish so there is chance we could see some early week gains. But Mars enters Capricorn on Tuesday and then forms an aspect with Ketu (South Lunar Node) on Wednesday. Mars tends to be a bearish planet so its pattern tend to be more negative. Some gains are possible this week, but there are considerable negative influences that could easily produce a more generally negative outcome.


---